Nowadays, a lot of online courses flourish on the web. Between Youtube channels, mobile applications, social networks, live sports coach training, there are a multitude of platforms to practice fitness from your living room. Little Guest has found for you sports activities to do with your family for maximum motivation.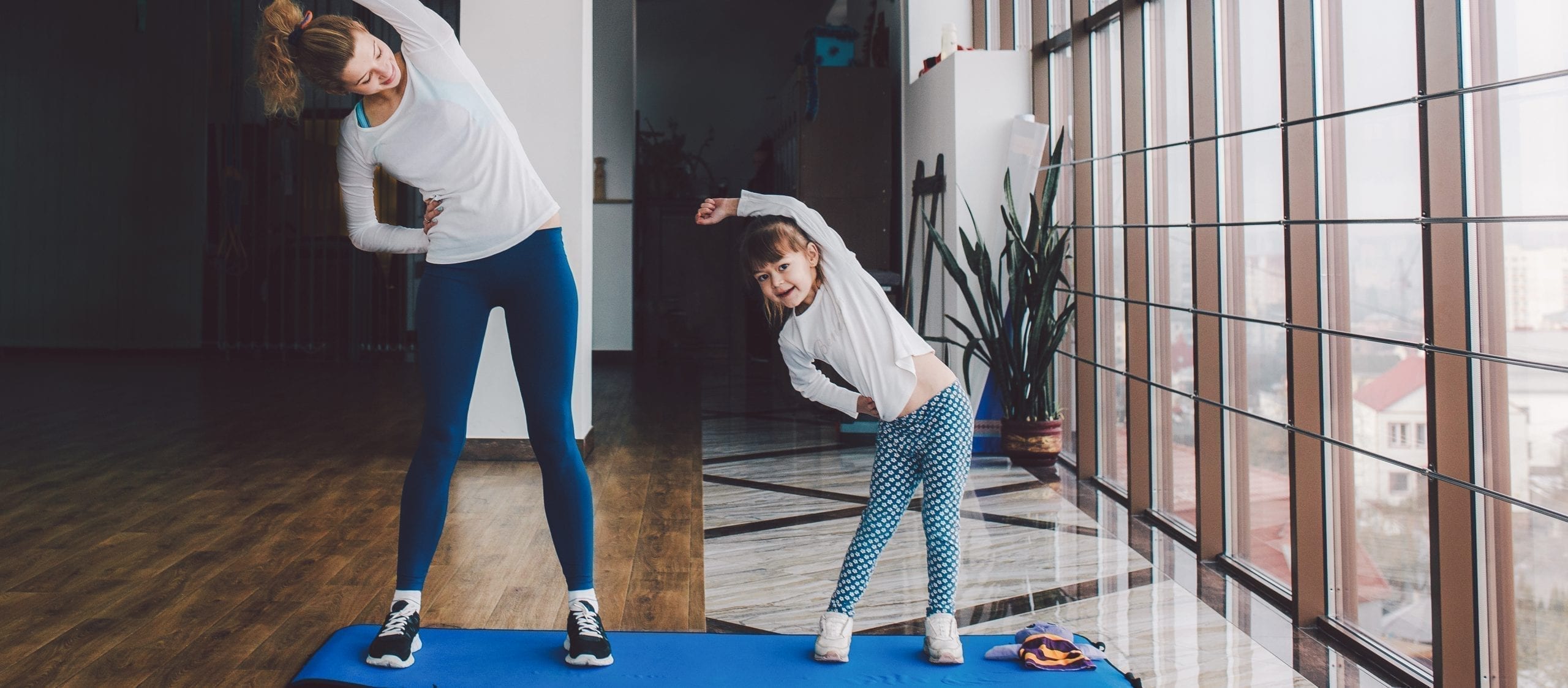 Fashionable since the 1960s, fitness is a discipline that encompasses a wide variety of physical activities. Sports that can be practiced at the gym or adapted at home: dance, gymnastics, yoga, cardio-training, stretching…and the list goes on. There is something for each and every taste, age, and level. Fitness allows you to achieve top form, dynamism and improve your flexibility and endurance. It can be practiced with the help of sports accessories such as a step-walk, dumbbells, a rubber band, a training ball…and many more.
Kids-friendly fitness activities
Before the session : don't forget to warm up to avoid possible injuries and don't forget to hydrate!
After the session : don't overlook stretching, which should be short but effective.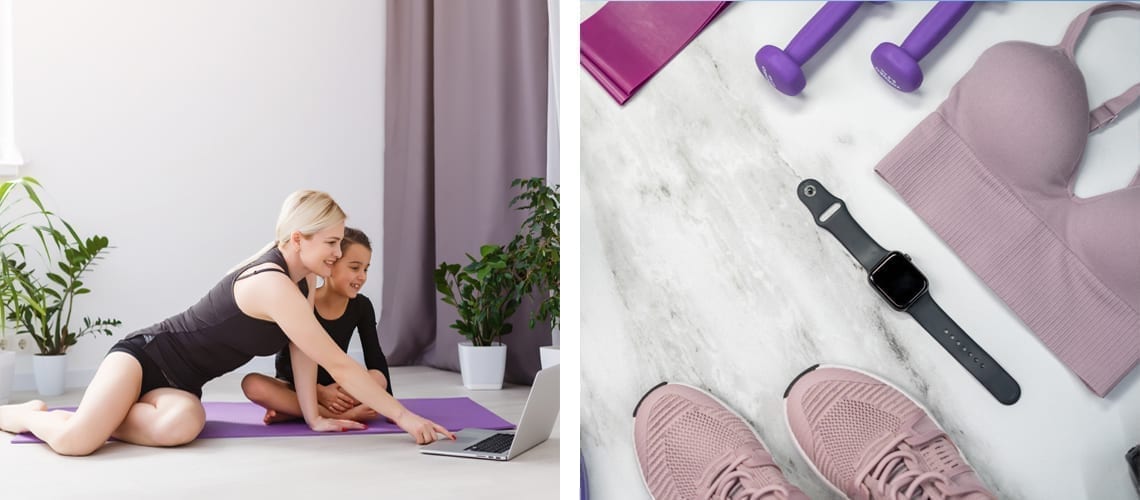 Cardio-training
Gear : none, but you can add a skipping rope or a step-walk.
Duration : more than 20 minutes, depending on your level
Cardio comes to the house to train the heart and muscles of the entire family. Try working out through some games and challenges to make it even more fun for your toddlers; they will have a blast during each session. Here are two examples of workouts to practice together, French boxer Sarah Ourahoune shares her fun exercises with you as a parent-child duo or a fun cardio class on the American Youtube channel Popsugar Fitness, ideal for being active as a family while having fun.
To add some difficulty, try a popular cardio fitness activity: The Step. A classic in gyms, it allows you to train in the form of choreography by performing various exercises on a step. It strengthens all the muscles of the body and develops stamina. If you only have one step for your session at home, it can be shared to practice together. Here is an example of a cardio step class for beginners with Jessica Mellet from the Youtube channel MYF Move Your Fit.
Animal Gymnastics
Gear : a sports or indoor mat

 
Duration : 10 to 20 minutes
This physical and playful activity, which has a funny name, is practiced with the youngest ones. The goal is simple: you have to mimic the posture and gait of your favourite animals: jump like a frog, frolic like a rabbit, flap your wings like a bird, stretch like a cat… 
It's a fun way to work out, use all the muscles of the body and exercise without realizing it. Animal gymnastics can be done in the form of a circuit for example, 30 seconds of imitation and 15 seconds of rest and so on. Here are some ideas with a tutorial video from the Youtube channel La Maison des Maternelles or the book La Gym des animaux Disney dedicated to this discipline.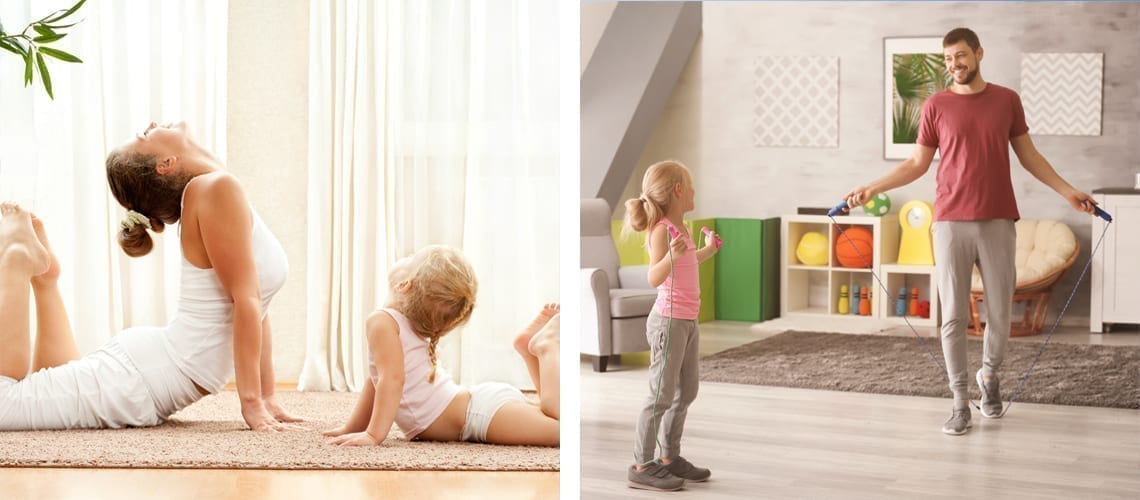 Dance
Gear : a playlist containing all the family's favourite tunes
Dancing until you're exhausted, here is a fun sport that will amuse and challenge many. A complete activity that involves the entire body and allows the most dynamic energies to be channelled. Twist, Macarena, Zumba… no matter the style of dance, there's something for everyone!
No need to be a good dancer, the goal here is to pass on to your children the pleasure of movement in order to share good times. If you prefer to be guided to dance, play Just Dance together! If you don't have a video game console, the game choreographies are available on this YouTube playlist. 
Yoga
Gear : a sports or indoor mat and a comfortable outfit.
After you've had a good workout, offer your little ones a yoga session to calm down. It's a practice that offers many benefits such as flexibility, concentration and relaxation to both adults and children. Stretching, learning funny positions, relaxing with breaths, exercises that require little space and time. For more information on this subject, see our Little Guest article « Yoga for kids is easy« .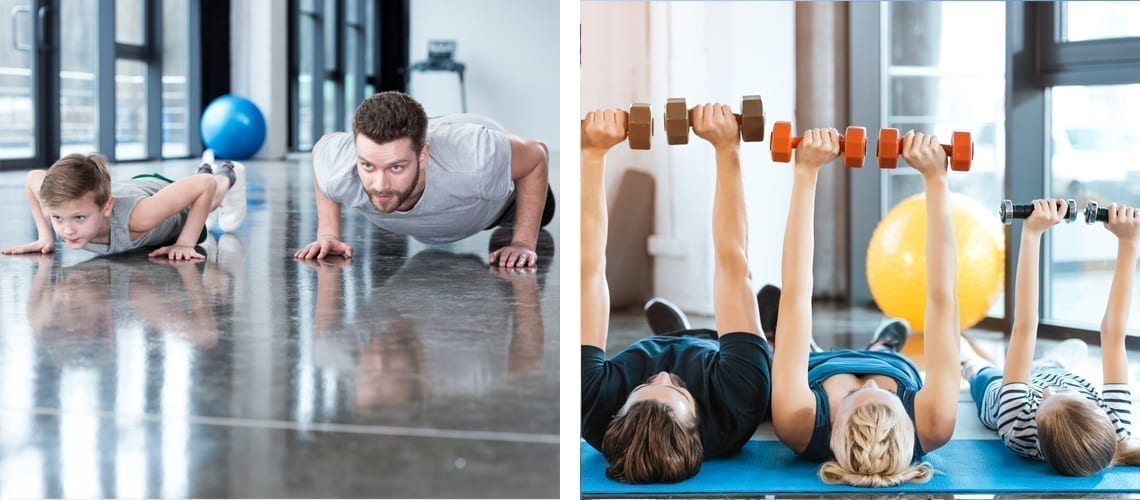 Kids-friendly HIIT
Duration : 7, 10, 15, 20 or 30 minutes (depending on the time available and your level)
For families who want to exercise to the fullest with their older children, here's a physical activity that will get the cardio pumping! HIIT is the English acronym for « high intensity interval training » and consists in a sequence of exercises to be performed by giving the maximum of yourself over a given time with breaks.
For example, 20 minutes divided into 30 seconds of exercise and 15 seconds of rest. This sport advantage is that it does not require any equipment, it is customizable, and adaptable to the abilities and level of each person. In fact, you can create your own session with your children by deciding the total training time, the duration of the effort and rest sequences and choose to do the exercises you prefer. To pick up some ideas, the Youtube channel MYF Move Your Fit offers you two HIIT videos with kids of 15 minutes and 25 minutes.
Light weight training
Gear : water bottles, light dumbbells, kettlebell, resistance band depending on age
Duration : 10-15 minutes depending on age
For older children, why not start getting them into weight training? When it is done in a moderate way, it reduces the risk of injury and fracture. For those over 8 years old, let's start with playful exercises, using body weight and focusing on the speed of execution.
As for teenagers from 15-16 years of age, they can progress slowly towards training with light weights. Tibo Inshape's Youtube channel offers you short and motivating workouts for children to do in family of 5 minutes and 15 minutes.
CONCLUSION
So, let's be clear, fitness is good, but fitness with your family is way better! The goal is not to seek sporting performance but simply to let off steam to have fun and strengthen family ties. It is therefore the perfect time to put your sneakers back on so that physical activity becomes a new habit at home. 
Finally, don't forget that it is essential to combine physical activity with a healthy diet to maintain a healthy lifestyle.
Have a blast working out!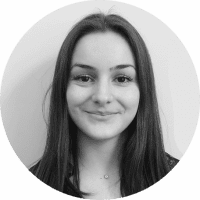 Mathilde, 21 ans, travel & writing lover, from Montpellier