With the arrival of the sunny days, your children will want to get some fresh air and exercise. Little Guest knows how to meet their needs and now offers some ideas to make gardening a fun and creative activity! In addition to discovering the wonders of nature, this activity also allows you to enrich your knowledge, develop your senses and, above all, cultivate a wonderful family spirit. So, put on your gloves and follow us!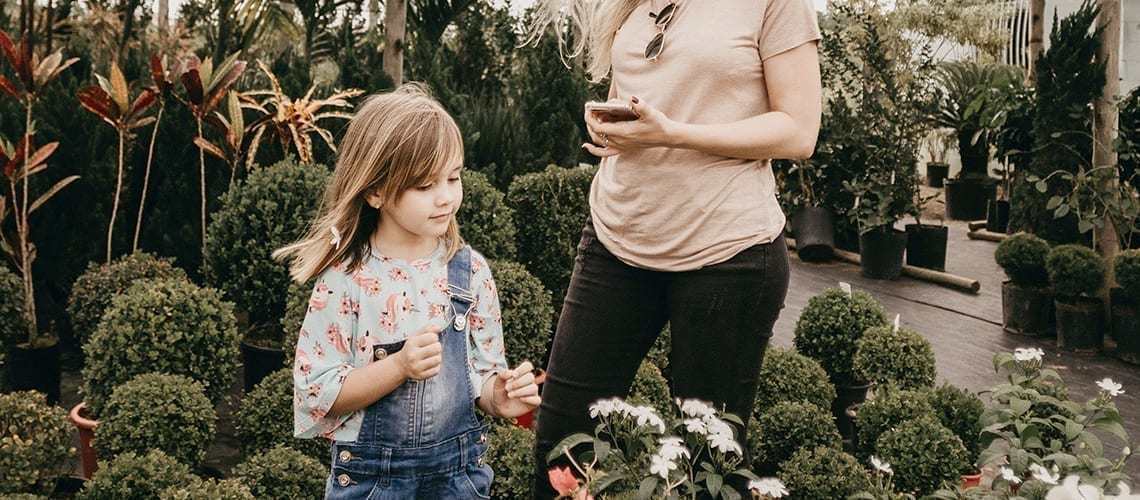 While everyone can garden, a few rules are necessary to ensure that this activity takes place in the best possible conditions. Before discovering our selection of gardening ideas and in order to prepare yourself as well as possible, take a look at these few practical questions that could be very useful to you.
Is gardening suitable for children?
Of course, it is! All children love to run, jump into puddles and put their little hands in the dirt. Gardening is therefore perfect for children of all ages. Infants will enjoy discovering the flowers and smells of the garden, young children will spend a lot of time running around in the grass and observing the plants around them, and teenagers will be delighted to be given the task of pruning roses or mowing the lawn. To avoid a lifelong dislike of this natural hobby, however, limit gardening sessions to 15 to 20 minutes at first, and then adjust the duration according to their enthusiasm.
Isn't it a bit dangerous?
As with any activity involving our dear toddlers, certain precautions should be taken by adults. Gardening tools, for example, should be stored in a safe place, and all small gardeners should be equipped with gloves to avoid cuts, and protective glasses if they handle tools that can cause small debris to be thrown around (stones, earth, small branches, etc.). Also, be careful to watch what they put in their mouths, as some plants can be toxic. Finally, store your cleaning products high up, out of their reach, to avoid any risk of intoxication.
Is it necessary to have a garden for gardening

?
No, gardening is not reserved for those lucky enough to have a large green space available! It is possible to start gardening even if you live in an apartment or house without a garden. Window sills, a reserved space in the kitchen or your children's bedroom are ideal places for them to start learning. We will explain how to do this in a few lines.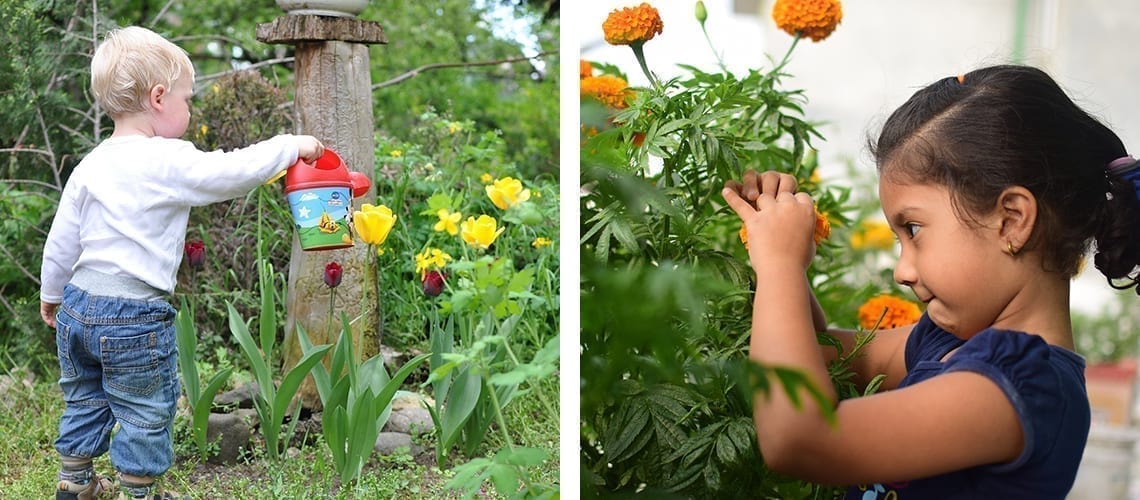 Is gardening good for children?
Of course, it is! Gardening is perfect for getting some fresh air, developing their knowledge of nature and sharing good moments of sharing and complicity. This practice also teaches them to develop their senses(sight, touch, smell, taste) when they are very young and to learn slightly more technical gestures (digging holes to plant flowers, watering delicately, etc.) from the age of 5. Gardening therefore contributes to the development of their motor skills, but also their patience, sense of responsibility and self-confidence. Finally, there is nothing like a gardening session to awaken their awareness of ecology and nature conservation issues.
When is the right time to plant flowers?
It is possible to plant flowers from the first days of good weather, around mid-May or early June. A little advice, if your garden is covered in frost in the morning, wait a few more days for the weather to warm up! Shrubs and perennial flowers can be planted without fear because they are resistant to the cold, as are certain annual plants such as snapdragons and pansies, for example. For plants of tropical origin or adapted to a sunny climate, such as begonias, wait until the ground has warmed up and night temperatures are around 10 degrees.
Kids-
friendly gardening workshops
Plant 

flowers in a transparent pot to see the roots grow
You don't need to own a garden to get started in this fun gardening workshop! All you need is a glass or clear plastic pot, some soil or potting soil and seeds that you can find in stores. Plant the seeds and watch them germinate and grow over time. The little extra in the clear pot? In addition to watching the flower grow on the surface, your child will also be able to watch the roots grow underground!
From what age? From the age of 5.
What do I need? A transparent glass or plastic pot, a few seeds and a small watering can.
Painting pebbles to embellish your garden
You want to teach your children the names of the flowers in your garden by involving them? Gather the pebbles you picked up on your last holiday at the beach and paint them in all the colours to create an even more fun garden! Once the paint is dry, ask your toddler to take his best handwriting and write the names of the flowers on the pebbles. If they're too small, it's up to take care of it! Then place each pebble in front of the corresponding flower and voilà, your little signs are ready!
From what age? As soon as they can write, but if they are too young for that, it is possible to cheat, they paint and you write the name of the flower.
What do I need? Pebbles, nice flat stones or small pieces of wood, paint, an indelible marker.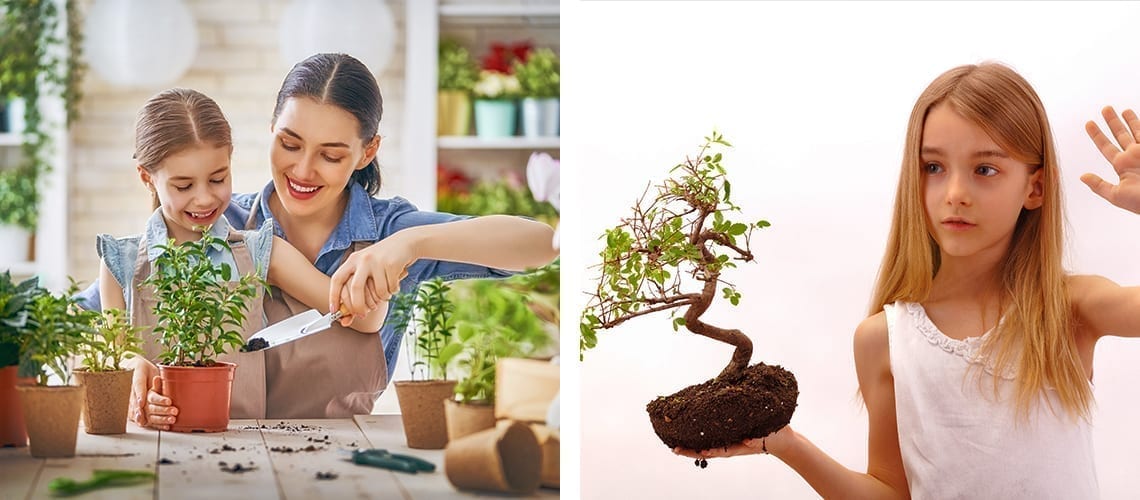 Growing a bonsai to develop patience
Of Japanese origin, the bonsai is a small shrub that you can plant yourself or buy already in a pot. If this type of gardening is perhaps the one that requires the most patience, it is also the one that will bring the greatest satisfaction while instilling the notions of patience and commitment but also a sense of responsibility in your children and teenagers. Carefully watered, pruned, and supervised, a bonsai tree can accompany you for many years, ideal for creating a relaxing atmosphere at home.
From what age? From the age of 6 or 7, but teenagers love them too.
What do I need? A bonsai, pots of different sizes to accompany its growth, rich soil, a pair of scissors or a pruning shears and a small watering can.
Learn how to take cuttings to share your passion with your loved ones
If gardening can become a solitary practice in adulthood, it is an excellent way for children to strengthen family ties and cultivate sharing and complicity. When your plants have grown, take a cutting by cutting one of the branches under a node of the stem, trying to keep a 45° angle, remove the terminal bud to encourage root formation and not stem elongation. Simply transplant the cut side of the cutting into a pot containing soil and sand and the plant will grow back! This is an ideal gift to introduce your loved ones to gardening even if they don't have a green thumb.
From what age? From the age of 8, but children of all ages will be delighted to watch you do it.
What do I need? A plant that has created new branches, a small pot with soil, a pair of scissors or pruning shears and a watering can.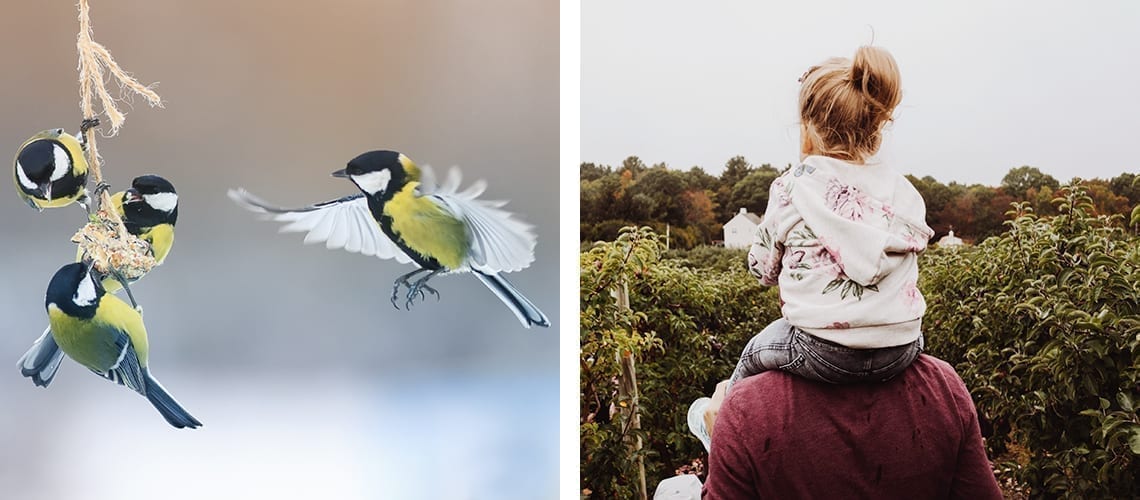 Build 

a bird feeder to learn more about their role in the garden
Birds also love to garden! They love it so much that they sometimes do it without even noticing it. As they fly over green spaces, they drop seeds, pollen and fruit stones into the ground and help the flowers multiply. To help them accomplish this mission, why not create a feeder for them? Nothing could be simpler. Take an empty egg box, attach string or woolen threads to it and hang the box from a tree branch (if you don't have a garden, just put it on a windowsill), then fill the cavities with a mixture of seeds or small pieces of bread. You'll see, the birds will love to take a little break at your feeder to regain their strength before flying off to new adventures!
From what age? From a very young age.
What do I need? An empty egg box, string, a mixture of seeds or pieces of bread.
CONCLUSION
Gardening is a relaxing activity when done alone, but really exciting when done by the whole family! With the arrival of spring, temperatures slowly rising and flowers blooming in a rainbow of colours, it's the perfect time to put on your boots, put on a pair of gloves and head out to the garden for some good times together!
Happy gardening!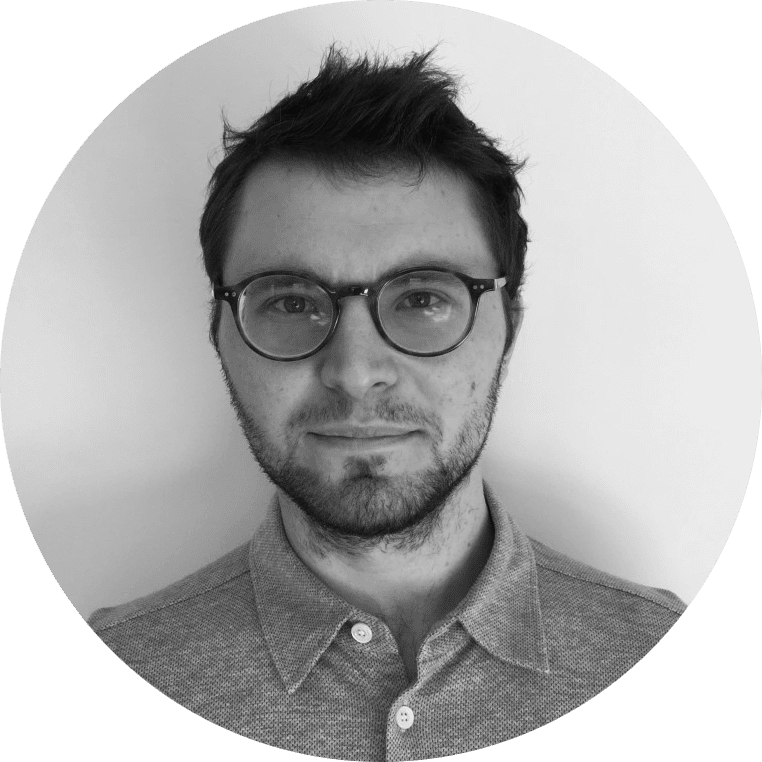 Guillaume, 25 years old, writer & travel lover, from Paris