What do Samsonite and Little Guest have in common? Their taste for travel, their attachment to the family and their top-of-the-range positioning! After the second year of collaboration with the famous century-old American brand, Little Guest (a collection of kid-friendly hotels) wanted to highlight its loyal partner on the occasion of its 110th anniversary. Let's focus on this world leader in travel accessories which never ceases to surprise us… and which offers you a 15% discount on its entire range thanks to the LITTLE GUEST promotional code!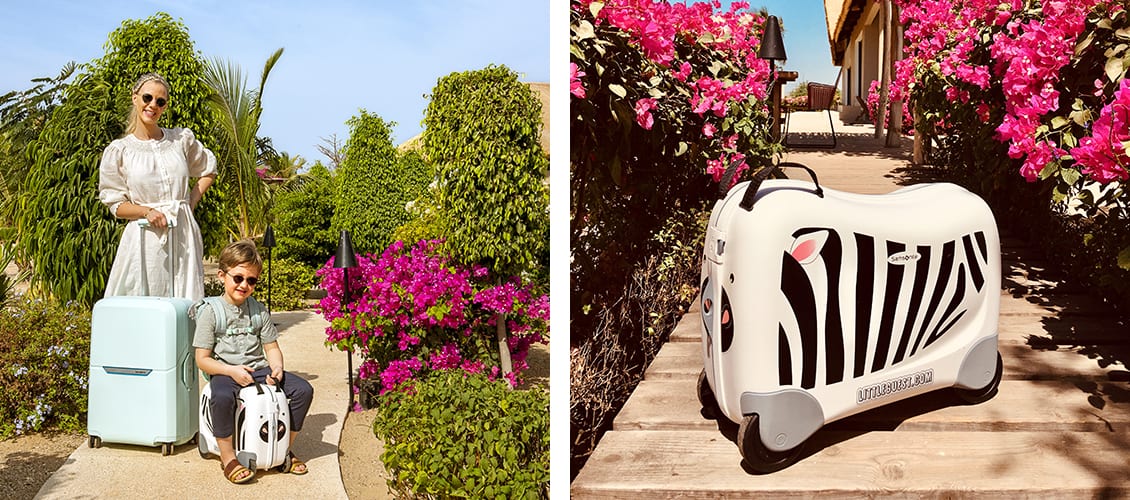 The Magnum and the Dream Rider pose in Senegal!
How well do you know Samsonite?
The man behind this success story is Jesse Shwayder, an American businessman with a passion for travel who quickly understood the vital importance of offering a range of very high-quality products to accompany demanding holidaymakers. Both innovative and attractive, Samsonite's offer is renewed, transformed and improved year after year.
Among Samsonite's emblematic suitcases (see the e-shop), we can of course mention the Cosmolite, a suitcase as light as it is resistant, the Magnum, which won the Red Dot Award in 2020, or the Dream Rider which makes children really happy (as evidenced by the photo above).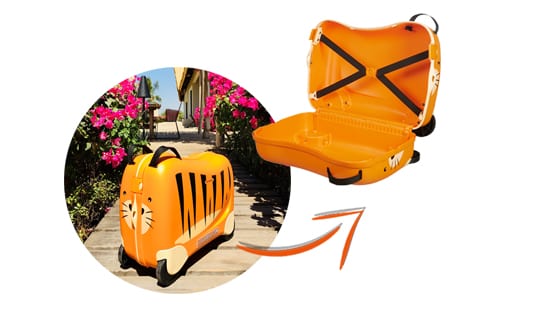 The iconic Dream Rider by Samsonite features ideal dimensions for a child and is ultra-ergonomic! Little zebra, tiger, leopard, pony or ladybird, any child can find his totem animal. In addition to its cute design, the 4-wheeled suitcase has two small ear clips for riding and driving.
Details and composition:
Dimensions: 37 x 51 x 22 cm
Volume: 28L
Material: 100% polypropylene
Weight: 1.93 kg
Price: €59
A responsible brand
This is THE topic of the 21st century for people who, like us, attach equal importance to quality and ethics. We are therefore proud to declare that our partner Samsonite promotes the « Made in Europe » label and produces its collections in its two workshops in Audenarde in Belgium and Szeksard in Hungary.
In 2018, the brand launched its very first ECO collections to make the planet smile. Products made from « recycled polypropylene called Recyclex™, a material made from 100% recycled plastic bottles » the first year, suitcases made from « post-consumer household waste » (according to Samsonite) the following year. The imagination really is overflowing among the group's thinking heads. Our favourite goes of course to the absolutely adorable ECO collection dedicated to children, perfect for teaching little ones the importance of Mother Nature!
Which suitcases should I choose to travel with my family?
Which Samsonite suitcase to choose?
Samsonite products are all equally reliable and solid, but if we had to choose just one, it would be the C-Lite hard case! This 4-wheeled model, created in 2008 under the name Cosmolite®, is the lightest and strongest in their range. Available in 6 different sizes and 6 different colours, this product is a great favourite with parents.
Which suitcase for my child?
Samsonite has bet on a magical innovation for children: The Dream Rider. But beware, it's not just an ultra-easy to use suitcase! It's also a way for toddlers to keep busy (at the airport or train station) because it acts as a small cart. This way, your toddler won't get bored and he will drive his suitcase himself in a happy and cheerful mood. For the rest of the year, the product can also be used as a small toy chest because it's cute design will bring a touch of softness and fantasy to your kid's bedroom or playroom. Not convinced? Here is our exclusive test!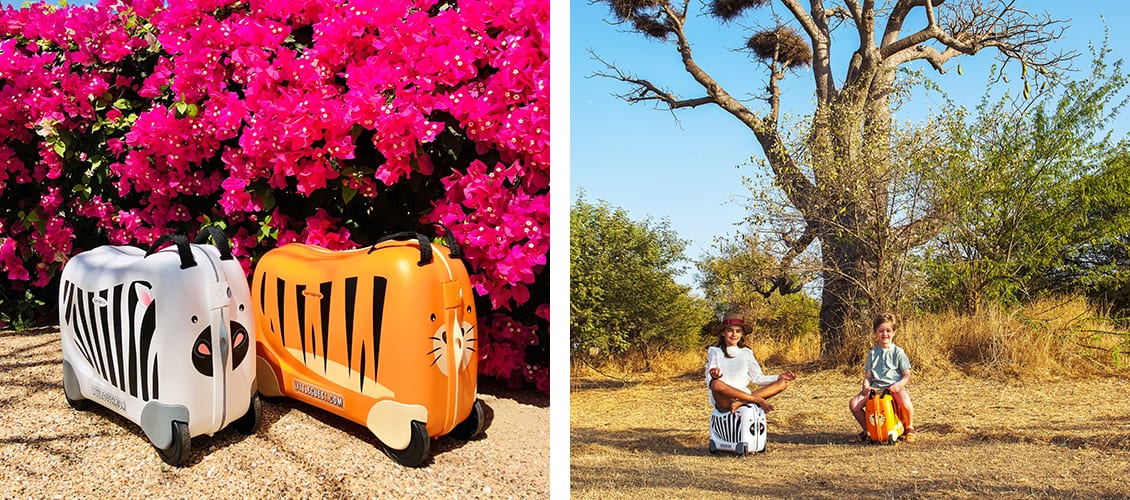 The Dream Rider will follow your child everywhere like a pet. Adorable!
Which suitcase can we take by plane?
The good news is that at Samsonite you can buy your favourite luggage in several sizes, including cabin size: adults can buy a set of suitcases in different sizes. At Little Guest, we really like the Magnum suitcase and its retro look that will take you back in time (3 sizes and 10 colours available). As for the Dream Rider suitcase for kids, it is just the right size to be accepted in the cabin and accompany your toddler in his experience onboard. And if you're planning to take off soon, don't hesitate to have a look at our ideas to keep your child entertained while travelling!
Little Guest & Samsonite
With all these qualities, the brand is resolutely a valued partner! For almost 2 years, Little Guest and Samsonite have been travelling together. This collaboration is organised around the adorable Dream Rider suitcase, but not only! When booking with us, families are offered, depending on their shopping basket, the iconic Little Guest branded suitcase or a pretty HAPPY SAMMIES case (and of course lots of nice surprises that you can discover here!) for an instant foretaste of holidays. These little gifts are lovingly prepared by our Little Concierges, ready to do anything to make you live the most beautiful adventure, and sent directly to your mailbox!
In the HAPPY SAMMIES range, we love the perfect ergonomics of the backpacks designed to ensure comfort and security, the ultra-cute Scandinavian design of the bags, and the soft characters represented by the different models. Our little Achilles (pictured below) loves the Fox William!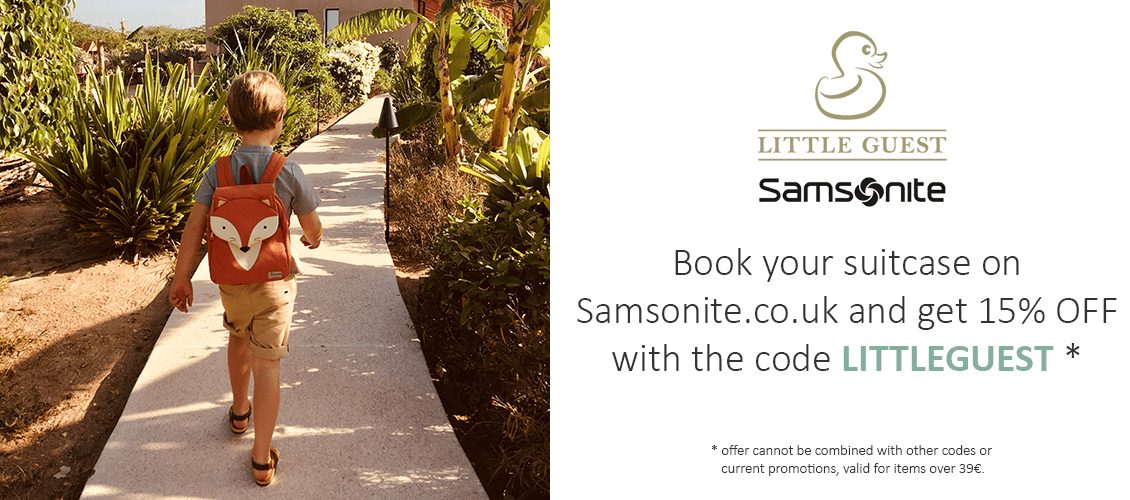 Good news! Enjoy a 15% discount for any purchase on Samsonite.be with the promotional code LITTLEGUEST (offer cannot be cumulated with other codes or current promotional offers, valid for items over 39€). This offer has no time limit and is valid for both the kids and the adult's range.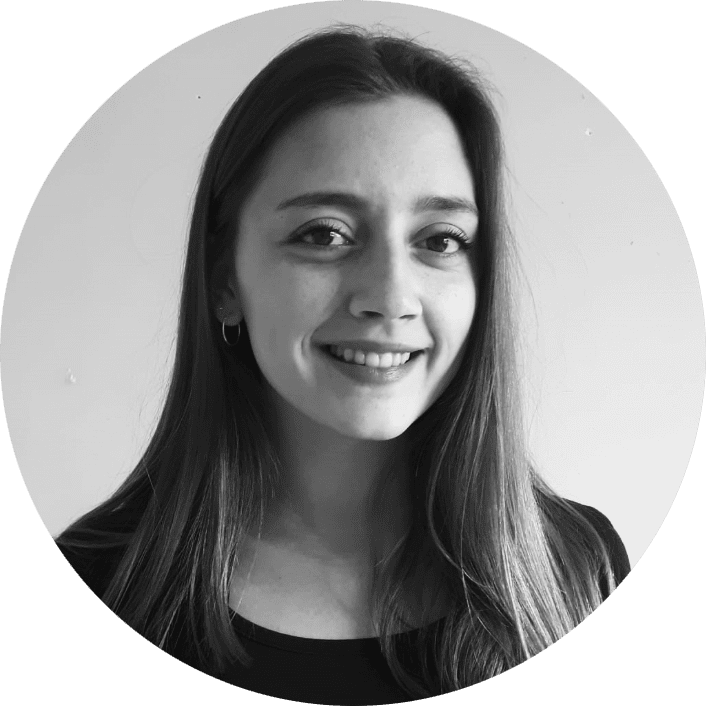 Pernell, 24 years old, passionate about travelling, from Angers, France