Adventurers, get out your road map! Have you spotted all these green areas spread across the south of France? Imagine for a moment plunging your soul into one of them for a total reconnection with nature, then make this dream come true by embarking on a road trip prepared with tenderness and love by the whole little family. To guide you, Little Guest (a collection of kid-friendly luxury hotels and villas) has imagined a unique itinerary, from Lake Geneva to Catalonia, via Provence. Let's go!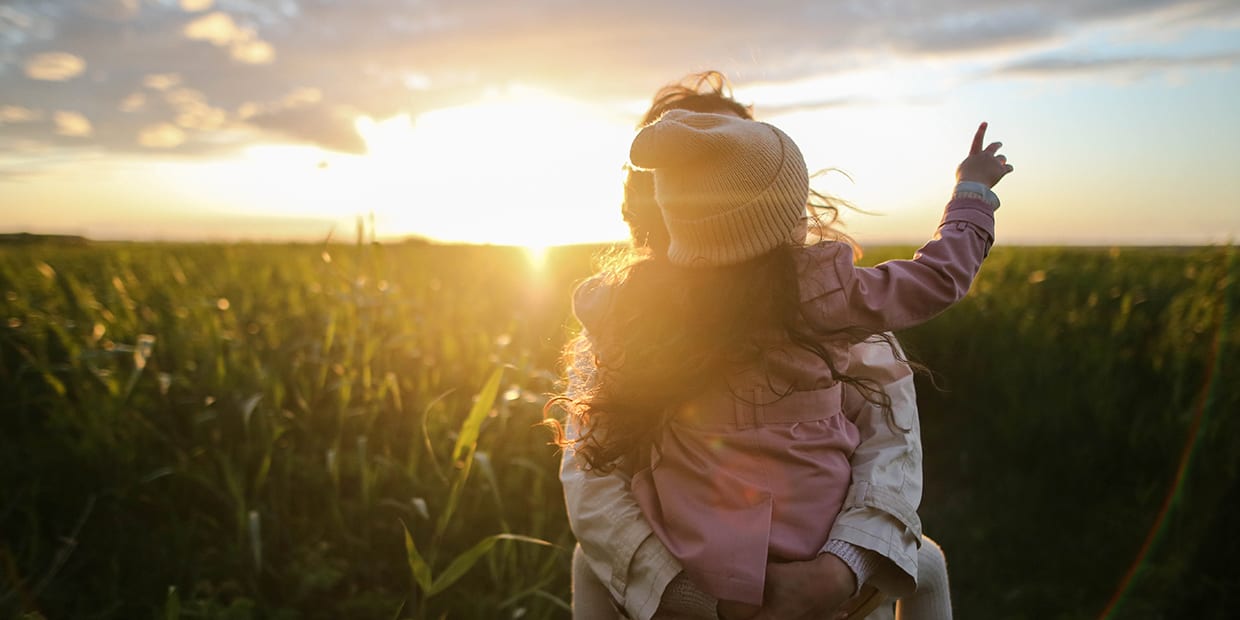 This itinerary in a nutshell
The number of kilometres to be covered: From your first drop-off point to your second, it will be 398 km, then 356 km to your final destination.
Landscapes encountered: Mainly regional or national nature parks.
Main activities: Hiking, mountain biking or horseback riding, golf, tennis or yoga sessions, relaxation at the beach…
Expected visits: Water parks, nature parks, open-air museums, small historical villages!
Some advice before you leave
Because the current situation requires particular vigilance, we obviously recommend that you regularly check government sites for information on border openings and required formalities. Take into account that this route crosses at some point the French-Swiss (motorway vignette, customs, travel documents, everything is explained in this publication) and French-Spanish borders.
Make your car a comfortable cocoon: water bottles, snacks, cushions for napping, blinds to protect you from the sun, etc. Little Guest has thought of everything in order to turn your car into a real amusement park so that children are never bored on the road, and can rest if Morpheus calls them! To help you with that, we have prepared an article: « Our tips for a well-organised family road trip« , as well as a Little Guest playlist to listen on the road!
Always carry the children's essentials (ID, vaccination book, etc.), a mini first-aid kit with bandages, medicines against motion sickness… To make sure you don't forget anything, Little Guest offers you three checklists: for children from 0 to 3 years old; from 3 to 6 years old and from 6 to 12 years old.
Day 1: Let's discover the Hotel Royal Evian *****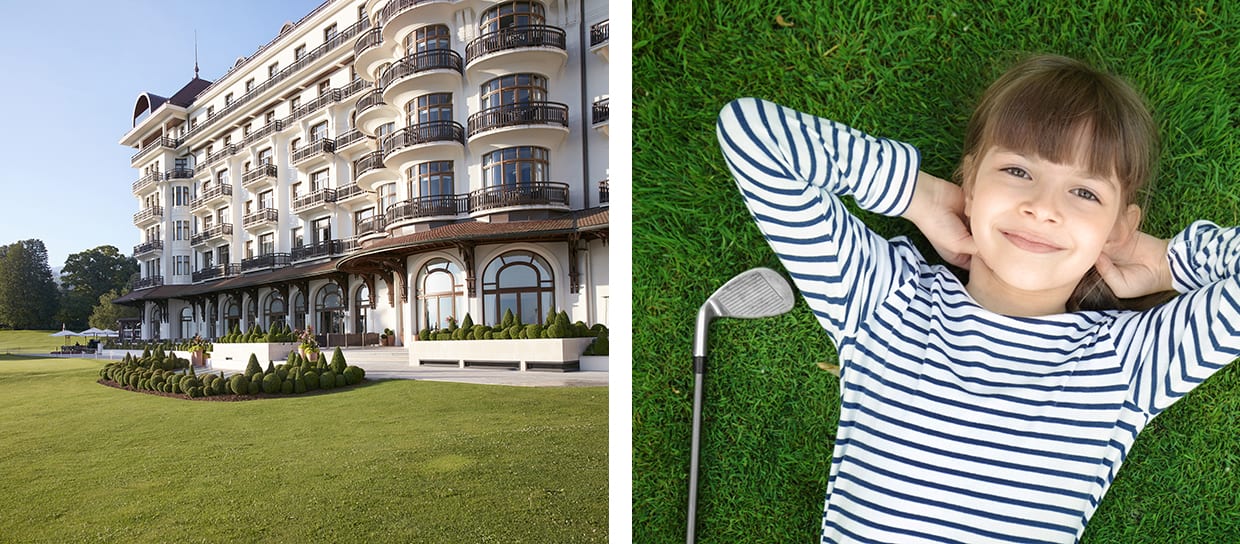 Because the principle of the road trip is to come face to face with hidden landscapes, we take you to a jewel of the hotel industry nestled in the heart of the Alps of Haute-Savoie that we like to browse through before arriving at our destination. Located 1h15 from the beautiful Swiss capital, the Hôtel Royal Evian ***** unveils its Belle-Époque decor in a prodigious setting, just a few minutes from the centre of Evian-les-Bains. With the French and Swiss Alps and Lake Geneva in the background, this prime destination is sure to charm you.
Once you arrive, drop your bags and adopt the motto of this holiday: « Holiday, I forget everything »! While your children are having fun and joining the kids' club with its indoor swimming pool, your parents will enjoy the 1,200 sqm spa, one of the most popular in the region. Treatment rooms, rest areas, swimming pools, a hydro-contact course and a fitness room managed by sports coaches… everything is done to offer you the luxury of a unique sensory experience.
Day 2: rest, swing and comfort
Did you sleep well? Extend your dreams by enjoying a day of comfort and well-being. In the early morning, after a delicious breakfast made with fresh bread from the house baker, Savoy yoghurts, home-made spreads and gourmet pastries, happy families head for the spa. A treatment card exclusively designed for their young skin awaits the children, who will be pampered as much as Mum and Dad.
In the afternoon, we devote ourselves to the practice of swing! Beginners or confirmed players are welcome on this sophisticated 9-hole course. From the age of 5, toddlers can also sign up for lessons at the golf school run by passionate and exciting instructors. At the end of the day, you can go water-skiing on the lake at the nearby Eurolac nautical base.
Day 3: Day at lake Geneva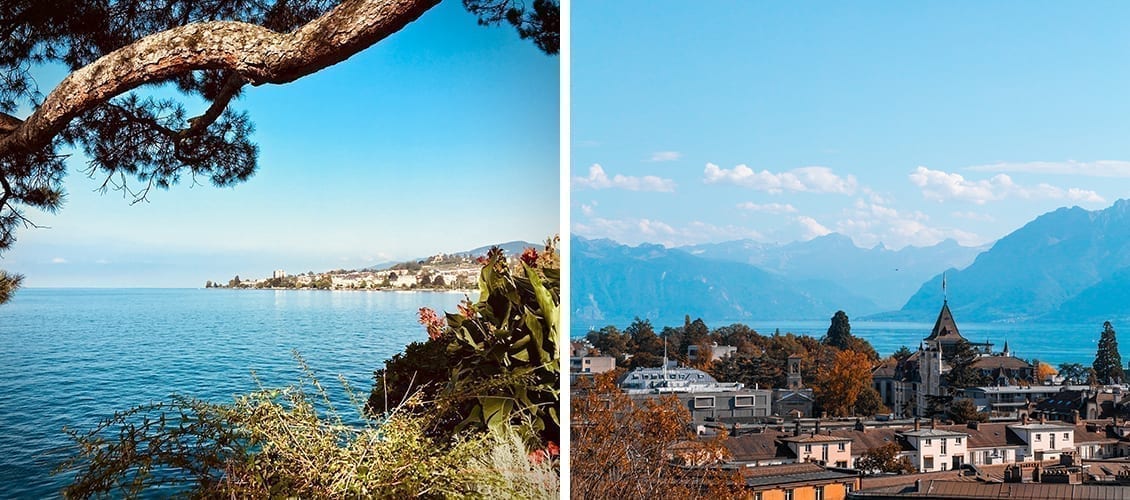 Does Lake Léman, or Lake Geneva, mean anything to you? This vast expanse of water of glacial origin runs along the south-western French-Swiss border for 72.8 kilometres and offers bucolic landscapes that are ideal for a day out with the family. In this article, we have listed the most beautiful hotels in the region and the best family activities to have fun, learn and enjoy with the whole family.
You'll, therefore, have plenty to choose from for your expedition to Switzerland! For an ideal day departing from Crozet, we recommend: The Esplanade de Montbenon and the Espace des Inventions in Lausanne, the flower-lined promenade in Montreux, the historic streets of Evian-les-Bains and its Cachat spring, as well as the incredible plant heritage of the Botanical Garden where green workshops for kids are held. Get ready for a day full of emotions!
Day 4: Big departure Domaine de Manville
It's time to repack the suitcases, load the trunk and get back on the road to happiness. Next stop: Le Domaine de Manville *****, a charming establishment nestled in Provence, only 4 hours' drive from your starting point.
On the way, families take the time to cross the Isère, a sumptuous region that holds many treasures. Located at 3.04 hours from the Royal Evian hotel is the Lake of Monteynard-Avignon equipped with a beach, children's playgrounds, but also and above all two Himalayan footbridges from where you can admire breathtaking views! You are more than welcome to stop there for a relaxing picnic in the heart of a breathtaking natural environment.
Then, until your second hotel stop, you will discover incredible landscapes that are sure to amaze children. Along the Vercors Regional Nature Park, lakes, plants and mountains are like mirages that will embellish your route. Take part in a chase with the Rhône by following its course for almost 130 km, from Valence to Avignon, two lovely cities that are worth the detour.
Your arrival in Provence will be marked by the discovery of the Alpilles Regional Nature Park, where you can spend the next 4 nights.
Day 5: Rest day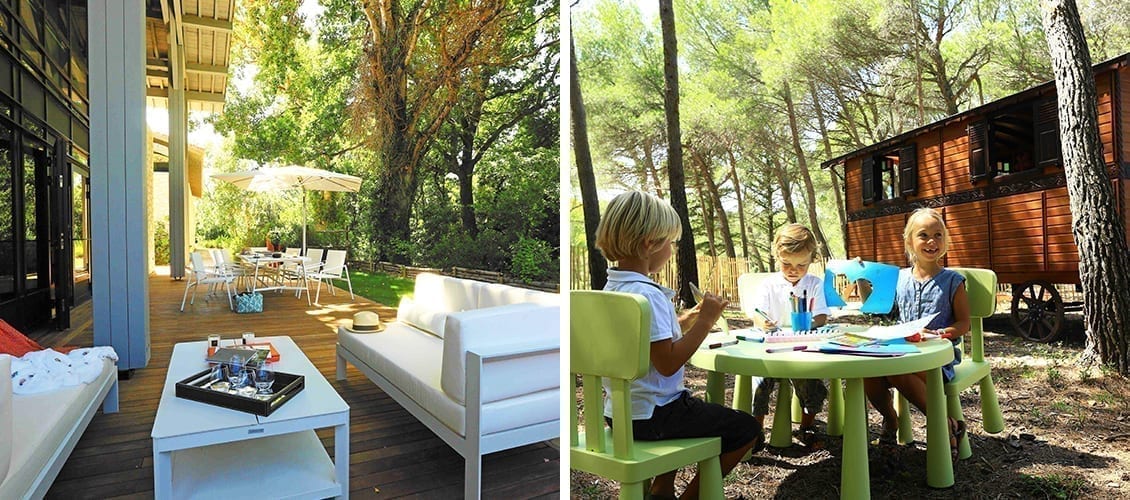 Welcome to the most beautiful village in France: les Baux-de-Provence. In addition to its shaded terraces and cobbled streets, it is the beauty of its Provencal houses that will seduce you. Enchanted by the scents of olive groves and lavender, treat yourself to a well-deserved rest at Domaine de Manville.
If young parents opt for a Classic Room that can accommodate a cot, families with two children prefer the Family Suite. But if you want generous proportions to bring your loved ones together, the estate combines the charm of independence and the comfort of top-of-the-range hotel services by offering you incredible villas of undeniable splendour.
Once you have settled into your favourite cocoon, take a deep breath of the Provencal air and enjoy the climate from the rural exteriors of this rural palace.
During the day, toddlers from 4 years old will undoubtedly enjoy the kids-club. The educational activities and playful workshops will be organized in small groups, and will aim to sensitize your little wolves to permaculture and respect for the environment. During this time, you will be able to put into practice your golf techniques acquired at the Royal Evian hotel, and this, within the Alpilles!
After lunch, served in the dining room, on the terrace or in your room (or in a 100-hectare country park if you love picnics!), ride a bike and follow the paths along the olive groves and vineyards of the Regional Natural Park. You can also enjoy many sports activities such as yoga, Pilates and gymnastics!
Day 6: an abundance of memories in Provence
In the morning, why not discover the Alpilles… seen from the sky? It is aboard an ULM that you will dominate the Baux-de-Provence. Sport Découverte organises first flights from Avignon (150€/person for 40 minutes flight – from 7 years old). Take off and let yourself be suspended!
After this unique experience, embark on a journey back in time…
Head for the pretty town of Istres, nestled between the Pond of the Olive Tree and the Pond of Berre. Under its false airs of Aix-en-Provence, Istres promises you a return to the Middle Ages. Its narrow streets and spiral alleys lead you to the church of Notre-Dame-de-Beauvoir from where you can enjoy an exquisite panorama on the horizon. Sit down at one of the creperies to satisfy the impatient taste buds of your toddlers before treating them to a nice surprise… We warmly recommend the Aromatik, which requires a prior reservation, as it is often a victim of its own success…
The big surprise is an adventurous excursion to Dinosaur'Istres! It is in the forest of the Colline du Castellan, in the heart of an archaeological site symbolizing the Provencal biodiversity, that this theme park is hidden. There are nearly 40 reproductions of dinosaurs, including 20 life-size ones, enough to amaze young and old alike. This journey back in time of nearly a few million years is free and open to the public.
Day 7: The Camargue regional nature park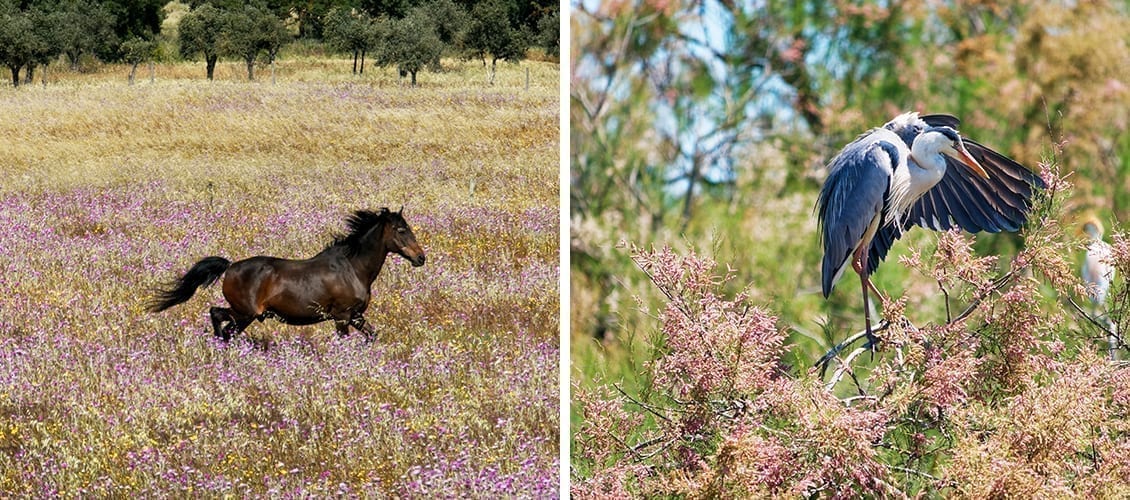 Wild beaches, towns steeped in history, Provençal gastronomy… this is what characterizes, among other things, the beautiful Camargue region. Situated some thirty minutes from the Domaine de Manville, this unmissable natural park is a vital stop on your itinerary!
To help you discover the pearls of this little corner of the south, Catherine has selected for you the most beautiful addresses of the Camargue, those that you can discover with your family. On the programme: animal encounters, between horses and pink flamingos, boat trips, architectural discoveries, and a visit of Arles, of course!
Day 8: Departure for Spain
We don't doubt for a second that your last night at Domaine de Manville was a restful one… and so much the better! Because now is the time to get back on the road and cross the Spanish border. To make this 3h45 journey a pleasure, we have concocted a very quiet day for you.
It begins with a walk along the A9 motorway which skims the towns of Béziers and Narbonne before winding its way through the heart of the Narbonnaise en Méditerranée Regional Nature Park, a little corner of paradise inhabited by enchanting lagoons and vineyards.
Before crossing the border, after a 3-hour drive in the heart of a mesmerizing nature, take a lunch break in Collioure.
This authentic Mediterranean seaside village has no more than 3,000 inhabitants, which makes it a popular stopover for families in search of sweetness. Its coves of the Côte Vermeille are adored and its gastronomy inspired by Catalan culture is loved by all! The perfect combo for a lazy break during your road trip. On the menu: a grilled fish or seafood platter at L'Insolite, before finishing on a sweet note with one of the home-made ice creams or a succulent pancake…
After these moments of soft idleness, a digestive walk on the beach is necessary… before slowly taking the road again.
Day 9: Between the Pyrenees and the Mediterranean sea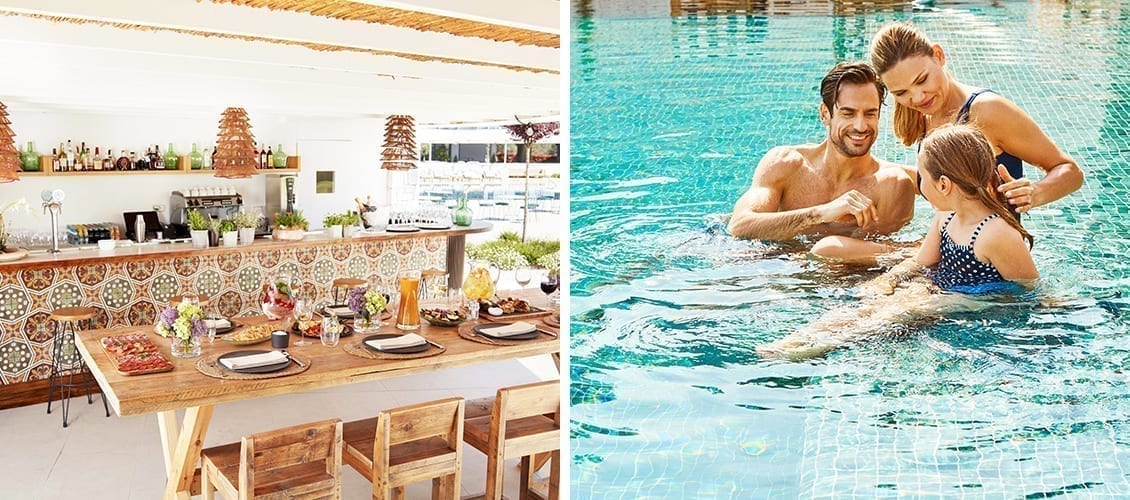 It is in a green setting on the Costa Brava that you will wake up for this ninth day. Welcome to Spain, and more precisely to Catalonia! The Hotel Camiral ***** describes itself as a family-friendly address highly prized by the tribes. Whether you're a sporty, quiet, culture-loving or greedy person, you'll be won over!
Each room and suite, all decorated with elegance and refinement, opens onto an impressive view overlooking the golf courses, gardens and surrounding hills. For your first day in this haven of peace, here is a small inventory of activities to do: have fun at the kids-club thanks to cooking classes, creative workshops, yoga sessions, discover the surrounding nature (for children from 3 to 12 years old), practice your swing again and again on one of the two PGA golf courses, go mountain biking, hiking or horseback riding, live a moment of escape and complicity at the spa… and many other family services!
Day 10: Costa Brava
You've already been living the « family road-trip adventure » for 10 days, it is therefore essential to mark the occasion! The Hotel Camiral benefits from an exceptional location just a few kilometres from the Costa Brava. From Portbou (1 hour 13 minutes from the hotel) to Blanes (26 minutes from the hotel), the Catalan coast is full of places to be discovered urgently, such as Cadaqués, known as « Dalí's white city ». Little by little, as your morning progresses, you will discover stunning beaches, coves and villages that will add to your holiday photo album with brio!
Because children are sometimes reluctant to go for a walk without a specific goal, reserve an afternoon for them at the Marineland de Catalunya, located in Blanes, whose aquarium focused on dolphins enchants little blond heads. Info: the 2020 opening dates of the park will be announced soon on their website… keep an eye out!
Day 11: The choice is yours…
The region is so splendid that many scenarios are possible for this last day, it's up to you to choose according to your mood…
In the mood for adventures? The very famous theme park PortAventura (2 hours) opens its doors to China, the Far West, Mexico, Polynesia, the Mediterranean and SesamoAventura, a magical imaginary world animated by merry-go-rounds, water slides and a small steam train.
In the mood for a city trip? Head for Barcelona (1h10), a city as cosmopolitan as it is festive, shaped, among others, by the great modernist architect Antoni Gaudí! Art lovers, let yourself be surprised by the city that saw Pablo Picasso and Joan Miró grow and flourish.
In the mood for a nature walk? Spread over an area of more than 8.000 hectares, the Serra de Collserola Natural Park (1h) is a waking dream for lovers of wide-open spaces, animals and Mediterranean vegetation.
In the mood for a quiet, lazy day? Concoct yourself a little day in Blanes (26 minutes) where the beaches unfold their fine sand to invite you to laze without complex. You'll fall in love with the Platja De Blanes and Cala Bona, located just a few steps away from the Marimurtra Botanical Garden.
Make the most of this last day, because tomorrow you'll be heading for home on the asphalt with your head full of memories.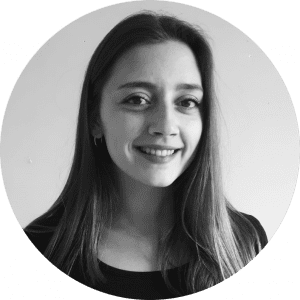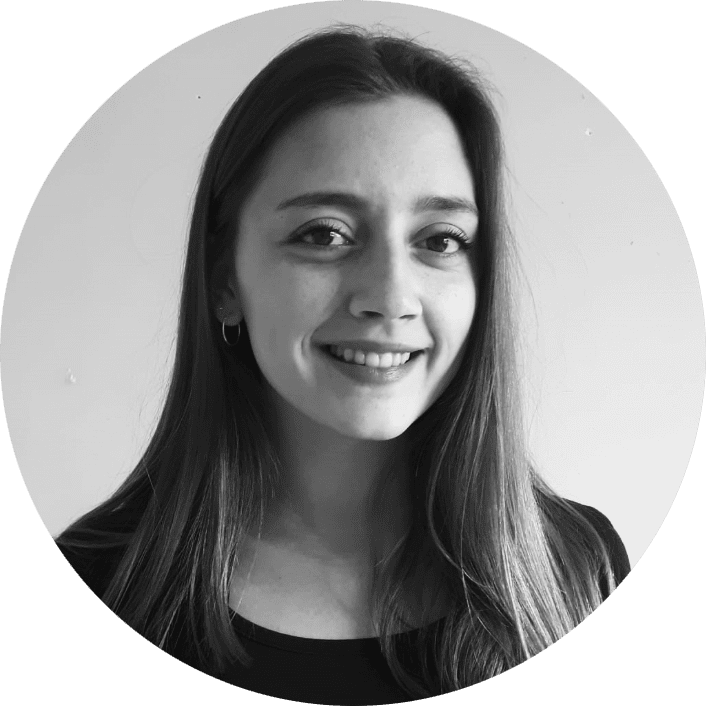 Pernell, 24 years old, travel lover, from Angers, France