Since this summer rhymes with freedom, Little Guest has concocted a series of holiday itineraries full of surprises and amazement. Here comes an exceptional road trip as it is nothing less than a wonderful journey between the magnificent Alps Riviera and the French Riviera. A prestigious trip, where luxury and nature skilfully combine.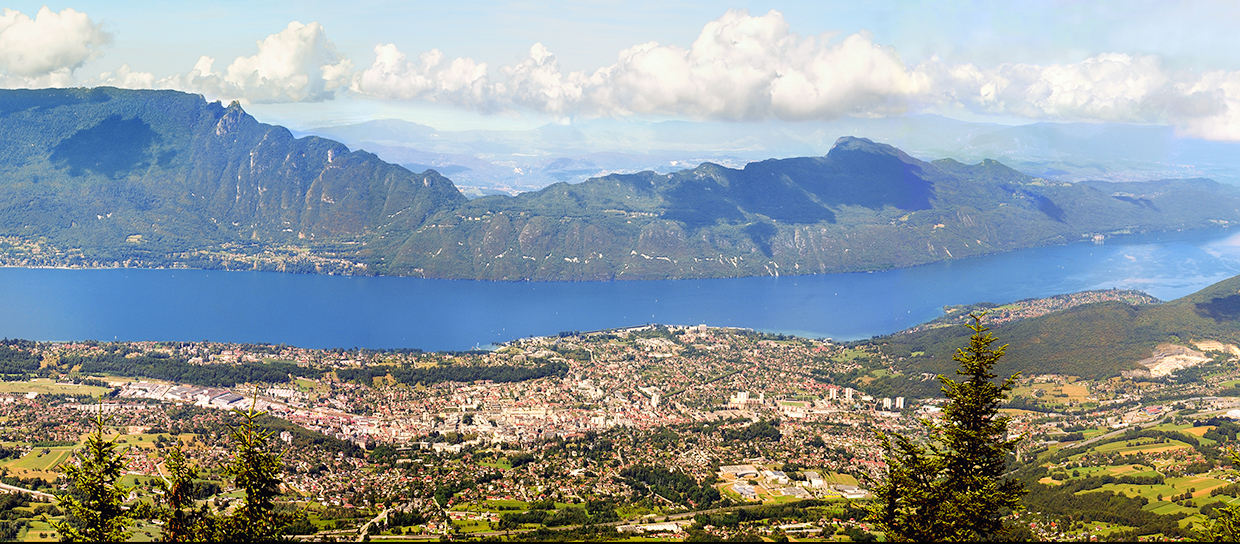 At the foot of French Alps, the Savoie region unfolds its never-ending faces of mesmerizing lakes, unspoiled natural parks and preserved medieval cities. A stone throw away from ski slopes during winter, Savoy becomes a verdant and welcoming place once spring pops up. An idyllic family-friendly setting and a clever first step for a road-trip between Aix-les-Bains, nicknamed « the Alps Riviera » and its Southern singing-accent counterpart, the French Riviera.
During this itinerary, we propose you to start with a stay at the Golden Tulip in Aix-les-Bains, then to head in Provence with the Opio Resort Club Med, and finally to join the Hotel Hermitage in Monte-Carlo!
This itinerary will focus mainly on well-being, as it will flourish in the historic sites that have been dedicated to it for decades. Some cultural outings will also be on the program!
THIS ITINERARY IN A NUTSHELL:
This itinerary will take place between Aix-les-Bains, Cannes and Monte-Carlo, the last two towns being located in the Alpes-Maritimes department (06). It extends for about 574 km.
This itinerary will be above all placed under the sign of prestige, art and refinement. It will guarantee you top-of-the-range excursions, especially to the emblematic cities of Aix-les-Bains, Cannes or Monaco.
Even though the itinerary is taking place in France, feel free to escape for a lovely getaway to neighboring Switzerland, one hour away from Aix-les-Bains. In this case, don't forget your pasport and to change your money into Swiss francs!
SOME ADVICE BEFORE YOU LEAVE:
In this post-pandemic period, remember to find out about border control procedures in the various European countries, particularly via the embassies' websites.
Refer to our checklists to make sure you don't forget anything in your children's bags. We offer three of them:
DAY 1: WELCOME TO Aix-les-Bains!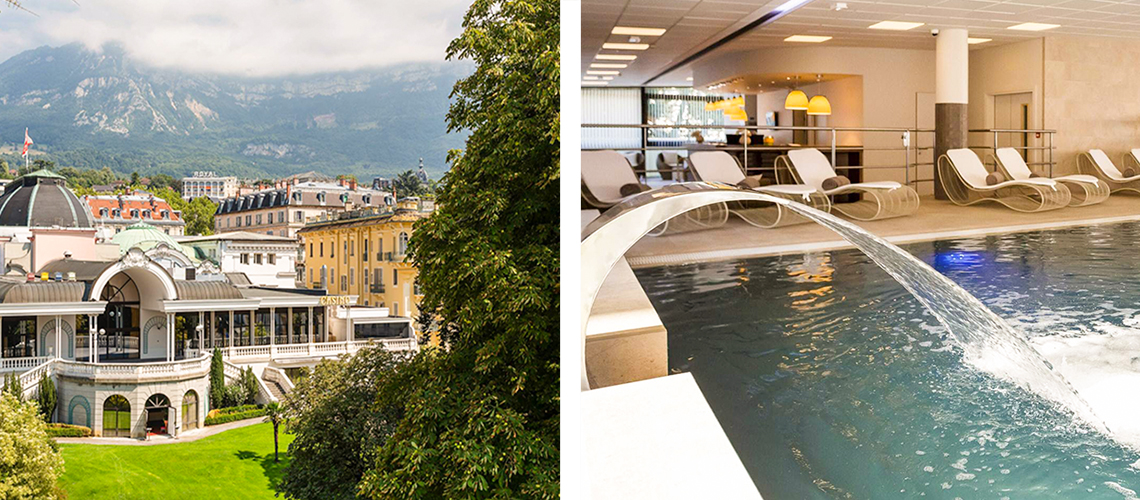 Starting point of your road-trip, the Golden Tulip Aix-les-Bains **** boasts with all the commodities for a smooth arrival. A stone's throw away from Chambéry's airport, but also within reasonable distance from Lyon and Genève's ones, the hotel perfectly blends in its classy environment. May it be a gorgeous view on the Alps, a walk on Bourget lake's shore or a fun night at the Casino Grand Cercle, everything is within easy reach at the Golden Tulip. Of course, in a city named after its thermal facilities, the spa is a must-do! The hotel's one is definitely worths the shot with its various services, duo massage and even kid-adapted treatments. A good way to relax after a trip-busy first day.
The restaurant L'Alchimiste invites the gourmets to sit and discover a select cuisine sublty mixing local season products and a gentle gastronomic note. Thumbs up for the different ambiences of the restaurant: for a verdant ambience, head to the table d'hôtes and its vegetal setting. For a more intimate dining, the Japanese-style dining room offers a view on the lovely hotel's Japanese garden. Finally, cuisine lovers can sit in front of the open kitchen and watch the chefs creating culinary masterpieces.
If you have a full resting day in mind, don't skip the babysitting service (reservation 24h before) to fully enjoy the voluptuousness of the spa. During summer, the kids-club will provide sport activities, creative workshops and plenty of games to entertain your children while you take a moment to sip a well-deserved glass at the bar. A jump in the pool or a fitness session at the gym's facilities and here you are, ready to start the journey!
DAY 2: DISCOVERING Savoie and Haute-Savoie
For the second day of our itinerary, we invite you to discover the magnificent regions of Savoie and Haute-Savoie. The amount of things to do is endless and one day is certainly not enough to cover it all. Nevertheless, here are some suggestions that are worth the trip. Ten kilometers away from the hotel lays the lovely city of Chambéry that, despite its modest size, boasts more activites than you could imagine. If the Castle of the Dukes of Savoie and the Cathedral Saint-François de Sales must definitely be on your visit list, it is also good to stroll in its alleys, its Place Saint-Léger, its museum retracing the history of Chambéry or to hop to Jean-Jacques Rousseau's house in the height of the city.
At a half-an-hour drive away from Aix-les-Bains, Annecy unfolds its majestic eponym lake, spanning over 30 km². Don't hesitate to rent a pedalboat or to go on a cruise in order to fully appreciate its breathtaking landscapes. Copious amount of hiking trails are possible from the city, may it be to the lake or to the surroundings hills and mountains. If you are on a tight schedule but still want to enjoy a walk in the nature, pick the ascent of Mont-Baron (one hour) or the impressive platform path of the Gorges du Fier. But Annecy – nicknamed the Venice of the Alps – is not to be neglected as it boasts its fair share of cultural spots: the Castle, the old prisons and – if you come in June – its amazing Animation Film Festival that will litteraly amaze your children (and you as well).
Slightly underestimated is the cute town of Yvoire, located at Swiss border, an hour drive away from the hotel. This medieval place lays peacefully on the shores of Lake Geneva, overlooked by its lovely little castle (a hidden gem for the photographers), its Garden of five senses or its fortified walls. Enjoy a dinner while contemplating the sunset shades shrouding the Alps.
But if you are more into hiking and silence, head to the superb Bauges mountains natural park. The entrance is at Le Chatelard, 18 km away from Aix-les-Bains and the park boasts an impressive amount of hiking paths to fully reconnect with nature.
DAY 3: RELAXING DAY ON THE SHORES OF LAKE du Bourget and Casino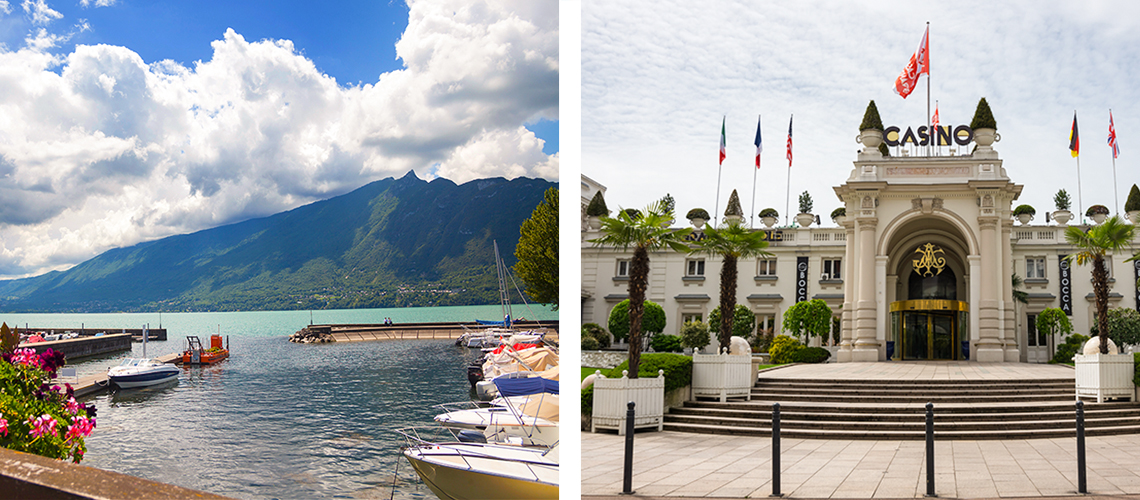 Aix-les-Bains knows how to highlight its assets wisely. The Lac du Bourget, biggest natural lake in France (because of its glacial origin) with its spanning 44 km², brings a note of freshness during hot summer months and allows many excursions to its neighboring villages and paths. With several cruises departing from Aix-les-Bains, you can easily reach Bourget-du-lac, Chanaz (with its typical alleys and the nautic activities on Savières' canal) or the Chautagne, exceptionnal natural site. Bare in mind that the Northern and Western shores are preserved as much as possible from human interaction to protect the rich ecosystem of the area.
If you come to town in November, you will be thrilled to go to the Aix Boardgame Festival, an event promoting board games that will marvel the gamers of all kind and of all ages.
Another hot spot to go to is the incredible Casino Grand Cercle, one of the most majestic and well-equipped in France. The abundance of slot machines and the frequent poker tournaments attract a fair amount of afficionados, while numerous concerts and shows take place regularly to entertain all the members of your tribe. The Carré d'As and its French traditionnal cuisine, the Lounge Bar and its tapas or the Comptoir gourmand and its quick snacks will rejoice the most demanding palates and will give a decisive boost to the players about to face the odds. Place your bets, no more bets!
DAY 4: RELAXATION IN THERMAL BATHS of Aix-les-Bains
Considered as one of the most famous health resort in the world, Aix-les-Bains offers two world-class thermal institutions, the Thermes Chevalley Valvital (specialized in rheumatology and phlebology) and the Thermes Merlioz (focused in respiratory tracts). Recognized for the quality of its treatments (the city ranks third in France for its cures), the therms attract every year numerous amounts of visitors eager to get rid of their health issues. But don't think that the entrance is limited to those in need, a wellness place is available for everyone in the premises.
Thermal baths stretch back to the Roman era, the latters cleverly calling the city « Aquae », as a reference to its hot water springs. Two water drillings supply Aix-les-Bains, the Chevalley (2200 meters deep, temperature of 71°) and the Reine Hortense (1100 meters deep, temperature of 38°), whose healing properties are well established. You can also go catch a fancy drink at the Thermes Nationaux (once they are open again).
In case you prefer a more restful place, the Thermal Spa welcomes you in its huge wellness-designed place boasting all necessary amenities: indoor pool, outdoor pool, hammam, sauna, hot tub, sunbeds, pool, resting room… This 1600 sqm spa is fully equipped to provide its visitors with a definite relaxing feeling.
DAY 5: FROM Savoie TO FRENCH RIVIERA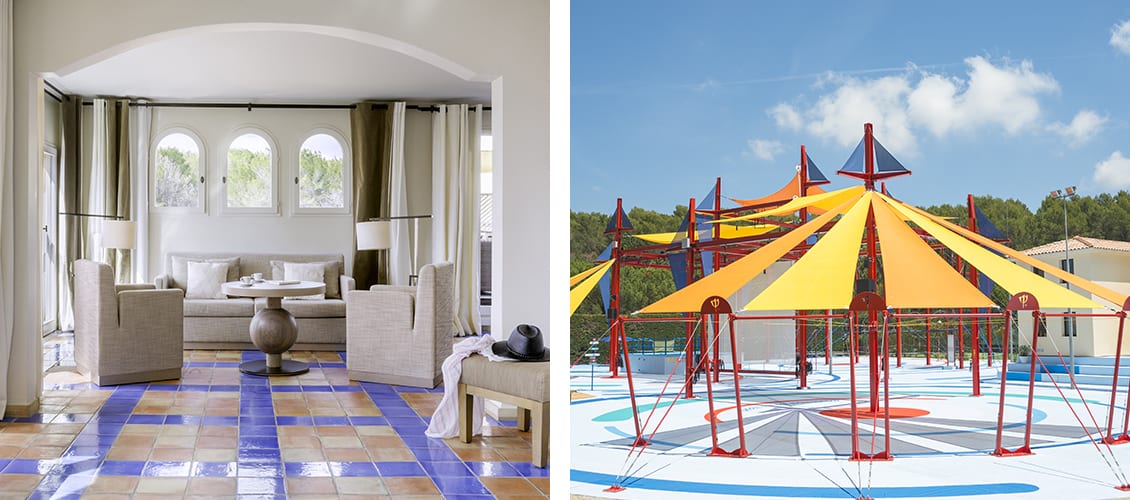 At the end of the fifth day, it will be time to head towards the city of Opio in the Alpes Maritimes, located 533 km from Aix-les-Bains via the A7 and A8. If this long journey may seem daunting, don't forget to plan games or movies for your children, and why not listen to our Little Guest holiday playlist!
Your on-site hotel will be the Opio Resort Club Med, beautifully located in a olive grove to enjoy a nature and luxurious atmosphere.
Depending on your arrival time, don't hesitate to have a snack in one of the three restaurants of the hotel and then to go and relax around the pool of your hotel, with peace of mind if you choose the baby-sitting service of the hotel.
DAY 6: CAST OFF!
The French Riviera is famous for its yachts and beautiful sailing boats. For this second day on the Coast, we offer you a Catamaran cruise at your choice of sunrise or sunset for the more romantic, with the little extra: champagne or lunch as an option.
Offered by the Rivage Croisière service provider, you will have an appointment from Cannes to sail on an azure blue sea and admire unforgettable landscapes, especially those of the Lérins islands. For the more adventurous, you can rent diving equipment and discover the local seabed, as well as drink and snack on board depending on the options you choose!
If you choose to go on a sunset excursion, we suggest you go on a romantic trip and leave the kids and adults at the hotel's Kid's Club, which will give everyone ideas for games, reading, relaxation or crafts!
Attention: For activities such as scuba diving, do not hesitate to ask your general practitioner for advice before the departure of the Road Trip. The sun is also very bright on the French Riviera and the reverberation on the waves is even stronger when you are on a boat, so plan to use creams with a fairly high SPF index.
DAY 7: EXCURSION TO THE SURROUNDING COUNTRYSIDE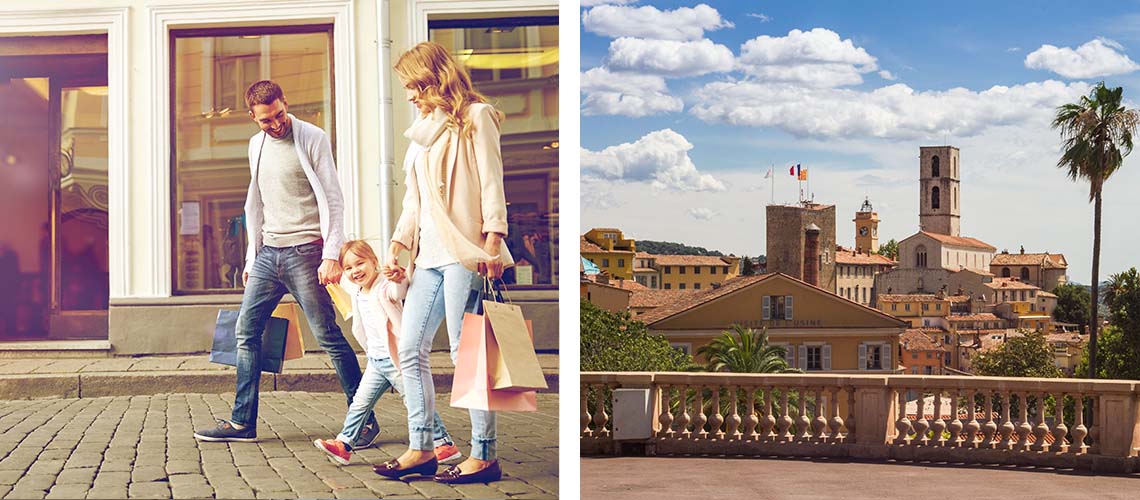 Take advantage of the Cannes Tourist Office to book excursions, with a guide if you wish, in the surrounding countryside. Accessible with your car, you will be able to discover the city centre of Cannes, but also the medieval Gourdon, the old town of Grasse and its astonishing perfume factory, but also Saint Paul de Vence, a village where you can discover pretty art galleries, but also go shopping with your family and admire the local architecture.
Don't hesitate to stroll even after the sunset, to enjoy a family dinner in a local restaurant or brasserie under the song of cicadas! We also advise you to plan your family car itinerary in advance for more efficiency, and to target the cities that interest you most, or that are closest to your hotel for example. Gourdon, for example, is 31 km from your hotel, Grasse 21 km away, and Saint Paul de Vence 28 km after the town of Cagnes-sur-Mer.
DAY 8: CITY TRIP IN THE CITY OF NICE
Located 47 min drive from your hotel and only 33 km, take the road for the beautiful city of Nice which will delight young and old, to find a little bit of the city while keeping the pretty seaside. Nice's particularity is its cultural, social and architectural proximity to Italy: a change of scenery is therefore guaranteed. We advise you to stroll along the mythical Promenade des Anglais, but it would also be interesting for your family to visit the Old Nice, the world-famous Nice Castle and its hill, the Saint Nicolas Cathedral, the superb Masséna and Garibaldi squares, or the Palais Lascaris. To choose the places that tempt you the most, don't forget to consult the sites of tourist offices, but also to ask them on the spot if small guided tours exist to learn more about these monuments.
The tramway will allow you to easily navigate around the centre, and if you prefer to relax on the terrace with a cool drink, play on the beach, or do some shopping, that will also be possible! Our favourite shopping destination at Little Guest is undeniably the Galeries Lafayette place Masséna with its ochre-coloured Italian Turin architectural style facades, which cleverly blend in with the other buildings.
Another favourite, the Lympia art gallery offers various exciting exhibitions all year round.
On your way back from your city trip, enjoy one last time the unique and cinematographic setting of Cannes by taking a little stroll in the city, or by enjoying one of the many restaurants on the Croisette, facing the sea. Don't forget the mythical photo in front of the Palais des Festivals et des Congrès de Cannes!
DAY 9: DEPARTURE FOR THE HOTEL Hermitage Monte-Carlo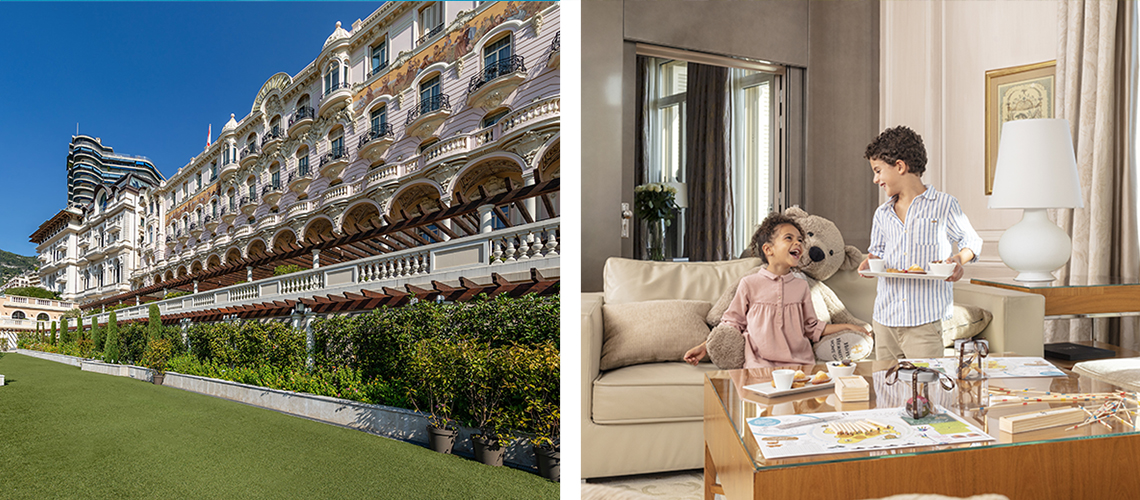 Saying goodbye to Cannes does not mean saying goodbye to its luxurious and fantastic setting. Your new establishment, located 38 km away in Monte-Carlo, is one of the most prestigious neighborhood of Monaco, nothing less! In the heart of the Principality, the majestic Hotel Hermitage Monte Carlo ***** unfolds its classy features to welcome you aboard the French Riviera lifestyle.
Overlooking the Rock of Monaco, the Pavyllon restaurant and its starred chef Yannick Alléno allow you to gaze at the ever-shinning sea while indulging yourself with gourmet dishes and gastronomical dishes. For more laid-back ambiences, chill at the Limùn or the Crystal Bar, both places offering snacks and refreshing drinks. Crystal Bars even hosts music events to enterain late sleepers.
At the Hermitage, children are treated as VIK – Very Important Kids. Various activites are provided at the kids-club to entertain them all day long: boardgames, nautic plays, movies, snacks… Everything is made to make them enjoy the outmost fun. A babysitting service is also available in case you want to take some time off with your partner.
But there are definitely some family-friendly things to do at the hotel. Enjoy thrilling tennis games on one of the many clay grounds under the supervision of qualified staff, or try to complete the 18-holes golf green. Coaches are there to help everyone get on track and participate with all your tribe members.
DAY 10: VISIT OF MONACO
Separated from France but undeniably linked to it, the Principality of Monaco has fascinated generations of holidaymakers, personalities, monarchs and artists by its original location on a rock. Ideally close to your hotel, it will make a great excursion in your Road Trip. Smallest state in the world after the Vatican in size, it is however big in history and we have therefore tried to concoct a well-filled program for young and old to enjoy the city as it should be.
You can therefore start with the emblematic place of the Principality: the Rock of Monaco, which was the place of its very foundation in 1297 by Francesco Grimaldi. This rock has the peculiarity of being the heart and centre of the city, and after parking your car, you can therefore get lost in its typical alleys and admire its local architecture.
Within the rock are emblematic institutions, such as the Prince's Palace on Palace Square. If it is possible to visit part of it you can also admire it from outside. If you are punctual, note the changing of the guard every day in the Palace Square at 11:55 a.m.
For marine fauna lovers, the Oceanographic Museum of Monaco has made the city's reputation and has become an emblematic place since its creation by Albert I in 1919. Important cultural point: it was also directed by Commander Cousteau at one time. It is open in spite of some special measures due to the Covid-19 which you will find on the museum's website. In the aquarium you can admire sharks, turtles, and piranhas for the brave ones or enjoy the « Natural History » section where several models are stored as well as fossils, for the little dinosaur lovers. Check out their website as well if your children want to participate in fun activities such as feeding the animals.
Finally, in the late afternoon, you could go to the famous Monte-Carlo Casino, at least to admire its facade. For our Parisian readers, it will be surprisingly familiar to you because it was built by the same architect as the Paris Opera House, and its Opera House is a replica of it. However, if you want to visit this room, you will be advised to come before 2 p.m. because after this time, access will be reserved for players only.
At sunset, don't hesitate to visit the Exotic Garden of Monaco located on the heights of the city and enjoy rare species, especially from Latin America in a green setting of 1500 sqm. Afterwards, enjoy an exceptional dinner in the restaurant of the mythical Hotel de Paris Monte-Carlo, Le Louis XV, which has three stars in the Michelin guide. If you want to refresh yourself, you can also enjoy non-alcoholic cocktails for the little ones or quench your thirst with a delicious sorbet signed Gérard Taurin at the Café de Paris.
After all these adventures, it will then be time to return to your hotel for a well-deserved rest, you head full of memories after this road trip with Hollywood airs. Don't forget the videos and souvenir photos, which you can always share with us to our great joy!
Have a good trip with your family and happy holidays!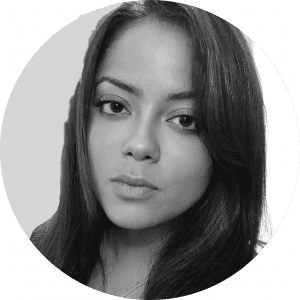 Rachel, 24 years old, passionate about history and travel, Occitan expatriate in Flanders