Be ready to meet the famous rainbow nation. Energetic and bubbling creative cities, breathtaking panoramas, raw wildlife, luxurious lodges and safaris… Nelson Mandela's country depicts transcendental paintings where man and nature are one. South Africa is undoubtedly one of the most kid-friendly destinations on Earth. It brings children a new image of life and promises them memories that will be forever etched in their memory.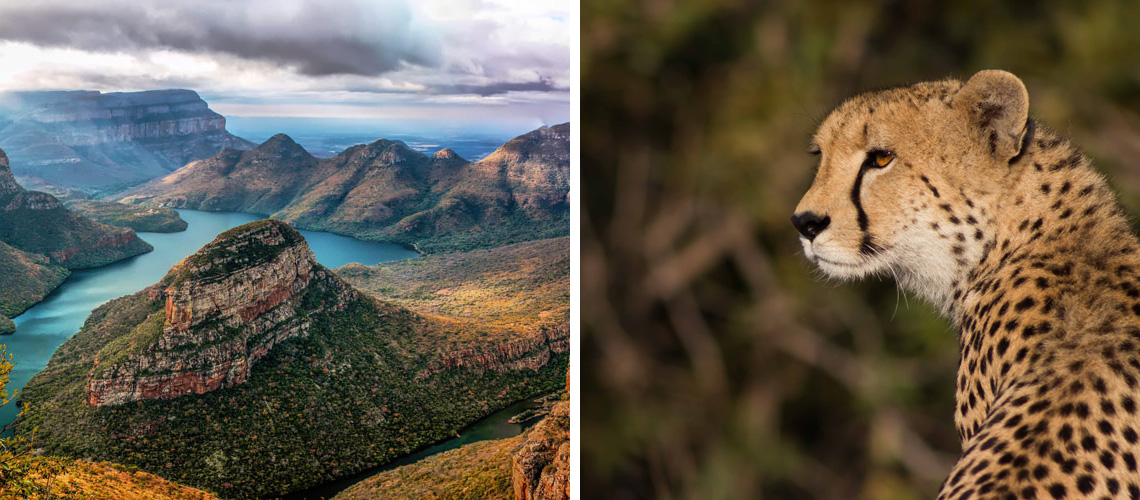 South Africa in a nutshell
Capital cities: Cape Town (legislative capital), Pretoria (administrative capital) and Bloemfontein (judicial capital)
Political system: Constitutional Republic
Official languages:  Zulu, Xhosa, Afrikaans and English
Currency: Rand (1R = 0,06€)
Major cities: Cape Town, Durban and Johannesburg
Time zone: UTC+2
ANSWERS TO FAMILIES' QUESTIONS
When to travel to South Africa? With the change of hemisphere, the seasons are reversed on the other side of the globe! In general, we prefer the mid-season to enjoy a pleasant climate.
How to get around once on-site? The best way to get around is to rent a car. The roads are in very good condition and allow for smooth driving. Be careful, driving on the left!
Is it really dangerous to go to South Africa? Although this region of the world suffers from a high crime rate, travelling to South Africa is not an impossible mission. The most important thing is to know about places to avoid by all means (such as airports and train/subway stations at night) and the actions to follow/avoid (for example: use safe and reputable means of transport, don't withdraw money from ATMs, don't wear ostentatious signs of wealth).
What documents do we need for a short stay (less than 90 days)? To travel to South Africa, your family needs a residence permit that will be issued when you enter the country, as well as a passport per person with two blank pages and 30 days valid after the expected date of departure from the country. For minors, the entry and exit conditions require parents to provide a full copy of a birth certificate less than 3 months old (to be requested from your communal/municipal administration, in multilingual format), their own personal passport, as well as a presentation of the family record book. If only one of the parents is present, a formal written authorization in English must be signed by the second parent; also to be obtained from your communal/municipal administration, as well as an authorization to leave the country less than 6 months old. If parents are divorced, a formal divorce decree must be submitted. For more details, consult the Official Diplomatic Websites of your country. Tip: never travel with your original official documents. Make a photocopy and keep the originals in a safe place (hotel, home…).
What are the flight duration and price? It's possible to find flights from France or Belgium from €400/person round trip, about 14 hours of flight with a stopover. What about women expecting a baby? Consult the editorial staff's advice on getting on a plane while pregnant.
What is the cost of living? According to estimates, the cost of living in South Africa is half as expensive as in France or Belgium. This includes, in particular, the price of food, transport, clothing and leisure. However, the price of water and Internet subscription is often higher.
LUXURIOUS AND FAMILY-FRIENDLY ACCOMMODATION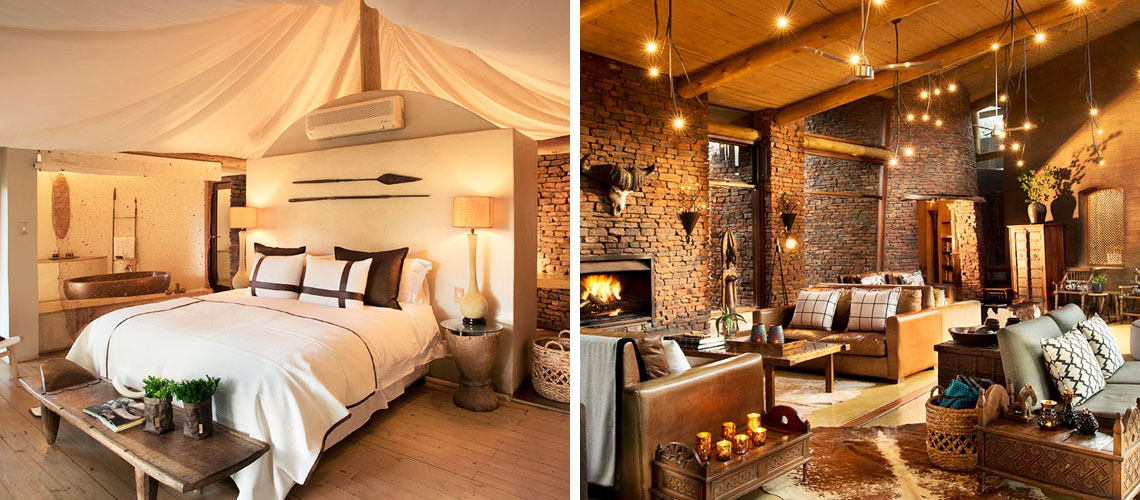 Marataba Safari Lodge – Marakele National Park
A few kilometres from the Botswana border is the sumptuous  Marataba Safari Lodge (photos),  at the foot of the  Waterberg Mountains. The prestigious place includes 15 suites in tents with authentic and contemporary decoration for a stay in the heart of nature. Stay tuned for a glimpse of the Big Five leading their peaceful lives in Marakele National Park.
Families like: the sublime and warm common dining room, room service available 24 hours a day, playful and educational activities offered to the little ones over 5 years old (hikes, orientation games, fingerprint hunts…) and adults over 16 years old (huge treasure hunt from 3 to 4 hours), yoga retreat, many facilities for children and babies and high quality babysitting service (6€/h). Excellent news: the stay is free for children from 0 to 5 years old and at half price for children from 6 to 15 years old.
Singita Ebony Lodge – Kruger National Park
Located in the  Sabi Sand Nature Reserve, not far from the Mozambique border,  Singita Ebony Lodge is a beautiful home inspired from the explorers' houses of yesteryear and is made up of 12 suites. It's the ideal place for a unique safari experience as close as possible to African wildlife. A true historical gem in the heart of a private estate, this exceptional lodge is nothing but authentic and cosy.
Families like: the all-inclusive formula, the suites with private pool, open fireplace and panoramic terrace, the Chef's menus served on your private terrace, in the dining room of the main building, or in your room, as well as the activities offered to families (trampoline, archery, swimming, visit of the surrounding schools, « mini ranger » programme).
ON THE WAY FOR AN UNFORGETTABLE SAFARI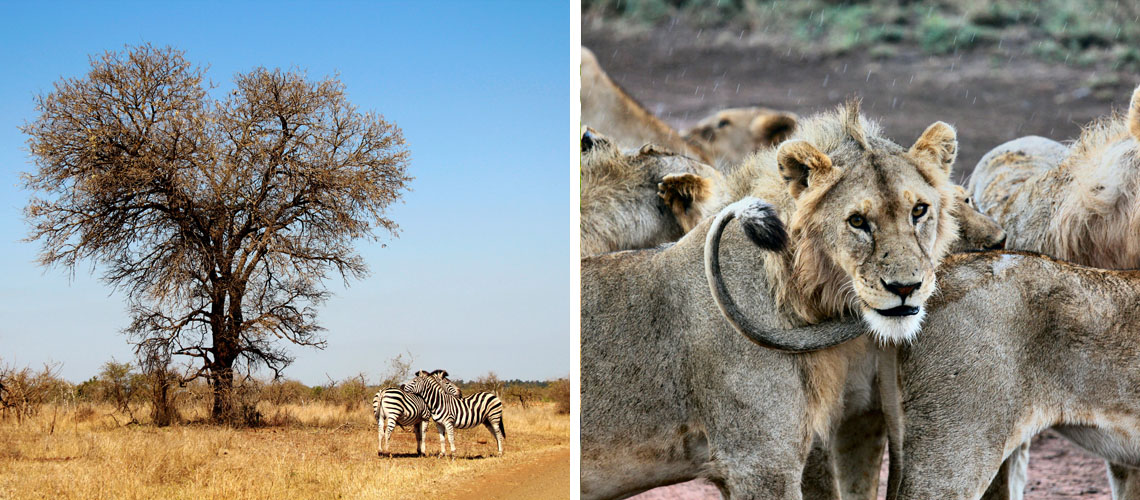 Known for its rich and varied fauna, the southern African country amazes children by bringing on their way animals as adorable (colonies of penguins or sea lions) as impressive(lions, elephants, or even whales). Between two excursions, pack your bags in a prestigious establishment such as Madikwe Safari Lodge, a touch of luxury in the heart of the South African savannah.
A DELIGHT FOR NATURE LOVERS
The rainbow nation promises a kaleidoscopic journey through its reserves and national parks majestic wildlife. On the green side, Kruger National Park is winning the fervor of the explorer tribes that are venturing into South Africa. Located in the northeast of the country, it's one of the largest animal reserves in the country from which the Big Five (lions, leopards, rhinos, elephants and buffaloes) can be admired. Itinerary
Beast lovers have only one idea in mind: visit the country's 3rd  largest park, Addo Elephant National Park, located 70 kilometres from Port Elizabeth. Like a sanctuary with a divine setting, this national park provides refuge for many protected animals such as the Big Five, great white sharks and southern bowhead whales. Itinerary
From the Atlantic Ocean to the Indian Ocean, the charming South African beaches are sometimes mystical and wild, sometimes calm and paradisiacal. Among the most beautiful on the Atlantic coast are the very upscale Clifton Bay, Fish Hoek Beach with its gentle sea lions, and Boulders Beach with its famous penguin colony.
For a getaway to the Indian Ocean, the editor recommends the coastal province of KwaZalu-Natal , which contains many treasures such as Durban, the iSimangaliso wetland park, a UNESCO World Heritage Site, or Cape Vidal beach, nestled in the Greater Santa Lucia reserve. Gifted with an incredible patrimonial and historical richness, this natural space is revealed like an El Dorado made of dunes and rocks. The perfect place to take a dip in a surrealist setting, surrounded by turtles and coral reefs.
DISCOVERING CAPE TOWN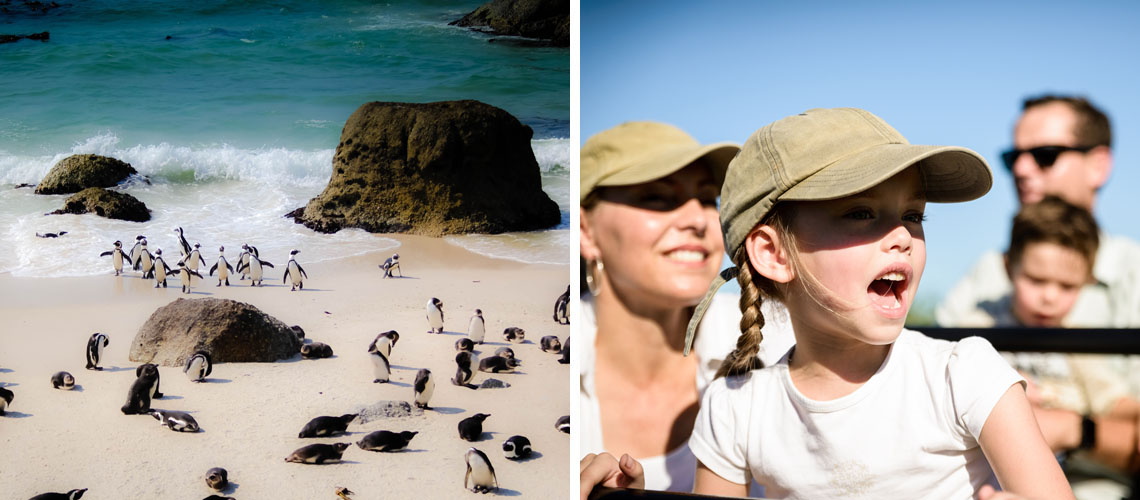 Dominated by Table Mountain and bordering the Atlantic Ocean, Cape Town is described as a cosmopolitan city with a thousand facets. Families love to surf and hike or take cooking lessons in Malaysian neighbourhoods such as Bo-Kaap and its colourful houses.
The lucky ones who would pass by in January enjoy the Coon Carnaval, a festival celebrated on January 2nd, in honour of the black slaves who, during the colonial era, were not allowed to celebrate New Year like the others. Parades, dances, costumes, Cape Town comes alive and announces the colour of the new year,  with music.
Located in the heart of the historic centre of the oldest port in the hemisphere, V&A Waterfront is a privileged space between land and sea. It's the most visited tourist site in the country, for very good reasons! On the agenda: stroll through the stands of the Waterfront Artisanal Walkaway Market, sit at one of the 80 restaurants such as the very kids-friendly Grand Africa Café & Beach, visit the Two Oceans Aquarium, or even take a boat trip to Robben Island, formerly Nelson Mandela's prison. Itinerary
For more good kids-friendly destinations in Cape Town and its surroundings, the agaaain! site is THE reference.
CITY GETAWAY IN JOHANNESBURG
Despite its bad reputation, Johannesburg is like a phoenix that is gradually being reborn from its ashes. Its visitors and inhabitants describe it as a dynamic city with overflowing energy. According to Sophie Pirlot, blogger mom and world traveller, many districts of Johannesburg have been « rehabilitated and transformed into a maze of art galleries, design shops and ultra-trendy restaurants« . Indeed, the so-called « Joburg » is teeming with artists of all kinds, such as the authors of the famous colourful graffiti that adorn the city walls.
To bring a cultural note to your stay, a visit to the Apartheid Museum is recommended. The latter traces South Africa's painful past, from the establishment of racial segregation to the abolition of apartheid and the first free elections. Itinerary
In addition to being a cultural site, Joburg is full of spots to wander and relax, accompanied by its favourite travel partners. Among our favourite destinations are 44 Stanley (a former renovated industrial district with delicious, colourful and original little restaurants and chic boutiques); Acrobranch Melrose  (accessible from the age of 3); and  Walter Sisulu Botanical Gardens (a quiet and peaceful natural area that lends its setting to picnics and family outings).
A GOURMET BREAK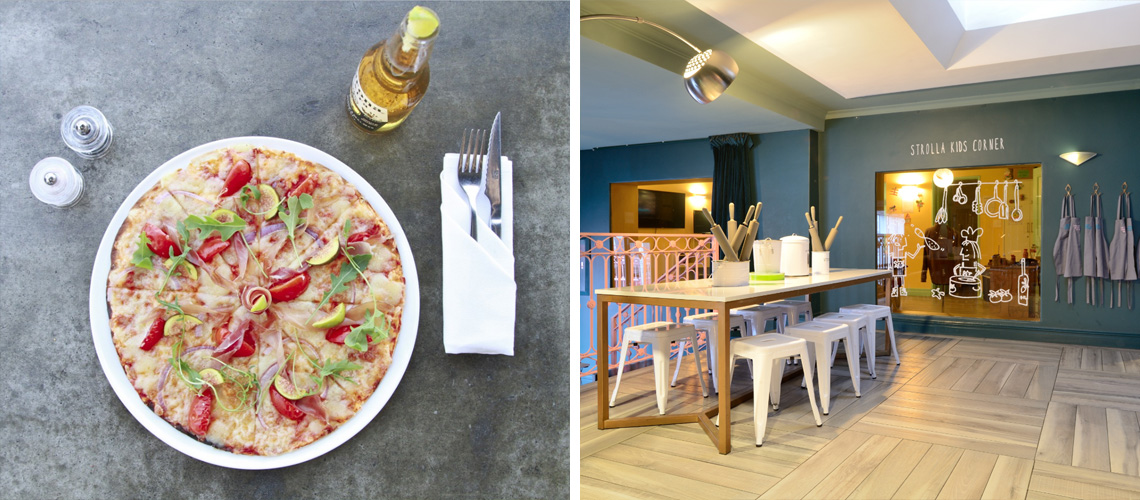 Wandering around South Africa in search of wild animals and breathtaking scenery is exhausting. Here are our favourite places to take a gourmet break with your little ones!
In Cape Town
Considered one of the trendiest places in Cape Town, the Neighbourgoods Market in Woodstock is an invitation to experience a magical time with your family. In this typical South African market, you can discover the flavours of street food by letting yourself be led by music groups. Meanwhile, children have fun at the small stands of creative workshops.  Every Saturday from 9am to 4pm Itinerary
A restaurant with a trendy and colourful decoration, the Strolla offers delicious menus that are both simple and refined, as well as many children activities. Only for the little ones: pizza preparation classes and a « Strolla Kids Corner » playroom, under the supervision of a babysitter!  Every day from 7am to 11pm Itinerary
For more good gastronomic destinations (and others), Les Louves is a French blog with good tips!
In Johannesburg
Entirely dedicated to the well-being of children from 6 months to 12 years old, the restaurant Bambanani offers many supervised workshops (painting, pottery, face painting) the program is online and kids-friendly facilities (playgrounds with squirrel cage, costumes, sand animation, interactive books, consoles, etc.). These services, combined with delicious Orient inspired menus, make for a successful gourmet break.  Open from Sunday to Thursday from 8am to 8pm, and from Friday to Saturday from 8am to 7pm. A birthday to plan? Bambanani organizes your most beautiful evenings!
The Green Room reveals itself as a 100% family-friendly space and invites you to enjoy a calm and peaceful break. While your little ones work out in the colourful playground, parents enjoy a delicious coffee, made with love. For the family to be complete, pets are welcome. Open from Tuesday to Sunday, from 8am to 5pm. Itinerary
Let's go for the adventure!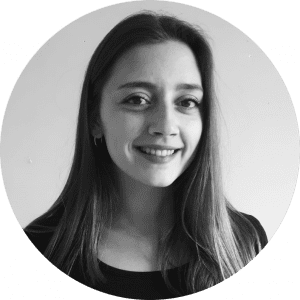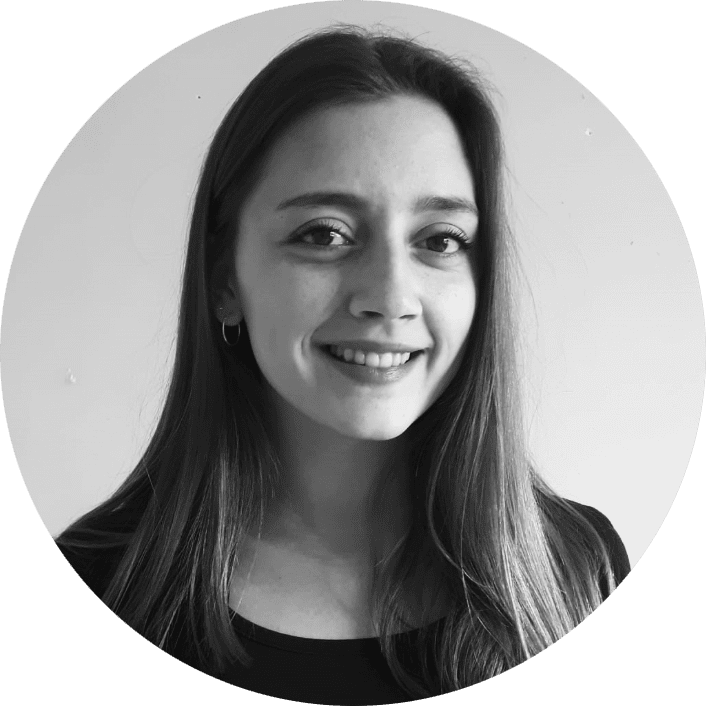 Pernell, 23 years old, passionate about travel, from Angers, France