I'm not going to lie to you, I've been dragging my feet for a long time before I decided to explore Portugal. No doubt it was because of my rebellious side and boredom with all my friends talking about the many assets of this destination. For me, Portugal seemed to be about too many people, activities confined to a few spots in Lisbon or Porto, beaches that are certainly overcrowded as in all accessible and trendy destinations, in short an unattractive prospect! And then, I finally let myself be tempted and I embarked with the whole family for a happy trip to the land of Fado.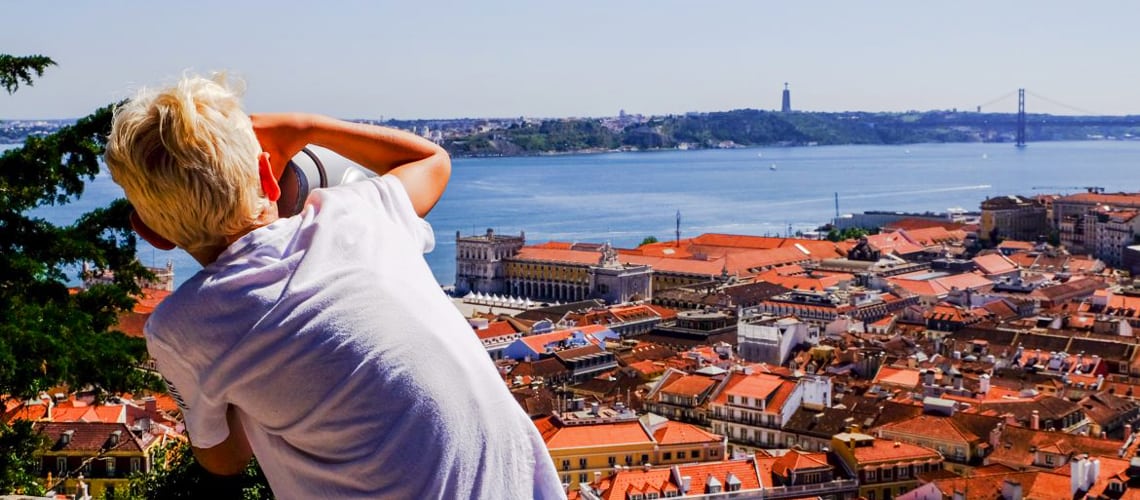 Lisbon view of Casteo Sao Jorge
I discovered an authentic and terribly welcoming nation where kindness had swept away in a few hours all my prejudices about this ultra-popular destination. To discover Portugal, I recommend a minimum stay of one week to truly get a feel for the country. From Lisbon to Faro, here are some of my beautiful encounters and my favourite addresses!
LISBON HOSPITALITY
It is impossible, of course, to go to Portugal without discovering Lisbon, a vibrant and joyful capital. Its pretty old streets have a crazy charm. They are in themselves a real open-air museum, you can get lost for hours admiring the pretty Mediterranean houses and the narrow and winding streets. Our favorite neighborhood was undoubtedly Alfama, close to the Tagus and living witness to the Moorish heritage of the city. Beautiful wooded esplanades and shaded terraces embellish the journey.
« Its pretty old streets have a crazy charm. »
My tip for a serene visit with children and babies: Do not hesitate to jump on the Electric Tram N ° 28 which, a rare thing in a big European city, meanders through the small streets of the historic district. You will be able to admire the decor without hearing the youngest complaining of being tired…It departs from the Martim Moniz Square.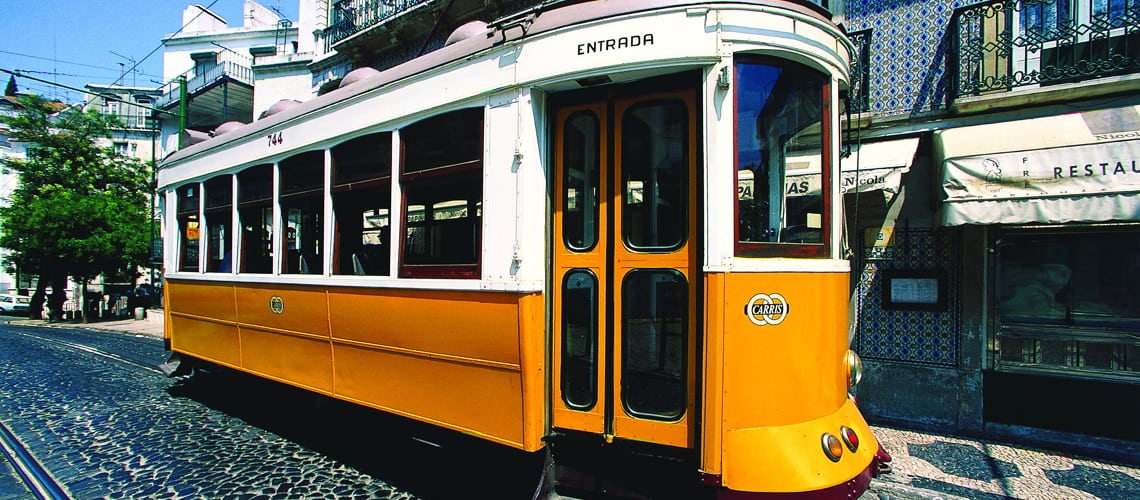 Electric Tram N ° 28
This district is also that of Fado, a Portuguese song with melancholy accents, that UNESCO has classified as being a cultural heritage of humanity. There is the Fado Museum, which is a very interesting place to discover this cultural curiosity of Lisbon. This interactive museum allowed our children to discover Portuguese culture.
« You may not know it but Lisbon is famous for its long tradition of wall art. »
You may not know it, but Lisbon is famous for its long tradition of wall art. Today, the municipality supports street artists and there are nearly 6,000 works on the walls of Lisbon houses. With older children, you can go hunting for the beautiful graffiti that adorn the city. Another interesting address that will certainly delight your children, the Parc des Nations, was the site of the World Expo 1998 is dedicated to the oceans. There is the Oceanarium, one of the largest oceanographic parks in Europe. A compulsory trip for the family. It is based on a spectacular giant pond, containing five million litres of salt water, in which all sorts of fish, penguins, starfish, jellyfish, manta rays, seahorses and even sharks reside. An impressive moon fish also finds its home in this aquarium, as well as a majestic leopard shark. Many activities are offered for families.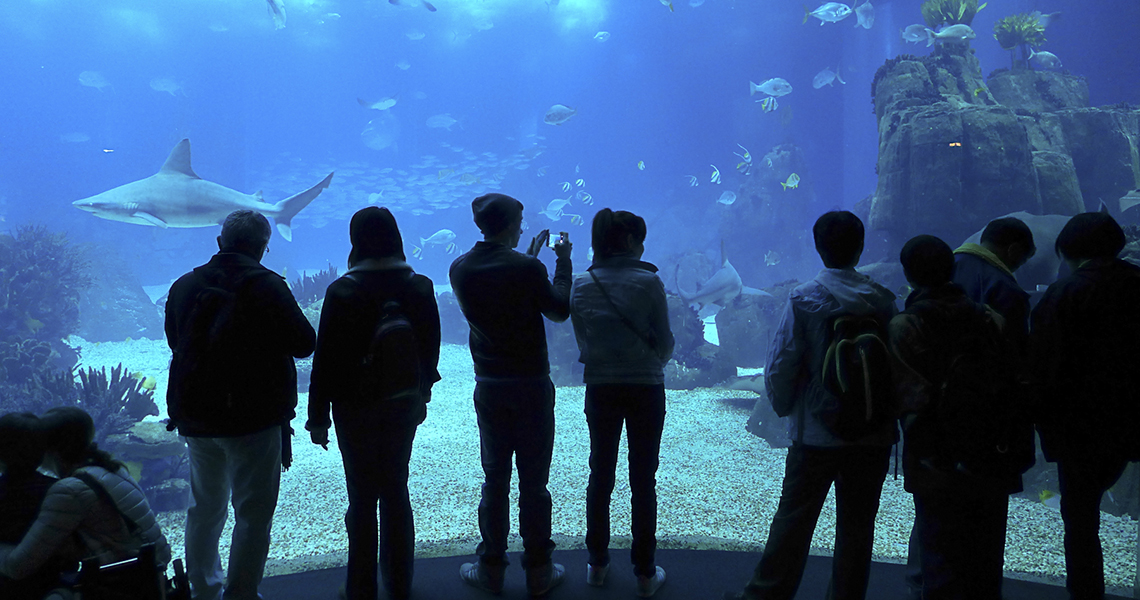 Main basin of the Oceanarium
The Park even has a cable car to let you circulate faster, another bonus point for your darlings. In the city centre, there is also the puppet museum which offers original exhibitions from around the world.
ON THE ROAD FOR BELÉM!
A little away from the city centre, the district of Belém was, in the 15th century, the starting point of the Conquistador. The caravel of one of the most famous, Vasco de Gama, also left Belém to discover the sea route to India. One can visit with your family the famous Tower, a true architectural jewel, and its delightful gardens. And to reward the small troupe after this cultural episode, a visit to the Antiga Confeitarias de Belém is essential.
Children will learn Portuguese gastronomy at the best address in Lisbon. You can taste with delight the famous little round cakes with cream called Pasteis de Nata. Composed of a very thin puff pastry and a melting cream, they are served, according to the ancestral recipe, warm, sprinkled with a hint of cinnamon and icing sugar.
« You can taste with delight the famous little round cakes with cream called Pasteis de Nata. »
You will have to be a little patient because you often come from far to enjoy these authentic Portuguese pastries but it is really worth it.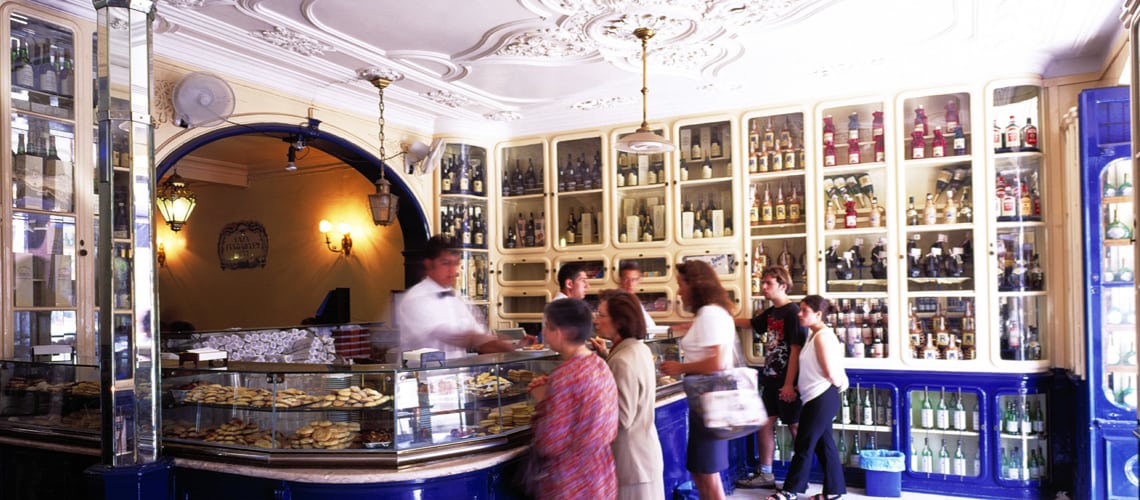 The best Pasteis de Nata
WITH A VIEW
In Lisbon, many spots allow you to admire the view of the Tagus or the city, I help you find them. Every day, the beautiful panoramas that offered to us during the walks seduced us a little more. Here is a small anthology of our favorites:
In the historic centre, Elevador do Carmo (Santa Justa lift) completed in 1902, connects the Baixa Pombalina to Bairro Alto. This neo-gothic wrought iron structure has a belvedere offering a 360 ° view of the lower town and the Tagus, as well as a very pleasant café.
Another breathtaking view, the one that extends from the Casteo Sao Jorge. Perched on the highest hill in the city, it is one of the most beautiful panoramic views of Lisbon. Many activities are planned for families on the weekends.
The futuristic architecture and impressive buildings of the Fondation Champalimaud, Biomedical Research Centre, also known as the Unknown Research Centre, is generally very popular with children because it seems to come straight out of a science fiction film. Its gardens, where Darwin's Café is located, have a direct view of the Tagus River, ideal for a quiet break with the family.
New panoramic decor, that of the Bar Restaurant Topo, perched on the roof of an old shopping center. We discovered a trendy vintage Rooftop locale where you can have a drink or nibble while enjoying the heights. It is on the square from which you take Tramway No. 28.
Finally, to enjoy a nice view, without necessarily gaining height, it is absolutely necessary to take the ferry to Cais do Sodré, very close to the city centre, towards Cacilhas, to have dinner on the docks. The cruising crossing for the younger ones offers pretty views of the city and the sunset on the Tagus is beautiful. Plan to eat early to see the sun slowly set. Cacilhas is famous for its fish restaurants.
WHERE TO SLEEP ?
Without hesitation, in one of the Martinhal Hotels chain. A Portuguese brand that offers luxury stays, allowing families to enjoy their holidays without having to worry about stewardship.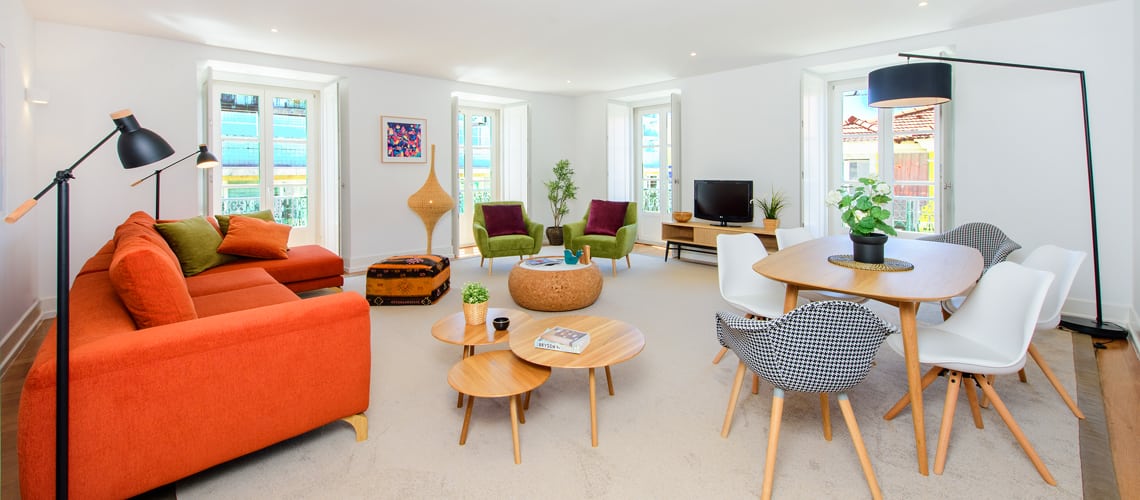 Martinhal Chiado Family Suites
If you want to live and enjoy Lisbon at any time, choose the Martinhal Chiado Family Suites located in the heart of the historic centre of Lisbon. This elegant and friendly place offers high quality and well-equipped apartments with an extremely friendly restaurant with a casual design. The kid's club, very professional, will look after the youngest while you escape a few hours for a shopping session on the Avenida da Libertade, the Portuguese equivalent of the Champs Elysees.
However, if you prefer to stay away from the city, opt for You & The Sea ****, beautifully located on the Atlantic coast, 54 minutes drive from Lisbon. This verdant resort has 35 apartments with daily hotel service. A restaurant, a spa, an indoor swimming pool and a Kids-club with toddler playground make the stay more pleasant. A real paradise for familiesA paradise for families!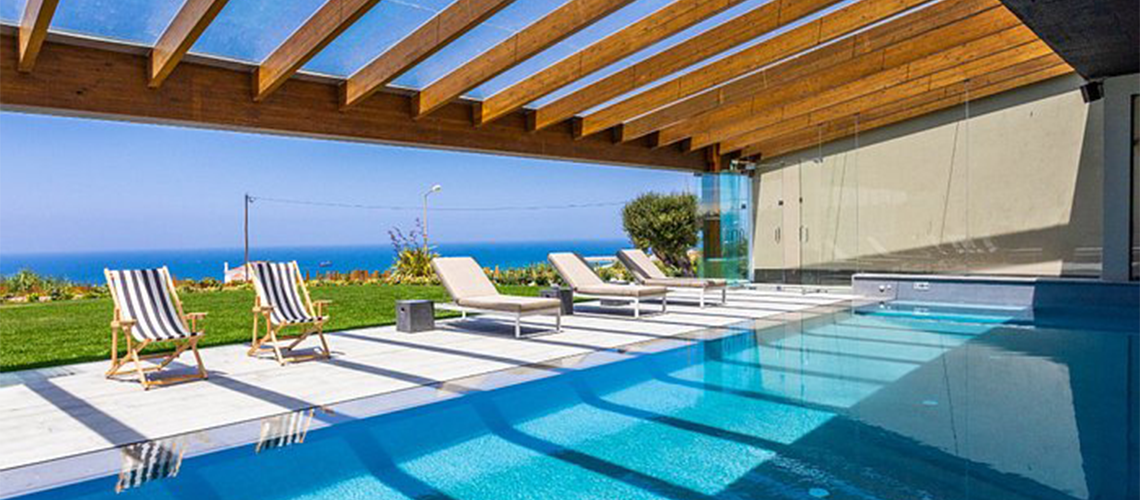 Before leaving Lisbon, a last good address, the Conservaria de Lisboa, a cultural house that has become a must to bring back some 100% Portuguese culinary specialties without environmental concerns. In addition to the traditional sardines, there are canned squid, octopus and cod.
AND PERHAPS A SMALL DETOUR BY THE ALGARVE?
If a long weekend is enough to discover Lisbon, I advise you to provide a few extra days to visit the Algarve and taste the joys of the Portuguese coast and its beautiful beaches. We did not tire of the cobalt blue sea and pretty bays sheltered from the noise of the city.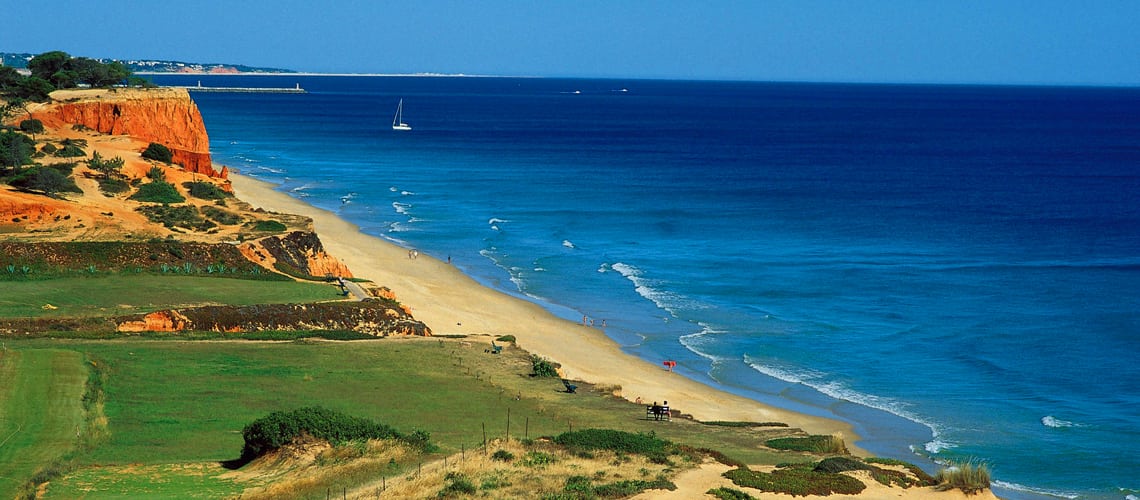 View of the Algarve
I have selected a must-see destination whose wild and authentic beauty seduced the whole family, the picturesque seaside resort of Carvoeiro. Here everything becomes serene, whether walking with the family on hiking trails, devoting yourself to the joys of aquatic sports or settling on the sumptuous beach or in one of the hidden caves for a delicious picnic, everything is done to spend family holidays in total connection with nature. Many activities will be suitable for families with a real crush for cruises departing from the port of Carvoeiro. They will take you to discover the caves, arches and other rock formations of the coast for one or two hours. You can even enjoy watching dolphins. Not to mention that one of the most beautiful water parks in the 'Slide & Splash' area is just nearby.
Also worthy of note is the world's largest sand sculpture festival, held annually from May to October in Pêra. The kids loved to admire the incredible details that adorn these ephemeral sculptures that can reach up to 12 metres in height. Around Sagres, the coast is very wild and quite suitable for family walks. We also stopped there to enjoy one of the incredible homemade ice creams from Alice's.
Finally, I kept to the end my favorite, a small exclusive nugget where hospitality is king. Thierry Virvaire, French, from the world of fashion, an art director, designer and director for many international events, decided a few years ago to open his guest house in Carvoeiro.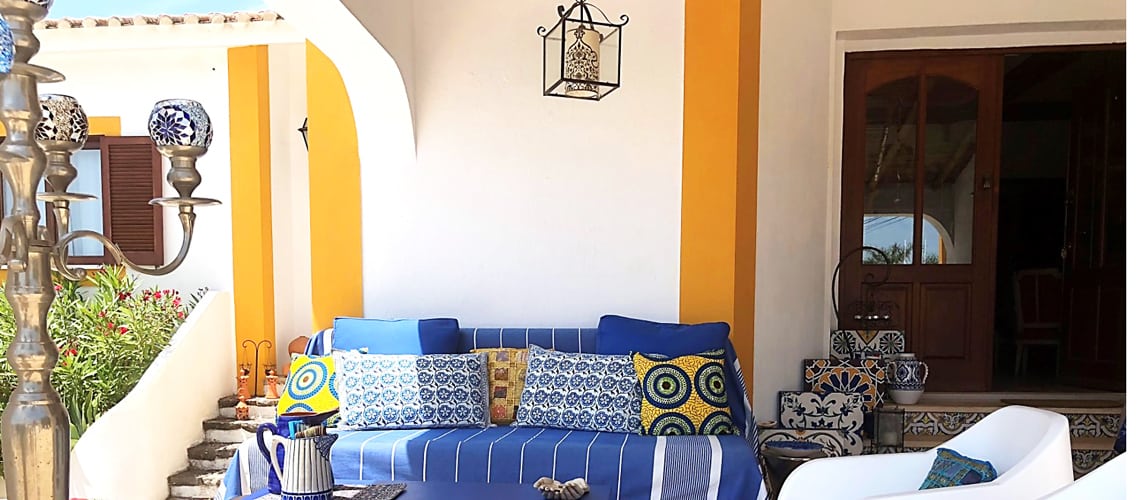 Thierry Virvaire guest house in Carvoeiro
A stay at Casa de Luz is exclusive, tailor-made. As for the slogan of the house, it is a clear and promises beautiful experiences: « Book your nights, I offer you your days!  »
Everyone is welcomed here as if they were part of the family and the days flow in a sunny haven of peace. You will certainly appreciate the 'Happy Dinners' where you can taste the local specialties or the culinary creations imagined by the master of the house. Sharing moments beautifully orchestrated by a beautiful person who cares for others with a real sense of detail.
« Book your nights, I offer you your days!»
Another originality, Thierry likes to say that his place is not intended to welcome families but rather the « smalas »You can stay in his beautiful Casa De Luz in complete family mode. From grandparents, grandchildren, uncles and aunts, everyone will find their place and when there is not enough room for everyone, Thierry has a network of beautiful rooms supplied by « friends » in the village , a few steps from his home. His vision of hospitality is based on the image we have of family in Portugal, where it is not uncommon for 3 or 4 generations to live together under the same roof.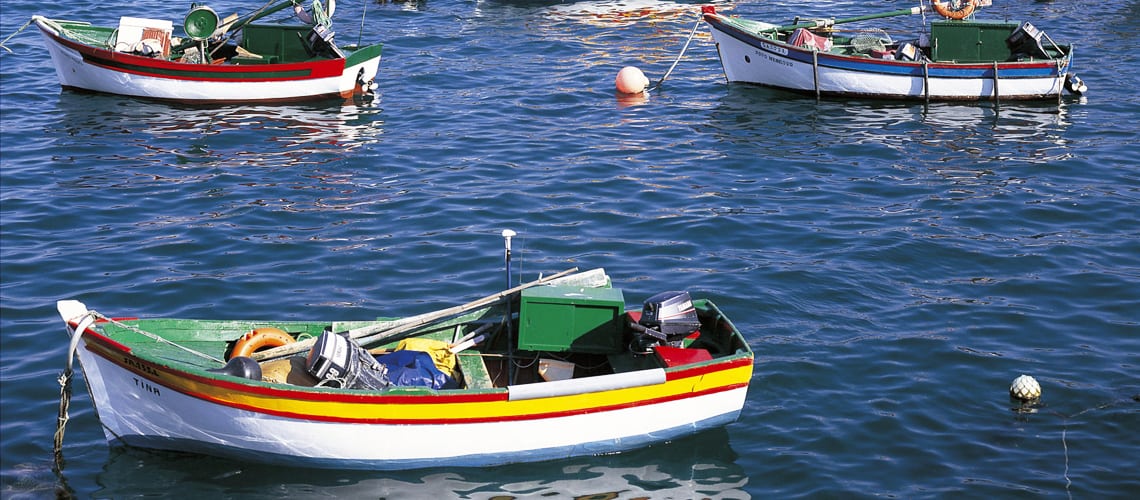 Charming little boats
As you can see, Portugal is an ideal destination to teach children the taste of beautiful things, authentic landscapes and beautiful encounters. The country is full of beautiful natural scenery and fairy castles. What we appreciated above all is the light and the admirable panoramas. Not to mention that the heart of Lisbon beats the night, if you can keep your children for a night, you will enjoy the special atmosphere of this welcoming fluvial city. Do not hesitate to visit the tourist website, you will find a lot of useful information to help prepare your stay.
And I recommend two very nice books that can effectively occupy children during the trip or during a walk: To you Portugal by Delphine Servoz-Gavin editions Milan Eds and Portugal of children, 64 pages of games to discover the country and its culture.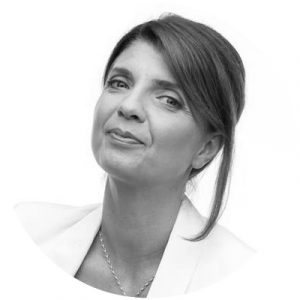 Catherine Seiler Luttmann, married, Justine's mom, from Paris