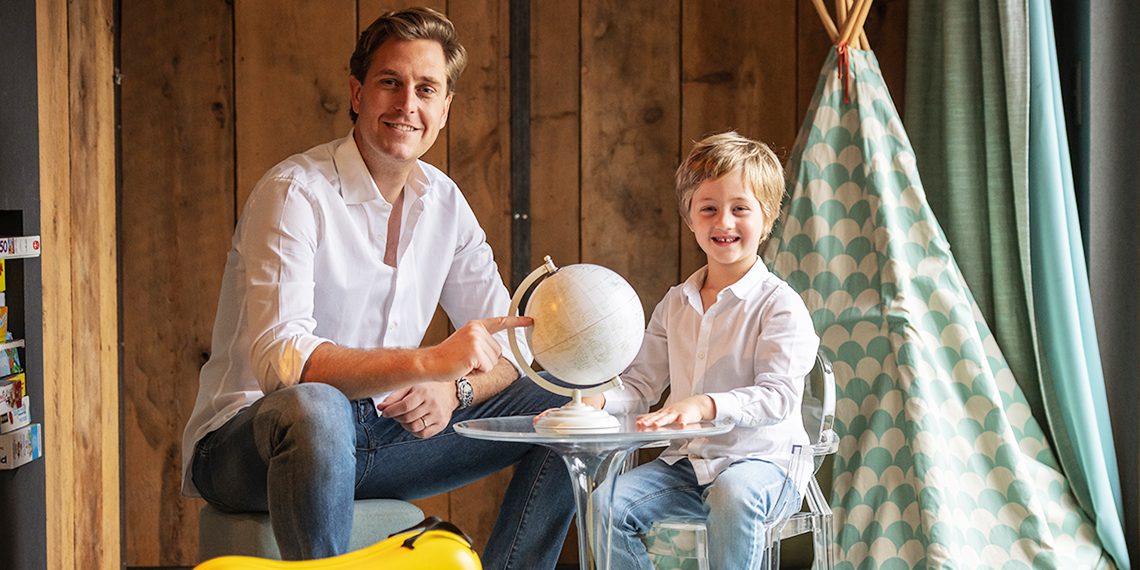 Jerome and his son Achille
"Our mission is to offer parents the most
inspiring selection of kids-friendly hotels,
at the best price"
OUR HOTELS
Extraordinary hotels for extraordinary families
Little Guest is a unique collection of luxury hotels designed for demanding families. For the very first time, parents can book with one click the ideal hotel that combines a high-end approach (design, gastronomy, spa, golf, etc.) and a real programme dedicated to children (baby-club, kids- clubs, sports and creative activities, etc.) in one click.
Quality label
The selected establishments meet very strict reception standards, facilitating the stay of children from 0 to 12 years, but also teenagers. Each hotel is scrupulously visited by our teams around the world before we give it the Little Guest quality label.
Mission & values
The mission of Little Guest is to offer parents the most inspiring selection of kids-friendly hotels, at the best price, bookable in the easiest and most transparent way possible.
Moments shared with the family form memories forever etched in the memory of children and parents. In our hectic lives where time flies at 100 per hour, our dearest wish is to offer families a parenthesis of complicity and relaxation. A precious moment, out of time and the constraints of everyday life.
We attach particular importance to the personal development of children. That's why most of our hotels offer spa treatments, yoga classes, nature discovery sessions, as well as sports and creative activities dedicated to them.
"We attach particular importance
to the personal development of children"
OUR STORY
The bottle effect
The Little Guest Hotels Collection was born under the impetus of Jérôme Stéfanski, Belgian serial entrepreneur, dad of a 3-year-old boy. On a Friday night, while his son Achille was six months old, Jerome took his little family on an improvised city trip. Confident, he announced to his wife: « For once, do not worry about anything, I will prepare the suitcases. »
Arriving at their hotel at 1am, the young baby was hungry: he wants his bottle and starts crying very loudly, at the risk of waking up the occupants of the neighboring rooms. Jerome unwraps his son's suitcase to prepare the bottle. Panic: he suddenly realizes that he forgot the bottles at home, a 2-hour drive from the hotel! Jerome goes to the front desk to get a bottle – to his surprise, the 5-star hotel does not have a bottle!
A young dad inspired
In the months following this episode, Jerome and his wife struggled to find hotels that met their criteria of young parents, unwilling to make any compromise between the happiness of their child and their own adult pleasure. They lost a lot of time on the internet and in travel agencies and noticed that there was no platform for scrupulously selected institutions that combined both a real children's policy and quality services for parents.
Jerome decided to go looking for these hotels and bring them together under a quality label.
Little Guest was born.
An international presence
Little Guest has among its affiliated hotels the most beautiful kid-friendly establishments in the world.
Little Guest's headquarters are located in the heart of Brussels, the capital of Europe. Reflecting its international focus, the company also has offices in Dubai, Barcelona and Madrid.
"The Little Guest quality label
has been awarded to more than a hundred hotels"