At the heart of the Pyrenees hides a natural and cultural gem that is not too well known: Andorra. With its numerous ski slopes, its tall mountain peaks and its typical villages, this little principality can be a dream destination for families looking for adventure, relaxation, and shopping. Andorra is able to meet all your vacation needs.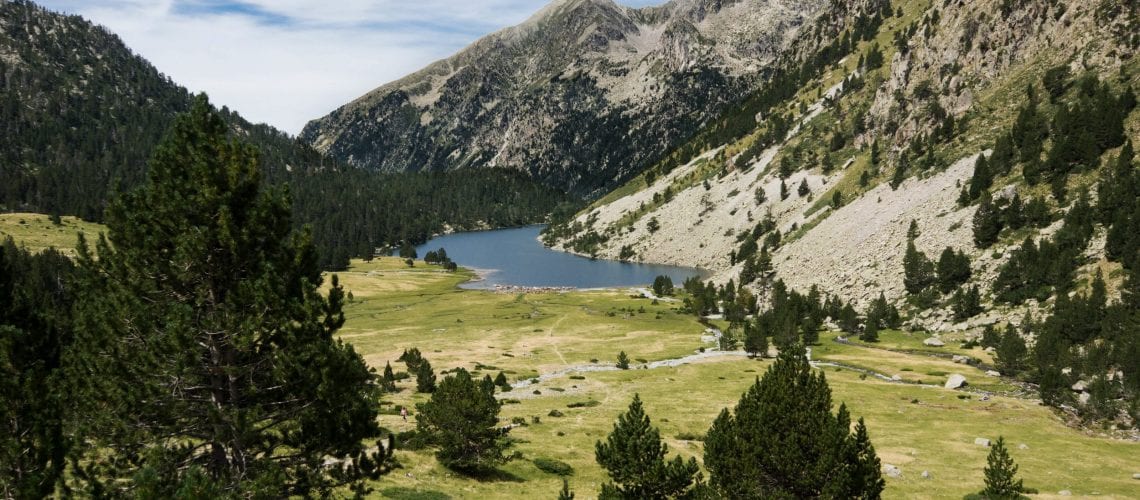 In the summer, Andorra blossoms in thousands of colors and becomes a paradise for hikers
1 – ANDORRA AT A GLANCE
Capital: Andorra la Vella
Government: Parliamentary co-principality
Official language: Catalan
Currency: Euro
Cost of living: Not overly expensive
Best time to travel to Andorra: Between June and September
2 – WHAT NOT TO MISS IN THE SUMMER
Take a walk through the Madriu-Perafita-Claror nature park, a UNESCO World Heritage Site, and try to catch a glimpse of an isard (a chamois from the Pyrenees) or a marmot. At 2,905 meters high, the peak of the Portelleta dominates the large valley located in the south-east of Andorra. Young explorers and their parents can choose from a wide variety of different itineraries. Useful information: visit the website « visitandorra.com » to discover the large selection of hikes. Location.
Climb on board the longest alpine slide in the world (5.3 km) and enjoy a breathtaking view of the mountains. This flagship attraction located in the Naturlandia adventure park entertains adults and children alike all while being completely safe. Useful information: Open from 10AM to 6PM or until 7PM in August, closed from November 5th to the 30th, 14€/person and 9€/child (younger than 11 years old). There is an option to purchase a ticket that combines other park activities (bow and arrow, buggy, segway, zip-line, petting zoo, trampolines, etc.). Location.
Climb on a mountain bike, embark on a dizzying descent and become a two-wheeler pro. Beginners will enjoy adventures in the forest while experienced cyclists can take on legendary passes.
Try out the longest zip-line in the Pyrenees and feel the adrenaline at Mon(t) Magic. Reaching speeds up to 80 km/h, the 550 meters of descent make this an activity 100% full of adventure. Useful information: Open from 10AM to 6PM. Starting at 15€/ride (not including the ride up in a cable car). Location.
Improve your swing on the highest golf course in Europe. Perched at 2,250 meters high, the Soldeu golf course (9 holes) was designed by the best architect on earth, the British architect Jeremy Pern. And as we always say, after hard work, it's time to relax. Children and parents alike will enjoy going to the lodge to enjoy amazing food and a breathtaking view of the valley. Useful information: Open from July to September, accessible by cable car. Guests staying at the Sport Hôtel Hermitage & Spa in Andorra will enjoy numerous benefits. Location.
Step into the past and take a ride on a tourist bus to learn about the history of Andorra. You can choose between 7 different routes, each with their own theme: roman art, traditions, professions, museums, etc. This activity is perfect for families with young children who want to discover the main sites in the country. All in the comfort of a car! Useful information: The bus runs every day of the week from June 1st to October 31st, and leaves from Andorra La Vella, starting at 9€/child and 18€/adult. Location.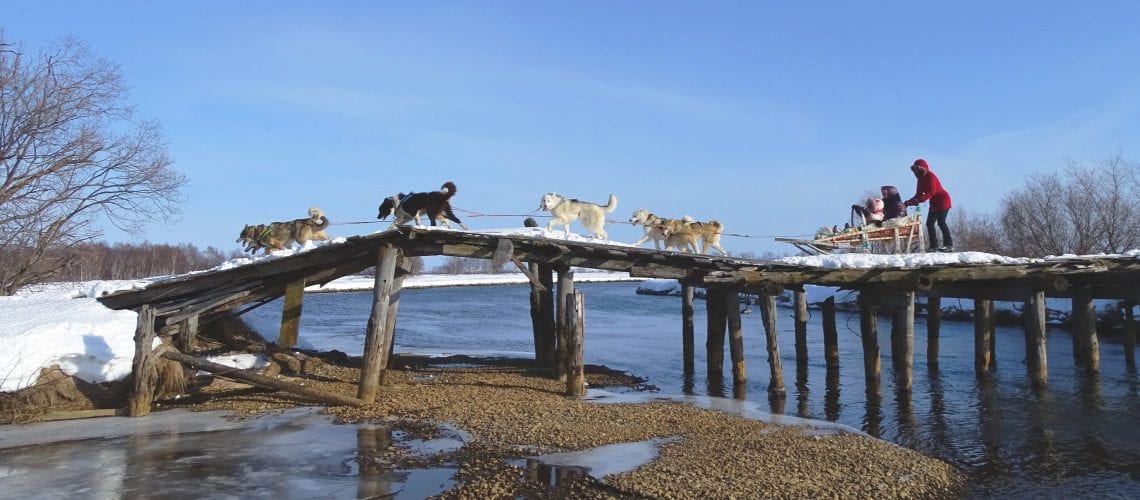 Who hasn't dreamed of riding on a sled pulled by dogs?
3 – WHAT NOT TO MISS IN THE WINTER
Dust off your skis and explore the snowy slopes of the famous Grandvalira resort. With 210 kilometers of track, the 128 slopes and numerous skiing and snowboarding classes, the largest ski lodge in the Pyrenees welcomes beginning skiers and their parents. Useful information: AD100 Canillo, Andorra ; +376 891 800 ; Location.
Take a trip on a dog sled in the immense, snowy forests at Grandvalira and have an unforgeable experience. After the journey, children love to pet these affectionate animals and drink a delicious hot chocolate. Useful information: start at the Grandvalira ski resort, starting at 40€ for two children (3-8 years old). Location.
Experience your first thermal experience at Likids, the spa exclusively designed for children. While mom and dad relax in the saunas and hammams of the Caldea Spa, their children (from 3 to 8 years old) participate in activities designed for them and supervised by specialized monitors. On the menu: The Beauty experience (massages, manicures, masks, etc.), beginners' yoga, a fun and relaxing session, a performance (only during the busy season) and much more. Useful information: Open from 10AM to 10PM, Midnight on Saturdays. Starting at 107€ for 2 adults + 1 child between 3 and 4 years old + 1 child between 5 and 8 years old for 3 hours; Location.
Put on your shoes, snowshoes and hat and discover the alpine peaks. A guide can accompany you to reveal all the secrets of the mountain. For the bravest, this activity can also be organized at night. Useful information: 35€ for 2 people for 2 hours; leaving from the Grandvalira. Location.
Climb on a giant inflatable tube and slide down the snow slides. Tubing is a great winter activity to do on the ski slopes. This secure activity will surly please the whole family. Useful information: 20€/20 minutes, experience available at Grandvalira. Location.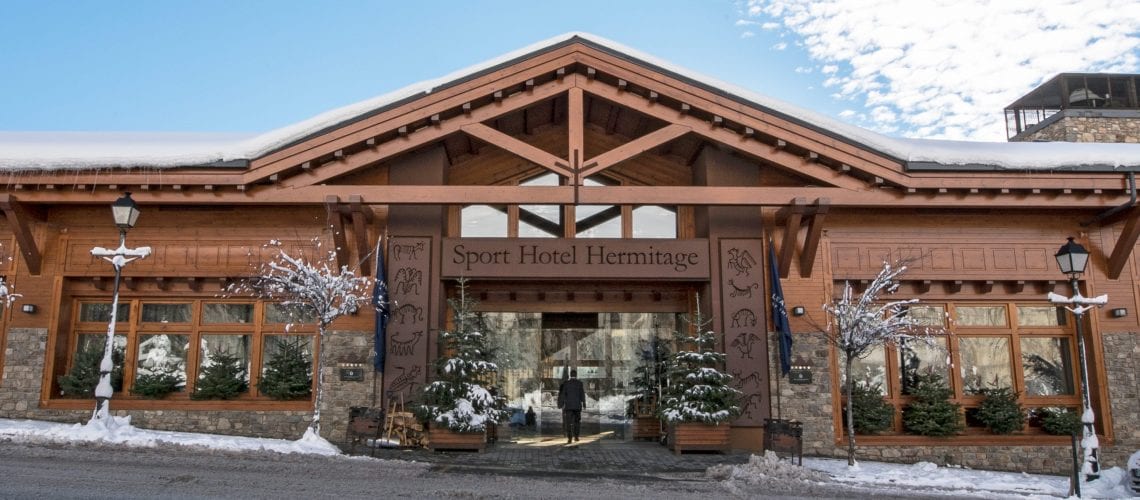 We love the chalet spirit at the Sport Hôtel Hermitage & Spa
4 – AN EXCEPTIONAL HOTEL FOR FAMILIES
Nestled at the foot of the famous Grandvalira ski resort, the Sport Hôtel Hermitage & Spa seduces even the most demanding families. The authentic and luxurious atmosphere of this kids-friendly hotel creates a cozy and relaxed environment. Along with its 8 restaurants, its 9-hole golf course and its outdoor swimming pool, the Hermitage also offers 5,000sqm of thalasso space where the entire family can be pampered. And if the parents want to discover any of the numerous powder slopes, they can entrust their children to the nursery, the complimentary kids-club or the complimentary teens-club. The stay with a baby is also made easier thanks to the many facilities: car seats, highchairs, baby cots, bottle warmers, baby toilets, etc. Take a weekend trip to one of the most popular places in Andorra. Location.

5 – ANDORRA, A GOURMET DESTINATION
Learn how to use chopsticks to enjoy the sushi at Koy Hermitage. The famous chef Hideki Matsuhisa takes you on a tasteful journey with a selection of exclusive Japanese dishes. Combining fresh high-quality products, tradition and art, the chef prepares the meal right in front of the guests seated around the bar. An experience to share with your family. Useful information: See the menu. Location.
The Embassy combines shopping with a true gourmet experience. This new concept store located in Andorra la Vella offers more than a hundred exclusive brands as well as a high-end catering area. Designed and ran by three great chefs, Bernard Bach (two Michelin stars), Romain Fornell (one Michelin star) and Oscar Manresa, the very chic restaurant Chef's Table offers Andorran, French, and Spanish cuisine. Lovers of good food can choose between 6 themed counters: Iberian & Gascon, Oyster Bar, BBQ, Pastry, Cheese and Bar. To make the experience even better, we recommend seating yourself at the counter where your dishes will be prepared right in front of you. Location.
Develop your palate and taste authentic Catalan cuisine at Origen. This gourmet restaurant belonging to the Hermitage Hotel offers a menu inspired by Michelin starred chef Nandu Jubany. Among the various typical dishes, we find the « coca masegada », a flaky pastry with fois gras and caramelized apples. To be tested absolutely! Location.
Dinner in a magical ice setting and enjoy a unique evening. The Iglù restaurant offers Eskimos apprentices the opportunity to enjoy a meal in an igloo where the temperature is around 0°C. On the program, ride on a snowmobile to the establishment, snowshoe under the stars and discover the restaurant's specialities. We recommend that you equip yourself warmly (shoes and thermal clothing) and book your table in advance. You can also sleep in an igloo. Location.
6 – GET AROUND
Duo to its location in the high mountains, Andorra does not have an airport in its territory. However, the Principality is easily accessible from Andorra-La-Seu (LEU) Airport which is located in the region of Urgell in Spain. Open only during the summer season, it is used for private flights. Travelers that wish to fly in with commercial airlines can fly into Toulouse, Carcassonne, Barcelona, or Gerona.
There is a lot of public transport in Andorra. Cooperativa Interrurbana Andorrana's 7 bus lines serve the entire Principality. Count between 1.85€ and 6.10€/ ticket depending on the area concerned.
If you want to explore the country without having to worry about timetables, car rental is also a great option. Andorra has an extensive road network. You can also cover good distances while also carrying a stroller and the children's bicycles. One small suggestion: avoid traveling during rush hour.
Andorra is known as a paradise for two-wheelers. Whether you are a mountain biker or a road biker, there are a large number of paths that will surely awaken the cyclist that sleeps within you. Don't forget to pick up a circuit map available at every tourism office.
7 – DID YOU KNOW…
Citizens of Andorra live an average of 80 years.
It is possible to walk across the entire country without stepping off the trails.
Andorra has a higher concentration of museums per square kilometer than any other country.
Andorra has never had an army, nor a minister of defense.
10% of the country's territory has been declared a UNESCO National Heritage site.
Happy adventuring!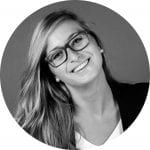 Emilie, 21 years old, lover of literature and travel, originally from Liège, Belgium