Holidays are coming to an end, the weather is getting colder and time has come to think about your next stay: what about skiing? In order to meet the requirements of winter sports enthusiasts looking for a setting suitable for the whole family, we have selected 4 resorts that are very popular with toddlers and their parents. To embellish your holidays in the mountains, Little Guest has also identified unique activities to do with your children and listed the most family-friendly hotels, hiking, sledging, skiing, there is a bit of everything, for everyone and for every age, follow the guide!
1. Courchevel
As pleasant during the winter as during the summer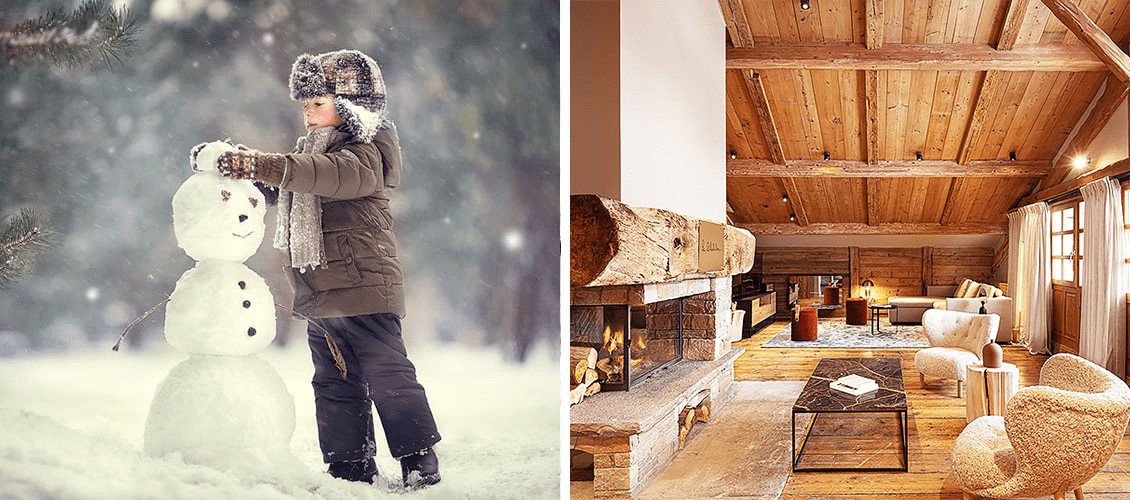 When you stay in Courchevel, you have the largest ski area in the world within skiing distance… More than 180 green-blue runs, 140 red-black runs and 40 scripted junior runs await you for unforgettable skiing sessions. Thanks to the perfectly tuned ballet of the ski lifts, you'll be at the top of the slopes in no time at all. Once at the top, at a glance, your gaze will embrace breathtaking landscapes: Mont Blanc, the Ecrins, the Vanoise Glacier and the Pierra Menta. The slopes of the resort face north, which allows for exceptional natural snow cover and optimal snow conservation, from December to April.
Children from 6 years old can take part in the Adventure Camp which offers crazy sports adventures every day. To do so, go to the Altiport of Courchevel from 2pm and, among the myriad of activities supervised by ultra-competent instructors, your children will be able to indulge in the joys of snowmobiling on a secure circuit.
If you choose to stay at the Chabichou *****, you will have the chance to combine the joys of skiing with the refinement of a renowned establishment entirely dedicated to your well-being. The 1100 sqm spa will amaze you with its unique equipment: sensory and hydrodynamic pools, invigorating ice fountain, salt grotto, polar bath… It is a real sensory journey that is offered to you. The hotel has a well-stocked store selling snow sports accessories, family suites that can accommodate up to 6 people, a kids club and a teens club for the enjoyment of children and adults. Mountain decor, cocooning atmosphere, crackling fire… it's this atmosphere that we love to find after a day on the slopes! So what are you waiting for to discover this warm cocoon?
If Courchevel is unanimously recognised as the best resort for snow sports, it also offers a multitude of delights for those who love green pastures and the gentle song of birds. From the end of April, the white mantle of the three valleys gives way to lush nature. Hikers can walk or ride on horseback along the numerous signposted paths that the site has to offer. From Courchevel, you can go directly to the Vanoise National Park where you can practice climbing, mountain biking, but also canyoning, hydrospeed and even rafting. Upstream of the rivers, the splendid high altitude lakes are just waiting for you for peaceful days of fishing.
Golfers are not to be left out as the Courchevel golf course offers an unexpected panorama just a few metres from the summits. You can also take it even higher by admiring the valley from the basket of a hot-air balloon. At the Forum ice rink, there is a bowling alley, video games, climbing walls and of course a superb ice rink. For teenagers addicted to the outdoors, mountain biking, aerobatics and archery are on the programme.
In winter, the Hotel Les Sherpas is a destination of choice. You can only feel at ease, amazed by the modern elegance of this chic establishment. On the relaxing side, the swimming pool, the sauna and the spa are sure to seduce you. The hotel offers refined French cuisine in its gastronomic restaurant which offers a breathtaking view of the snow-capped peaks. The Chef's preparations will delight both adults and children, who will only have eyes for the menu concocted especially for them.
2. Megève
Rustic and refined, gastronomic and sporty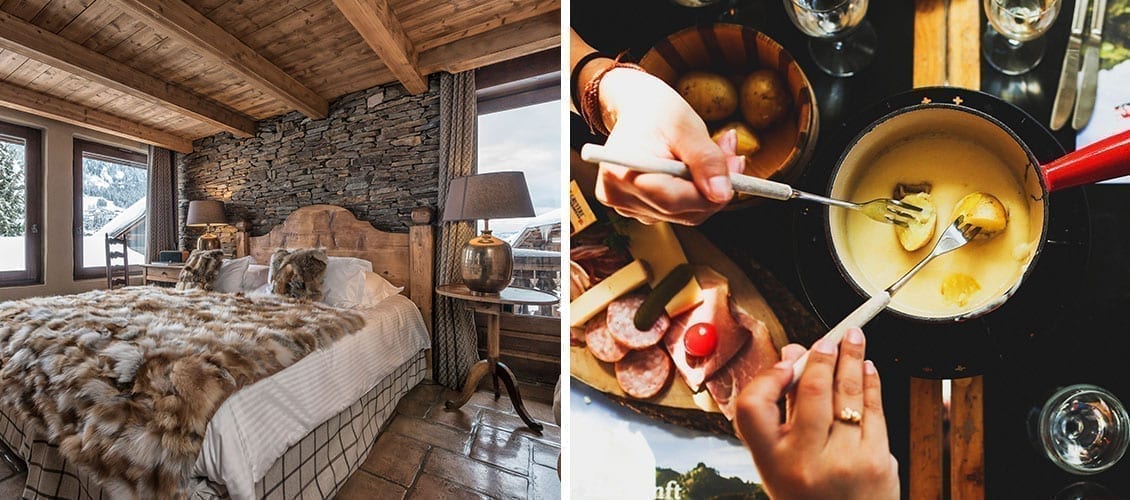 Megève is famous for the delights of its gastronomy and for the sporting spirit that reigns there. A family destination par excellence, beautiful gentle slopes designed for the youngest and large areas of freedom await you. Do you like sports skiing? You'll find what you're looking for with a giant airbag and slopes specially designed for freestyle. Oxygène a leading player in Megève. These winter sports experts will accompany your stay from A to Z as the company also offers a ski clothing and accessories rental service, delivered to your home as soon as you arrive.
In Megève you can indulge in the joys of adrenaline with your family. Yes, thanks to the famous four-season sledge which, as its name suggests, is open all year round, day and night. 13 successive bends, tunnels, variations in speed and gradients await you. We advise you to take a 10 descent package because each time you see new things along this unforgettable beautiful route.
In addition to the energizing sports setting, some tourism actors have taken advantage of the specificities of the site to fit harmoniously into what is the oldest ski village in France. In addition to the comfortable rooms in the main establishment, Les Fermes de Marie ***** offers several private chalets in a truly unique blend of luxury and rusticity. Take the Chalet des Fermes for example. It has a surface area of 400 m²! Ideal for large families and groups of friends, just a stone's throw from the village centre, it has no less than 5 rooms plus large living areas and above all… A private spa! They have thought of everything: the chalet benefits from an exclusive underground passageway leading directly to the main building to take advantage of all the facilities of this warm and impeccable hotel…
3. Évian-les-Bains
La belle at the gates of the sun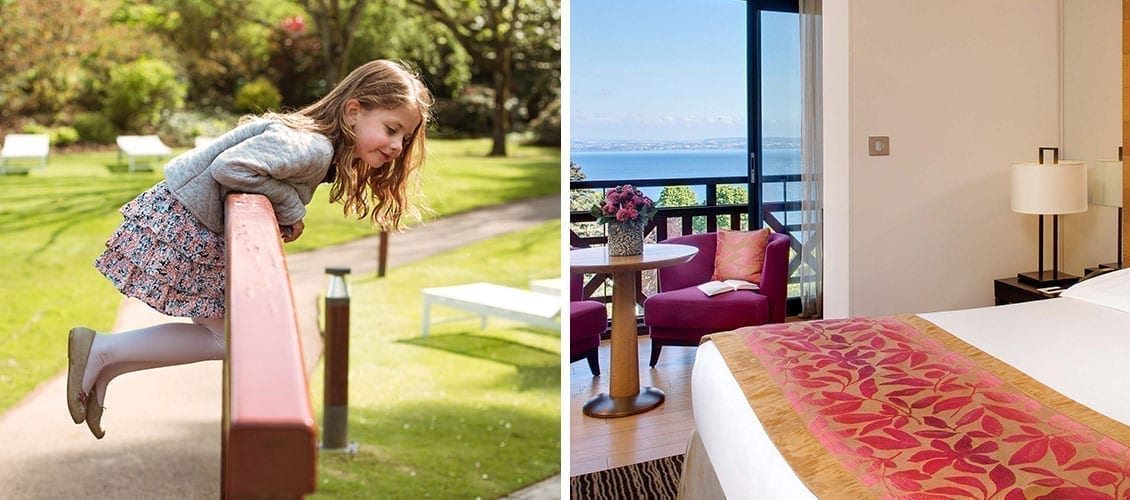 The exceptional properties of its water make Evian-Les-Bains the destination of spa visitors' preference. The town, with its charming pedestrian streets and refined boutiques, is also a calm, luxurious and timeless destination. Its proximity to the best slopes in the region makes it, at last, the favourite destination for sports families. The Portes du Soleil is one of the largest ski areas in the world. This gigantic spot gives access to 12 French and Swiss ski resorts, which is equivalent to… hold on… 600 km of skiing! It is also the resort with 99 restaurants, most of them located right on the slopes.
Notice to fans of the little queen! On the last weekend in June, a large-scale mountain bike tour brings together bikers from all over the world. Departing from 9 resorts, this sporting event allows you to tour the area in all directions, alone or with your family. Its traditional refreshment stands, its mountain bike show and its magnificent landscapes make it a convivial event that is popular with mountain bikers from all over the world.
Hôtel Evian Ermitage is definitely the place to stay if you decide to visit this charming resort. Surrounded by a gigantic 19-hectare park, this 4-star hotel offers privileged access to the shores of Lake Geneva. In order to reduce its environmental footprint as much as possible, the hotel has been awarded the Earth Check label. Faithful to this spirit of harmony with nature, its golf course will not leave you indifferent either. Inside the building, the tones are warm and the atmosphere is hushed; the large period fireplace in the lobby is an invitation to relax and cocoon.
4. Méribel
Mont Blanc has its arms wide open for you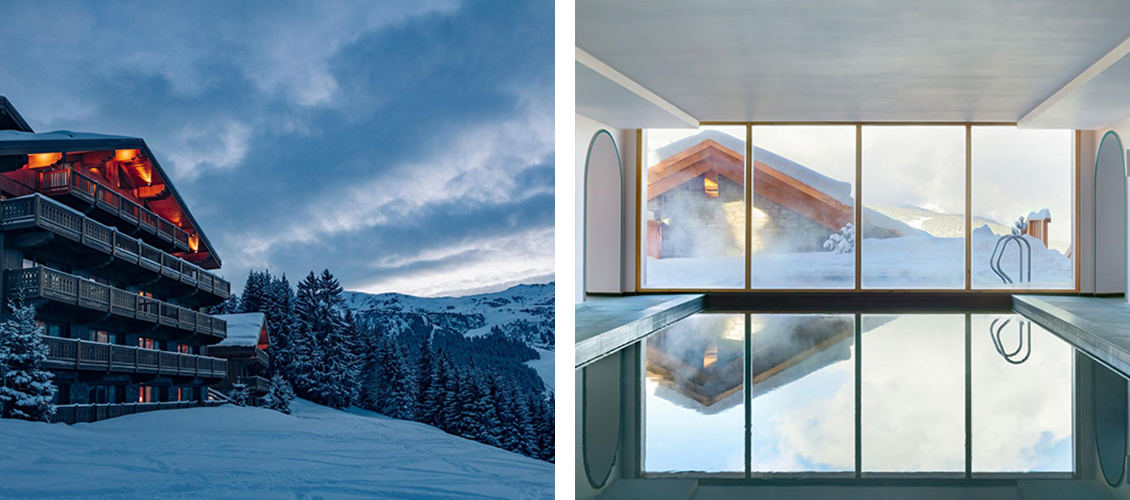 Sumptuous chalets disposed within an almost a magical atmosphere, a panorama which will certainly put stars in the eyes of the children but also of the parents! The Méribel ski station is a privileged destination for families, with not less than 150 km of ski slopes and 25 km of cross-country ski, there is no chance that any of you will ever grow bored of this place. Moreover, the Méribel station benefits from a weather that is perfect for a whole series of activities, ranging from the traditional skiing to the four seasons sledging, the Alps and the Mont blanc have plenty to offer.
Labelled since 2016 with the title of « Famille Plus Montagne », a French label decerned to the best destinations for families, it provides with a series of original activities such as paragliding or hang-gliding, for the most adventurous families. It is obviously possible to stay on the ground and on the snow: the region counts with many hiking trails so to admire the lush environment that Méribel offers and the endless reliefs. During Winter, covered in its magnificent white coating, the ski station transforms into a skiing paradise, for parents with its kilometres of ski slopes, and for the youngest who will be delighted with the pony-sledging, so they will have the chance to peacefully admire the landscape. And to keep those moments intact, do not forget the children's après-ski!!
It makes no doubt that the Coucou Méribel ***** is the ideal place to be for families in the region! A kids-friendly and family-friendly hotel that provides with communicating rooms and showcases a typically Savoyard architecture, but also interior designs signed by Yovanovitch. Moreover, this hotel offers a complete service for children: baby-sitting, kids-club and teens-club. That way, children will spend there their best holidays while parents will be enjoying the sumptuous spa cares, which are available for children as well.
5. Val d'Isère
… And a Spa for All!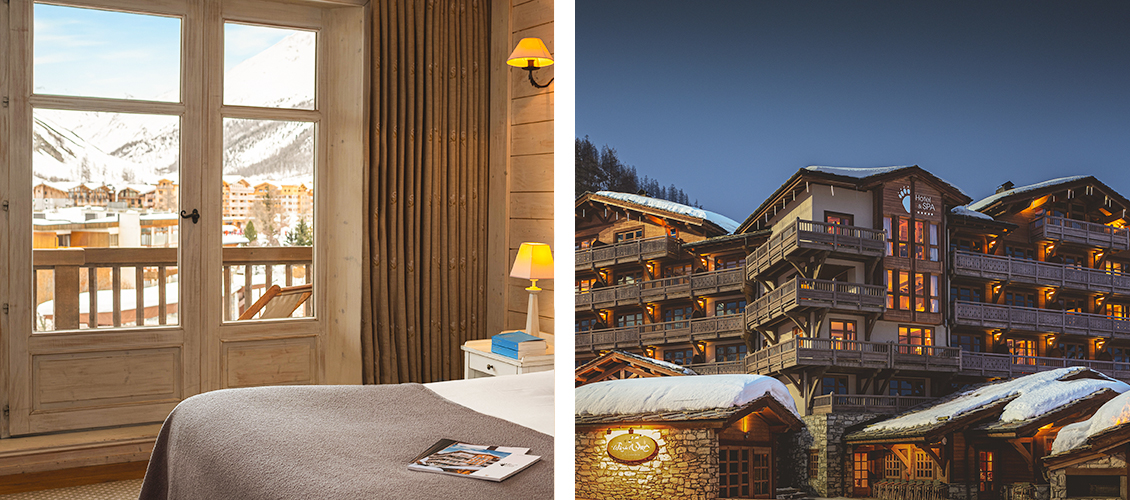 Savoy, its hundred-year-old traditions, its cheese, but most importantly, its snowy landscapes and endless ski slopes, the paradise that await families is located in Val d'Isère and its countless typical small villages composed of chalets surrounded by mounts and valleys! This is almost 300 km of ski slopes that are waiting for you, for exceptional holidays in family within one of the most beautiful regions of France.
Also labelled with the « Famille Plus Montagne » title, either it is in Summer or in Winter, this destination offers a large verity of activities: hiking, to appreciate the mountain flanks bordered with pines and enlivened by the birds' singing, moutnain biking, for more sensations, or the indispensable skiing during winter, sledging, snowshoes hiking, cross-country skiing, horseriding, in other words, no time to get bored!
After so many discoveries and activities, time for comfort, and what a better place than the Hotel les Barmes de l'Ours ***** to unwind? This cosy cocoon is located far from the centre of the region, for a peaceful moment. A chic, charming and must-see hotel, easily accessed and offering a great number of infrastructures ranging from pools, spa to bowling alleys and a free kids-club! Besides, their spa is open to children and offers a whole array of spa cares just for them, for a smooth and comforting moment, because children also deserve their very own time!
What could these resorts and exceptional hotels have in common? The common factor is that they offer unique panoramas and services that meet the expectations of demanding and adventurous families.
By the way… when are you planning your trip?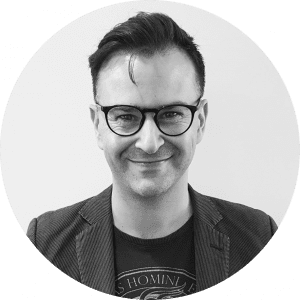 Julien, 35 years old, journalist and translator, from Saint-Malo, France