For many of us, mountain holidays are a real tradition and an eagerly awaited time of the year. Indeed, there is nothing like a week's skiing to combine relaxation, sport and special moments with your loved ones. These stays generally last one week; it is therefore important to prepare well in order to enjoy them to the fullest, especially when accompanied by our dear little ones. Whether you are a regular or a novice, here are all our tips for a successful family ski holiday!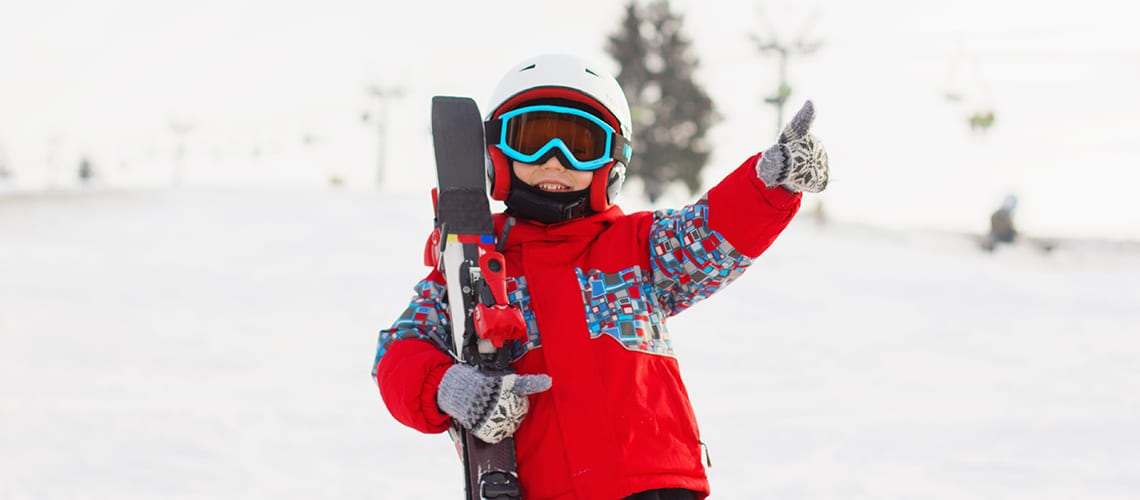 There's nothing like a stay in the mountains to recharge your batteries with your family and enjoy a breath of fresh air. Sports activities, cosy chalet-hotels and raclette evenings are sure to please young and old alike.
But like any type of vacation, mountains holiday in winter is all about preparation!
Is there an ideal age to start skiing? What level should I enroll my child in? What equipment do I need to get for a week's holiday in total peace of mind? What is the perfect hotel to welcome my family? It is perfectly normal to ask all these questions when planning a stay in the mountains. To make it easier for you, Little Guest gives you all its best tips for a successful snow holiday!
WHAT IS THE RIGHT AGE TO START SKIING?
Those who are used to going to the mountains in winter have all had the surprise of seeing groups of little champions hurtling down the slopes with unfailing confidence.
In fact, there is no real minimum age to start skiing; as soon as the child can stand on his own two legs, he is ready to start learning (some even say they learned how to ski before they learned how to walk!).
The sooner your little one starts to acclimatize to the slopes, the sooner he will feel at ease and will be ready to accompany you on your skiing adventures. To do so, most children start by taking group lessons with professionals. It is perfect for learning the right reflexes and optimizing the learning week.
If you spend your holidays in France, your child will most likely take lessons with an instructor from the ESF, the Ecole du Ski Français (French Ski School). There is a system of stages and medals with a fairly precise description of what the child is expected to be able to master at each stage. Here's a short summary of these different levels to help you find the right place for your little ones:
Piou Piou: The child is under 5 years old and has never skied before. He discovers the snow with his skis on his feet on flat ground, in the kindergarten.
Blanchot: The child knows how to move around on a flat surface, use the ski lift mat and make his first slides.
Sifflote: The child knows how to snowplough and controls his speed, but he still stays within the kindergarten.
Garolou: The child is autonomous in the garden but not yet on the slopes. He knows how to put on and take off his skis, use the small ski lifts, control his speed and change direction in snow plough.
Ourson: The child has either obtained the above medals or is between 7 and 12 years old. He controls his speed, makes wide snake turns, glides with his skis parallel to the slope and stops with a snowplough turn.
Flocon: The child has obtained the Ourson, controls his speed, crosses the slope line in snowplough turns, stays balanced by sliding faster with his skis parallel across and facing the slope on smooth, gentle slopes. He knows how to brake and starts to skid.
1st star: The child has obtained the Flocon, he completes elementary skidded turns taking into account the terrain, slides across on gentle to medium slopes, and masters his balance.
2nd star: The child has obtained the 1st star, he completes a series of elementary refined turns, crosses the line of slope with the skis parallel, leads his turns in rounded skidding taking into account the external elements, crosses troughs and bumps, across or facing the slope, while remaining in balance.
3rd star: The child has obtained the 2nd star, he can link basic parallel turns with short and medium radius skis, taking into account and adapting to the external elements. He can control his balance in schuss on varied terrain, and improve his lateral balance by using successions of interspersed skids.
After all that, it's time for bronze and gold stars, which already attest to a certain level and assurance in all types of snow.

On the first day of class, your child will be placed in a group according to his past experiences and medals but don't worry, the instructors are very professional and flexible and will not hesitate to offer you to change your child for a lower or higher group after the first day depending on his level, so that he can progress while feeling comfortable and at his place!
WHAT IS THE NECESSARY EQUIPMENT?
Helmet
The helmet is an essential element for all skiers, but even more so for the little ones! Of course, it protects the head in case of a fall, but it also serves as a barrier against the cold that we can experience in the mountains. There is a very wide range of ski helmets for all budgets and in all colours.
The most important thing for the comfort and safety of the child is to choose a helmet of the right size. In order to do this, you can measure the contour of your child's head with a tape measure and thus know directly which size to look for online or in-store.
It is also essential that the helmet meets the NF EN 1077 standard, which ensures that the specific characteristics of helmets for alpine sports are respected (unlike a bicycle helmet which is not suitable for skiing, for example).
Finally, we also advise you to test the helmet's closing system with your little ones to make sure that they can easily remove it during lunchtime, for example (even with mittens!).
Ski boots
Most people rent their ski boots and especially their children's boots once they arrive in one of the rental shops located in the resort. Above all, take the time to try on the boots with your child in the shop. The salesmen will not hesitate to help you and adapt the boots to avoid unpleasant surprises once on the slopes.
Skis
As with ski boots, it is unlikely that you would buy them for your children, as they are growing really fast, so you would have to buy new equipment almost every year (unless you go to the mountains several times a year, in which case a purchase would certainly make renting profitable). We therefore advise you to seek advice from the experts at the equipment rental shop near your hotel, they will be in the best position to advise you and are usually ready to exchange your equipment during the week, if necessary.
For the little ones, short skis are recommended as they are easier to handle and therefore easier to manage when you are not (yet) a downhill professional.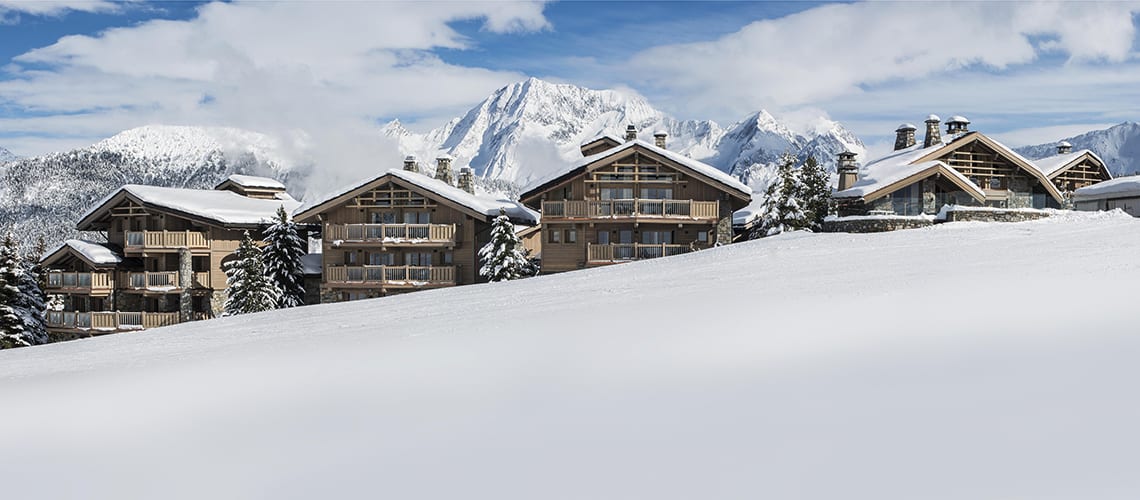 What more could you ask for?
Ski poles
Novice skiers generally begin their learning process without poles, as it is easier to have only your feet and skis to manage when you start on the slopes. In fact, even if your child arrives at the meeting point of his group with poles, his instructor will most likely tell you to keep them (at least for the first few days) or hold them himself during certain exercises with the children. For example, since it is important to always lean forward when skiing, many instructors start by asking their students to do the first few runs with their hands on their knees.
If your child already has a little bit of experience, he or she will need adequate poles. Poles should be chosen that, when held vertically, allow the forearms to form a 90-degree angle. Again, specialists at rental stores will be in the best position to advise you on which poles to choose.
Finally, we encourage you to repeat to your children the importance of putting on the straps (the little ones attached to the poles) so that they are not 200 meters lower than the poles in case of a fall.
Sunglasses/ski mask
To protect the sensitive eyes of your little blond heads, goggles or a ski mask are a must-have on the slopes! A ski mask is the best option to ensure optimal protection and comfort because it is placed above the helmet and not behind the ears like goggles, which sometimes bothers little ones and causes them to constantly take them off.
Goggles are however essential for off-piste moments, so don't hesitate to read our comparison of 8 pairs of baby sunglasses.
Sunscreen and lip balm
Don't get me wrong, mountains in winter don't mean bad weather, it's quite the opposite! Sunburns are actually quite frequent because of the snow, which reflects about 85% of UV rays; it is therefore very important to protect your skin.
For young and old alike, we always recommend a sunscreen with an index 50, to ensure maximum protection. There are even mini sizes to put in your pocket for the second layer in the middle of the day.
Mountain air can also dry out your lips quite easily, which is why it is important to take an effective lip balm with you. When you buy it, make sure you take a special sun/mountain stick so you don't do worse than better using your usual Labello stick!
There are also 2-in-1 tubes that combine a protective sunscreen and a lip balm that your child can wear around their neck or in their pocket for quick access.
And if you're lost when faced with the wide choice of options in pharmacies and stores, don't panic! Our comparison article of 8 sunscreens for babies is here to help you.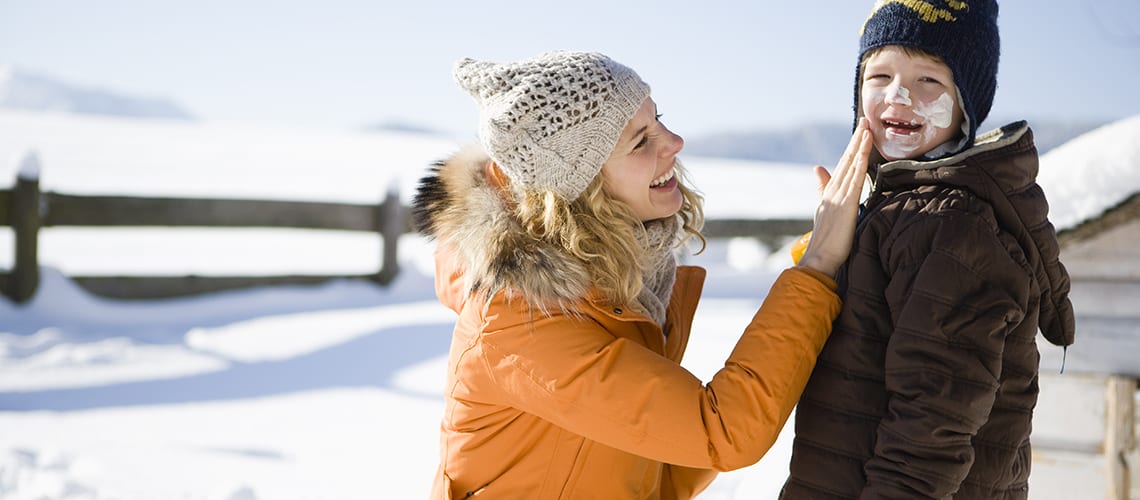 It's always better to be safe than sorry!
After a well-protected day in the sun, it is also essential to moisturise your body, so check out our comparison of 9 moisturising creams for baby.
Gloves or mittens
Did you know that it is mandatory to wear gloves or mittens on the ski slopes? In addition to protecting against the cold, they protect against injuries in case of a fall and possible cuts when handling skis. Indeed, underneath them are the edges, the blades that allow the skis to « cut » the snow. It is important to explain to children the danger of these blades and to have gloves on your hands as soon as you, for example, have to carry your skis back to the hotel.
The two main differences between gloves and mittens are 1) warmth and 2) maneuverability.
Indeed, we get warmer when wearing mittens because with mittens 4 fingers out of 5 are in the same « pocket », unlike gloves where each finger is separate and therefore does not benefit from the heat effect of the others. We therefore recommend mittens to young and old alike who tend to get cold quickly and, more generally, to anyone leaving at a time of the year when the cold is more biting (if you leave at Christmas rather than Easter, for example).
Concerning the handling side, the point here comes back to the gloves which allow more independence of each finger and therefore possibly a better grip.
We advise you to have your kids test both options to see which they feel most comfortable in.
To take the road to the slopes with peace of mind and make sure you have everything you need in your suitcases, don't hesitate to consult our checklist for a family skiing holiday!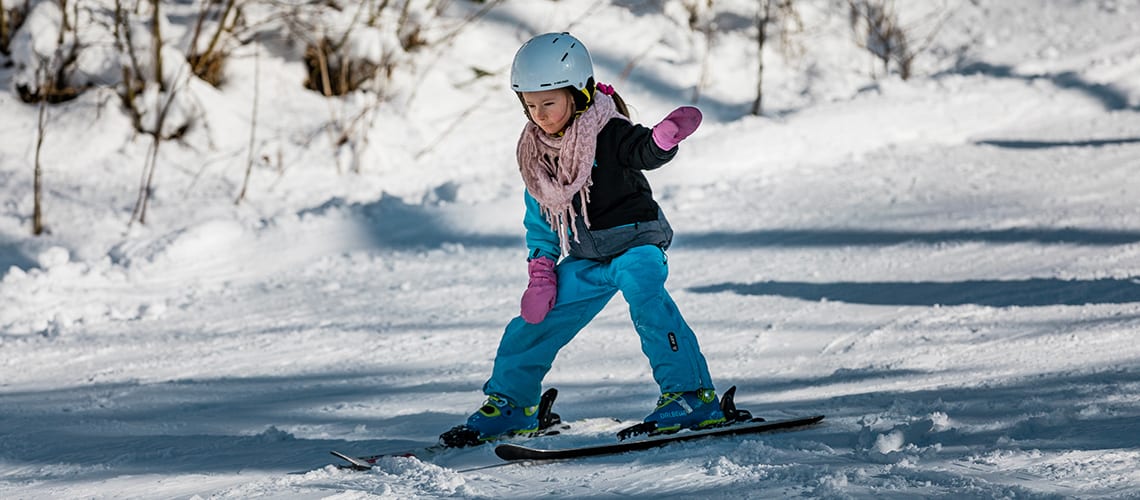 OUR FAVOURITE ACCOMMODATIONS
We know that during a holiday in the mountains, après-ski is just as important as your sports day, which is why it is important to choose your hotel carefully in order to make the most of this generally intense week.
We have therefore prepared a nice selection of top-notch establishments for a successful family holiday:
Grand Massif Samoëns Morillon Club Med **** (Samoëns)
Club Med Grand Massif Samoëns Morillon ****, nestled at an altitude of 1600 metres, gives you access to over 260 km of slopes. It is therefore the ideal place to enjoy the joys of winter sports with your family. Between its rooms, suites and private chalets, there is no shortage of accommodation options. Its ultra-complete all-inclusive formula includes: ski passes and lessons, Kids-Club from 4 to 17 years old, all meals at the restaurant, drinks at the bar, entertainment and many other activities!
We love :
The alpine skiing lessons (from 4 years old) and snowboarding lessons (from 8 years old)
The baby-club which welcomes toddlers from the age of 4 months.
The superb spa, its treatments and massages
The numerous accommodation options (rooms, suites, chalets)
For other exceptional accommodation in France, find our Top 5 of the best ski resorts in France.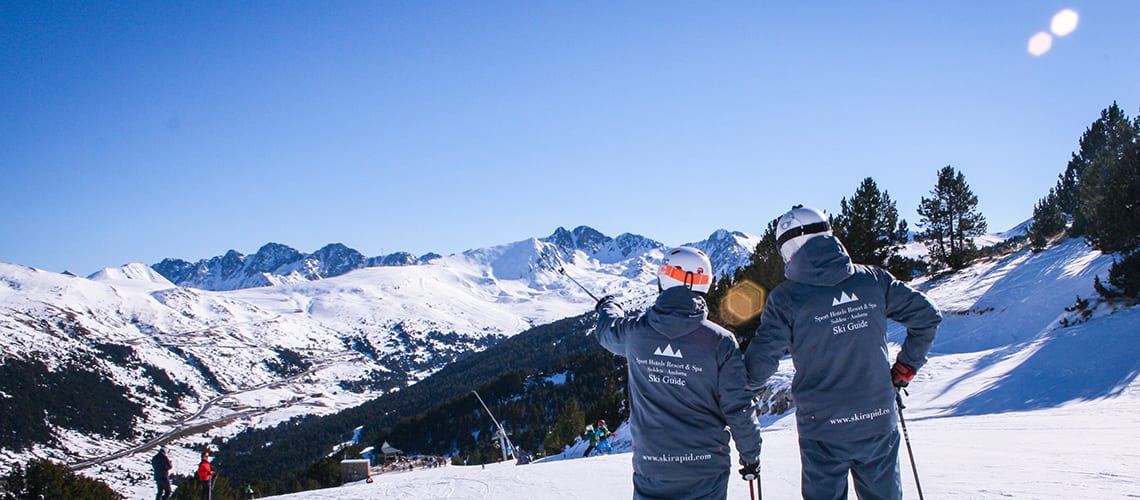 Ski club at Sport Hotel Hermitage & Spa *****
Le Sport Hotel Hermitage & Spa (Andorra)
You may not be familiar with this small principality nestled between France and Spain, yet it hides many jewels in its mountains. One of these gems is the Sport Hotel Hermitage & Spa, with 135 suites offering unrivalled comfort and breathtaking views on the surrounding peaks.
We love:
The hotel's 8 restaurants run by two starred chefs
The mountain climate with Mediterranean influence that guarantees many sunny days
The free crèche, kids-club and teens-club
The Sport Wellness Mountain Spa and its breathtaking view on the valley
Find other hidden treasures of this region with our article, Andorra: a dream destination for families.
Switzerland is also a real paradise for skiers and snowboarders, and here are a few unmissable establishments:
You are now ready for a successful skiing holiday!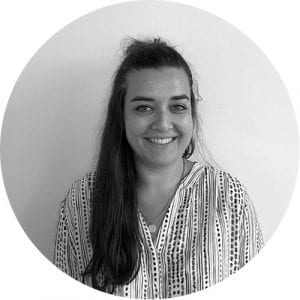 Margaux, 24 years old, passionate about travelling, from Namur