Much more than a fashion accessory, sunglasses are essential to protect baby's sensitive eyes from UV rays. Little Guest has selected for you 8 trendy, chic and fun pairs of infant sunglasses that will protect your little one in style.  Whether you're looking for baby sunglasses with straps for maximum comfort or luxury sunglasses for style, you'll find it all in this list.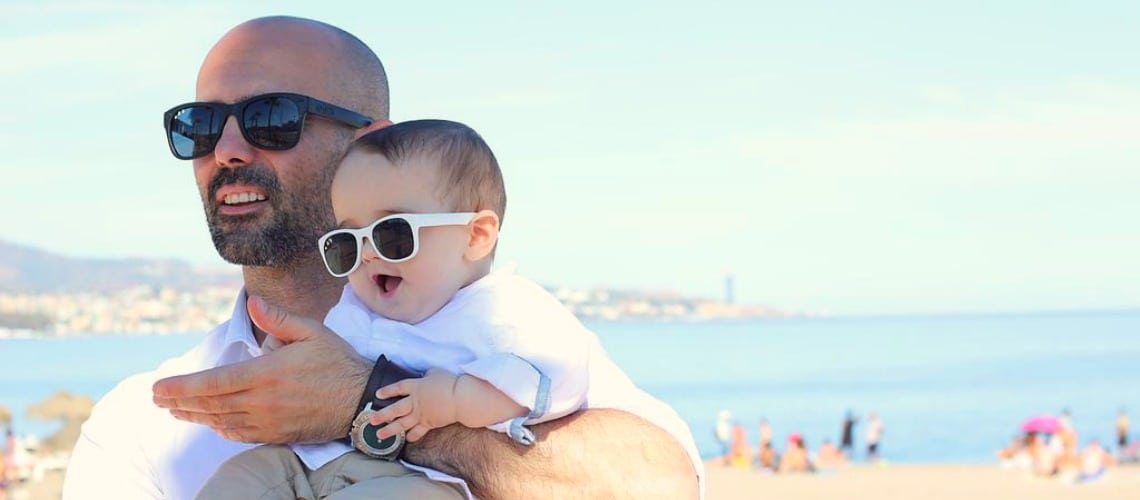 Ready to let it shine! 
QUESTIONS THAT PARENTS USUALLY ASK THEMSELVES
« Are baby sunglasses really essential ? »
Children's eyes must be protected at all times: whether in the shade, in the pool or on the sand, because of reverberation. Don't forget that their big curious eyes are more sensitive than our adult eyes. It is only from the age of 12 onwards that your child's eyes benefit from natural protection, when their lens has gradually become more opaque over the years.
« Which sunglasses should I choose for my baby? »
We advise you to invest in glasses with the CE label, so that they comply with European standards and regulations. Regarding the lenses of the glasses, opt for models with a minimum index of 3. In bright light, at sea or in the mountains, prefer protective lenses 4. Finally, leave the « fancy » glasses at home! They generally have tinted lenses that are not treated against UV rays!
« What can I do if my baby don't want to wear it ? »
Plan B is to dress baby with  a cap or a light hat! Of course, a headgear does not replace an anti-UV frame, but it does limit the effects of direct radiation and minimizes the risk of sunstroke!
« When is it necessary to insist ? »
The impact of the sun varies according to the seasons and/or altitude. From April to September, vigilance is required at our latitudes, but it is rather in June and July that the intensity of ultraviolet rays is the most important. During the day, it is between 11am and 3pm that UV rays are particularly strong. Finally, do not forget that clouds can distort the risk assessment. The absence of direct sunlight does not in any way mean the disappearance of UVB radiation.
LITTLE girls' models
1. BÉABA FOR CASUAL MISSES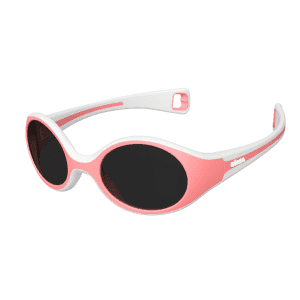 The unbreakable dark lenses of the Béaba sunglasses offer category 3 UV protection. Its wrap-around frames do not rest on the ears so as not to bother the child. Comfortable, they provide good support with a soft zone inside the temples that adjusts to baby's morphology.
Parents love its headband version for newborns.
Price: €28.50
2. DOLCE & GABBANA FOR THE DIVAS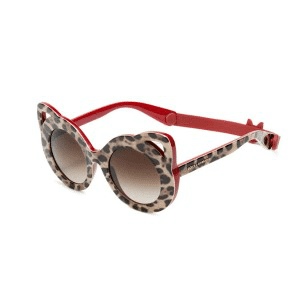 This Dolce & Gabbana model, with sophisticated details, is lightweight, comfortable and super trendy ! These glasses adapt to the heads of little girls with elastic surmounted by cat ears. The round lenses offer a total UV filter. We simply love it !
Parents love its matching case.
Price :€200
3. QUECHUA FOR SMALL ATHLETES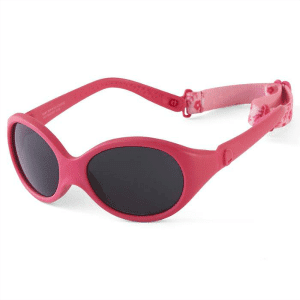 These Quechua sunglasses are the ideal sun protection for small athletes from 6 to 24 months. Equipped with category 4 lenses, 100% UV filter and blue light filter, an elastic strap and a strong flexible material, they limit the risks of aggression, loss and breakage.
Parents love its low price.
Price: €8
4. ARCHIMÈDE FOR LITTLE ROCKERS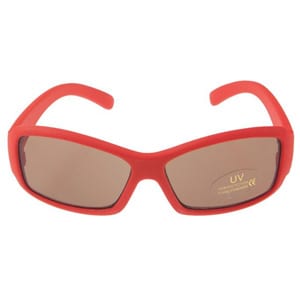 These very soft (100% rubber) sunglasses from Archimède protect baby's delicate eyes with category 3 tinted lenses. We particularly like their rock'n'roll style and their lightness.
Parents love its resistance and its low price.
Price: €10.90
LITTLE boys' models
1. JULBO FOR THE KINGS OF COMFORT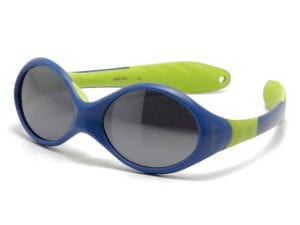 Spectron Baby 4 lenses from Julbo offer excellent protection. Its shape does not let bad UV rays pass through and the temples fit perfectly to the back of the head for optimal comfort. Children almost forget they are wearing them!
Parents love its large choice of available colours.
Price: €34
2. KI ET LA FOR UNCLASSIFIABLE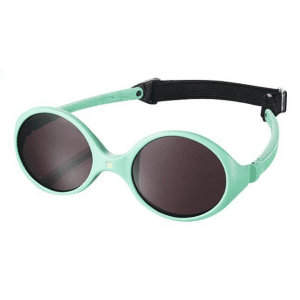 Ki Et La sunglasses are ideal as a first pair of sunglasses. Unbreakable, flexible and ultra light, they are also reversible and « evolutionary » because they adapt to the development of the nasal bridge of babies. This unique system allows the use of glasses in position « 1 » from birth to 9 months; then return them to position « 2 » between 9 and 18 months.
Parents love its value for money.
Price: €24.95
3. CÉBÉ FOR ADVENTURERS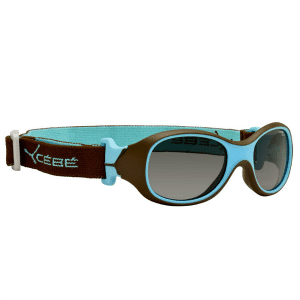 Thanks to its soft and adjustable wide band, baby will not risk losing the Cébé glasses! Its frame, fully covered with rubber, offers a perfect grip and fully covers the baby's eyes. Its 4 protection and anti-scratch lenses make it the ideal ally for little adventurers from 0 to 2 years old!
Parents love its durability.
Price: €40
4. IZIPIZI FOR LADYKILLERS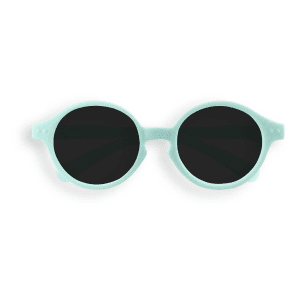 Izipizi's Sun Baby pairs protect the eyes of little boys from 0 to 12 months. Their category 3 polarised lenses filter UV rays. The straight temples of the glasses follow the child's growth, as does the ultra-flexible and adjustable silicone headband.
Parents love its fresh look.
Price: €30
A FEW TIPS
If it's up to the parents to choose the best protection for their baby, let your toddler choose the colour of the sunglasses. In this way, the kid associates protection and entertainment and enjoys wearing them.
Show him you're wearing sunglasses too. Mimicry can save lifes… Trust a mommy!
To protect your baby completely, don't forget the magic combo: suitable sun protection, and anti-UV clothing and hat. Also remember to bring with you a cool or tempered water bottle to hydrate the baby every half hour.
Avoid exposing your baby to the sun between 11am and 4pm.
To go further: because the well-being of newborns is vital, Little Guest selected for you the most beautiful luxury hotels with baby club.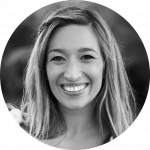 Magali, aged 36, mom of two, from Waterloo