When Mum and Dad investigate the search for the best baby sunscreen, there's no shortage of choices between cheap brands, dermo-cosmetic products and organic sunscreens. To help you with this difficult task, we have listed here, based on experiences and opinions of parents who use sunscreen, the top of the top of this essential accessory on the road to a holiday in the sun.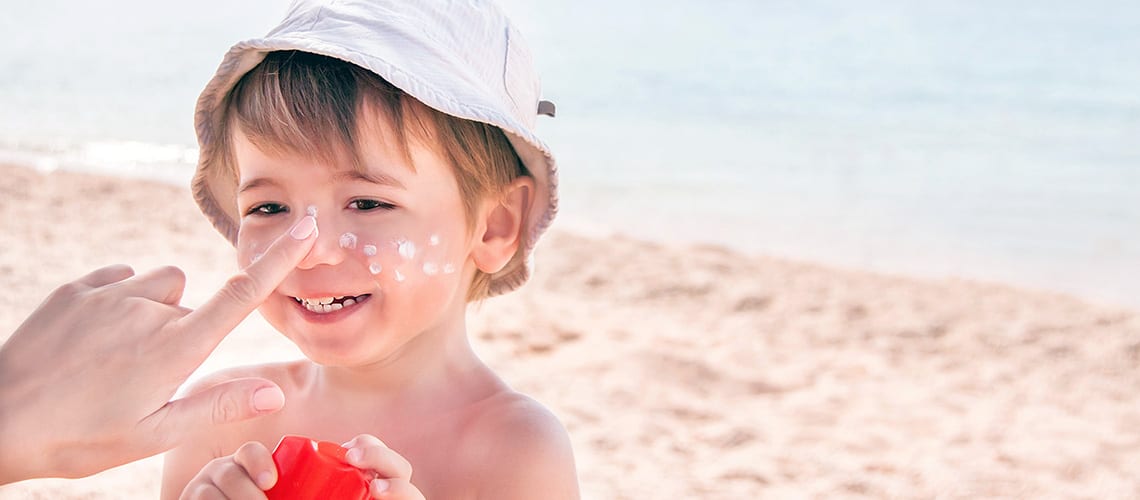 Little Miss Sunsreen ! 
QUESTIONS THAT ARE MOST ASKED BY PARENTS
What is a dermo-cosmetic?
There is no pre-established definition for what a dermo-cosmetic is. However, we can identify it as a cosmetic product combining efficiency and superior quality that is generally recommended by a pharmacist. This is how we care every day for our skin with a cream brand by Nuxe, Vichy or Clarins.
Is a dermo-cosmetic product necessarily organic?
No. Nothing certifies that the ingredients that make up the formulas of dermo-cosmetic products are of natural origin or from organic farming. Moreover, as far as sun protection is concerned, dermo-cosmetic products generally consist of synthetic filters derived from petrochemicals while the formulas of organic sunscreens essentially consist of mineral filters.
How do you recognize a certified organic solar product?
Like other organic items, sun creams with 100% natural ingredients are decorated with Ecocert and / or Cosmebio logo. If you visualize at least one of these two labels on the packaging of the selected product, it means that its ingredients come from renewable resources and are therefore respectful of the environmental standards in force.
Are there age-appropriate protection formulas for my child?
No. Whether your child is 5 months, 9 months or 1 year old, all sun creams will protect them in the same way (although some brands mention a minimum age of 3 months).
OUR 8 CREAMS ON THE TEST BENCH
1.   ACORELLE FOR BABY-SWIMMERS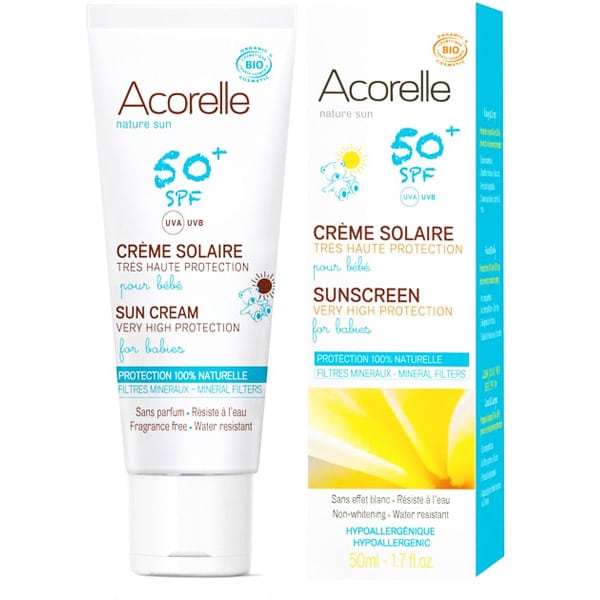 Certified organic by the
Ecocert label
,
Acorelle sunscreen
is recommended for babies from 3 months to 3 years old. Without perfume or zinc, it is mainly composed of
sesame oil and bisabolol
, a relaxing agent directly extracted from the
chamomile flower
.
Parents love its resistance to water.
SPF: 50+
Price: €19,50
2.   ALPHANOVA FOR IRRITATED SKIN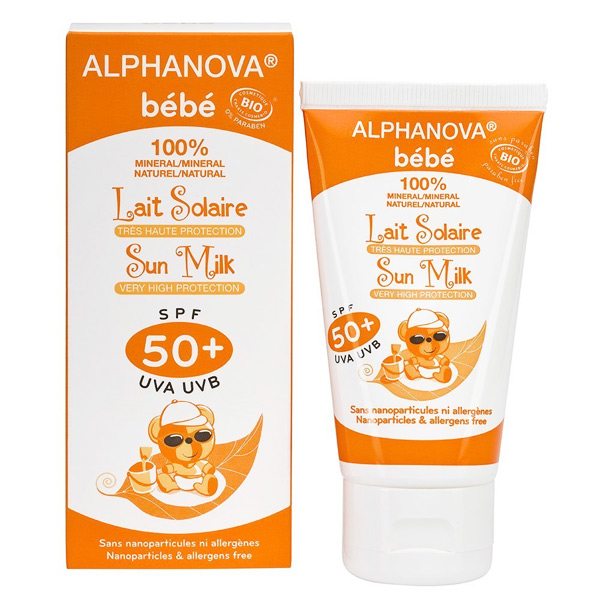 Labelled Ecocert and  not tested on animals, Alphanova milk is the perfect solar product for parents concerned about the environment and the well-being of their child. This milk, enriched with Tamanu oil, is ideal for fighting against baby eczema.
Parents love its non-sticky waterproof texture.
SPF: 50+
Price: €14
3.   AVÈNE FOR CLEAR SKINS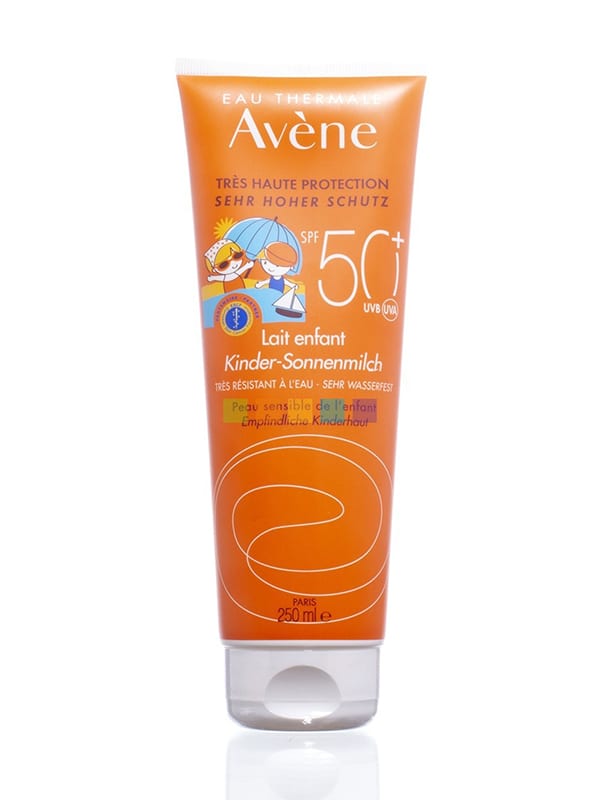 Hypoallergenic and non-comedogenic, this soothing and hydrating solar milk, enriched with Avene Thermal Water, is perfect for babies with clear and hypersensitive skin.
Parents love its speedy application.
SPF: 50+
Price: €15,95
4.   BIODERMA FOR JOKERS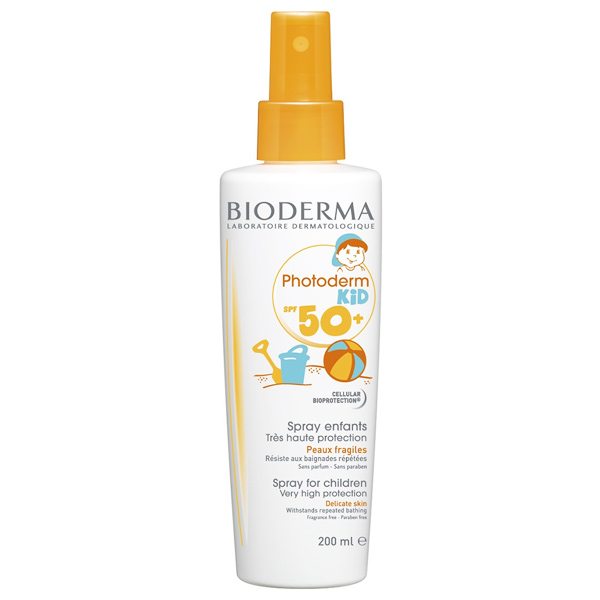 At each application,
Bioderma's high-protection milk
activates baby's natural defences against UV rays. Its
blue colour
, which disappears quickly, will entertain young and old.
SPF: 50+
Price: €17,50
5.   BIOSOLIS FOR SENSITIVE SKINS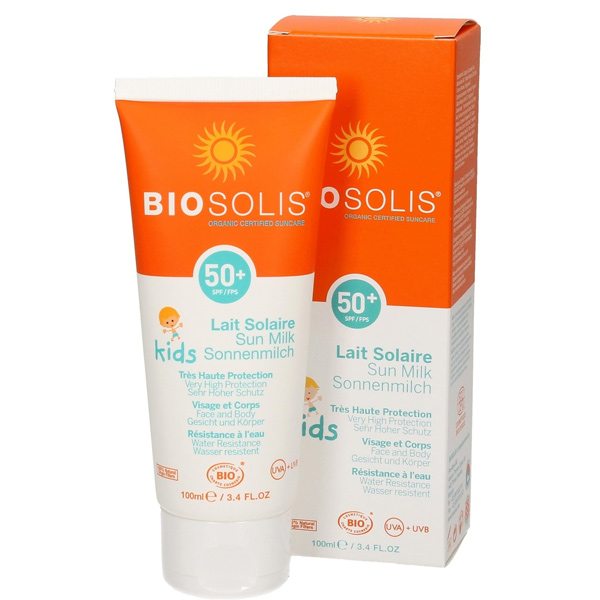 Certified organic by the Ecocert label, the Biosolis solar milk is essentially composed of Karanja oil and aloe vera, known for their generative and moisturizing properties.
Parents have complained about the rigidity of the tube, which complicates the extraction of the milk.
SPF: 50
Price: €23,95
6.   NAÏF, OUR FAVOURITE!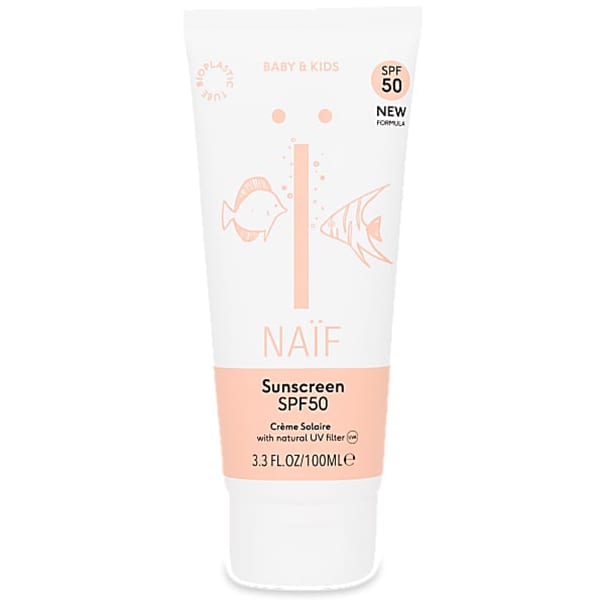 Naïf sunscreen is made of 98% natural ingredients. Its hybrid formula (physical and mineral filters) based on shea butter and zinc oxide effectively protects baby's fragile skin from the sun's rays. This product was born of the association of two Dutch dads who wanted to create a range of high-quality cosmetics entirely dedicated to the care of toddlers. An asset that has immediately attracted the collection of luxury hotels for families Little Guest, which distributes the Naïf sunscreen for free in all the partner hotels.
Parents love the fresh and colourful packaging.
SPF: 50+
Price: €23,99
7.   URIAGE, THE NEW ONE IN STORE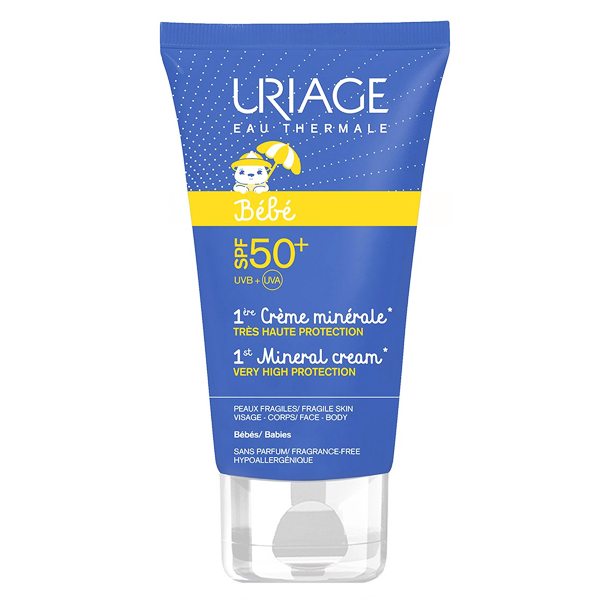 With its first mineral sunscreen,
Uriage
seduces its bio customers.
Uriage
Thermal Water
protects baby's dry skin thanks to its
Aquaspongine-based formula
and its active ingredients that strengthen the
action of vitamins C and E
.
Parents love its scent.
SPF: 50+
Price: €11,10
8.   WELEDA FOR VEGANS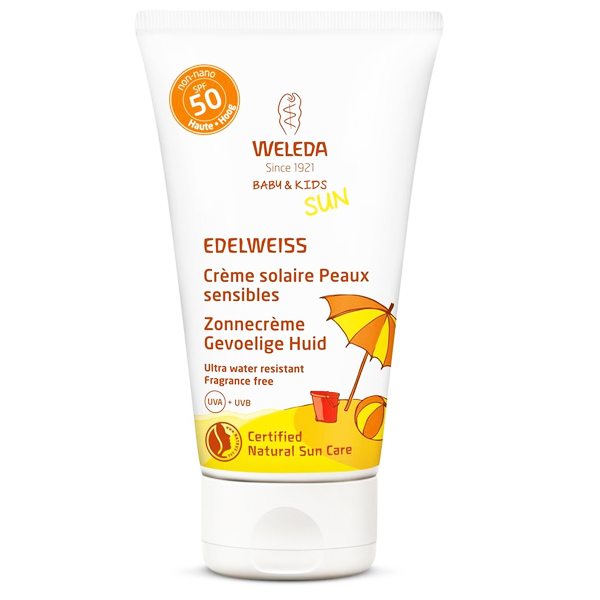 Sporting the 'NATRUE' label, which authenticates natural and organic cosmetic products worldwide, the Weleda vegan brand sunscreen is also suitable for the sensitive skin of toddlers. Its composition, based on coconut and sunflower oils deeply hydrates while its extracts of Edelweiss, a rare mountain flower with antioxidant action, protects skin from the harmful rays of the sun.
Parents are not so keen on its lack of absorption.
SPF: 50+
Price: €14,24
A FEW TIPS
Opt for a formula in cream rather than spray, oil or foam for optimal protection.
Choose high tolerance indexes (from 30 to 50)
Apply the cream about twenty minutes before exposure to the sun.
Cover the baby's entire body with cream to avoid burns and repeat every hour and especially after a swim.
In addition to suitable sun protection, children under 3 must stay in the shade, wear anti-UV clothing, and a hat. Also remember to bring with you a cool or tempered water bottle to hydrate baby every half hour.
Baby's eyes are also very fragile, let us recommend you optimal sunglasses in this article.
Avoid exposing your baby to the sun between 11am and 4pm.
Once home, treat your child's skin with an after-sun.
Renew solar products every year because the filters they contain do not last forever.
To go further: because the well-being of newborns is vital, Little Guest selected for you the most beautiful luxury hotels with baby club.
Sources: Les petites mains d'abord, Mamans qui déchirent, Je suis papa, Magic Maman, Pink Coconut, Mon bébé à Bruxelles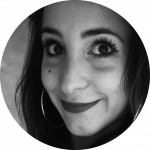 Sarah, 25 years old, journalism and travel addict, from Brussels