Located less than 1h30 by train from Paris and only 2 hours from London, the capital of Europe is an ideal destination for a city trip with the family. Brussels, a warm and human-sized city, is full of creative activities and child-friendly venues. Follow the guide!
Brussels is not only the world capital of beer. On the contrary, there are activities, architecture and outings where your children (big and small) will be able to have fun too. With everything under the sign of comfort, serenity and a good vibe, you will enjoy an unforgettable weekend. The Brussels Capital Region is one of the most cosmopolitan cities in Europe, with a population of around 1,200,531 inhabitants. Bruxelles Ma Belle, as sung by Dick Annegarn, has nothing to envy her cousins, Paris, London or Rome. Gastronomy, architecture, culture, accommodation… The capital of Europe offers a range of activities that will delight all generations.
WE PACK OUR CASES
Housing is important and children are important too. « For extraordinary families, extraordinary accommodation ». For your « beautiful » family break in Brussels, Little Guest has meticulously selected two hotels that offer a subtle mix of luxury and extravagance and where the organization of your stay is made extremely simple.
The 5-star Hôtel Amigo is just a few steps from the legendary Grand'Place. Passion, elegance, discretion and friendliness are the hallmarks of this hotel, which has been serving its clientele for four generations. At the Hotel Amigo, you can let go – the staff aim to please. With their 'Families R Forte' programme, children are given special attention. Babysitting services, baby meals, connecting rooms, family rooms, adapted beds, play mats, bath toys, cooking classes, treasure hunts, city excursions…
Elected as the best reference for Italian cuisine in Brussels, the restaurant of the hotel Amigo, the Bocconi, offers you an authentic menu with refined specialties and exceptional products.
---
« Passion, elegance, discretion and friendliness are the hallmarks of this hotel institution active for 4 generations. »
---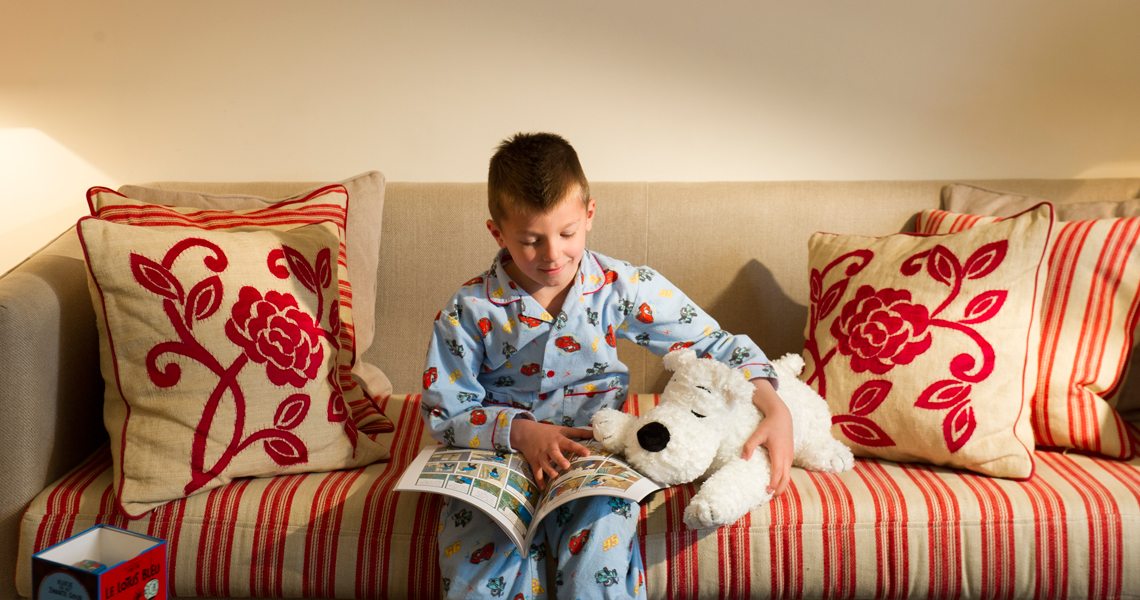 Reading time with Milou (Hôtel Plaza)
HISTORY & CULTURE
Let's start this Brussels getaway with the legendary 'Manneken Pis', to be found on rue de l'Etuve. From the top of its 55.5cm, this little bronze man with his strange posture is one of the most renowned and most coveted symbols of Brussels.
Grand'Place… Nestled in the centre of Brussels, Grand'Place is considered as one of the most beautiful town squares in the world. Its architectural richness is breathtaking. You will find the King's House of the period (now the City Museum) and the Town Hall, which is even older, and also the House of Brewers and other architectural jewels. Every two years, in mid-August, the 'Carpet of Flowers' adorns the square, with no fewer than 600,000 Begonia seedlings planted to offer visitors one of the finest botanical shows. Guided tours are offered, but the schedules are tight: Tuesdays and Wednesdays afternoons in Dutch (13:45), French (14:30) and English (15:15).
* 2018 – 2020 – 2022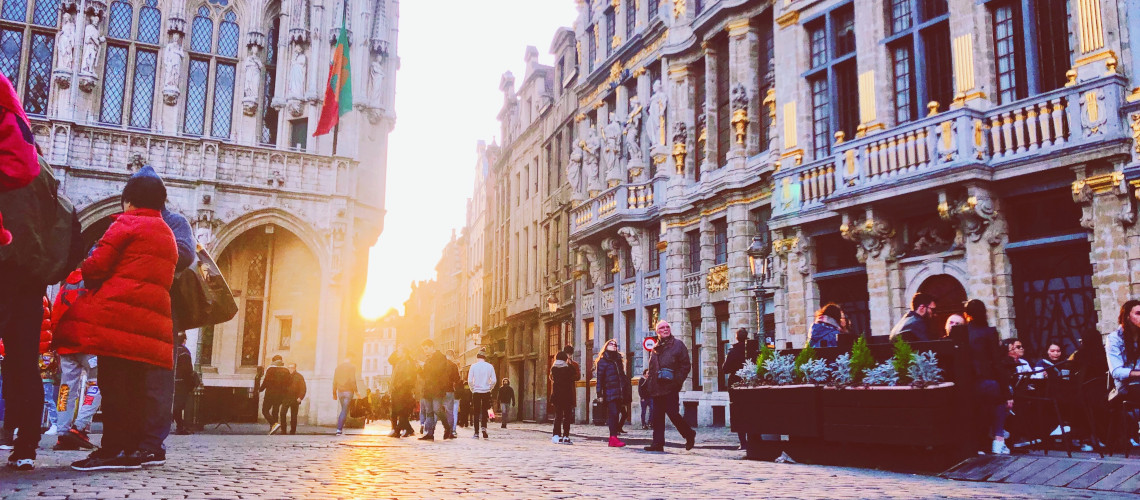 The most beautiful town squares in the world according to Victor Hugo (Grand Place)
Something else? How about a trip in a carriage? Drawn by superb horses and driven by two professional coachmen, take part in this fun ride to discover the historic heart of the capital. Services available 7 days a week from Charles Buls Street. 30 minutes walk. Maximum 4 people. 50€/carriage.
For collectors and lovers of antiques, the Grand-Sablon awaits you. Since 1960, every Saturday from 8h to 18h and every Sunday from 9 am to 2 pm, a large book market and antique fair takes to the square – this is a great opportunity to enjoy time with your children among unique pieces and relics. The nearby neighborhood of Sablon, the popular district of Marolles, meanwhile, will seduce you with its flea market, decorative stores, organic market tanners and its street art.
Artists, you said? The Magritte Museum opens its doors on rue de la Régence. For surrealist art lovers, a visit is required, according to the expression 'This is not a pipe'. Home to more than 250 works, this museum has the largest collection of one of the most famous Belgian painters of the 20th century. With the possibility of providing your children or teenagers with adapted audio guides, the visit is fully customizable. The Magritte Museum is open 7 days a week, from Monday to Friday from 10 am to 5 pm and at the weekends from 11 am to 6 pm.
Let's remain in the field of art with the Comic Strip Museum, which is located on rue des Sables, in the heart of Brussels. Open every day from 10 am to 6 pm, the museum offers permanent exhibitions, which are regularly renewed, featuring the heroes of the ninth art. Then, go on the BD Trail – for some years now, the city has been « repainted », with more than 60 painted murals on the buildings between the city centre and Laeken, the comic strip comes alive and children are happy to discover the heroes of another time.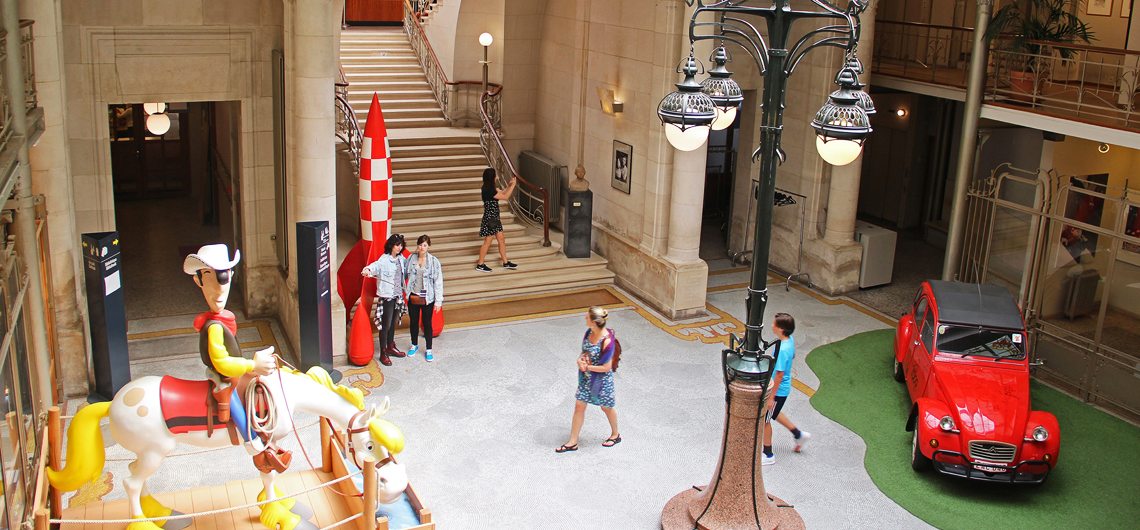 Create your own story (Comic Strip Museum)
---
« The comic strip comes alive and children are happy to discover the heroes of another time. »
---
Speaking of heroes, do you know the Royal Theatre of Toone ? The most famous traditional puppet theatre in Brussels offers shows of all kinds for adults and older children. In a relaxed family atmosphere, the plays are on every Thursday, Friday and Saturday evening at 8:30 pm, and Saturday at 4 pm.
Finishing this cultural tour without visiting the Atomium is like « eating fries without mayonnaise » – something is missing. Built for the Universal Exhibition of 1958, this building is one of the symbols of the capital. A permanent exhibition, restoration, educational workshops – things go up here.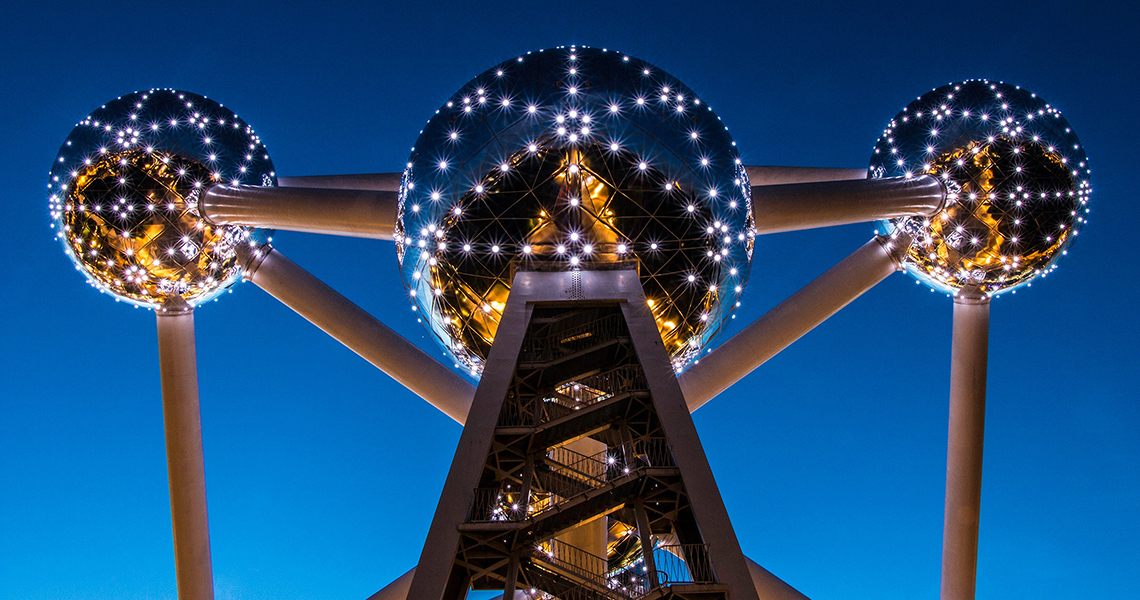 Shine bright like nine diamonds (Atomium)
GREEN SPACES
Far from the hustle and bustle, head for the Domaine de Laeken. Located north of Brussels, this large park contains one of the official residences of the royal family as well as monuments that bear witness to Belgium's monarchical past (notably the Japanese Tower and the Chinese Pavilion).
INFO: Timetables from Tuesday to Sunday, from 10 am to 4:45 pm, for the Chinese Pavilion and, from 10 am to 5 pm, for the Japanese Tower. Price: 3€. Free on the 1st Wednesday of each month.
A key feature of the walk are the famous greenhouses of Laeken.
Near the Royal Castle, the Serres Royales constitute a marvel of architecture. Open for a fortnight from late April to early May, this magical and colourful locale will offer its most beautiful collections of plants and exotic flowers.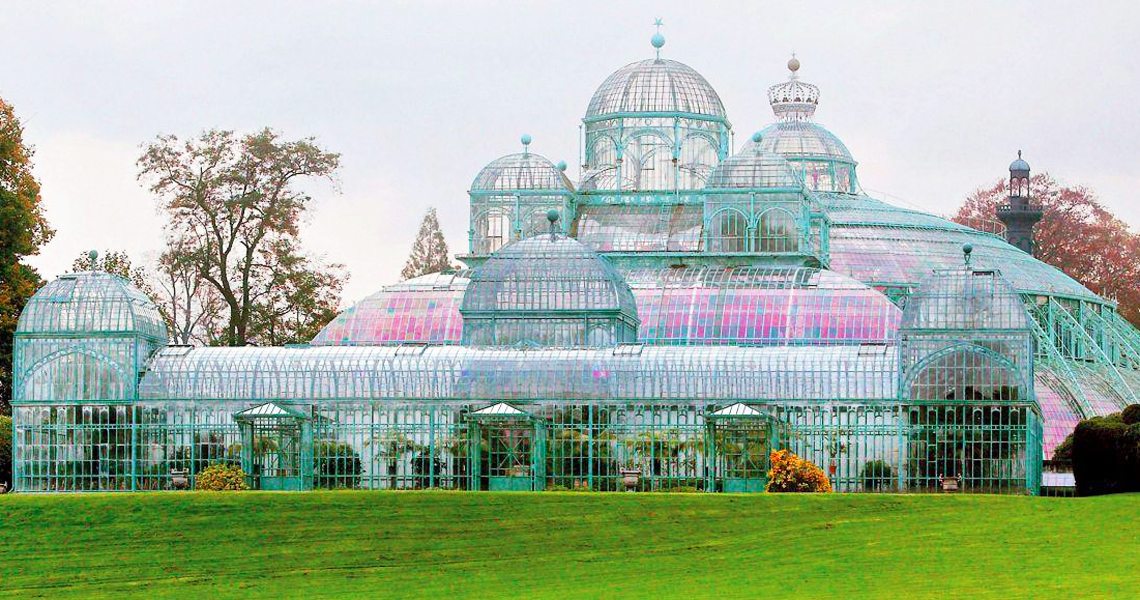 Green time (Serres Royales)
For lovers of family walks, the Bois de la Cambre or the Forêt de Soigne are waiting for you. Special mention to the Forêt de Soigne, offering play areas that your children can freely enjoy: building a cabin, hide and seek … In short, a nature trail in all its splendor.
UNCUT AND EPHEMERAL
If you have the chance to discover Brussels between 6 July and 12 August, a detour to Brussels les Bains is essential, open for five weeks.
« A kids » area, various sports, an outdoor cinema, chalets with various specialties…With your feet in the sand, at the edge of the water, far from the noise and cars, this family locale will transport you for a few hours on a unique journey – a change of scenery is guaranteed.
LEARN WHILE HAVING FUN
Do your children dream of becoming a minister? We suggest the Parlementarium. Portable multimedia guides, scenarios, treasure hunts, role playing…What better way to understand the European institutions than with a game?
INFO: Open 7 days a week. Admission is free. A visit lasts an average of 90 minutes, but shorter visits are organized for families.
Where does chocolate come from? Welcome to the world of cocoa and chocolate at the Choco Story Museum. Through the showrooms, discover the history of chocolate in all its forms as well as tastings and a demonstration with the master chocolatier.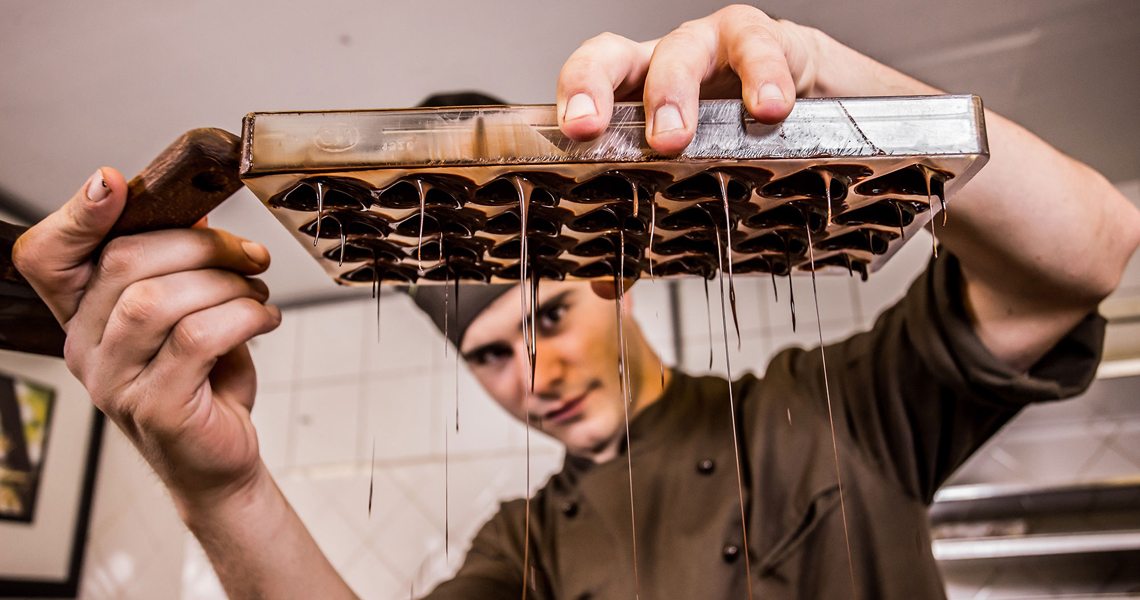 Chocolate and happiness are synonyms (Choco Story Museum)
We then suggest the Royal Galleries of Saint-Hubert, a gourmet discovery with renowned artisans and chocolatiers of all kinds, in a unique setting. After these encounters with brown gold, your children will no longer see their snack in the same way.
INFOS: Open every day except 25/12, 01/01 and from 8th January to 12th January.
---
« After these encounters with the brown gold, your children will no longer see their snack in the same way. »
---
For the most connected, the experience of the 'Virtual Room' brings the adventure of virtual reality to the family. Equipped with headsets and joysticks, you have 45 minutes to communicate with each other, exchange ideas and take on a challenge. An extraordinary adventure, a must visit.
INFO: 25€ per person from Monday to Friday from 10 am to 3:30pm, 30€ from Monday to Friday 4:30 pm to 10 pm, Saturday and Sunday all day). From 12 years old. Address: 20 rue de l'Escalier.
Do you prefer to stay in a real world? Then go for the Escapes Games. In teams of 2 to 6 players, you will need to think as a team to conquer your puzzle. Locked up in a room with adapted decor, for one hour, become the hero of your own story.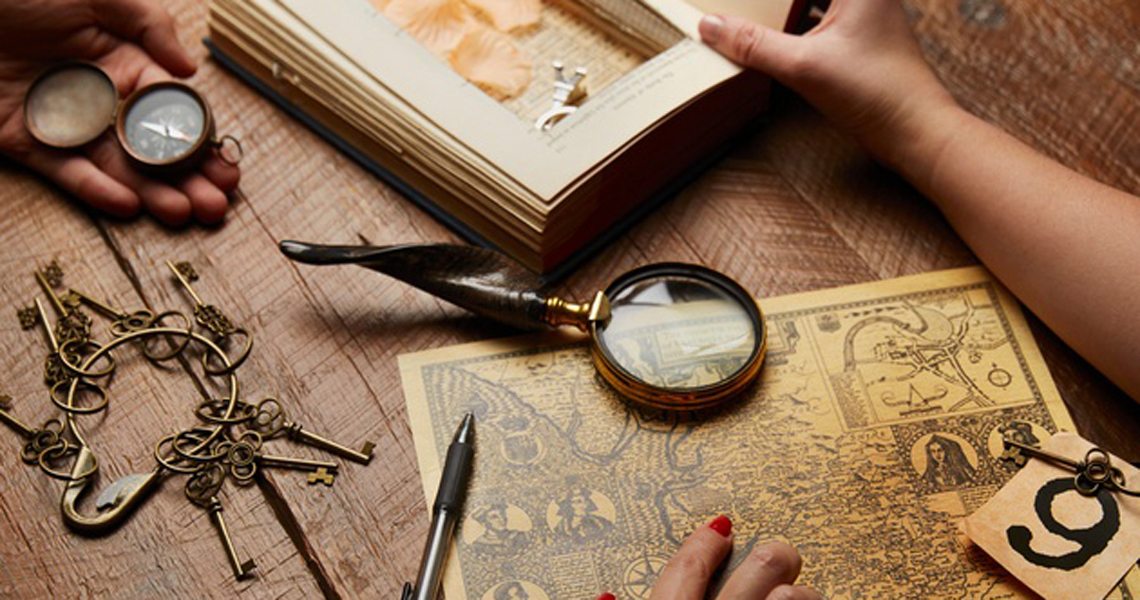 Elementary my dear Watson ! (Escapes Games)
CUISINE & GASTRONOMY
It's official, Brussels has everything to seduce the young and delight the taste buds of parents – here are some must-haves to satisfy your tribe.
La Fabbrica: We like to go there on Sunday for a family brunch. Located in the heart of the Royal Warehouse of the Tour & Taxis site, this restaurant « loft » offers an Italian buffet. On the plate or in the location (inflatable castle, make-up, creative workshops, introduction to the circus, story telling, film projection, reading and drawing area …), everything is designed so that children can enjoy unforgettable moments.
Address: Avenue du Port, 86C in Brussels
The Balmoral: Located at Place Georges Brugmann in Ixelles, the Balmoral, « Balmo » for the initiates, is a small gastronomic Hollywood. Fans of the 60s, you will love the setting and Uncle Sam's kitchen, with hamburgers, bagels, club sandwiches, pancakes, brownies, milkshakes, ice cream and cheesecakes. For dinner or for breakfast, your children will not forget the decor that comes straight out of an old American movie and a games room that specially designed for them (mini table football, table and toys).
Address: Place Georges Brugmann 21 – 1050 Ixelles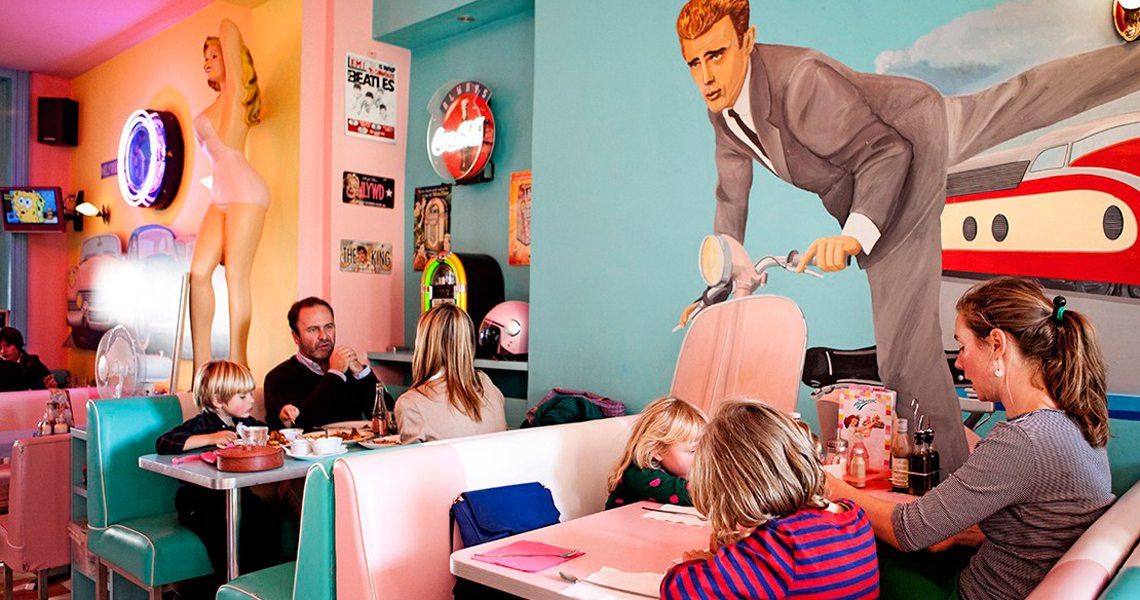 Go back to the sixties with your millenials (The Balmoral)
Zinneke: We take you to eat mussels … and french fries! Head for the 'Zinneke', a Belgian culinary tradition, with its menu presented in comics, the typical decor of Brussels brasseries of yesteryear and no fewer than 69 mussels dishes! We like the relaxed atmosphere and the Happy Hour formula for families with small children. You want to eat early and leave your table before 8:20 pm? Get 25% off your bill!
Address: Place de la Patrie 26 – 1030 Schaerbeek
Maison Dandoy: A little sweet on the stroke of 4 pm? I invite you to discover the mythical Maison Dandoy. Special mention for its hot waffles, caramel and salted butter pucks, sweets that explode in the mouth and its quality ingredients. Aromas, nostalgia and gluttony assured, with several shops and tea rooms in Brussels, information and addresses on the website.
We also like « La Poulleterie en Ville » for its poultry, the Hotel Amigo Brunch at the Bocconi restaurant, the Fabrique en Ville for its 100% homemade lunch or the Chicago Café for a brunch/lunch with friends.
As you may have by now understood, Brussels is a real favorite for me and my family. With my darling and my two sons, we have great memories of our little break in this welcoming beautiful kingdom. I hope that you will take as much pleasure in discovering the city, which is full of unsuspected wonders. Have a nice trip !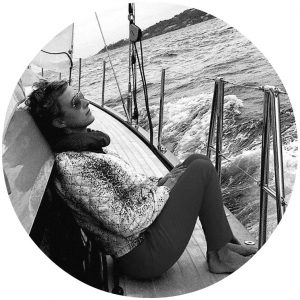 Caroline, 40, mother of 2 children, from Paris