For a family trip around the world or a short getaway, the road trip is ideal for exploring faraway landscapes as well as those around us. Taking the road is the best way to discover the beauty of a country while enjoying the trip as much as the destination. Feelings of conquering the world, freedom and adventure are there. Little Guest has imagined for you a unique itinerary in order to discover, to the rhythm of the cicada song, the French landscapes with southern accents.
The warmth of the sun, the fresh mountain air, the gentle Mediterranean breeze, the smell of lavender… In a mild and sunny climate, drive around and visit by foot the landscapes and unsuspected jewels of France.
Here is an itinerary of three destinations and their surroundings to give you a foretaste of the gentle way of life in the South-East of France. This journey takes you through the surroundings of Evian-Les-Bain via Marseille to Tourettes, all in about ten days. If you feel like it, the proximity of the Swiss and Monaco borders will allow you to explore even further.
Between excursions and sports activities, quietness and relaxation in exceptional hotels suitable for families, this road trip will not fail to seduce young and old. During this trip, you will quickly realize that you don't necessarily have to travel to faraway places to be amazed.
THIS ITINERARY IN A NUTSHELL
Number of kilometres to cover: from your first drop-off point to your second, it will take 505 km, then 165 km to your final destination.
Landscapes encountered: mainly mountains, lakes, gorges, pretty creeks and typical villages.

 
Main activities: hiking, cycling, golf, canoeing, snorkelling, sunbathing.
Expected visits: aquarium, animal park, nature parks, amusement park, charming villages.
SOME ADVICE BEFORE YOU LEAVE
Turn your car into a comfortable cocoon: water bottles, snacks, nap cushions, sun blinds, etc. Little Guest has thought of everything in order to let you know how to turn your car into a real amusement park so that children are never bored on the road. To help you with that, we have prepared an article: "Our tips for a well-organised family road trip", as well as a Little Guest playlist to listen on the road!
Always carry the children's essentials (ID, vaccination booklet, etc.), a mini first aid kit with bandages, medicines against motion sickness… To make sure you don't forget anything, Little Guest offers you three checklists: for children aged 0 to 3, 3 to 6 and 6 to 12.
Finally, during this particular period, remember to regularly check the evolution of the opening of the borders of European countries. Indeed, some of our itineraries cross several countries and it would be unpleasant to get stuck in France during the road trip. Take into account that this route crosses at some point the French-Swiss borders.
DAY 1: START OF THE TRIP AT THE ERMITAGE HOTEL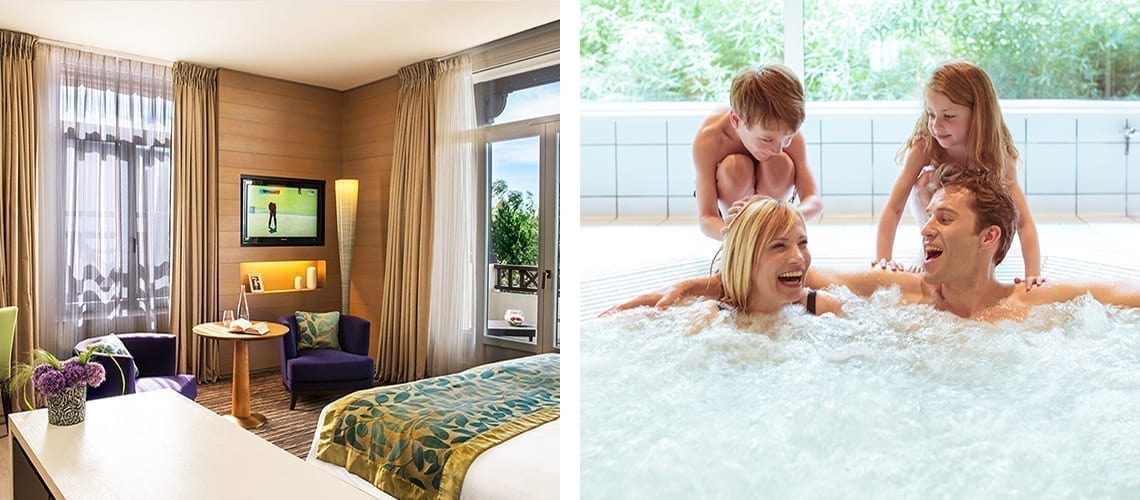 Your adventure begins in the heart of Evian-Les-Bains in Haute-Savoie, a charming commune benefiting from an exceptional environment that will seduce you both in summer and winter. Famous for its mineral water and renowned for its thermal waters, it is described as a wellness destination in an enchanting setting. It is here, nestled in a 19-hectare private estate, that the Hôtel Ermitage opens its doors to you for a gentle interlude at the foot of Lake Geneva. Situated 5h30 from the French capital, this environmentally friendly establishment boasts a fabulous view of the lake and the Alps.
Once the suitcases are put down, the children are left to roam and have fun on the large, secure playground in the heart of a landscaped park. As for the parents, they can play a round of golf or relax in the Spa Quatre Terres of l'Ermitage. There are treatment rooms, a rest area and its herbal tea room, a fitness room, a sauna, a hammam, two heated swimming pools… Here, everything is done for the well-being of your mind and body after long days of discovery. 
DAY 2: DISCOVER THE REGION
This second day is an opportunity to wander around the hotel and discover what Evian-Les-Bains has to offer. The day begins with a ride on the funicular, a historic and original means of transport to get around and visit the heights of the town. It connects the town centre to the commune of Neuvecelle and serves 5 stations free of charge, from May to September. For a thirst-quenching break, don't forget to get off at the Source de Cachat station, where Evian natural mineral water gushes out. On the way, take a short stroll to the Cachat refreshment bar opposite, a beautiful wooden and glass pavilion. After this nice tour, come back to reasonable heights and take the time to linger in Evian-Les-Bains: paths along the lake, pretty pedestrian streets, marina, lively summer market, remarkable monuments such as the Villa Lumière or the Palais Lumière…
After a lunch break, take the road for 25 minutes by car in the direction of Excevenex, a beautiful natural beach of fine sand of Lake Geneva. Its shallow water around 25°C all summer long is ideal for families. Idleness or sport, the choice is yours. Indeed, you can try your hand at kitesurfing, paddle, sailing, pedal boats and many other sports activities. Good to know: paid parking (5 euros), deckchair rental possible, dogs not allowed, accessible to people with reduced mobility.
Let yourself be inspired and discover our practical guide around Lake Geneva.
DAY 3: NATURE & ENTERTAINMENT DAY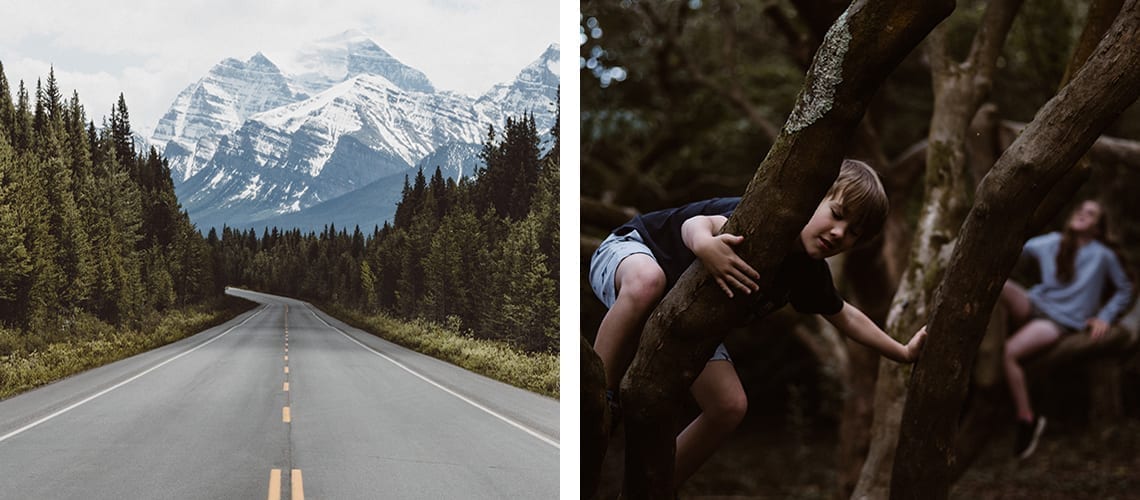 A day dedicated to the children to make them even happier is in store for this third day. On waking up, head towards Saint-Gingolph (15min), this Franco-Swiss village on the shores of Lake Geneva is home to the Léman Forest. A leisure park which offers various accrobranching courses adapted to all ages, inflatable structures and an outdoor laser game. For your comfort, there is a covered picnic area and a snack bar to refresh and regain strength.
Good to know: remember to book! Disinfected gloves are mandatory.
After this sporty morning, a relaxing walk is a must at Les Aigles du Léman. A 9-hectare animal park where you can admire more than 250 birds, understand their way of life and discover an exceptional show… Live an incredible experience with your family by being immersed in the heart of an immense aviary in the middle of the eagles, which move freely around you. An enchantment for young and old alike!
Good to know: public welcome from June 27th.
DAY 4: A GETAWAY IN SWITZERLAND
Today, it is time to cross the Franco-Swiss border! Without forgetting to take the time to enjoy a good piece of Swiss chocolate during the day. Departure for a thirty-minute drive to the Swiss Vapeur Parc in Le Bouveret. Embark on one of the many 1/4 scale replica trains and let yourself be carried away by the landscapes that pass before your eyes.  Young and old alike will be seduced by dozens of steam, electric, or rack trains. On your way, you will pass by buildings, works of art, many species of trees and flowers, a vast pond, hills, bridges, tunnels… 
Good to know: don't forget to book!
Does the weather look grey? Don't panic, the Tropiquarium of Servion in Switzerland is waiting for your little family (1 hour from the hotel). This place, surrounded by lush vegetation, is home to spectacled caimans, impressive Komodo dragons, giant Galapagos tortoises, and many other amazing species… 
Good to know: accessible place for pushchairs and people with reduced mobility.
DAY 5: TIME TO MOVE TO MARSEILLE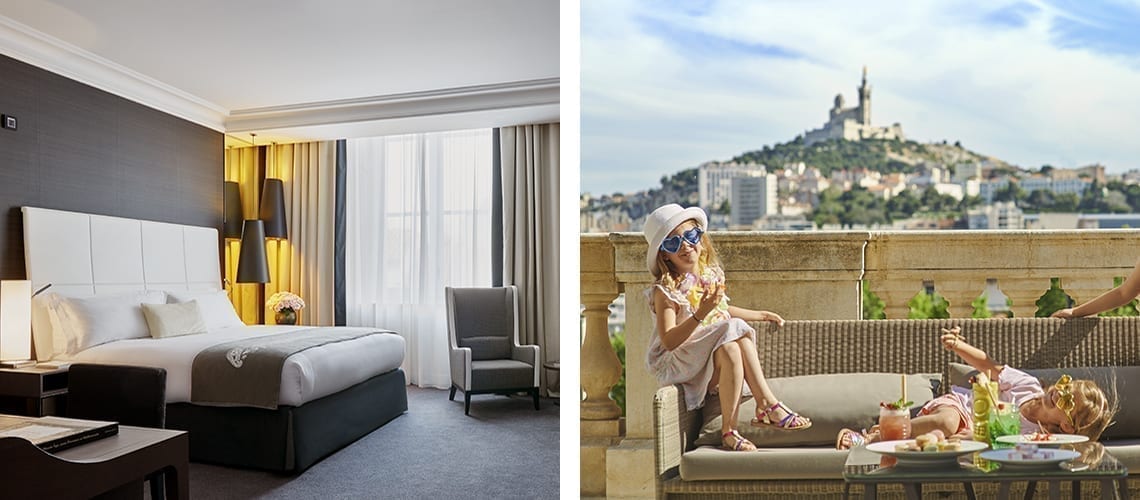 It's time to pack your suitcases and get back on the road to the Phocaean city, a second step to get back in touch with the charms of the city. The 500 km journey can be spread out so that you can make a few stops wherever you like. 
After about thirty minutes of driving, we recommend a stop in the pretty medieval village of Yvoire. The time of a morning to get lost with delight in the pedestrian streets and to marvel at its immense castle. Ranked among the most beautiful villages in France, this place of undefinable charm is easy to discover by bike or on foot. We will gladly go for a walk in the flowered maze of the Jardin des Cinq Sens for a bucolic break. Classified as a « Remarkable Garden » by the Ministry of Culture, it offers you a sensory walk among 1.500 varieties of plants. Children are not to be outdone, with questionnaires adapted to their ages and a treasure hunt called "Awakening of the Senses". 
Good to know: currently only open at weekends from 13 June.
 

DAY 6: IN THE SPLENDOUR OF THE CALANQUES

After a good night's sleep, head for the Calanques National Park, a site of breathtaking beauty. Turquoise waters as far as the eye can see, creeks, white sand, limestone rocks, abundant flora and fauna… A little gem that inspires you to relax and enjoy yourself just 30 minutes from the hotel. Plan a boat morning to discover not one but several creeks! This transport is obviously the best way to enjoy all the beauty of the creeks while being lulled by the calm of the Mediterranean. Rather sporty family? Prefer an aquatic walk together: flippers on your feet, mask on your eyes, snorkel in your mouth, let's discover the magic of the sea bed in a different way and take your eyes full of it.

Good to know: activity accessible from 7 years old. 

If the weather is not good, here is an original activity located 15 minutes from the hotel that will amuse the whole family: Sensas. During 2 hours you will live a unique sensory experience where your five senses will be put to the test through workshops and playful missions in total darkness. 

At the end of the day, if parents wish to enjoy a well-deserved moment of respite, they can go to the Spa by Clarins of the hotel. With a total surface area of 1.000 sqm, it is equipped with treatment rooms, a relaxation room, an indoor swimming pool and a fitness room… Meanwhile, the children are looked after by the hotel's babysitting service.

 
DAY 7: A COLOURFUL DAY
If you feel like it, leave the seaside to stroll a little further, towards an exceptional site located only 1h30 from the hotel. Join Rustrel, a few kilometres from the small village of Apt, to discover the Colorado Provencal of Rustrel, a landscape with unique and vivid colours. Stretching over 25 km, this massif is one of the largest ochre deposits in the world. The trails that weave between cliffs, trees and heather offer breathtaking panoramas. A place that is easy to visit with children thanks to the marked trails from 40 min to 1h45. 
After this pigmented walk, take the road back and make a stop at Saint Cannat near Aix-en-Provence. Direction the Village Des Automates, a family park, in the heart of 8 wooded hectares for an afternoon that will bring joy and good humour to your children. Inside, stroll from house to house and discover the world of automatons: Little Red Riding Hood, the house of Mexico and the jungle, Santa Claus's castle, Pinocchio's whale and many others…
DAY 8: A PROVENCAL ESCAPE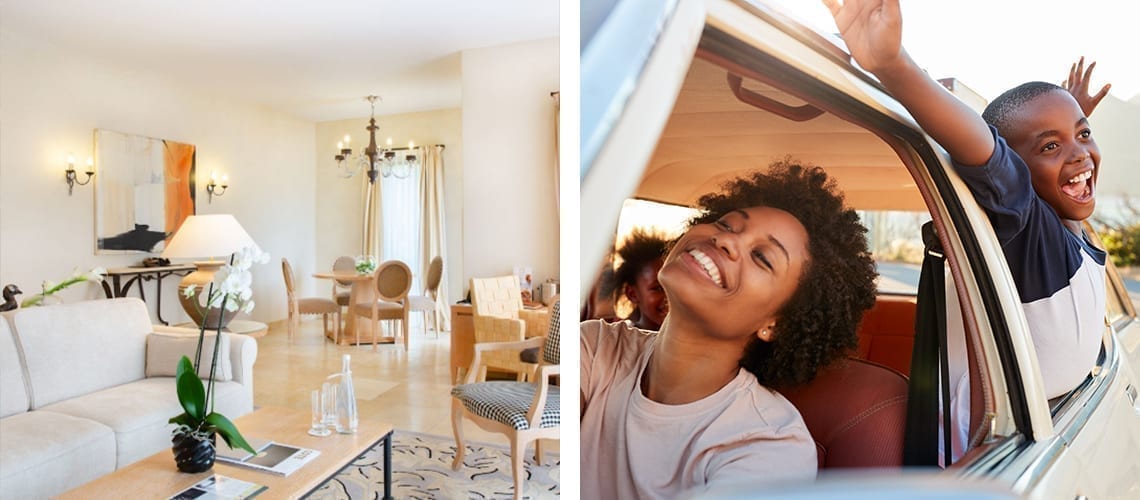 Here begins the third part of the journey, it takes about 2 hours' drive from Marseille to reach the town of Tourrettes. Your Provencal getaway begins at Terre Blanche Hotel Spa Golf Resort in a Mediterranean atmosphere. Thought as a Provencal village that guarantees you luxury and privacy, the hotel is exclusively composed of suites and villas in the heart of a wild nature. 
A little rest is a must before setting off on new adventures. Parents can relax in the 3.200 sqm spa, which is open to the surrounding nature. Relaxation, treatments, massages and fitness classes in the garden are on the agenda. The children have a great time in the "Royaume des Enfants" (Children's Kingdom), which includes several recreational areas, a rest room and a safe outdoor playground with a heated swimming pool, where an experienced lifeguard is on hand to supervise the children's bathing.
DAY 9: THE UNMISSABLE VERDON GORGE
The day starts in a slightly remote place but which really deserves the detour: the Verdon Regional Nature Park, its landscapes and its sublime water. Leave Tourettes for a moment to discover and admire the Verdon Gorge and its surroundings, a change of scenery guaranteed! After an hour and a half drive, you are in the largest canyon in Europe, one of the most exceptional places in our country. In its heart, you can practice a lot of sports activities: hiking, swimming, canoeing, pedal boats… Canoeing is the right way to discover the Verdon Gorge with your family from Sainte-Croix Lake. 
Back on dry land, a refreshment break in the perched village of Moustiers-Sainte-Marie is a must. After a 30-minute drive from the Gorges, you will see a typical Provencal town, picturesque and full of charm nestled between two enormous cliffs. One wanders quietly in its small cobbled and somewhat steep streets. Moustier-Sainte-Marie is famous for its earthenware and features a museum dedicated to this art. After a walk, an ice cream and some family photos later, we return quietly on the way to the hotel Terre Blanche to end this beautiful day.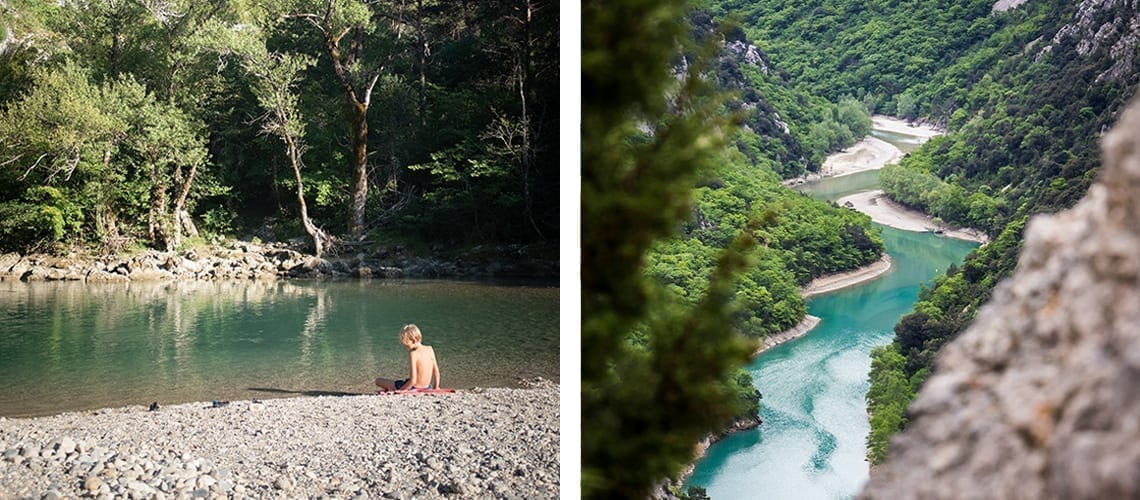 DAY 10: MONEGASQUE HERITAGE & RELAXATION
For this last day, a morning is dedicated to the discovery of the Monegasque heritage. The Principality of Monaco and its famous rock are a dream come true. An enchanting site located in the French department of the Alpes Maritimes and only 1h15 from the hotel. On your arrival, head for the Oceanographic Museum of Monaco, a real treasure for lovers of marine fauna and flora, this immense aquarium houses more than 6.000 varieties of the marine world. Not to be missed, the shark lagoon and the new open-air area totally dedicated to sea turtles. 
A few steps away from the museum, you will find the Monaco Tours tourist train, which can be very much appreciated by tired little legs. A pleasant 30-minute walk which reveals the most beautiful places of the Principality: The Port of Monaco, the Formula 1 Grand Prix circuit, the prestigious Monte-Carlo district, the Prince's Palace, the Cathedral… 
On the way back, choose to return to the hotel for a last moment of peace and quiet or stop in Saint-Raphaël for a lazy afternoon with the family. Take a good sunbath and enjoy the waters on the beach of the Calanque du Maupas. Being little frequented, it offers an intimate setting conducive to relaxation and boat trips under the Côte d'Azur sun. 
Return to the Terre Blanche hotel, where the adventure comes to a gentle end. 
The opportunity to fill up on memories, enjoying your last moments of relaxation with your family.
Have a good trip, and above all, a happy holiday!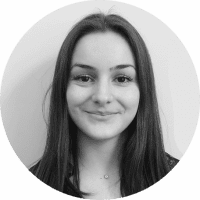 Mathilde, 21 ans, travel & writing lover, from Montpellier