Found between Europe and Minor Asia, Turkey a prime family destination. With the sea, the beaches, the sun, cultural and natural sites, but also breathtaking activities, this country ranks up at the 6th place worldwide in terms of visitors. You still haven't made your mind up about the next destination to choose for holidays with your children this year? Good news! Little Guest gives you all the best places to go to, the activities that you must not miss and all the things to know before booking your trip.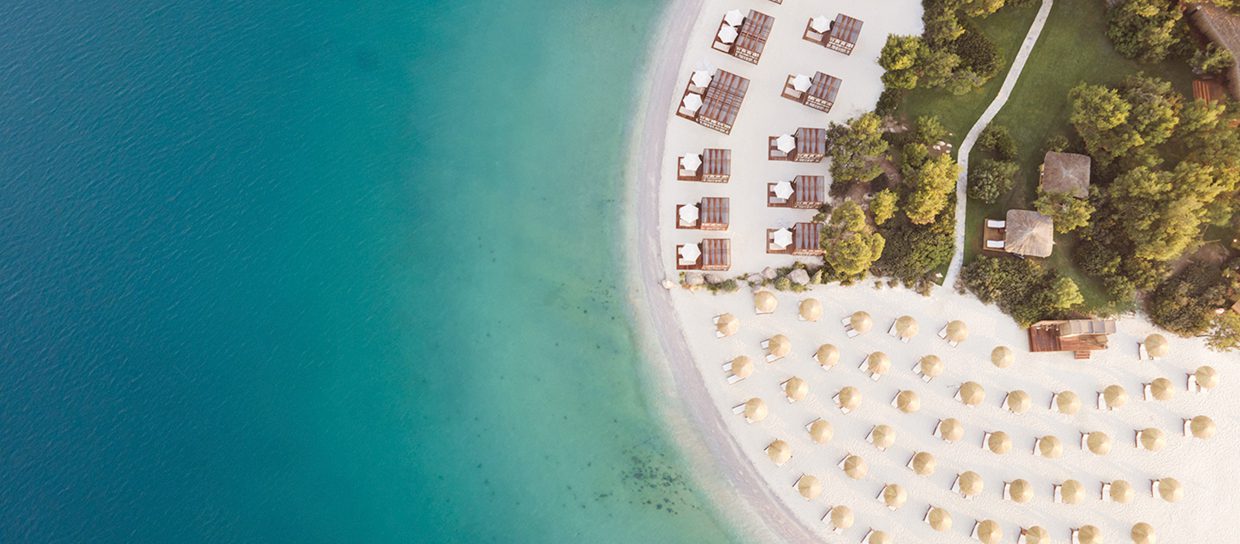 One of the major concerns for families while booking their next holidays is finding the ideal accommodation. The number of different offers never ceases to increase and track is lost quite fast since the reviews may significantly vary from a client to another. Yet, it is your lucky day, as Little Guest has selected the best Turkish hotels. Your stays with your children will be made easy.
Where to stay in Turkey for your holidays?
Hillside Beach Club *****
The Hillside is a family establishment set in Fethiye in the Muğla Province. If you were looking for a hotel found within an intimate and charming setting, this 5-star hotel is just for you.
It is nestled against a hill right at the foot of the Aegean Sea, offering a wonderful view over the private and secluded Kamelya Bay. If you want to experience a sensational time in family, book your stay in this both ancient and wild setting, right at the heart of the Mediterranean Sea. The Hillside Beach Club owns 4 private golden sand beaches which provides with a perfect place for relaxation and swim, for parents and children. Enjoy the azure waters during your holidays! The hotel has specifically been thought to welcome families thanks to their several Family Rooms, a baby-club for toddlers aged from 0 to 3, a kids-club for children aged between 4 and 10, and even a teens-club for children and teenagers aged between 8 and 15. In each clubs, they will find activities that suit their age.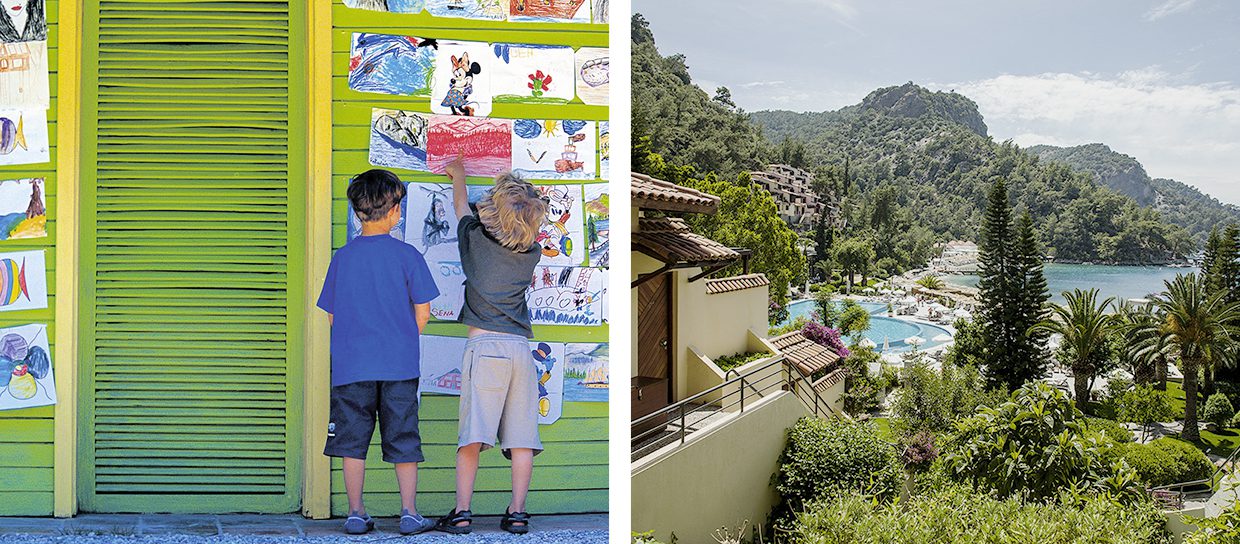 The younger children will have the chance to enjoy a whole playground and a water park, while the older ones have the possibility to learn how to play music. The teenagers can even take part to DJ or dancing sessions. In the meantime, parents will have their share of a good time with the wellness centre.
The hotel is accessible by plane by landing either at the airports of Dalaman, Antalya or Bodrum. Whatever airport suits you the best, Little Guest will organise the transfers to and from the hotel, upon demand.
Lujo Hotel *****
If you're willing to live a unique experience during your family stay in Turkey, book a room, a suite or even a villa at the Lujo Hotel. Their aim is to promise you unforgettable holidays with entertaining and educative workshops, lively animations and playful activities for children and parents.
The Lujo Hotel really is a children showcase! They will build incredible holiday memories with their parents or their friends, and here is why: a 4,500 m² kids-club with music rooms, art rooms, playing rooms, outdoor play areas, a theatre and several entertaining and educative workshops! We particularly love the science room where children can learn and make some experimentations, in order to discover a whole array of facts on human beings, the world and the scientific knowledge.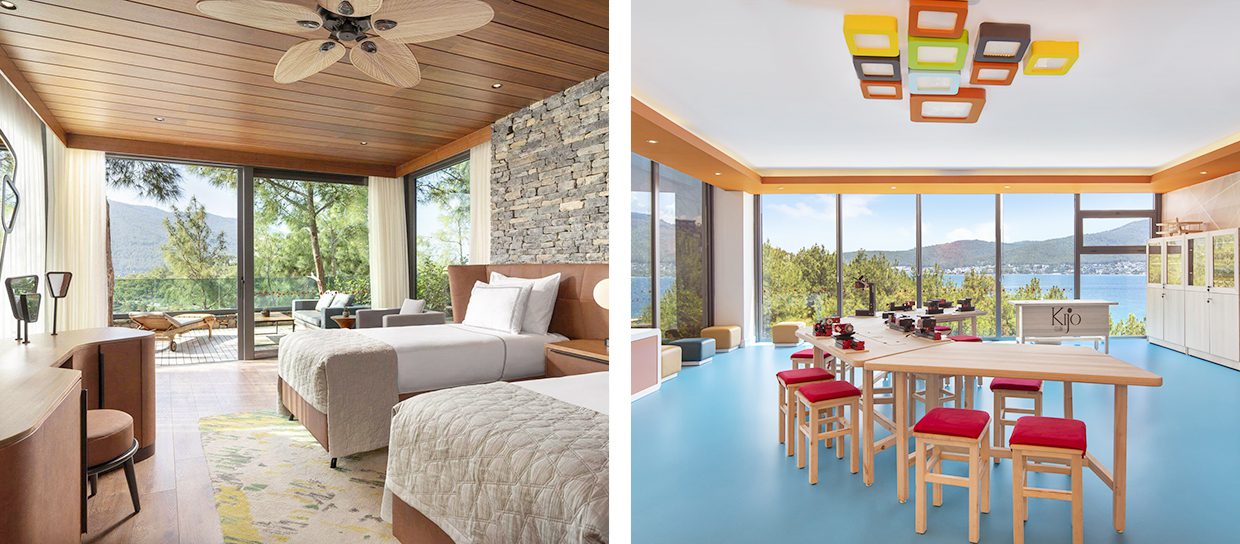 The kids-club and teens-club are open from 9 A.M. to 2 A.M. to bring endless happiness to all. It is the perfect time for teenagers to socialise and make new friends. In the meantime, parents can enjoy their free time to be pampered, relax or keep fit at the fitness centre.
A large variety of activities are available: yoga, pilates, aqua fitness, indoor pool, etc. Take the opportunity to book a spa session, alone of between lovers, and unwind, relax your tensed muscles or take care of your skin. Finally, taste the chef's delicacies in the restaurants, bars and refined snacks, or demand a room service.
What to do during your family holidays in Turkey?
How to organise your holidays in Turkey with all these cities to visit and the activities to discover? What about exploring the mythical cities of the country? Head to Istanbul, Fethiye and Bodrum to live incredible moments in family filled with emotion.
The not-to-be-missed activities in Istanbul
The former Turkish capital city hides many treasures, and Turkey cannot be fully experienced without visiting Istanbul. Once deemed Byzantium, then Constantinople, this city provides an undeniable historical and cultural richness. Several historical sites are worth the trip, such as the Sainte-Sophie Basilica, a church built during the 6th century which was transformed into a mosque by the Ottoman people once they took control over the city in the 15th century.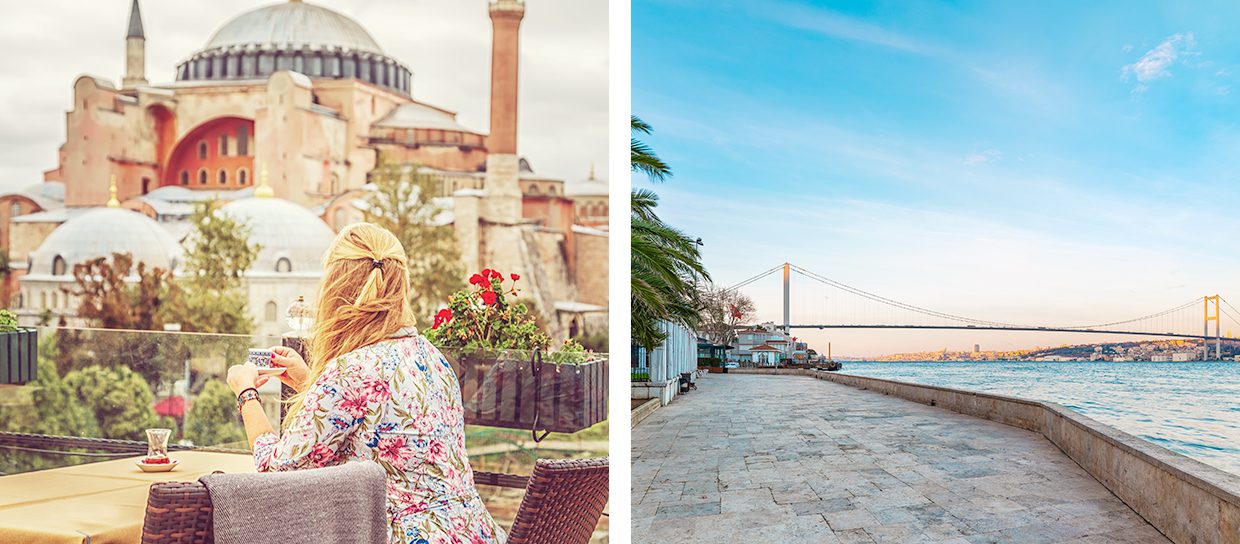 This wonderful cultural mix can be observed today through the blend of architecture of both religions, half church, half mosque, notably on the minaret and the dome. However, the best way to fully appreciate the eventful history of the country is through the visit of its museums, such as the following ones:
The Istanbul Archaeology Museums: ancient artefacts such as the sarcophagus of Alexander the Great is exhibited.

The Chora Museum: this church is wonderfully adorned with Byzantine frescoes and mosaics. You can also admire the Ottoman houses around.

The Turkish and Islamic Arts Museum: this museum is set in the ancient palace of Ibrahim Pacha and contains a collection of more than 40,000 artefacts which date spread over several times and that originates from all the different religions that successively ruled the country.
For a complete view on the city and its historical buildings, book a cruise sailing on the Bosporus. You will have the chance to admire from the shores the several palaces and abodes, as well as monuments such as the Tower of Leander.
What should you absolutely visit in Fethiye
In the southwestern part of Turkey, Fethiye, a breathtaking seaside resort surrounded with islands, creeks, turquoise waters, cliffs and several historical monuments, truly is a place that you cannot miss. Visit in family the archaeological museum, the rock-carved ancient tombs and the Eski Camii mosque during your stay at Fethiye. Discover also all together the beaches and the wild islands near the city:
Patara Beach

It is one of the most beautiful coasts of the Turkish Riviera and one of the longest of the region. It is appreciated for its soft white sand and its blue waters in which to swim, or build a sand castle and have a great time with your children. Note that this beach is part of a national park where you will have the chance to meet with sea turtles and endemic birds. It also is a historical place where to find half-buried ruins in the sand, like an ancient Roman amphitheatre.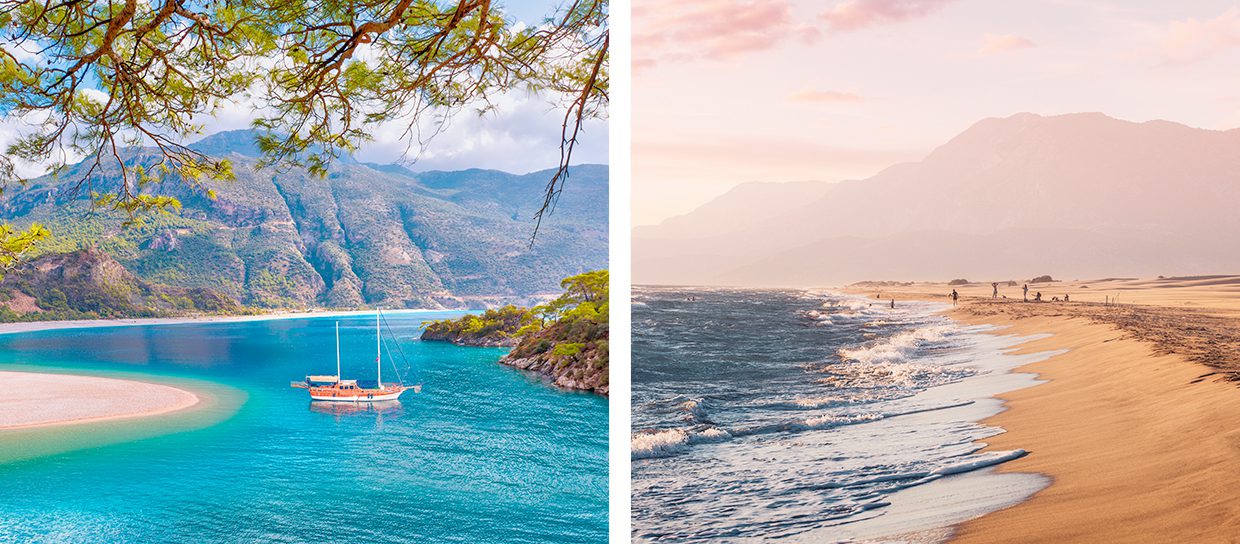 Ölüdeniz Beach

This beach is located in a sumptuous blue lagoon. There is a part opening to the Mediterranean Sea, while another one spreads over the lagoon which is at the limit of a protected natural reserve. This reserve showcases a wonderful mountainous background which is an ideal spot for a photo souvenir. Take time to go on a boat excursion to the creeks and nearby beaches. A peaceful moment to enjoy in family, which children will adore!

Gemiler Island

What about showing to your children the origins of Saint Nicholas Day? Leave for a cruise trip to the Gemiler Island, also called Saint Nicholas Island. This tiny islet is separated of the continent by a narrow sea channel. You will mainly find there Byzantine ruins dating back from 1,500 years, but there's more !
It used to be an erstwhile pilgrimage destination for worshippers heading to Jerusalem and to which they would first go to honour Saint Nicholas who was Myra's bishop, a city on the Turkish shores right in front of the island. The relics of Saint Nicholas were displaced to the continent in 650 PCN. Take time to go scuba diving or sail on a yacht alongside the coastline. Note that ruins are visible once under the sea!
Many other places are worth the trip to Fethiye. Here is a selection of places where to organise an excursion with your children:
The national park of Saklikent: also known as the hidden city, this park is an ideal adventure and game area between rivers, waterfalls and cliffs, all of such surrounding a wonderful gorge going through the mountains.

The butterfly valley: named after the fact that many butterflies reproduce there, its crossing, only made possible by boat, goes through a secluded creek running between steep cliffs.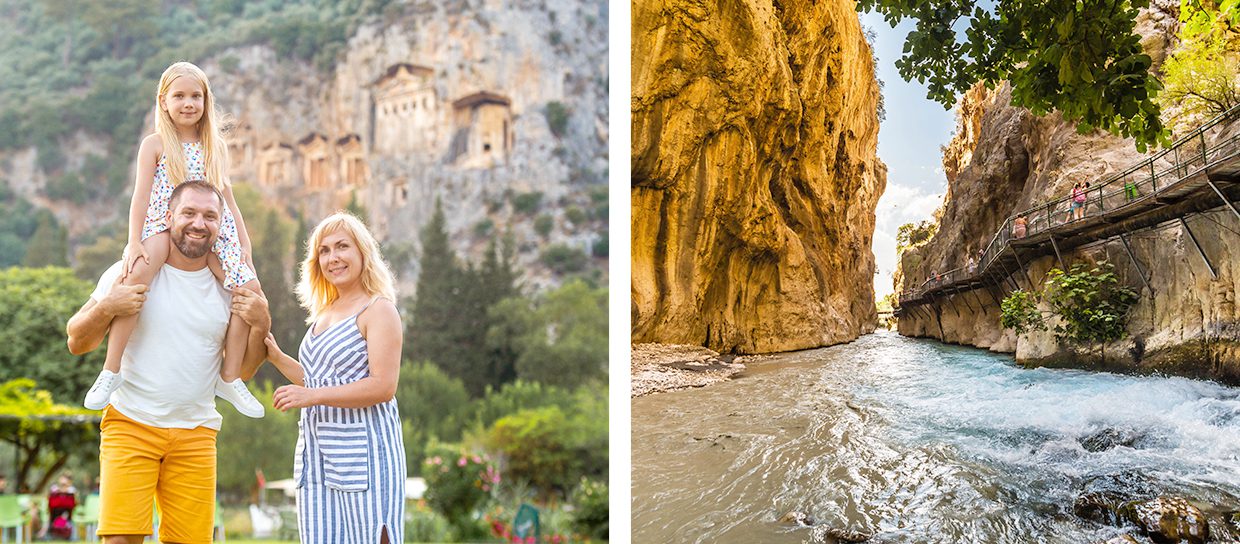 The ancient Lycian tombs of Fethiye: the sepulchre of Amyntas is a group of Lycian rock tombs. There are named after the highest of all tombs which hosts Amyntas, Hermagios's son and was built in 350 ACN. This tomb was carved in the rock and showcases a gantry at its entrance in the style of a temple. The rest of the tombs are lower, also carved inside the cliff.

Mud baths at Dalyan: your children will absolutely love this activity! Under the Koycegiz Lake you will find hot water sources forming mud at the surface where to bathe and enjoy the good effects of the mineral source. Don't hesitate to cover your skin with mud before rinsing in the pool, the lake or the showers, all supplied by the underground source.
What not to miss in Bodrum?
With the Aegean Sea right at its foot, this city is also known as the Turkish Saint-Tropez. In the Muğla Province, Bodrum is a multifaceted destination: sun, paradise-like beaches, archaeological vestige, etc.
Bodrum Museum of Underwater Archaeology
This visit offers a unique family experience. It is a fun and educative way to make your children fall in love with history. The museum is found within the Saint-Pierre Castle and opened its doors in 1962. You will find there treasures that were spotted in the Aegean Sea such as Roman merchant vessels and shipwreck dating back from the Bronze Age. There are also numerous collections of antique jewellery, glasswork and many more, originating from Ottoman, Egyptian, Greek or Roman civilisations.
How could holidays be complete without breathing the fresh marine air and enjoying entertaining moments in family on the beach? Bodrum offer a large choice! The Bitez beach welcomes you for a charming and authentic setting.
The Torba beach is rather wild and will please all the adventurers. The Kumbahce beach will make you feel at ease with deckchairs and restaurants around. And last but not least, the Gümbet beach allows you a peaceful moment, far from the touristic flow.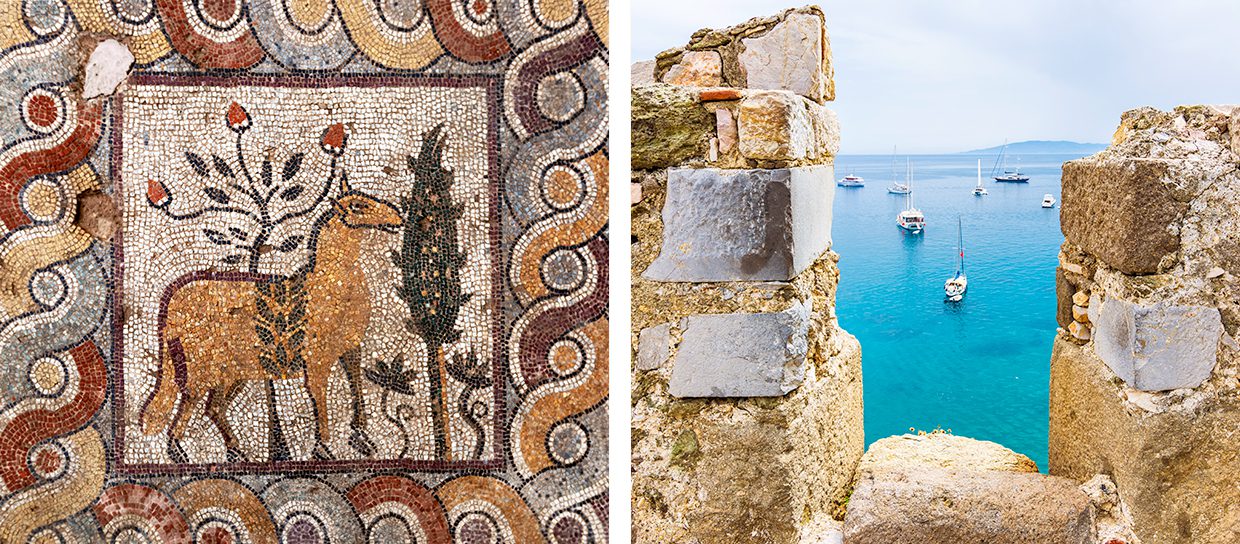 Bodrum offers animated nights with the numerous restaurants, bars and nightclubs. For an unforgettable experience, take a boat during the night and come back on land at dawn in a crazy atmosphere at the Catamaran club.
The best way to show to your children the local culture and specialities is to head to the market, as Bodrum's market is the largest of the whole peninsula. Appreciate all the colours and scents with typical products of the Aegean region such as its spices, herbs, and olives.
Note that the fresh product stalls of the market are only available on Friday, much like the textile stalls which only are there on Tuesday. Take a moment to taste the local specialities such as the gözlemes which are crepes filled with meat, cheese or many other things.
Discover the turkish gastronomy
Turkish has a much varied gastronomy, as every region has its specialities. And given the fact that the country is found between several continents and regions, such as Asia, Europe and Orient, the migrations during centuries brought with them cuisines from Greece, Iran, Armenia, Balkans and Middle East. Many may limit the Turkish gastronomy to the kebab, but don't let it fool you, as the great variety of food will make your stay in Turkish truly delicious!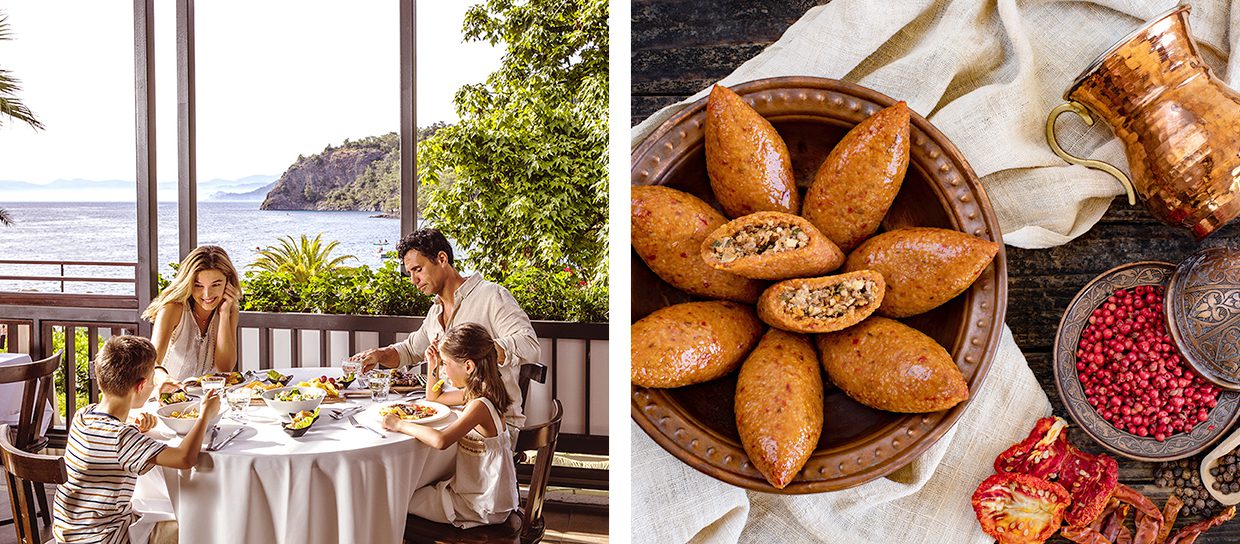 Parents and children will find something to suit their taste in the local gastronomy:
Lahmacun or the Turkish pizza: children will fall in love with this pizza made of a thin dough and topped with vegetables and meat finely cut.

Baklava: children are also fond of pastries! The baklava is a cake composed of honey and dried fruits with varieties with nuts, pistachios, etc.

Köfte: do you like minced meat? This dish will delight your taste buds. Often spicy, it can be prepared with raw meat.

Börek: for salty pastries lovers, the börek is a salty cake that can be prepared as such, or with cheese, meat and even spinach.
Relevant information before leaving Turkey
The time has come, your choice is made, Turkey it will be! Yet, what should you know before booking your stay?
When should you go to Turkey?

The climate is mild all year round, but it is better to book your stay during spring or autumn, that is in May, June, and September and October.

Do I need a visa to go to Turkey?

A visa is not necessary for French, Belgian, Swiss and Luxembourgian inhabitants. However, you will need a passport that is valid for at least 150 days after your arrival in Turkey. If you prefer to use an ID card, you must present it to the customs which will hand a justification receipt. This document is mandatory to leave the country.

How to enter Turkey?

The best way to enter Turkey is obviously by plane, as a car trip to this country will take you 25 hours roughly starting from France, and 2 days by train. The flight from Paris to Istanbul will last 3h30. Note that there is a time difference of 1 hour in summer and 2 hours in winter.

What payment method to use in Turkey?

Most of the hotels, stores and restaurants accept the Visa card. Yet, it is better to keep with you a few bank notes if you plan on going to the market. You can easily convert your currency in Turkish lira. Beware of bank checks as only banks and post offices accept them.
Little Guest takes care of everything, Turkey is waiting for you!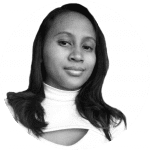 Mialy, copywriter, passionate about Malgasy wines, super-mom of 3 little boys