Children have already left school. Your wandering minds are eager to travel with them to new lands. Why not take an early start on your holiday? Take advantage of the last days of June and enjoy an unforgettable adventure for the whole family. You will avoid the high tourist seasons while enjoying a sunny climate. Little Guest Hotels Collection has selected for you the best destinations to visit with your family in June.
1 – SICILY
Jewels of Trinacria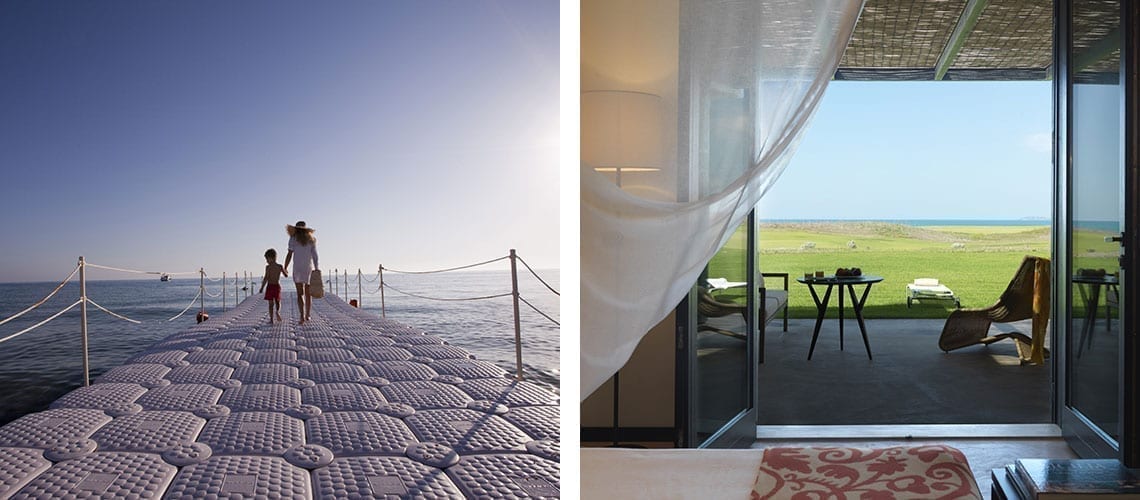 The ideal climate is announced for June for this dream destination. Omnipresent sunshine and extremely rare rain are the ideal conditions for an exquisite summer holiday. You may have the opportunity to meet the Hollywood jetset at the Greco-Roman theatre in Taormina during its film festival.
Bordered by the Mediterranean Sea, fall under the spell of this picturesque and full of history island. Sicily will delight young and old alike with its culinary refinement, its seaside beaches and its Byzantine temples. Located at the foot of Etna, let yourself be amazed by its volcanic landscapes. Enchanting, it will delight fans of aquatic and outdoor activities, culture lovers and fine gourmets.
Verdura Golf & Spa Resort is located in the heart of Agrigento province. Relax in the calm of the Sicilian countryside after a day by the sea. The family athletes will be able to live an extraordinary experience within the Juventus Training Experience, a football academy run by professional coaches. Its 203 prestigious rooms and suites will delight couples with children. In a contemporary Sicilian style, they guarantee a breathtaking view of the sea. Villa Tilia is a real ode to reuniting with family and friends and invites you to stop time to enjoy your loved ones.
Parents love: equipment such as strollers and baby's bottle warmers, the « between land and sea » location, babysitting services, the quality of kids-club activities, the You club for teenagers, communicating rooms for big families, fine cuisine, panoramic terrace breakfast, private beach, spa and thalassotherapy pools and the VIP service at Villas Tilia.
Children love: 10 sports academies including the Juventus Training Experience, the water sports club, allergen-free menus, Pool bar burgers, high chairs in the restaurant and the bedrooms' comfort.
Read before you leave: Tour in Italy: top destinations and luxury hotels
2 – TENERIFE
Island of Eternal Spring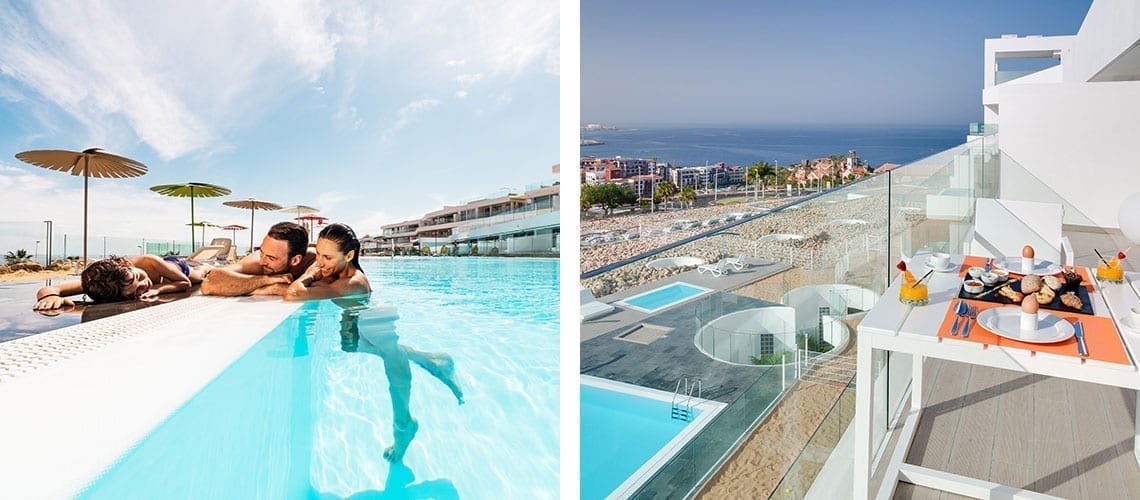 During the month of June, fans of folk music will enjoy the annual festival in Las Palmas and Lanzarote.
Off the African coast, Tenerife, « the island of eternal spring », enjoys a mild climate all year round. Enjoy the beautiful and warm summer afternoons relaxing in the sun or taking off on intrepid adventures. With its breathtaking landscapes and wild nature, Tenerife surprises, far from tourist clichés. Adventurers will get lost on the steep roads of the Anaga Mountains. The island also impresses with its white and black sandy beaches. This colourful destination is the perfect place for a relaxing stay.
Nestled in the middle of the Teide volcanic massif, Hotel Baobab Suites offers a breathtaking view of the sea. Its soothing atmosphere will invite families to relax on its sumptuous beaches. A trendy destination, the hotel is located near bars, restaurants and chic boutiques. Its minimalist and sober style will seduce demanding families looking for a top-of-the-range destination.
Our other hotels: don't miss the Bahía del Duque, near the seaside resort of Costa Adeja for an unforgettable adventure, much like the Ritz-Carlton Abama is an ideal stopover for a luxurious and relaxing holiday.
Parents love: quality babysitting service, free children's club for 3 to 12-year-olds, beauty and wellness centre, capacity for big families, variety of restaurants, catamaran trips and the opportunity to approach whales, the Experience Centre with its custom made excursions and the golf academy.
Children love: delicious children's menus served at the hotel's gourmet restaurants, incredible kids-club for children aged 3 to 12 with many educational games, creative art activities, pizza workshop, baby-kit with a bath and a cot, and the fantastic swimming pool.
Read before you leave: Tenerife with your family: a practical guide
3 – MOROCCO
Oriental pearl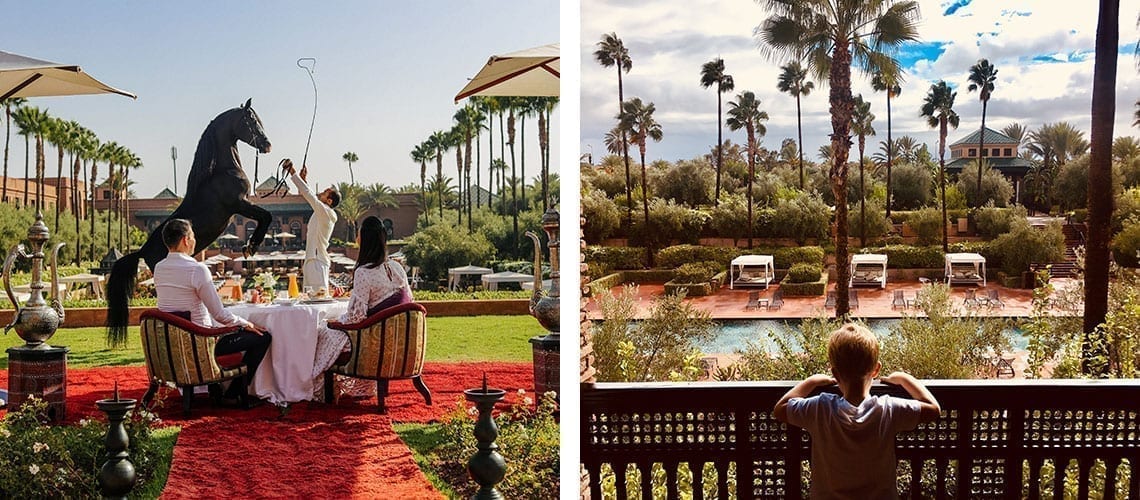 In addition to enjoying from an exceptional rate of sunshine, Morocco obviously has a very low rainfall rate at this time of year. The Tan Tan Moussem in Agadir, classified as a UNESCO World Intangible Heritage Site, takes place in June. The opportunity to meet the nomadic tribes of Morocco, attend horse and camel races, all in a festive atmosphere. In June, world music festivals will be held in Fez, Essaouira and Rabat.
Let yourself be enchanted by Moroccan hospitality. The soft spicy scents and a range of shimmering colours will awaken all your senses. Morocco leaves us amazed by its diversity. The region is full of mountains, beaches, seaside resorts, deserts and oases.  Between culture and traditions, discover the souks, riads and medinas for an exotic local adventure.
The luxurious Selman Hotel awaits you in the heart of the Red City. This sumptuous hotel impresses with its Moroccan palatial appearance. Bordered by an iconic swimming pool and a magnificent palm grove, it overlooks Marrakech from its view of Mount Atlas. Its majestic gardens, stable and competitive Arabian thoroughbreds will amaze demanding families.
Parents love: decoration worthy of the greatest oriental palaces, the majestic garden, carriage rides, free kids-club for 4 to 12 years old, 24/24 babysitting service, quad excursions, golf courses, the sumptuous Espace Vitalité Chenot spa, fitness room, communicating rooms, the impressive pool, luxury and comfort of the rooms.
Children love: welcome gifts, the beautiful indoor and outdoor playground, board games and workshops offered by experienced instructors, pony and horse rides, as well as kids-club theme evenings from 7pm to 10pm.
Read before you leave: Morocco with your family, Practical guide
4 – CYPRUS
Jewel of the Mediterranean Sea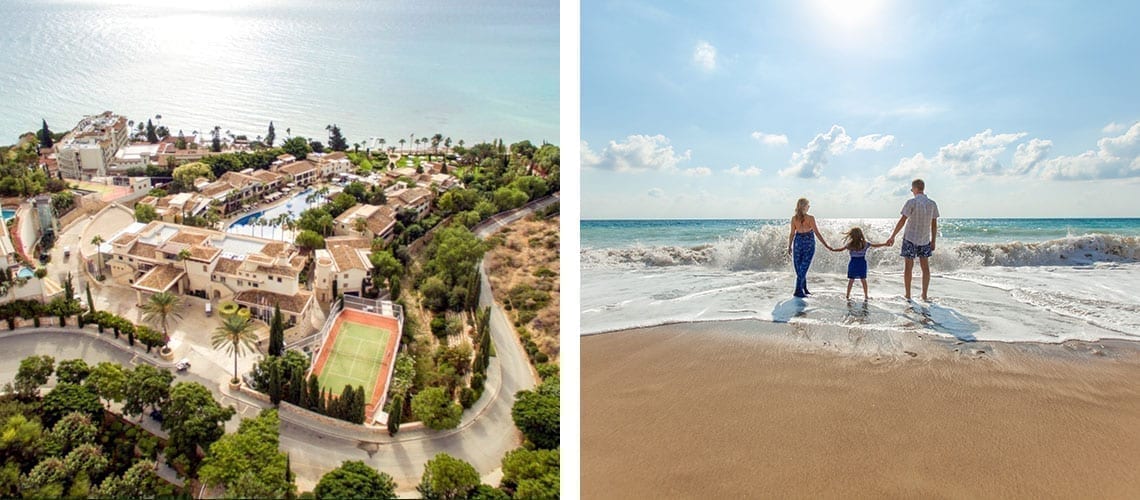 This haven of peace, bordered by the Mediterranean Sea, is sunny at any time of the year. In summer or winter, its temperatures never drop to minus 17°C. On Whit Monday, join the original « Flood Festival ». This one pays tribute to Noah's Ark. You will not be able to miss this celebration that takes over the entire island. Games, folk dances, boat races will brighten up your holiday.
Adapted to families, Cyprus is also called « the island of love », in a wink to the legend of Aphrodite. A clever blend of Greek and Ottoman, this unique destination will surprise you with the diversity of its cultures and traditions. Its fascinating legends will captivate young and old alike. They will lead you to romantic adventures in the footsteps of their deities. Discover its breathtaking landscapes, fine sandy beaches and crystal clear waters in the heart of the Cypriot paradise. Let yourself be welcomed by the warm inhabitants and succumb to the friendliness of a meal made of mezze and its sun-kissed wine. Nearby, the marina and Fort Limassol, as well as the beach of Aphrodite de Paphos, await you.
If you would like to know more about this dream destination, please note that we have written an extensive article about it!
Columbia Beach Resort is a prestigious 5-star eco-responsible establishment with a Mediterranean style. It's located in the picturesque village of Pissouri, by the sea, surrounded by mountains. Its sweet scents of pine, cedar and cypress will intoxicate you with happiness. Rewarded twice by TripAdvisor, its 169 suites are perfectly adapted to families. In the evening, entrust your baby to experienced babysitters. Its style is similar to the typical houses of the island. Noble and worked materials give it charm and voluptuousness. Spend a romantic evening in the festive district and stroll through its lively alleys of bars and restaurants.
Parents love: the chic and trendy district, incredible Cypriot architecture, transfers from the airport, Chef Ioannis Giakoumidis gourmet dishes, Cypriot and Oriental dishes of Apollo Tavern, fabulous evening babysitting service, the Hebe spa with its wonderful hot tub and indoor pool, and its fabulous fitness room.
Children love: playful activities of the Cub Life Crèche, treasure hunts, relay races, culinary workshops, direct access to the Blue Flag beach, Greek lessons, water sports, toddlers from 4 months to 3 years old can enjoy the exceptional baby-club, and the incredible free kids-club for kids up to 12 years old.
You'd prefer to go on holidays a little later? No problem, Little Guest has prepared a selection of the best destinations for you in July!
Have a good trip!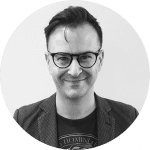 Maud, 29 years old, passionate about writing and travel, from Hainaut, Belgium