Tenerife, nicknamed the Island of Eternal Spring, attracts millions of tourists every year. They go there to enjoy the sun that shines all year-round and to discover the marvellous stunning natural beauties available out there. You might wonder why Tenerife is among the best family friendly holidays destinations in Europe?  Pack your bags and grab your hat and join us in discovering all of its hidden secrets.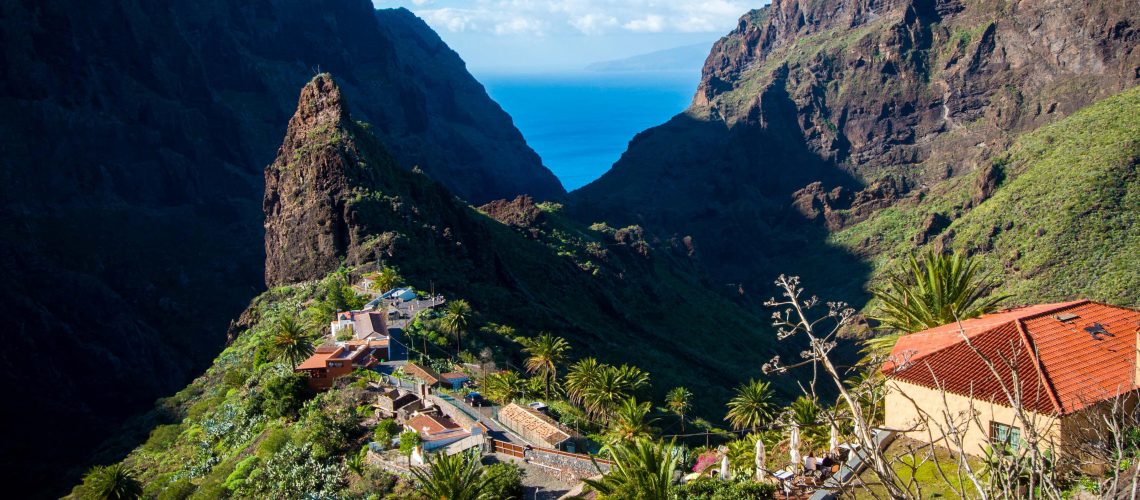 Masca, the most natural village on the island
This little Canary island has more to offer than just the typical beach postcard you might have received in the past. With the 3rd largest volcano in the world, Tenerife is an island that you will be spoilt with nature and rich cultural life. Tenerife is also an island of contradictions. The desert expanses boarder luxurious forests. With 2000 square kilometres, this island located in the Atlantic Ocean is a paradise for walkers, surfers, divers, jet-setters, and, of course, families. Let's have a look at all the good reasons why Tenerife is one of the most cherished family friendly holiday destinations in Southern Europe.
1 – Tenerife at a glance
Capital: Santa Cruz de Tenerife
Currency: Euro
Language: Spanish
Government: Constitutional parliamentary monarchy
Cost of living: Affordable
Best time to visit Tenerife: All year-round. The temperature rarely drops below 20°c and there is not a lot of rain
2 – What not to miss in the north
Northern Tenerife is wild, humid, and protected from the busy tourism found in the south. There, you can discover cities and villages with classic colonial architecture such as Santa Cruz de Tenerife and San Cristobal de La Laguna.
Wander the streets of the historic colonial city of San Cristobal de la Laguna. The second-largest city of the island, la Laguna has an incredibly rich cultural heritage. As a matter of fact, this historic centre was declared a « Cultural Heritage Site » by UNESCO. With its colourful house fronts and classic architecture, this little northern city teems with excitement. A little tip: consider taking a sweater with you since the temperatures in the north are a little lower than in the rest of the country. Location.
Walk in the black sand of the El Bollullo beach. Located near Puerto de la Cruz, this beach will impress visitors with the dark colour of the sand. A result of basaltic lava erosion, this beach is perfect for surfing and swimming fans. Furthermore, Tenerife is full of numerous lovely beaches, both white and black sand. We strongly recommend discovering them. Location.
Bathe in the natural pools on the island. Azure blue seawater and black stone make up these natural pools created by the lava flows. The Charco de La Jajade along the coast of San Juan de la Rambla is a great example. To get there, all you have to do is take a path that stretches along the coast. However, even if it is hot outside, seawater tends to remain somewhat cold. Furthermore, we recommend being careful if the sea is agitated. Location.
Take a hike in the magnificent mountainous region of Anaga. An amazing playground for hikers, this small mountain chain is located in the north-east of the island. There, you can discover impressive landscapes that are just as varied as the heavily present nature. To discover this area with children, we recommend the Hija Cambada path. This 2.3 km walk is open to children and leads you to the heart of a magnificent laurel forest straight out of a fairy tale. Lace-up your tennis shoes and grab a water bottle, it's about to get fun! Location.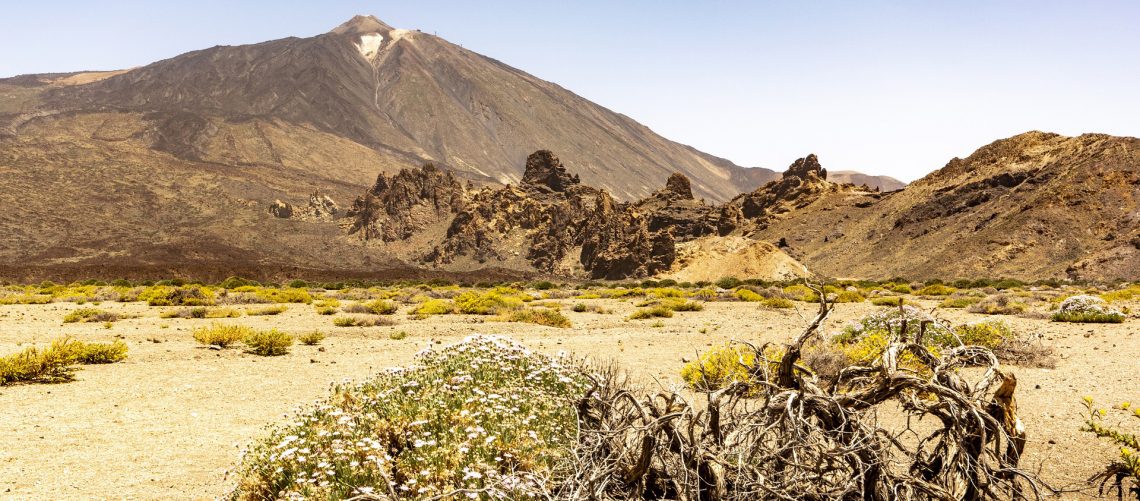 The desert landscape of the Teide volcano
3 – What not to miss in the south
The southern part of the island is known for its great climate and its marvellous beaches. It is also the more urbanised and touristic side of the island.
Visit El Parque national del Teide and climb its impressive volcano. Listed as a UNESCO national heritage site in 2007, this national park covers 19,000 hectares of volcanic earth. The road that leads to the park alone is worth the trip. Calcined rocks, lava fields, Canary Island pines, and rocky peaks: this desert territory offers a breathtaking backdrop. The clouds play hide and seek and conceal El Teide. At 3,718 m high, the volcano's summit overlooks the Canary Islands. To reach it, you can either take the cable car or schedule a guided hike. Don't worry, even though it's an active volcano, it's one of the most highly monitored volcanoes in the world and its last eruption dates back to 1909. Useful information: Consider reserving your cable car tickets in advance. The ascent and descent cost €27. Location.
Discover the steep village of Masca and meet its 150 inhabitants. There is only one way to reach this village. You must take the famous TF 436. This mountain road, which serpentines between the sharp ravines and the luxurious vegetation, offers a magnificent view of the coast and its cliffs. However, we recommend driving slowly as the road can be dangerous. Masca is located on the backside of a hill and intrigues curious visitors with its paved streets and classic architecture. For nature lovers, don't miss the 4km hike that goes right up to the sea. Once you're down there, you can take the path back up (longer and more difficult, so we do not recommend it for young children) or take a boat that will take you to Los Gigantes and then take a taxi back to Masca. Location.
Take a trip on a boat to see the dolphins and the whales at Los Gigantes. Known for its majestic basalt cliffs that overhang the sea, this seaside resort built as a stairway at the base of a hill is the point of departure for numerous sea excursions. Dolphins and whales swim in the clear waters, which makes it easy to see them. A great discovery that will please all ages. Something good to know: There are a lot of companies that propose this kind of excursion and the prices are affordable. Location.
Slide down the long slides at Siam Park, the best water park in the world (according to TripAdvisor). Designed around the theme of Thailand, this park, which is full of luxurious vegetation, offers more than 15 sensational attractions. Fearless travellers will enjoy the Tower of Power, a 28m almost vertical free-fall slide that ends under an aquarium with manta rays and sharks. For younger swimmers, the Lost City or Sawasdee attractions are specially designed just for them. It's perfect for spending a great day as a family. Helpful information:26€ for children and 38€ for adults. Open 10 AM to 6 PM in the summer and 10 AM to 5 PM in the winter. Location.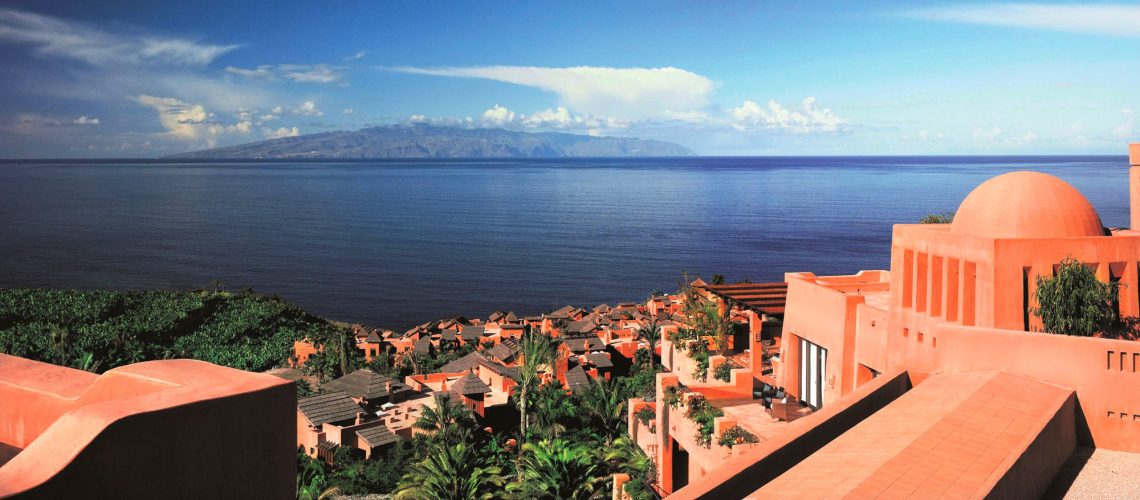 What could be better than relaxing on the terrace at the Ritz-Carlton Abama?
4 – Hotels for families
Not far from the Costa Adeje, the luxurious Baobab Suites ***** is a 5 star hotel with amazing suites from 1 bedroom to 4 bedrooms. Some of them even have a private pool, what else can you ask for? Constructed on the base of a hill, guests at this hotel enjoy a breathtaking panoramic view of the sea and the beach. Families wishing to stay in a modern location will appreciate the hotel's minimalist architecture. At the Baobab Suites, there is no chance of boredom. The bars, restaurants, and stores in the neighbourhood will particularly please parents and teenagers. Meanwhile, the Saplings kids-club welcomes children between 3 and 12 years old FREE OF CHARGE. Note: The pizza making workshop will interest young chefs. Location.
If you are familiar with the famous Hard Rock Café, you probably know about Hard Rock Hotels. Hard Rock Hotel Tenerife ***** is one of the best family friendly holiday hotels in Tenerife with its attractive Roxity Kids Club™ full of fun activities for your little ones. With 6 restaurants, 3 bars and 3 swimming pools, this hotel will please your active family if you don't mind the music entertainment that is the soul of this exclusive property.
An address that is well known among families, The Ritz-Carlton Abama ***** hotel is nestled in a magnificent green oasis. Surrounded by a fine sand beach, this luxury five-star hotel is home to relaxation and calm. With its Moorish style architecture and beautiful red colour, the Ritz-Carlon Abama takes visitors to another world. Everything is designed to host both parents and children. The kids-club, open to children between 4 and 12 years old, offers a large variety of activities FREE OF CHARGE. And adults won't get bored either as they can relax in the spa, exercise in the state of the art fitness room or play some golf on the superb Abama Golf course (18 holes by 72). Definitely a hotel to book if you are looking for a luxury experience and relaxation. Added bonus: this kid-friendly hotel also has its own transportation system. Location.
Bahía del Duque ***** is a high-end hotel located on the Costa Adeje, one of the largest seaside resorts in Tenerife. Numerous amenities are offered for families, including 4 pools and 8 restaurants. Something to discover if you enjoy sunbathing and chilling! And if you are looking for the privacy of staying in your own villa for your next family friendly holiday in Tenerife, check out their stunning villas Location.
Last but not least, close by the Tenerife South Airport (but not too close though), you can stay at one of the friendly family rooms available at Hotel Palacio de Isora *****, a Gran Meliá hotel. Rooms and facilities are modern and spacious, perfect for your next Tenerife holiday. With 7 restaurants, 6 swimming pools and 7 bars, every day feels like a different day. And of course, the hotel offers different kids clubs for your children including a baby club.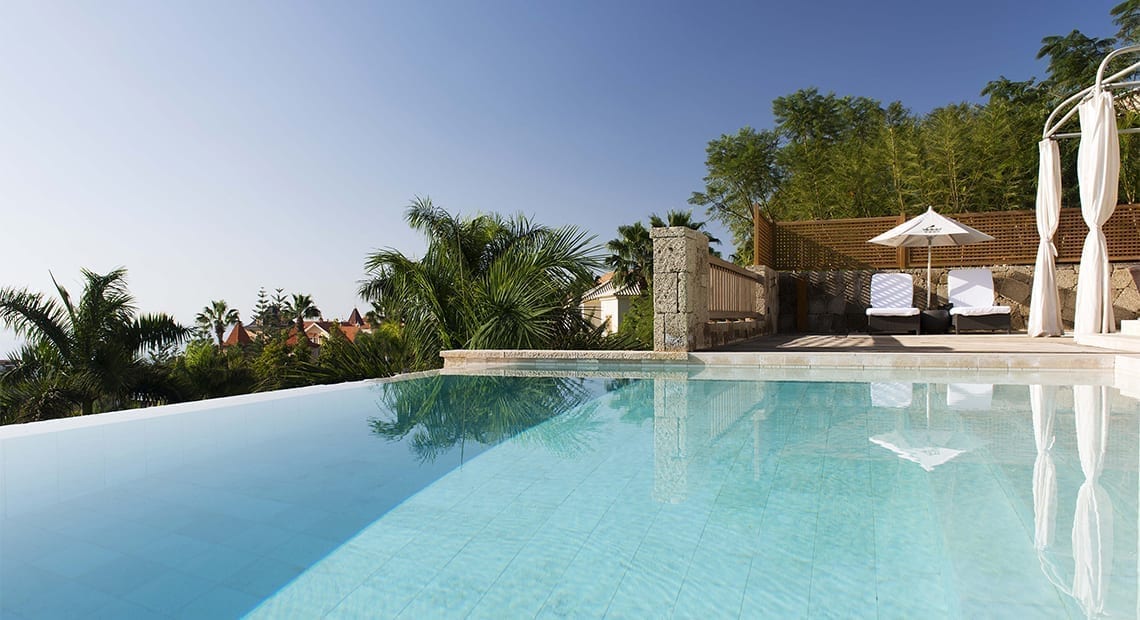 5 – Kids-friendly restaurants
Red meat lovers should check out Brunelli's Steakhouse, where good products and good cooking meet. Hailed by its clients, this high-quality restaurant offers a widely varied menu. There, you can have delicious hamburgers, large USA Black Angus steaks, succulent ribs, and much more. Burnelli's speciality lies in the process on how they cook their meats. Thanks to its speciality Southbend oven, the temperature is cooked at a temperature of 800°C, which heightens its authentic taste and keeps it tender and juicy inside. Useful information: Calle Bencomo, 50, 38400 Puerto de la Cruz, Santa Cruz de Tenerife. +34 922 06 26 00. See the menu. Location.
M.B is the gastronomic restaurant by prestigious chef Martín Berasategui. This two-star establishment located in The Ritz-Carlton Abama perfectly blends quality, service, and originality. Inspired by Basque cuisine while also offering international dishes, the menu at M.B highlights Spanish flavours. A great dining experience for gourmands of all ages. Useful information: Carretera General del Sur, TF-47, km 9, 38687 Guia de Isora Tenerife, Santa Cruz de Tenerife. +34 922 12 60 00. See the menu. Location.
If your little tribe is looking for simplicity and local products, you should check out La Piazzetta del Mar. This restaurant offers a large variety of fish and seafood. Customers appreciate the good price-quality ratio as well as the freshness of the products. A must-try if you are in Los Cristianos. Useful information: Calle la Paloma, 2, 38650 Arona, Santa Cruz de Tenerife. +34 922 30 61 85. Location.
6 – Get around
Tenerife is easily accessible by plane. You have the choice between two airports: South Tenerife (Reina-Sofià) which welcomes International flights, or the northern airport (Los Rodeos). Flying is the easiest way to reach the island.
In order to discover all different corners of Tenerife, the easiest way to wander around is by car. The island has a vast roadway system and numerous companies offer car hire at a reasonable rate.
if you plan to visit cities like Santa-Cruz or La Laguna, families with strollers or bikes can use the tramway system. 2 lines are currently in service and tickets are available at the automatic terminals located at the tramway stops. It's an easy way to get around and discover the coast.
The bus is a very important mode of transportation on the island. The most popular routes are those between cities, such as between Puerto de la Cruz and Santa-Cruz. You can pay for each trip separately or buy a combination ticket called a "Bono-bus". This type of ticket saves you about half the price and can be used by multiple people. It is perfect if you are planning a day visit in one of the cities of Tenerife.
Families that wish to visit the other islands in the Canary archipelago can use one of the numerous ferry companies. One of them, Fred.OlsenExpress offers a trip in total comfort on a well-equipped boat. They travel to Fuerteventura, La Palma, Lanzarote, as well as La Gomera.
7 – Weather & climate
In general, Tenerife is a destination where it's beautiful all year round. The temperature usually remains between 11°C and 26°C. The hottest months include June, July, August, and September when the temperature rarely drops below 22°C. No wonder why Tenerife is among the favourite family friendly holidays in the Winter. The chance of getting caught in the rain is low (only a few days per month). However, Tenerife is known for its micro-climates. Between the North and the South, there can easily be a difference of 5°C.
8 – Did you know…
Tenerife is the largest island out of all the Canary Islands.
Tenerife is on the same time zone as the UK.
The white sand beaches on the island are not natural, the majority of the sand comes from the Sahara.
Tenerife's flag is similar to Scotland's flag since St. Andrew is the patron saint of the island. The only difference is that it is a little darker.
Each year, more than 5 million tourists visit the island.
Happy adventuring!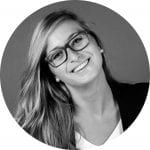 Emilie, 21 years old, lover of literature and travel, from Liège, Belgium