Choosing a travel stroller can be as difficult as buying a new car. With their multiple options, their countless features, and their high taste for design, these « vehicles » can be a challenge for parents. Discover our selection of 10 practical and trendy strollers for little travellers.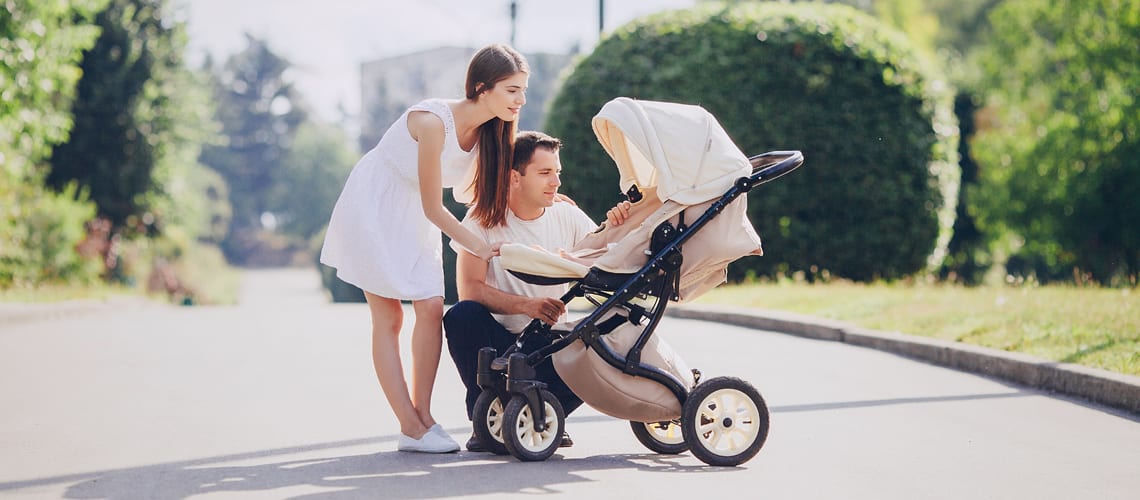 Discover the world with baby and turn every family outing into an incredible adventure
Questions to ask yourself before buying a baby stroller
« What are the important criteria for choosing the right stroller? »
A stroller is essentially chosen according to the passenger's age and morphology. Other aspects also come into play, such as your travel style, the features you need and the budget you have. When travelling, it is recommended to opt for an ultra-light and compact stroller so as to be able to carry it everywhere. It is also important to think about its handling: nothing is more cumbersome than a stroller that is unsuitable for strolls. Comfort is also a fundamental criterion in the choice of a small vehicle.
« Can I bring my stroller with me on the plane? »
Yes, if the stroller is approved as a « cabin » carry-on, you can board the plane without having to put it in the hold. There are many cabin–size strollers that can be folded in no time at all and stored with hand luggage. These are mainly strollers called « canes » or « umbrellas« . The stroller is then regarded as 1 carry-on baggage (in addition to your handbag). In addition to its practicality for boarding the plane, the « cabin stroller » has the advantage of being more versatile for the rest of the trip. The smallest stroller in the world is the Pockit of the GB brand. Registered in the Guinness World Book, it measures only 35 cm in height, 30 cm in width and 18 cm in-depth for a total weight of 4.6 kg. it is suitable for babies from 6 months to about 3 years of age, and ideal for travellers aged about 10 months. You can also note that some hotels (and a great part of Little Guest hotels) offers strollers for you not to worry about carrying that huge item!
For more information about the conditions and rates of the major airlines concerning baby luggage, please refer to this complete article on the subject.
« Is it better to take a stroller or a baby carrier when travelling? »
According to parents who have experienced travelling with young children, having a stroller makes the holiday much more enjoyable. Even though its used is limited in some places, the stroller will still be useful: for trips to the airport, trips in the hotel, a nap on the beach out of the sun or to enjoy mild evenings while keeping baby protected from mosquitoes! Choose a lightweight and compact stroller to make travelling easier. According to Maman globetrotteuse (a French blogger), the best option is to choose an umbrella stroller with a horizontal position so that baby can rest during visits or peacefully fight against jet lag. In addition, stroller accessories such as mosquito nets or UV protection can be valuable allies on holidays. The baby carrier is also very useful, as it allows more mobility and leaves hands free, but it remains a nice complement to the stroller when travelling. To find out more about the baby carrier, please read our article on this subject!
10 strollers on the starting line
The stroller market keeps on growing. With the evolution of new technologies and the recent fascination for family trips, finding a stroller that combines comfort, safety and great mobility corresponding to specific expectations and your budget is not an easy task! The Little Guest team has reviewed different models in order to offer you the 8 best strollers to travel with your baby.
1- The backpack stroller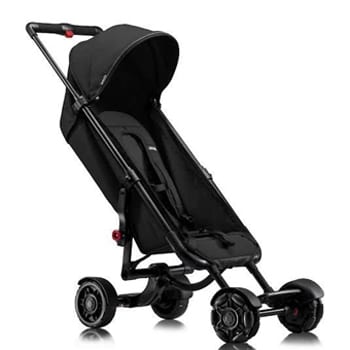 Who has never dreamed of an ultra-light and foldable stroller that can be carried on the back and allows easy transportation? Omnio made this dream come true with a new compact stroller. The brand's founding parents have found a way to accompany their child by the hand while keeping the stroller within reach if the little legs get tired. They have created a unique stroller model that folds into a backpack. They used the 6-point safety harness, which is used first to ensure the child's safety in the stroller to transform the stroller. Omnio also stands out from its competitors' thanks to its « omni-wheel » steering system, which allows the wheels to roll not only forwards, but also sideways! This little 4-wheeler is a real sensation for parents of children of 6 months up to 22 kg. The stroller is delivered with a UV 50+ anti-space awning, rain cover and travel bag.
Parents love its sturdyness and its ultra-stylish black look.
Price: 395€
2- Squizz or the most compact stroller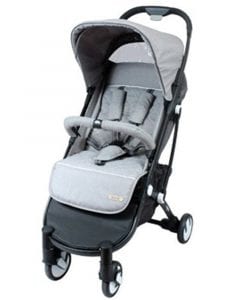 The best mini version of strollers is, without doubt, the Squizz of Looping! Easily foldable – with only one hand – and equipped with a handle; it can be stored in a flash and pulled out like a suitcase. When folded, it measures 104 x 77 x 48 cm and has a reclining seat that can accommodate babies of up to 15 kg or about 3 years old. With its rear suspensions, the 4-wheel ensures comfortable all-round rides for the happy passenger. The design is sober and elegant.
Parents love its easy storage and the included carrying bag.
Price: 259€
3- The 3D-Lite umbrella stroller from Clément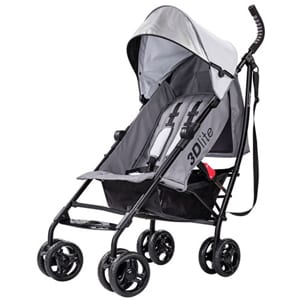 In the Summer Infant range, specially designed to offer innovative and durable baby products that provide a safe environment for your child's development, we discovered the 3D-Lite umbrella stroller, a real technical feat with additional comfort that makes it unique. Easy to fold, it becomes super compact to board the plane and can be easily transported thanks to its transport belt. Its swivelling and lockable wheels make it easy to handle and make it an ideal companion for city or country trips. The stroller also features a 5-point safety harness, a backrest that can be reclined in several positions, a large storage basket under the seat, a bottle holder and a storage pocket on the back of the seat.
Parents love its multi-position adjustable roof with a flap to protect baby from the sun.
Price: 119€
4- The 4×4 of the small wheels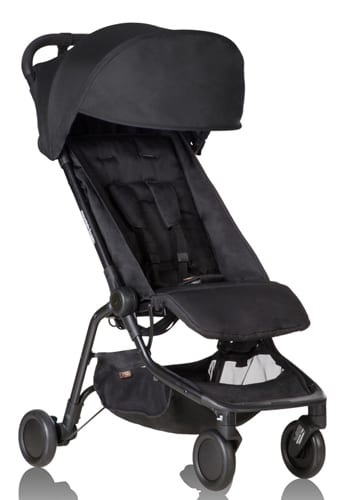 With its sturdy wheels and thick rubber aero technical tires, the Mountain Buggy Nano stroller is ready for long journeys in faraway lands. Its shock-absorbing rear suspensions promise more comfort for the passenger. It also has a sun protection fabric with UV 50+ protection – enough to protect baby from the sun in the tropics or high mountain winds thanks to its foldable wind protection. It is the winner of the Red dot design award for best design meets the majority of the needs of the little traveller in search of adventure and comfort. Lightweight – 6 kg -, robust and easily folded, it accompanies active families for many years. It is approved as a cabin stroller and can, therefore, be taken on board the aircraft as hand luggage.
Parents love the incredible agility of the Nano stroller.
Price: 199€
5- Lighter with the McLaren – Mark II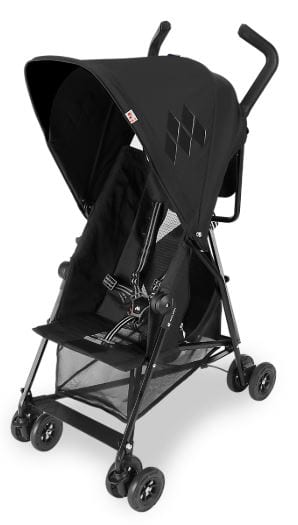 The manufacturer McLaren has already proven its worth in strollers, but the brand does not rest on its laurels and offers new models every year to meet parents' expectations. The Maclaren Mark II is certainly the privileged little one for travelling parents. Ultra-light – it weighs only 3.4 kg – and compact, it is ideally designed for transport. Comfort remains essential since the stroller is equipped with a waterproof soft top including sun protection and rain cover.
Parents love its lightweight.
Price: 220€
6- Chicco's little London Up stroller
This stroller allows you to walk around with your baby comfortably from birth to about 3 years of age. It is equipped with a backrest that can be reclined in 4 positions, including the lying position, which is essential for newborns. For a soft sleep, the seat is comfortably padded. As your baby grows older, he or she can use the adjustable leg rest so that they do not dangle in the void. They discover fabulous landscapes while being properly installed.
Parents love its large canopy, ideal for sheltering and protecting baby from the sun, and its democratic price.
Price: 84,99€
7- The Easylife stroller is well named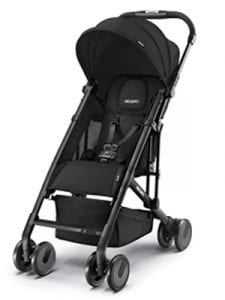 In the lightweight category, here's the new version of the stroller Recardo with a weight of 5.9 kg. Practical, light and foldable with one hand, it makes your holiday easier. Its « push-push » brake system allows you to put on and remove the wheel lock with opened shoes. Its hammock with breathable fabric is ideal for warm destinations. With its 8 wheels and 4 suspensions, it can be used anywhere, even in the most impractical places such as beaches. We will, therefore, choose it for sunny holidays in exotic countries!
Parents love the wide range of colours: sapphire, ruby, sun, pink or lime.
Price: 199 €
8- The baby jogger city tour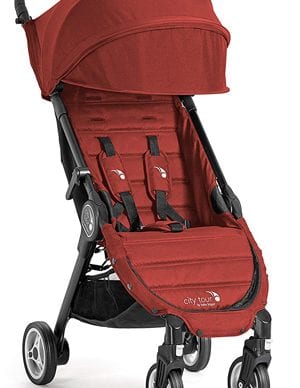 The Baby Jogger City Tour stroller is very practical for city trips. The canopy that covers the baby and protects him from the weather or the sun has the advantage of having a surveillance window to keep an eye on your little one at all times, which is reassuring when visiting a place. Its « quick-fold » technology allows an easy and fast opening and closing. The fixed non-slip handlebar folds down according to the usual system of the brand, with a strap in the hollow of the seat. The city stroller can accommodate 6-months old children of up to 15 kg.
Parents love its spacious and easily accessible basket.
Price: 235 €
9- The BabyZen Yoyo+ stroller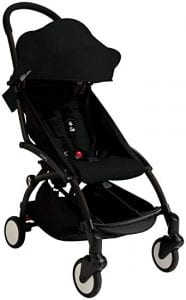 The BabyZen Yoyo+ stroller is the lightest and most compact stroller ever designed: it folds, unfolds, slides,… In short, it fits everywhere. Ideal for family or friends outings, this revolutionary stroller has the surprising feature of being the only stroller accepted in an aircraft cabin! Stylish and trendy, it has a soft hammock for newborns and a « pop-up » hood with 2 positions, in order to combine usefulness with pleasure. The lightweight stroller (6 kg) can accommodate babies from birth and up to 18 kg.
Parents love its rain protection, to keep baby safe and dry.
Price: 539,95 €
10- The Bugaboo Ant stroller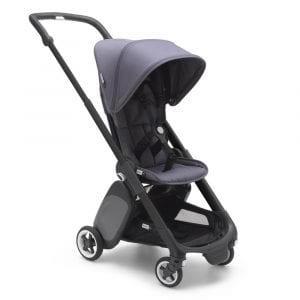 Lightweight and compact without compromising comfort and aesthetics, this revolutionarily designed means of transport has everything you need for your family getaways. This foldable travel stroller is equipped with suspension wheels to reduce impact and ensure a more enjoyable trip for your baby. It has a comfortable, reversible and reclining seat, which can easily be oriented towards parents to always keep an eye on their little one. Small and durable, it allows you to welcome your baby from birth to early childhood in complete safety, so you can enjoy what is really important.
Parents love its « wagon » mode to make it easy and effortless to pull in airports or stations.
Price: 499 €
To go further:
Sources: Women, Top stroller, Travelling and children, Air France, Magic mum, Women's newspaper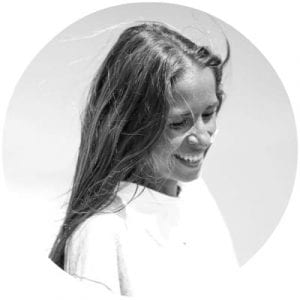 Audrey, 25 years old, journalist and travel lover, from Brussels