Summer is the ideal period to benefit from the mountains and everything they offer: astounding landscapes, total calmness, ideal temperatures, every condition is met to venture onto the marked trails, ride your mountain bike or have a picnic in family, all of such by admiring extraordinary panoramas on the valley and the surrounding mounts.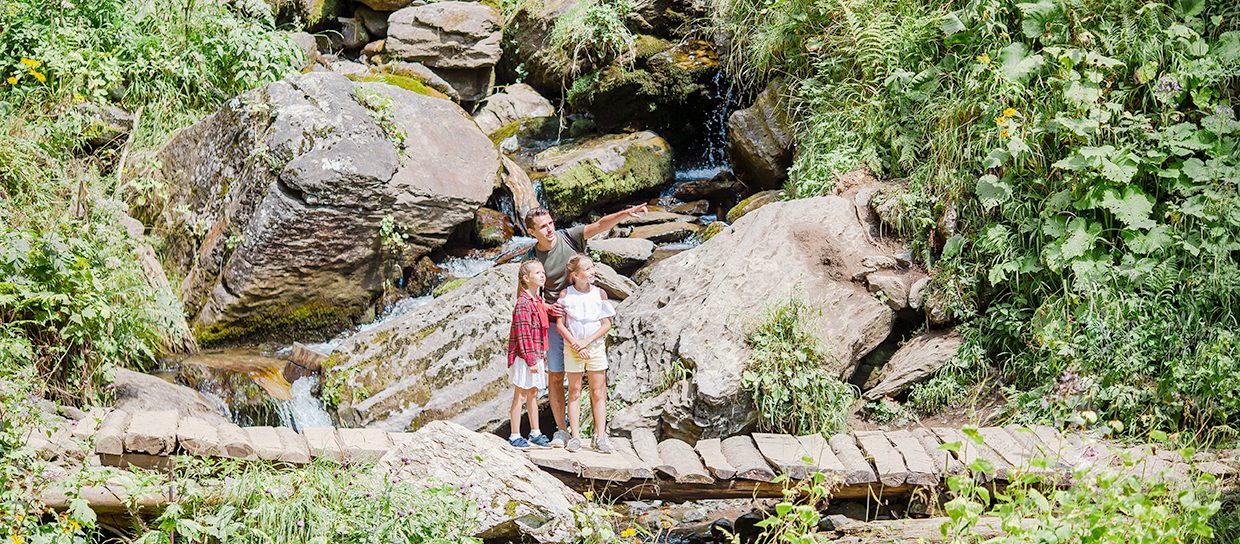 In order to plan in the best way possible your next stay near the mountain tops and make sure that everyone in the family shows the happiest smiles, Little Guest created a quick summary of some of the most entertaining activities to spend exceptional family summer holidays in the mountains. Moreover, every region hides their very own kids-friendly hotel gem to discover ; let us guide you through!
Before your departure
Let's not forget that one may think that the sun in the mountain is not harmful, but this is misleading. The UV radiation is much more intense than at a lower altitude. Besides, the air at such heights tends to be colder, so do not forget the importance of an efficient solar protection up there!
For a worry-free stay, take with you these essential items:
Do not hesitate to read our article How to protect your baby from the heat ? before your departure.
Once all these precautions are taken, there is no reason whatsoever not to enjoy the outdoor activities!
Treetop adventure parks
Summer is the ideal time for our little climbers to venture up the trees and discover the surrounding nature from above.
Yet, no worries, as the circuits are secure and adapted to all ages.
Crawl, jump and climb, everything is possible to reach the obstacles set several metres above ground, in a completely safe area. An fun activity to do in family that let you do sports in a relaxing setting.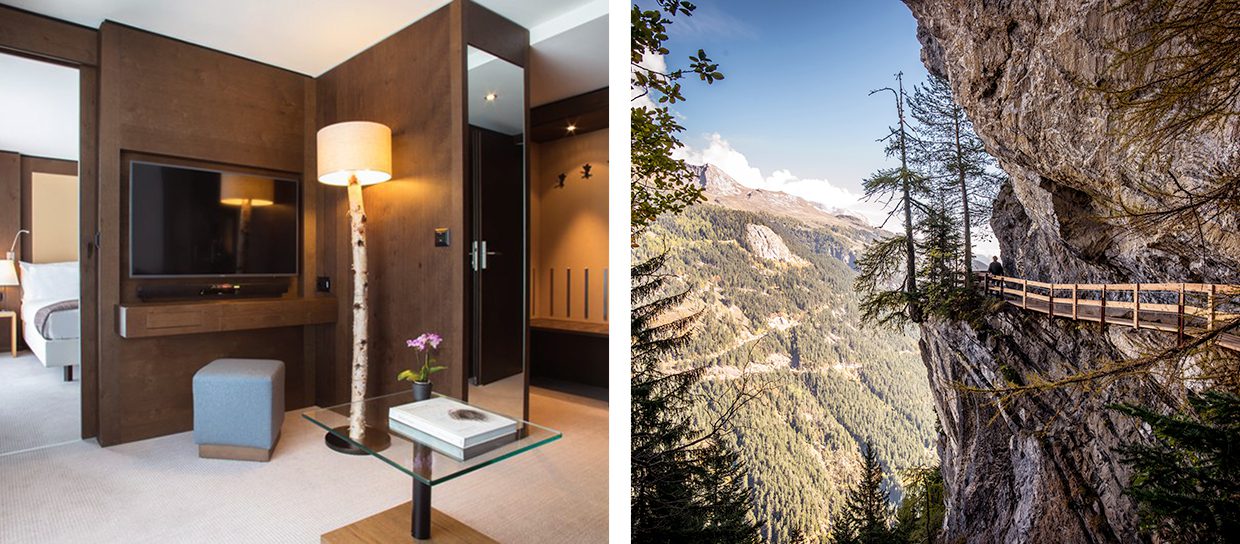 The adventure park Fun Forest at Crans Montana is the perfect place to discover or to practice and improve your skills during your stay. Set in a wonderful landscape at the south of the Lac de la Moubra, this park is open during all summer, from 10 A.M. to 5 P.M. The circuits of obstacles and their heights vary and offer a splendid view over the surrounding nature.
Located only 3 km away from Fun Forest, the Crans Ambassador ***** hotel is the dream-like place to relax and unwind after playing Tarzan in the jungle during all day!
Who is it for?

All

large space

and

thrill

lovers
From what age?

From

4 years old
Hiking trails
No need to go for extreme sports to discover and appreciate the mountainous landscapes: a mere hiking on foot is absolutely enough to satisfy the curiosity of many.
The wonderful town of Nendaz offers several types of hiking to go for as a family, and for all levels.
Whether you prefer to stroll and wander and have a picnic by a hiking trail with your children or go for a more intense hike, there is everything for everyone! And who knows, why not take the chance to learn more about the region itself and pose all together for a few souvenir photo ?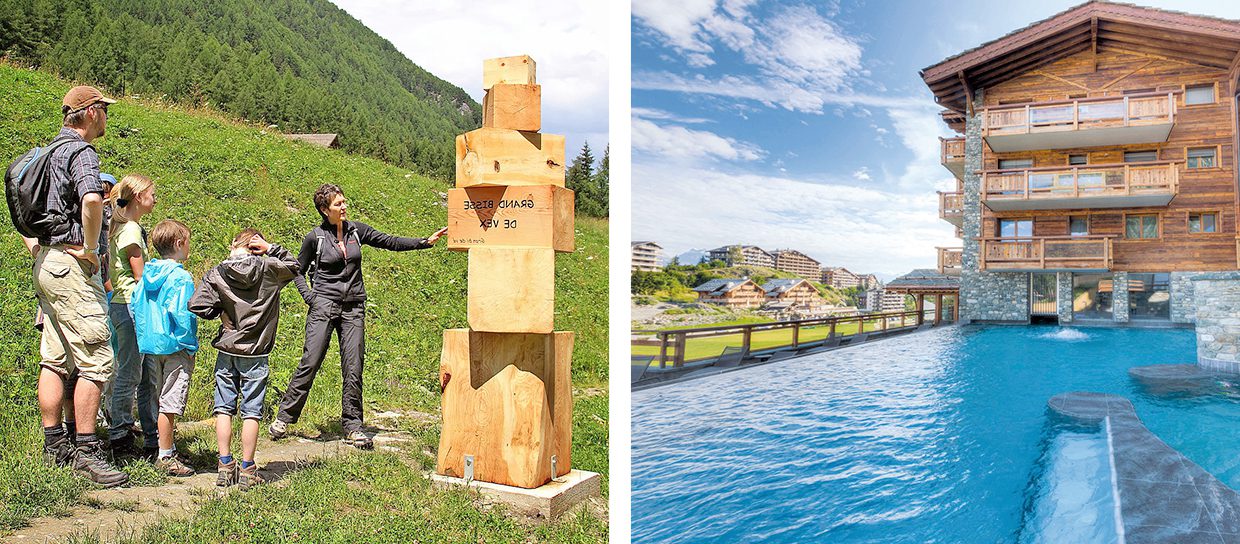 After a day loaded with discoveries (and your feet loaded with kilometres of walk!), the children and the parents will have the joy to enter the kids-friendly space and the wonderful spa of the Hôtel Nendaz 4 Vallées & Spa ****.
From what age?

From

4 years old

for the shortest hikes
Mountain bike hiking
Mountains are the perfect playground to hop on a mountain bike and hurtle down the sinuous slopes right before breathtaking panoramas!
The Bike Park of Val d'Isère offers many marked trails for everyone, accordingly to your experience.
A whole new way to discover the mountains all while breathing in the mounts fresh air… Here is your chance to ease your mind and your body!
Who is it for?

For

little

and

older

riders
From what age?

From

4/5 years old

, accompanied
Bathing in a mountain lake
What a better way to end this article than mentioning the good effects of toddlers' favourite activity: bathing in a lake!
Pebble or fine sand beaches, a water temperature ranging from 19°C to 26°C, picnic areas, the perfect definition of successful holidays.
Splashing around together or just swim here and there under the sun and its smooth warmth, a true delight! A nice way to cool down all in simplicity.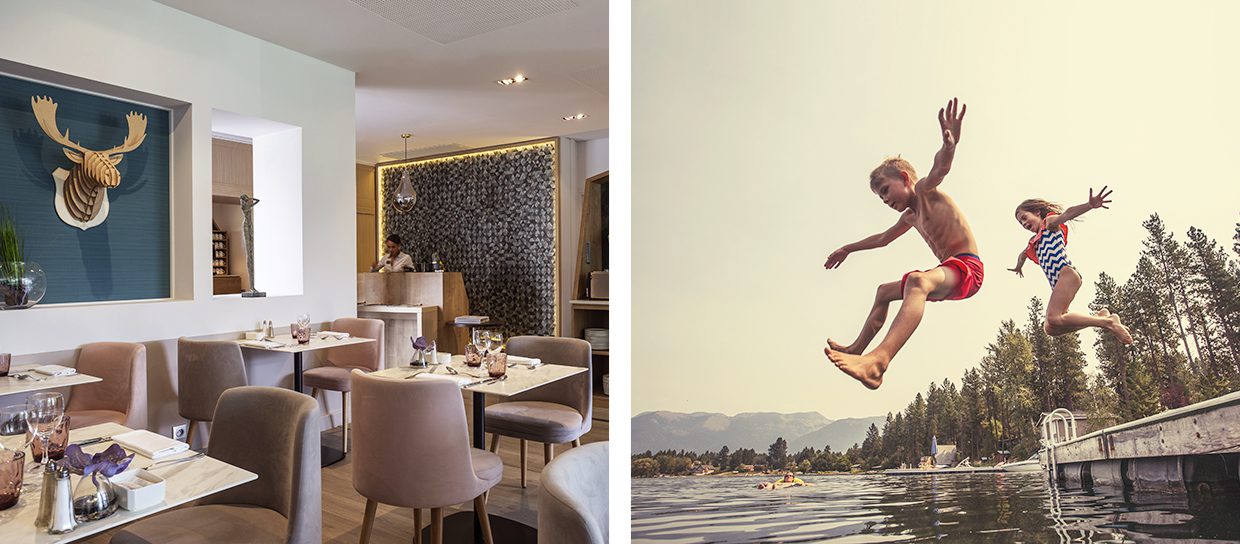 Yet, rules apply, just as for any other activity. The access to the water, either it is for rivers, lakes or waterways is strictly regulated.
In the first place, make sure that the site you are going to is available for public use and is secure. Second of all, children must never bathe alone without adult's supervision.
Finally, it is recommended to wait at least one hour after your meal so to fully appreciate bathing.
Finding the perfect spot for your family, check among the 6 most beautiful lakes found around Bad Ragaz.
Are you still undecided? The Grand Resort Bad Ragaz ***** is the ideal meeting point for a comfortable stay as a family and for all the bathing sites that are found in the region.
Canyoning and rafting
Here are two ideal nature activities to discover the mountain watercourses.
Thrilling sensations and great shared laughs will surely make part of your river rides.
These two activities may both take place in the same environment, they though differ by the means of transport used.
Canyoning consists of going down waterfalls equipped with a harness, ropes and hooks. This sport is stamina consuming.
Rafting, on the other hand, is to be made on an inflatable boat onto which all the family members can hop.
Tignes's tourism office provides with a large selection of places to discover and with all the important information regarding the progress of these activities.
Who is it for?

For anyone seeking

thrilling sensations
From what age?

From

8 years old

, on adapted circuits
Alpine slide
Sliding do not systematically require snowy slopes, not at all! In the mountain stations, it is also possible to slide during summer. And you may even enjoy it much more than you would expect!
The 180-meter luge tubing tracks of Aix-les-Bains will please both children and parents.
Comfortably sat in a buoy, get ready for a downhill ride that you will never be able to forget!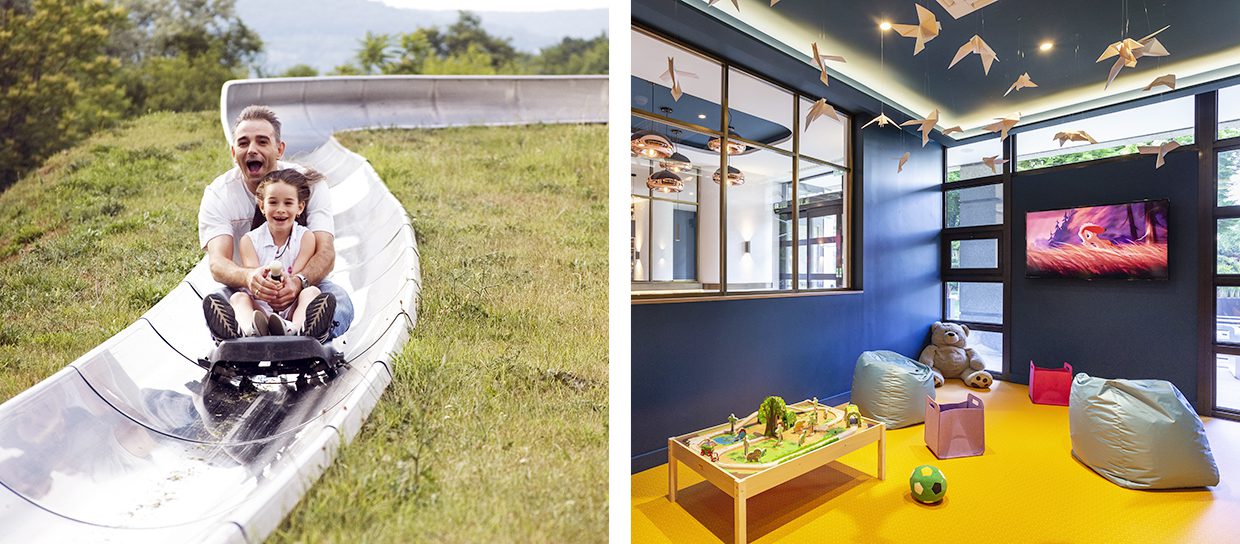 The geographical position of the Hôtel Golden Tulip Aix-Les-Bains **** is ideal to discover this extraordinary place and all the wonderful landscapes that surrounds it.
Who is it for?

Any

aspiring adventurer
Some additional information
Happy holidays!
Amandine, web copywriter, passionate about travel, from Brussels