Travelling with baby is not always easy, especially when it comes to feeding your baby. Whether you're travelling by plane, car or train, there are easy tips and tricks in for correctly and simply feeding your child. The most important thing is to maintain your baby's routine and eating habits so that he doesn't lose his bearings. To help you feed your baby on holiday, Little Guest has some practical advice on how to limit preparation, optimise containers and provide tasty, balanced and fresh meals throughout the trip.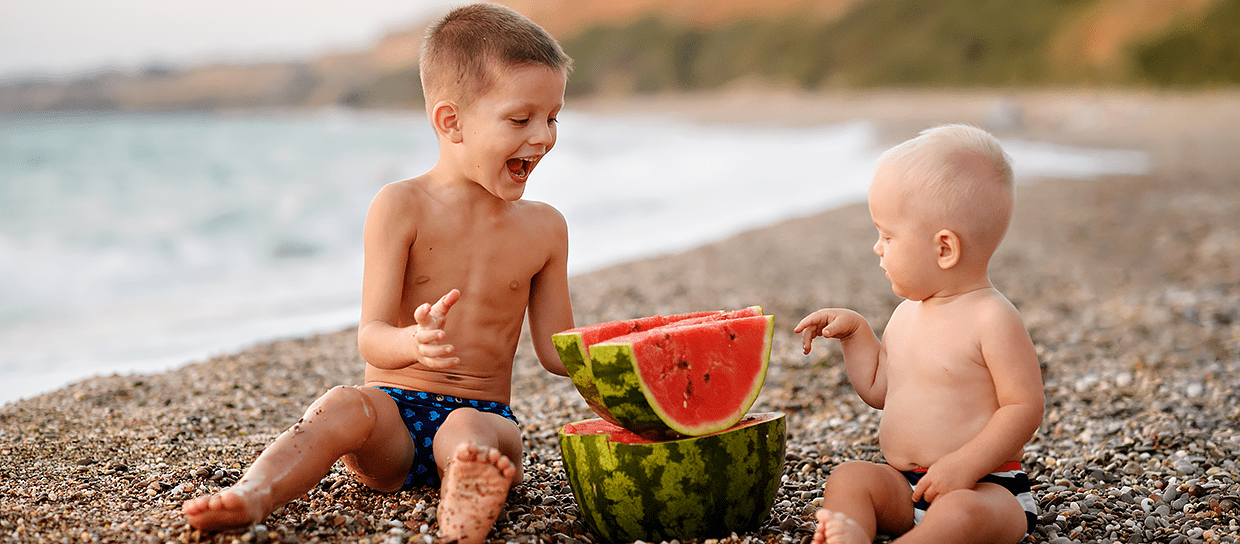 What to feed your baby by age?
It's important to prepare for baby's diet throughout the trip, whether it's during the main journey or while you're on the move.
During baby's first few months
From birth until 4 years of age, baby is fed exclusively on liquid foods. A milk diet without added cereals is recommended. If you opt for bottle-feeding or mixed feeding, you will need a bag or a solid container to take your baby's bottles and cans of milk.
From 4 or 6 months
You already started to diversify you baby's diet? Don't change anything during the trip to give your child a rich and balanced diet. The most practical thing to do is to bring small jars to serve your baby easily. If the journey is short, you can also prepare fruit or vegetable purees to take along in plastic or glass jars that are well sealed.
Between 1 and 3 years
Depending on his teething, baby can now eat in small pieces. However, it is not advisable to bring solid foods that require more preparation.
What can I take with me on the plane?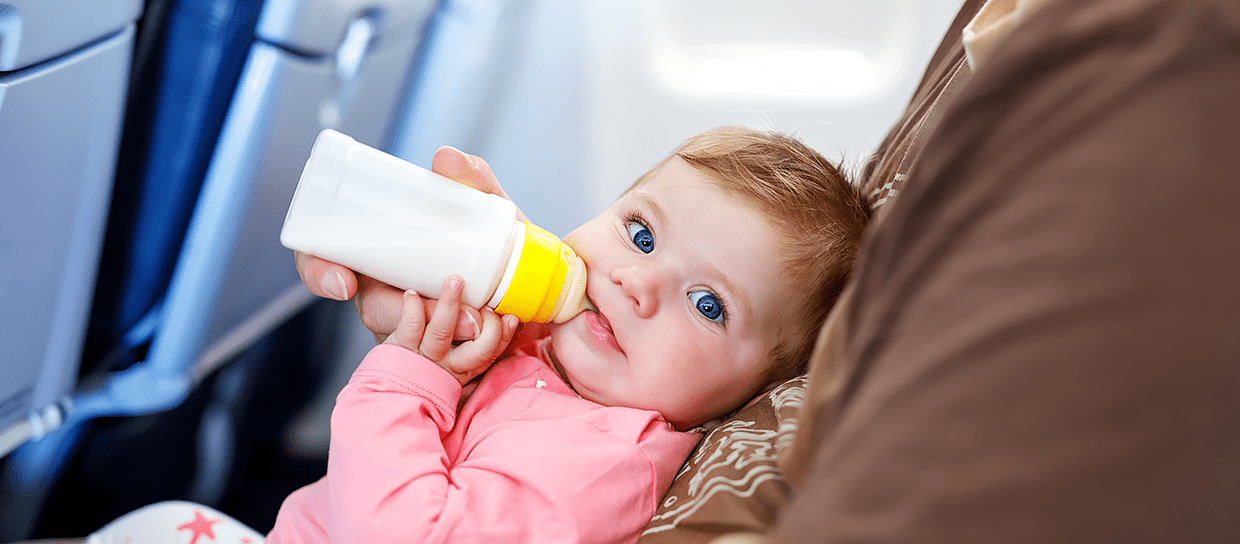 You can bring food and water for your baby in your hand luggage. Organise your bag well and make sure you include:
What if I am travelling by car?
If you are travelling by car with your family, there are no restrictions, you can take everything you are used to using at home for your baby. The only condition is to bring and use equipment and accessories that are easy to handle during the journey. However, be careful when storing food in the boot, as the temperature often reaches 40°C.
How to store baby food during the journey ?
You can store all freeze-dried foods in the boot of the car without any problem. These include powdered milk, cereal porridges and fruit jars, which are not sensitive to heat. So don't hesitate to take along jars of fruit and cereals, fruit with yoghurt and drinks to feed your child well on holiday. 
Meat and vegetables, on the other hand, are more sensitive to temperatures above 40°C. Keep them in the car where the temperature is cooler due to the air conditioning and ventilation. If you have to put small jars of vegetables and meat in the boot, cool them down in the fridge before you leave. 
Also remember to protect your jars from shocks. You can, for example, carry trays that are still wrapped so that the jars don't clash with each other.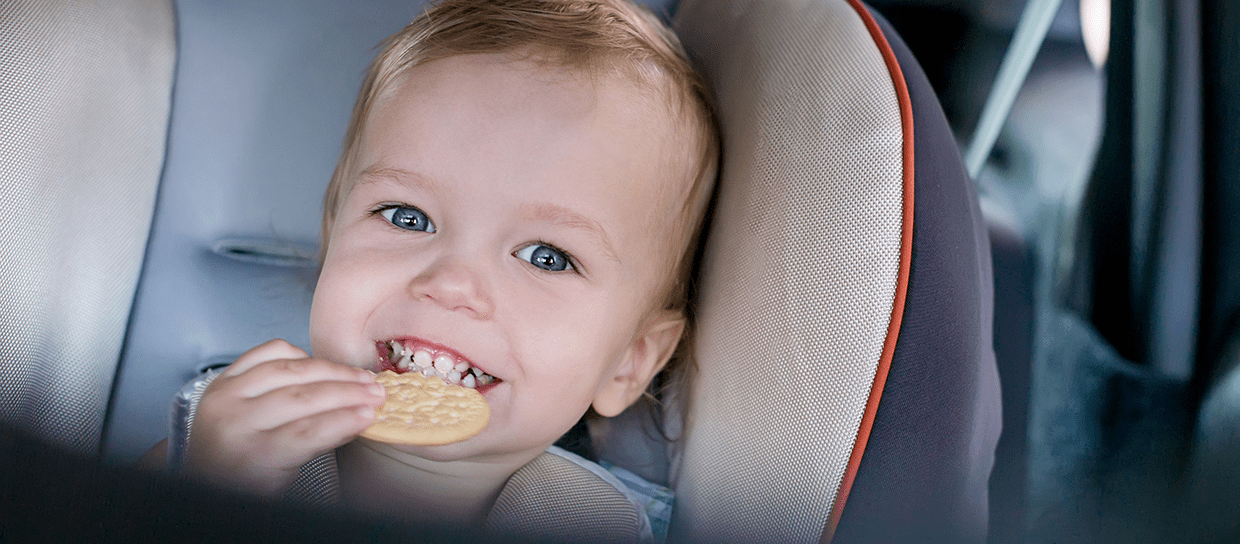 Breastfeeding and food diversification: how to get organised?
When you go on a trip, the question of feeding your baby is not the same if you are still breastfeeding him or if he is already eating other types of aliments.
Feeding your baby milk
If your baby is fed with infant milk, you must respect the feeding intervals, regardless of the length of the journey. Take at least two bottles and a tin of powdered milk as well as a bottle of mineral water or a thermos if he prefers lukewarm milk.
Depending on where you are going, consider taking sterilisation tablets with you. You cannot be sure that the tap water in the country you are travelling to is always safe to drink. 
Take more than you need to ensure that you can continue to feed your baby properly in the event of a flight delay – you never know! Before you leave, check with your pharmacy to see if your baby's milk is distributed in the country of destination to avoid unforeseen problems.
Preparing small meals for your child
If your child is old enough to eat, the preparations are a little more complex during the trip. You have the choice of either taking food with you or making your own meals for your toddler. 
If you choose to take along baby food, remember to keep it cool during your holiday. Book your stay in a family-friendly hotel that provides all the equipment and accessories you need to feed your baby on holiday. You'll have a fridge to store your baby's food or cooking utensils to prepare your own meals. If not, remember to bring coolers and insulated bags to keep food cool or warm. 
You decided to cook by your own? Choose easy-to-carry containers such as reusable water bottles, which can be used to store purees, compotes or soups. You can choose between Babymoov's reusable compote bottle or Zeste's eco-friendly stainless-steel bottle. The latter are very practical for feeding your baby at picnics or on family outings. What's more, if your child doesn't finish his meal on the first try, you can keep the rest in the bottle for later. 
To feed your little one wherever you are during the trip, take some accessories like a small jar, a spoon and a bib. If you wish, you can also use Tupperware-type storage containers. These different containers give you the opportunity to diversify your baby's diet during your stay, even if it lasts several weeks. 
Think of the various ingenious accessories that will make your life easier!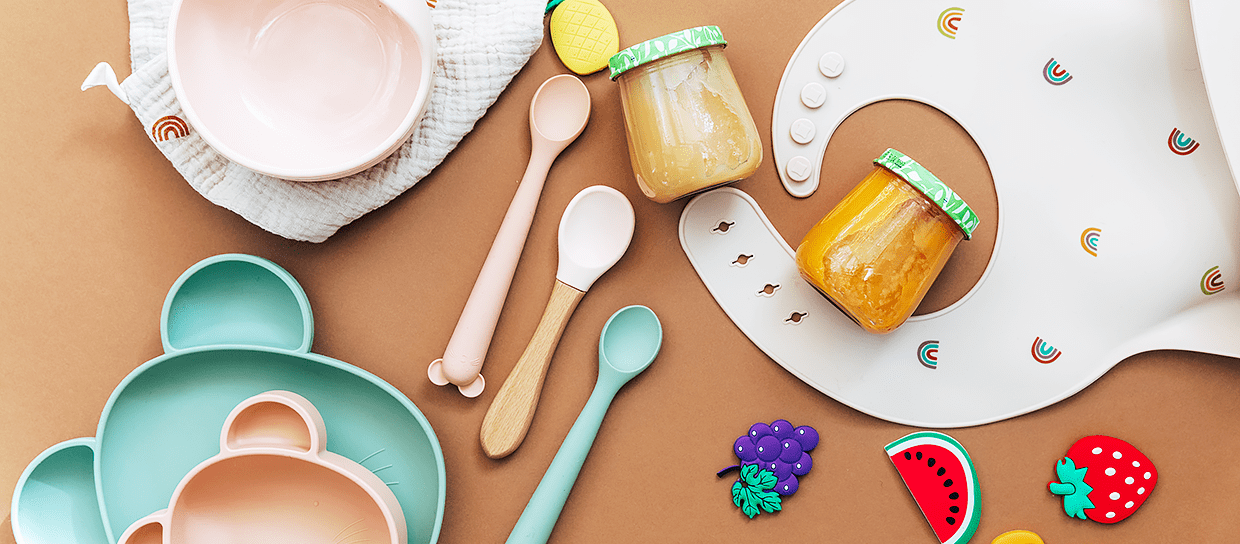 Meals on the move are not always a pleasure, whether it's preparing them or feeding them. Fortunately, there are many accessories that will help you feed your child without stress while on holiday.
Placemats
So that your baby can eat by himself and you can enjoy your meal at the hotel, restaurant or picnic, use a placemat. It is a dining accessory that is divided into a placemat and a plate, usually made of silicone. It is easily attached to the table or the shelf of the high chair with a suction cup. This washable accessory can be used several times during your stay. Take a good look at the models available on the market before making your choice. Some placemats come with lids and storage cases as well. 
Washable placemats
Is your child old enough to eat at the same table as the adults? Whether at a restaurant or a picnic, use a washable placemat to prevent them from getting too dirty during the meal. We prefer placemats made from recycled materials to protect the environment. 
Silicone bibs
Spills at mealtimes with baby can still scare some parents. However, limiting these small spills won't hurt anyone. Use a Babybjorn silicone bib with a lip to catch any food that slips out when your baby is eating. It's even better when you're travelling, as this accessory greatly reduces the number of crumbs that can accumulate in restaurants, planes, car seats and prams. 
Insulated bottles
Baby's well-being comes first. It is important to keep him well hydrated whether you are travelling in a tropical or temperate country. And whether you're out early in the morning, late at night or in the middle of the day, make sure you always give your toddler a drink. To do this, use a stainless-steel insulated bottle. This double-walled bottle keeps hot drinks hot for 12 hours and cold drinks cold for 24 hours. A great solution for keeping baby well hydrated in hot weather or for making warm milk while you're out. 
Buy your Petit Monkey insulated bottle here!  
Isothermal containers
Hotels and different types of holiday accommodation do their best to offer us comfort and luxury. Sometimes, when you want to go to a faraway place, isolate yourself from the world or discover the wilderness, you can't always have a microwave oven or a cooker at hand. Thermos flasks are making a comeback! They are very practical for keeping baby's food warm for a long time after preparation. So, you don't have to heat up your baby's food when it's time to eat. 
Plastic containers
Consider taking plastic containers with tight-fitting lids to hold chunks of fruit or vegetables, pieces of hard cheese or small crackers. These sealable containers ensure that your baby is fed healthy food. This also prevents food from spilling into the baby bag. 
Travel utensils
Whether you are travelling by plane, car or train, to a nearby region or a distant country, always think of everything. Bring plastic utensils suitable for your little ones, their hands and their mouths: spoons, plates, cups, etc. 
Blenders
Many parents choose to prepare their children's meals themselves. If this is also your situation, you will need a blender to make your children's vegetable and/or fruit purees. Choose an electric model to get a smooth mixture quickly. 
Buy your Vitamix blender here!
Super baby-friendly hotels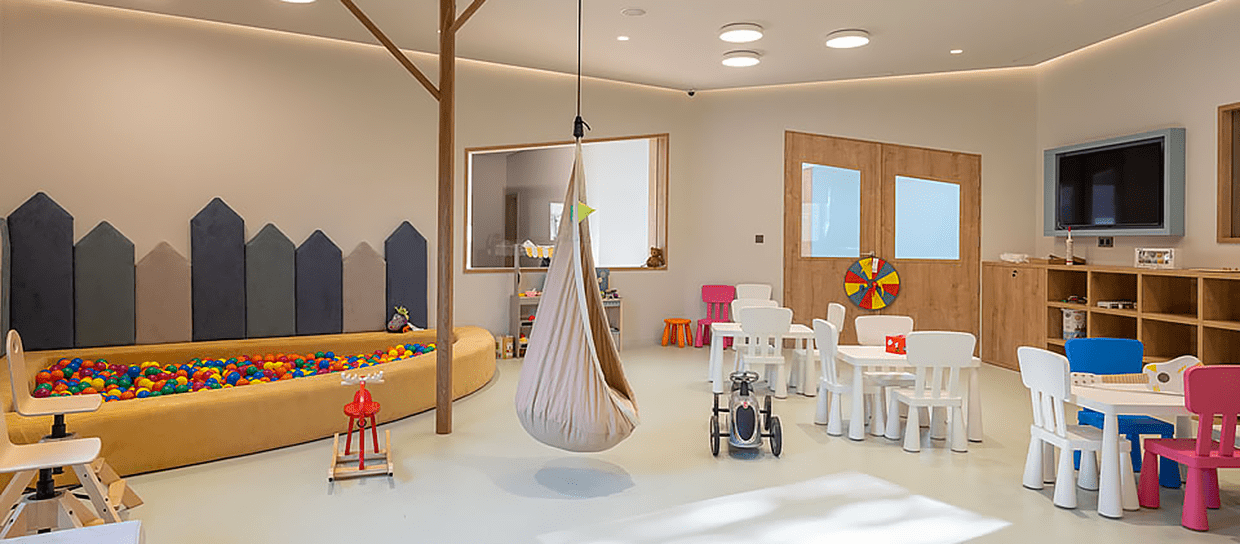 All destinations are perfect for families with young babies, as long as you prepare your stay well from A to Z. Among the preparations to be made, choose a hotel that has exclusive offers for families. 
Royal Evian, for example, welcomes you to the spa town of Evian. Little Guest also invites you to discover the sunny Provence in the Vallon de Valrugues in the authentic little village of Saint-Rémy-de-Provence. Are you tempted by the mildness of the Mediterranean? Nana Golden Beach opens its doors to you in Crete. 
These hotels think of the happiness of the whole family by formulating offers allowing them to fully enjoy their stay. Parents can enjoy the various activities and outings organised by the hotel. Children will not be bored with their great kids' club. 
A baby-sitting service to allow parents to get away from it all, a baby-club for the development of your little ones, excursions for the little ones, leisure activities specially designed for teenagers and connecting rooms. In a magnificent setting, the whole tribe can share magical moments together in a comfortable and well-equipped structure. 
Conclusion
When you go on a trip with your child, apart from milk, you can choose to feed your child with baby food or prepare pureed vegetables and fruit yourself. You should be careful about the storage of food, especially for long stays. Choose a hotel that offers adapted menus and/or provides all the necessary equipment for preparing and storing baby food. 
Going further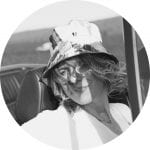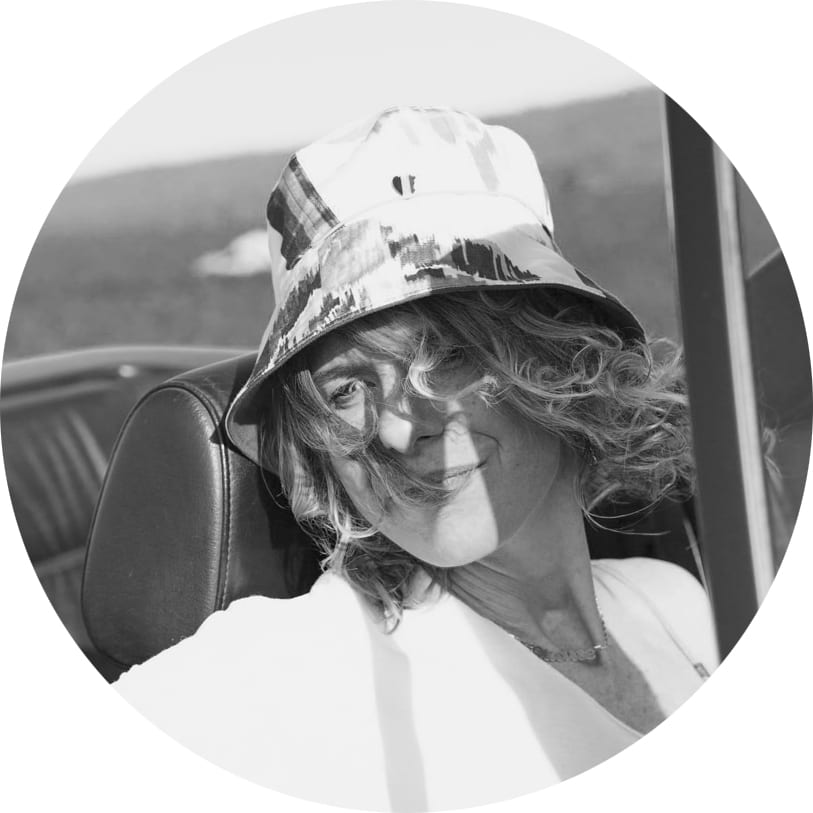 Mialy, copywritter, Malagasy wines lover, super mom of 3 boys