Michelin-star restaurants have a reputation for not being particularly kids-friendly places. There is, however, a revolution in the sector as an increasing number of gourmet restaurants now offer kid-friendly menus. Ready to enjoy a unique culinary experience with your family? Then let yourself be tempted by our selection crafted for the whole family. Enjoy your meal!
Many people combine gastronomy and a 5-star stay. The discovery of new flavours and textures titillates our taste buds and takes us on a journey into an unknown world. To be able to enjoy small dishes with your whole tribe, we have selected several renowned kids-friendly addresses. This way, you no longer have to deprive yourself of a good gourmet meal during your family getaways.
La Table de l'Ours – Val-d'Isère, France
When you mention mountain stays, you always think about nice warm comfort food. But, next to the rich and sometimes heavy mountain dishes, it is also possible to combine the comfy side with subtile flavor alliance. In this mindset, the starred Chef Antoine Gras leads the Table de l'Ours, 1 star-primed by the Guide Michelin. In its wooded and intimate setting, the restaurant highlights Savoyard and French culinary creations. Driven by its Auvergnat Chef, starred at 24, the Table de l'Ours offers a tasty cuisine with bold but always successful combinations. Enjoy and delight this table journey while contemplating the Val-d'Isère through the restaurant's panoramic windows. Open from Tuesday to Saturday, the restaurant's ultimate goal is to make you live an out-of-this world culinary experience.
The Table de l'Ours is located in famous Hôtel les Barmes de l'Ours ***** in Val-d'Isère. Next to ski slopes, the hotel is a high-end cocoon with lodges boasting luxury commodities. Children will marvel at the Kids-club, full of games, books and fun activities. Older kids will delight at the biliard, the video games and the private bowling! For the parents, a jump at the Sisley spa (1000 sqm) after an intense day on the slopes will do just fine. Massages, yoga and wellness sessions are also available at the spa's center. The Barmes de l'Ours will be the most accomodating hosts for a well-being and leisure stay.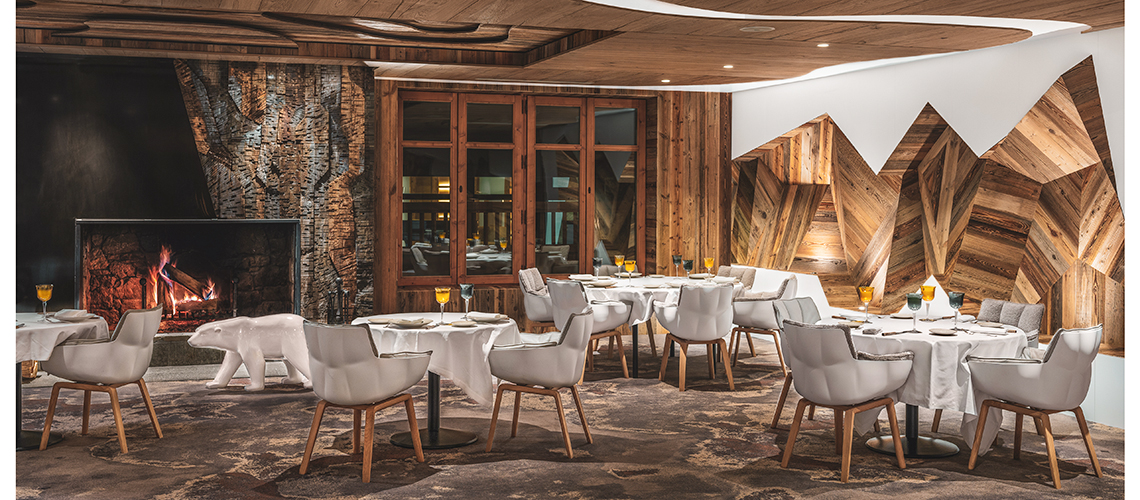 The intimate and wooded Table de l'Ours restaurant
L'Atelier étoile of Joël Robuchon – Paris, France
The capital of France is known for its many gourmet restaurants. Among them is L'Atelier Etoile by the famous chef Joël Robuchon, a totally kids-friendly Michelin star restaurant located next to the Champs Elysées. From the moment of arrival, customers are welcomed in an elegant and friendly setting. Prepared by chef Thierry Karakachian and designed by Joël Robuchon, the menu offers the restaurant's great classics, as well as recipes inspired by seasonal produce. Gourmands can choose between a small or large portion depending on their appetite. It should be noted that Atelier Etoile also has a children's menu. Menu.
To enjoy your stay in the capital of gastronomy, we propose the Hôtel de Sers ***** located at 10 minutes by foot from the Michelin-star restaurant. This romantic hotel steeped in history seduces families looking for luxury and comfort. 45 rooms and 7 carefully decorated suites are available for guests. In addition, some rooms can be connected for families to enjoy a private space.
Le Chantecler – Nice, France
Are you ready to taste a new type of cuisine? Let's meet at Chef Virginie Basselot's Chantecler. Regarded as the best table in Nice, the two-star Michelin restaurant offers a menu inspired by Provence. Sourced from local producers, the fresh products and vegetables are carefully selected. For the record, Virginie Basselot became the restaurant's chef in 2018. This is the first time in the history of Chantecler for a woman to take the helm. A challenge that Virginie Basselot is poised for. We recommend the chef's signature menu, which includes, among other things, a smoked Puglia Burrata in tartar and a delicious lamb fillet served with smoked eggplant caviar and grilled vegetables. The Chantecler, with its cellar and 15,000 bottles, also appeals to wine lovers. Children are also not left out, as there is a special kids menu available.
The Chantecler is hidden in the heart of Europe's most emblematic palace, the Negresco *****. Inaugurated in 1913, this 5-star hotel proudly sits along the equally famous Promenade des Anglais in Nice. A must for any escapade to the Côte d'Azur, Le Négresco boasts 100 rooms and 24 suites. Staying in this hotel also means enjoying a good time and discovering rooms inspired by the mythical periods of French art. In particular, it features an important collection of original furniture, paintings and sculptures. Moreover, young residents in Negresco are well served. They enjoy welcome gifts, children's menus, small pedal cars, adapted cosmetics… So, are you ready to board for « Nissa la bella »?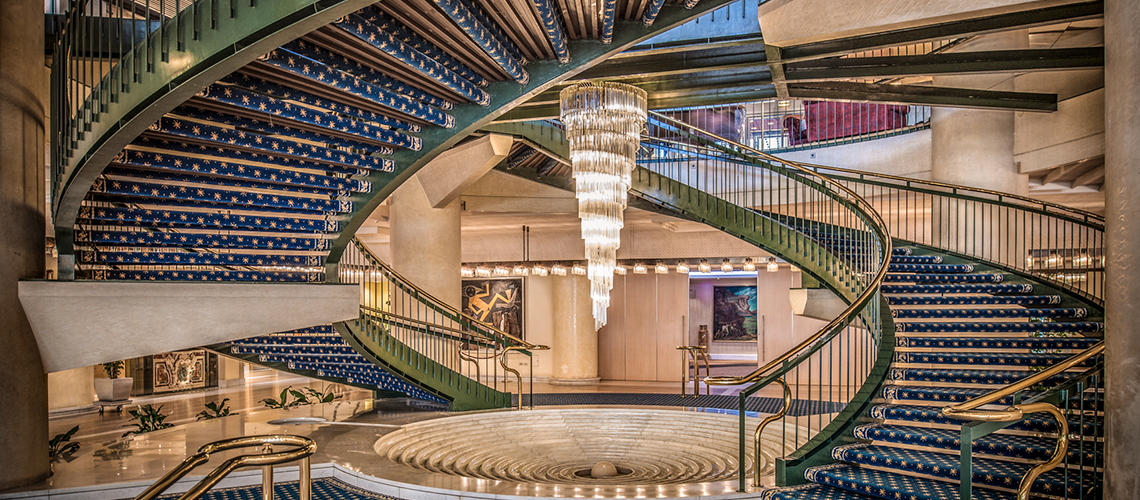 The Roma Cavalieri, a Waldorf Astoria *****, the refinment of the Eternal City
La Pergola – Rome, Italy
Rome, city of history, love, empire and dramas. A city where gastronomy is a highlight and dolce vita an assumed way-of-live. Restaurants challenge each others to charm their guests with a hurricane of fresh and tasty flavours. And if we tell you that a certain Heinz Beck, German founder of the Orders of the Knights of Italian Cuisine, runs the 3-stars restaurant La Pergola, you will just want to rush there! The menu is mouthwatering, between its honey herb-sparkled pigeon or its tartare of amberjack. The sommelier Marc Reitano has designed two wine menus capable of satisfying the most demanding taste buds, flying easily from a Château Lafite to a Gaja Barbaresco. A intense culinary experience that can only embellish your stay in Rome. Menu.
And since fortune favours you, know that La Pergola is in the Roma Cavalieri, a Waldorf Astoria Hotel *****, one of the finest resort of our collection. On top of the Monte Mario, it overlooks the Eternal City from its verdant, away-from-the-hustle location. Children will love the place and the IT Club, a Kids-club that boasts many activities. Of course, making pizzas is one of the highlight so they can cook for you back home. Many scavengers hunts take place in the city, which will allow them to discover Rome and its treasures. For the parents, beside breathtaking sightseeing, the awesome Cavalieri Grand Spa Club invites for exceptionnal treatments to relax after a full visit day and before enjoying the Chef's culinary creations.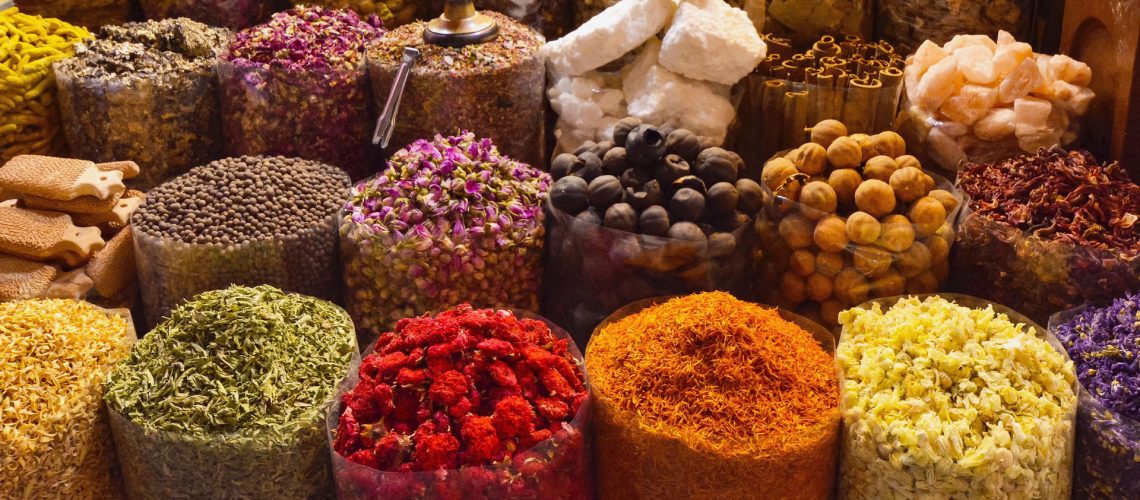 In Morocco, spices are a must!
La Grande Table Marocaine – Marrakech, Morocco
Marrakech is a city that makes you dream. With its countless alleys, its traditional mint tea, fabulously coloured mosques… one of Morocco's largest cities rolls out the red carpet to the many curious people who visit it every year. Among its many assets, Marrakech is home to a restaurant where Moroccan cuisine can finally be appreciated for its true value. La Grande Table Marocaine is an emblematic establishment that revisits the flavours of Morocco's ancestral cuisine. Michelin's 3-star chef, Yannick Alléno, has been offering innovative and creative menus since 2008. Food-loving families choose the Aaïly menu (which means « family sharing ») and are seduced by the lamb shoulder in mechoui, as well as by chicken and lemon tagine confit with marigha salt or royal mansour orange pearls. The cuisine is not the only excellent thing. The setting of La Grande Table Marocaine leaves you stunned. High ceilings, original works of art, designer linen… Everything is designed to provide a real culinary experience. Menu.
To extend your stay in the Red City, we advise you to unpack your bags in the fabulous oriental palace Selman Marrakech. Honoured with three prestigious Awards, this luxurious address is a fine example of oriental Moroccan architecture. Its 80-metre swimming pool, splendid palm grove, impressive stables and complimentary kids-club appeal to families looking for a change of scenery and tranquility. There are also other exclusive activities on offer, including photo shoots, horse-drawn carriage rides, a trip in a classic car or a quad tour. It is understandable why this hotel was voted « Best Hotel in Morocco » by the TripAdvisor website.
Have a great tasting!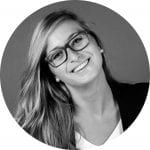 Emilie, 21 years old, lover of literature and travel, from Liège, Belgium