Spaghettis, pizzas, arancini and even cannoli, Italian gastronomy needs no introduction. Sometimes sweet, sometimes salty, it pleases adults and children alike and can be adapted to any taste. Often imitated but never equalled, these specialities are even better under the Italian sun. Here are some of our TOP 3 of the best addresses all over the Peninsula to rediscover the « vera cucina italiana ».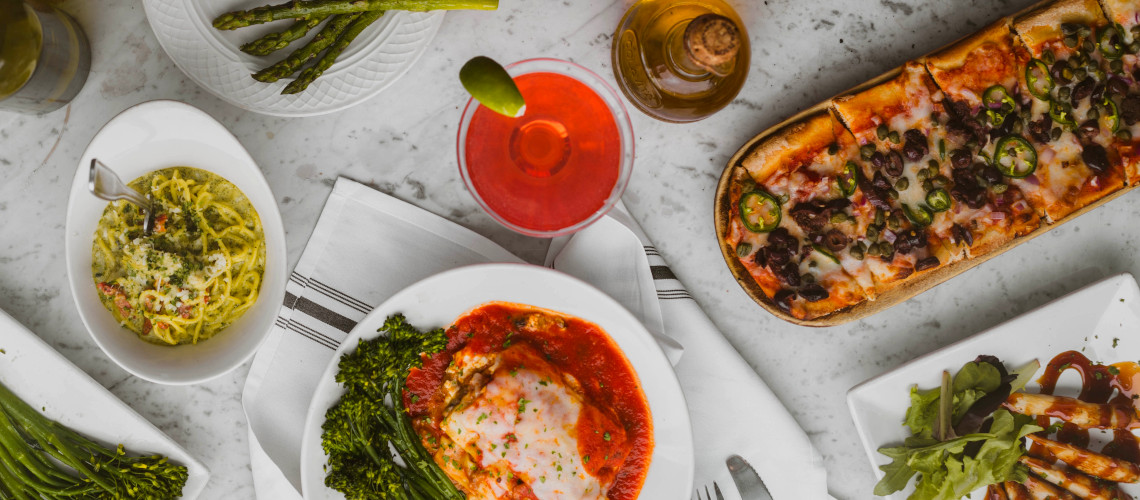 Pasta, pizza, prosecco… These basic notions of Italian are enough for a delicious stay in Italy! 
1 – ARVA, VENICE
JW Marriott Venice & Spa *****
Our journey begins in Venice, a city of culture par excellence. We wander through the charming alleys of this unique city, we cross its famous canals, we get lost in its museums and we marvel at the extraordinary architecture of St. Mark's Square!
All these adventures are very tiring! At dinner time, we meet around one of the charming tables of Arva, a restaurant well known to Italian gastronomes and awarded a star in the Michelin guide. You can sit among the mouldings and paintings in a luxurious atmosphere and enjoy contemporary Mediterranean cuisine. For less formal lunches, a pleasant terrace with a view of the Grand Canal awaits you!
A busy day means a good night's sleep. You can spend them at the JW Marriott Venice Resort & Spa, a splendid 5-star hotel nestled on the Isola delle Rose, the youngest of the islands in the lagoon. The resort offers its guests the quintessence of luxury services and all the facilities necessary for a pleasant stay for families. Located only 15 minutes by boat from St. Mark's Square, the island enjoys a mild and sunny microclimate where a wide variety of plants flourish. Palm trees, willows, lime trees, magnolias and pines reach for the sky, while the estate's olive grove allows the hotel to produce its own olive oil.
2 – ortone
Four Seasons Hotel Firenze *****
Let's go to Florence now. A privileged destination for art history buffs, the city is also renowned for its gastronomy. On a trip to the Tuscan capital, you should visit the dome of Santa Maria del Fiore Cathedral, Brunelleschi's breathtaking work, the Galleria Degli Uffizi, where you can admire Botticelli's emblematic Spring and Ponte Vecchio, once the landmark of Florentine jewellers, among others.
L'Ortone, a renowned trattoria far from the tourist influx, is recommended by Little Guest for its warm atmosphere and excellent food. Florentine specialities such as spinach ravioli with ricotta in the first course, and baccalà, a fish-based dish with leek and fennel in the second. The little ones choose what they want to satisfy their appetite within the children's menu specially dedicated to them.
To find accommodation, you can choose the Four Seasons Hotel Firenze. This listed palazzo built in the 15th century is a real museum, decorated with frescos and art objects. It is equipped with luxurious facilities such as a spa with a sauna and hammam and a heated outdoor swimming pool. For the toddlers, a playground is provided as well as a kids' club where children learn to customize T-shirts and cook delicious pizzas.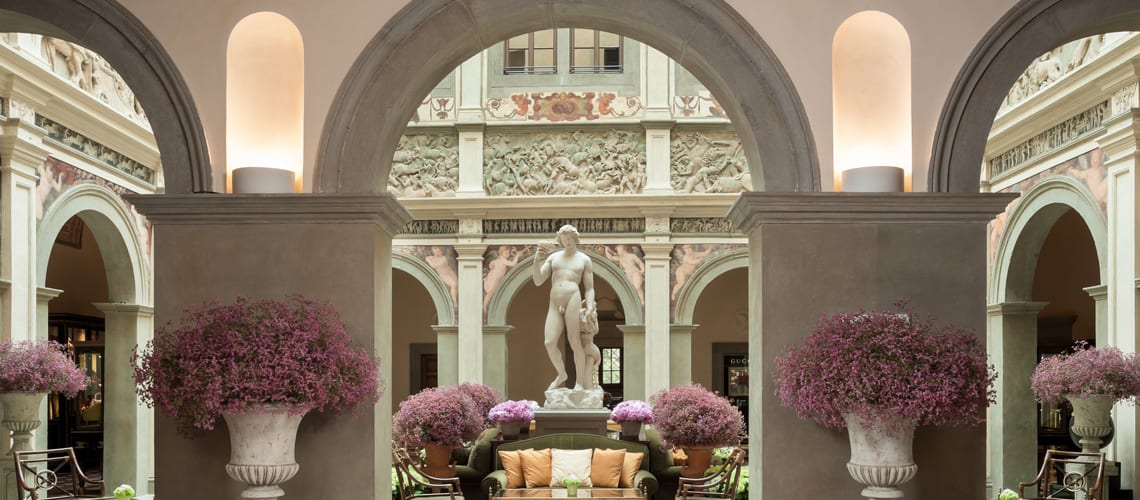 The Four Seasons Hotel in Florence: a concentration of prestige and Italian charm
3 – Montagna di Luce, Valsesia
Mirtillo Rosso Family Hotel ****
Northern Italy is very popular with families because of its breathtaking mountainous landscapes. The alpine valley of Valsesia attracts skiers in winter and hikers in summer. Ideal for families: the glaciological path of the Alta Valsesia Natural Park, which traces the geological history of the region.
To taste the delicious Piedmontese specialities, visit the Montagna di Luce. This authentic inn with its typical mountain atmosphere serves traditional cuisine, appreciated by young and old alike. We particularly like its homemade fresh pasta and polenta, which comes in all flavours: butter and sage, mushrooms, sausage or deer stew.
The prestigious landmark of hikers and skiers in Valsesia is, of course, the Mirtillo Rosso Family Hotel. Warm and intimate, it welcomes families throughout the seasons and offers them high-quality services: private ski lessons in the Monterosa resort in winter walks in the heart of nature all year round. Its main asset is undoubtedly its kids' club, which organizes daily recreational and recreational activities for children from 4 to 10 years old.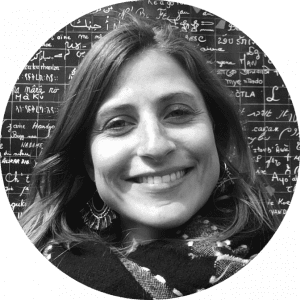 Vic, 25 years old, globetrotter passionate about literature, from Liege, Belgium