Whether it's free or as a sport, archaeological, or simply just for fun, diving is a fascinating activity for those who want to fully enjoy their holidays by the water. With the coastal fish, reef fauna, mysterious wrecks or large marine mammals, the opportunities to be amazed are endless. From the Mediterranean coves through the translucent lagoons of the Indian Ocean, to the shores of Africa, discover the most beautiful destinations with the family.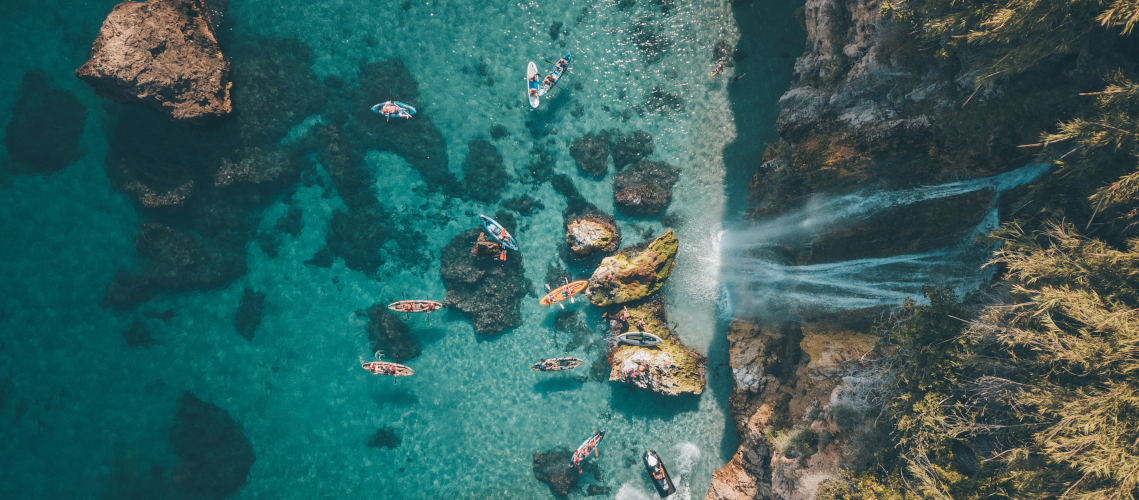 From the age of 10, your children can already undertake their first international PADI certificate, which allows them to experience with you the seas of the world. If you are travelling with toddlers, some luxury hotels have wonderful mini-clubs that offer a variety of fun activities for them: swimming pool, water sports, hiking, treasure hunts on the beach, painting, video games … Dive away with peace of mind as they enjoy an holiday.
Summary
1 – EUROPE
Crete
The largest of the Greek islands is undeniably one of the most beautiful diving spots in the Mediterranean. Its blue waters, with an average temperature of 24°c, from June to October and a visibility of more than 30m, are a peaceful haven to discover calamari, seahorses, lobsters, scorpionfish or stingrays that are found around the typical volcanic rocks of coastal lands in the region. One of the pleasures of diving in Crete is also to contemplate its thousand-year history by swimming between the columns, the walls and the old amphoras which constitute the countless archaeological sites swarming the seabed.
Visit the beautiful village of Elounda, and from the shore, you can easily reach, the sunken city of Olous for unforgettable snorkelling (diving with mask and tuba) day. To do this, we advise you to equip yourself at the nearby Blue Dolphin Diving Center. They work with local authorities and marine biologists and will provide you with all the tips and equipment to make this tour a success under optimal conditions. Itinerary.
Not far from these exceptional dive sites, near the small town of Agios Nikolaeos, the Daios Cove Luxury Resort & Villas ***** is, undoubtedly, the ideal pied-à-terre for your stay in Crete. With its superb facilities and services, the establishment ̶ which also has its own PADI diving club ̶ is particularly suitable for families. Villas with private pools, family rooms, high-level nursery and COMPLEMENTARY kids-club, as well as a ton of activities for young and old, will surely give you an unforgettable stay.
Costa del Sol
If the coast of Andalusia is one of the most popular European destinations for tourists, few are the travellers are aware of its underwater riches. In the North of the Gibraltar Strait, the entire region is a natural funnel that brings together hundreds of species of fish and plants that are typical of the western Mediterranean.
In these calm waters, whose ideal temperatures oscillate between 21° and 25° from June to October, you will be able to observe crabs, anemones, gorgonians or lobsters off the inshore grounds, and further offshore, it is very common to come across dolphins and pilot whales.
To get into the water safely and professionally, we recommend you visit Estepona, where you will find the Estepona Dive Centre, a dive centre focused on teaching which offers PADI diving training courses, programs for children, snorkelling, but also more advanced courses.  Itinerary.
To make the most of your peaceful stay on the Costa del Sol, consider booking a room at a special hotel. The Ikos Andalusia ***** is a beautiful all-inclusive resort that offers everything you could want for a successful family vacation. Pools, private beaches, steam rooms, endless sports activities, Michelin starred restaurants, and more, it is a place of comfort and luxury with a thousand possibilities. The hotel has an exceptional baby-club, an amazing COMPLEMENTARY kids-club and a superb teens-club FREE OF CHARGE for teenagers to 17 years old.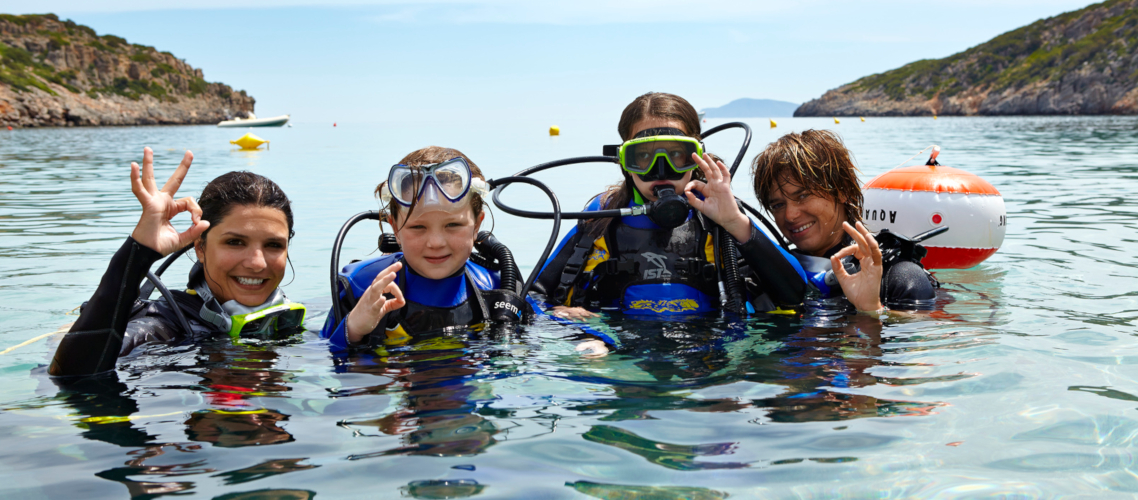 2 – ASIA
Thailand
The kingdom, with its countless islands and coves, is simply one of the most beautiful destinations in the world to discover the wonders of underwater life.
The two main dive areas are the Andaman Sea on the West Coast and the Gulf of Thailand on the East Coast. In this country with a tropical climate, the average temperature is between 25°C and 32°C depending on the season, and the temperature of the water is around 29°C all year round! For better visibility during your sea adventures, the best time is certainly between November and April, at the end of the monsoon season and during the dry season.
We advise you to go to the West Coast of the Phuket province, at Nai Yang beach, which is a perfect base camp for you to conquer the Andaman Sea. In a friendly atmosphere, the Paradise Diving Club will welcome you with great professionalism for exciting excursions. Itinerary.
You can travel by boat along the coast for a half-day trip to the small island of Koh Waeo, which offers an impressive variety of reef fish and colourful coral gardens. Further North, the Similan Islands are ranked in the top 10 most beautiful diving spots in the world and offer breath-taking underwater views. Shipwrecks are also numerous in the region.
In order to relax under the best possible conditions, The Slate ***** hotel, located 100m from the diving club, is undoubtedly the best option. Surrounded by silver-blue palm trees and gently rocked by birdsong, this little corner of paradise offers design, refinement and incredible luxury. With its private beach, art gallery, cooking school, amazing restaurants, and a multitude of kids' activities, The Slate is a dream come true for the whole family.
Bali
The pearl of Indonesia is a must-see destination for those wishing to immerse themselves in one of the most beautiful cultures of Asia. With its impressive volcanoes, rice terraces, impenetrable forests and tasty cuisine, the island is sure to offer you an unforgettable stay.
The destination is also perfect for those who want to indulge in diving or snorkelling. Between May and November, you can enjoy the best conditions, with visibility in the water of 20m to 50m, and a temperature between 25° and 28°C. The island is particularly famous for its Manta rays and « Mola-Mola », the beautiful moonfish.
Bali offers great spots for snorkelling and especially on the East Coast between Padang Bai (the Blue Lagoon) and the village of Amed, a peaceful town known for its beautiful black sand beaches. This whole coast is a divers' paradise and it is extremely easy to rent equipment. With corals, colourful fish, old shipwrecks, discover the joys of a dream snorkelling with your children.
The North-western tip is probably the most naturally preserved. Head towards the village of Pemuretan, which is a model of eco-tourism, since the local authorities have been involved in the protection of the coral reef for thirty years. The Bali Diving Academy is the perfect club to reach the Menjangan Island Marine Park. Its turquoise waters are full of fish, turtles and colourful corals.  Itinerary.
What better way to live your Balinese adventures in peace with your children than to book a family villa? The Villa Sungai is an exceptional place, a haven among the rice fields, where everything is made to make you feel at home. In a Zen-like space where tradition and modernity meet, personalized and exclusive service is offered, an infinity pool of 18m, a music room, tailored spa treatments, and culinary creations by 4 talented chefs. Your kids will enjoy a custom-made program with a body treatment, game rooms, dance classes, crafts, and more. A paradise, on the island of the gods.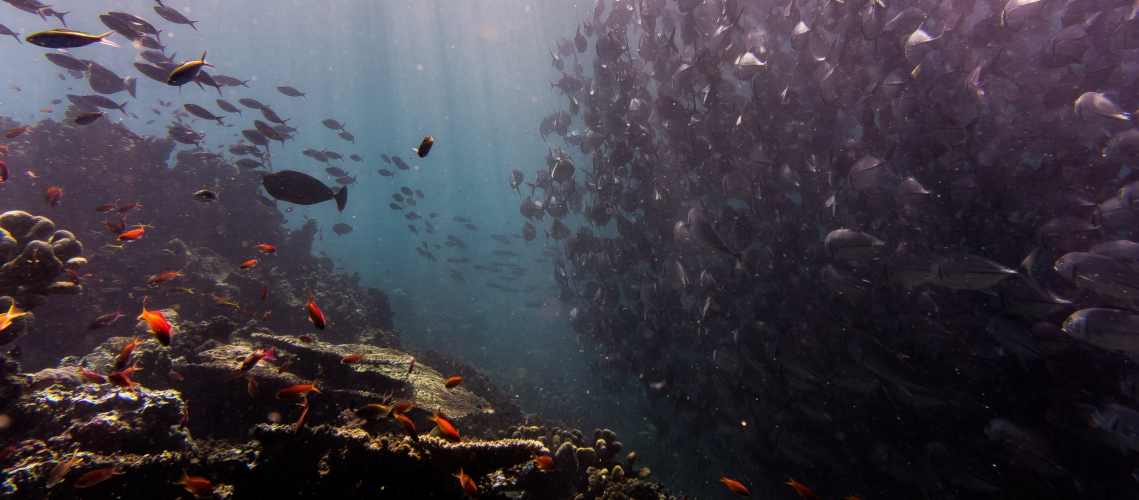 3 – DREAM ISLANDS
Maldives
With more than 1190 islands and small islands nestled in the heart of the Indian Ocean, the Maldives are the embodiment of diving spots. To find out more about this exceptional destination, don't hesitate to take a look at our practical guide to the Maldives! Its different atolls are coral belts containing cavities sheltering an extremely rich sedentary underwater fauna: clownfish, surgeons, triggerfish, groupers, moray eels…
With water at a temperature between 26°c and 32°c all year long, as well as visibility between 20m and 40m, it is a real pleasure to explore these areas full of life. The archipelago is particularly suitable for snorkelling trips, with the depth of the water often being between 10 and 20m.
North Male Atoll is a popular area for its many iconic sites. We advise you to go to the Euro-Divers centre on the island of Eriyadu, which has the best reputation and allows you to visit around forty beautiful spots. Among them, the Furana Thila, which is a reef serving as a « cleaning station » with majestic Manta rays; the Banana Reef, which rises almost to the surface (2m deep), and houses soldierfish and splendid Napoleon fish; or the shipwreck of the Victory, which sits at 35m depth, and allows you to observe batfish (small flat multi-coloured fish) and barracudas as well as many nudibranchs (brightly coloured marine molluscs). Itinerary.
For a relaxing holiday in the Maldives, the best option is to book a hotel stay. Look no further, at the tip of North Male on Olhahali Island, unfolds one of the finest establishments in the Maldives: Jumeirah Maldives *****.
This « island-resort » offers its little guests and their parents luxurious family villas on the beach or on stilts, equipped with swimming pools and a private lagoon. Hosted by childhood and entertainment professionals, its incredible PLAY Mini Club welcomes children from 3 to 11 years old, FREE OF CHARGE. And with catamaran or luxury speedboat rides, private yacht mini-cruises, and even seaplane photographic trips, everything is available for the tribe to enjoy an unforgettable vacation.
Mauritius Island
Between Reunion island in the West and Rodrigues Island in the East, the young Mauritian republic is one of the most prosperous islands of the Indian Ocean. Rich in Creole, African, English, French, Indian or Arab heritage, this beautiful island is a particularly popular area for diving and snorkelling enthusiasts.
Half an hour from the capital Port-Louis, on the West coast, Flic en Flac is a charming fishing village whose narrow pass attracts divers (from 35m to 45m) looking for canyons, arches and underwater caves, home to beautiful black corals, gorgonians, jacks and scorpionfish.
Further north, Grand Bay is famous for its shipwrecks, such as the Silver Star, the Emily, the Waterlily or the Stella Maru. And angelfish, batfish, fish-stones, school of Lutjanus or even surgeon fish feast in their meanders and are pleasing for the eyes.
For an optimal discovery, we invite you to go to the Dive Passion Mauritius dive centre, which is an ideal starting point to discover the most extraordinary area of ​​the island: Belle-Mare. The underwater landscapes along the beaches are sublime, with a lagoon that is perfect for an easy going of snorkelling lessons or just quiet snorkelling, and areas for slightly more experienced divers, such as the Passe, where you can especially come across gorgonians, groupers and even blacktip sharks, swimming around corals and multi-coloured nudibranchs.  Itinerary.
A stone's throw from the dive centre, a dream base for holidays in Mauritius: LUX Belle Mare *****.
This magical place combining nature, charm and modernity has the largest pool on the island (2000m²!) and has everything for young and old to stay in extraordinary conditions. The property has a kids-club that welcomes, children ages 3 to 11 FREE OF CHARGE, a dream teens-club, and offers a gym, spa, golf course and other relaxing activities to its privileged guests. Awesome!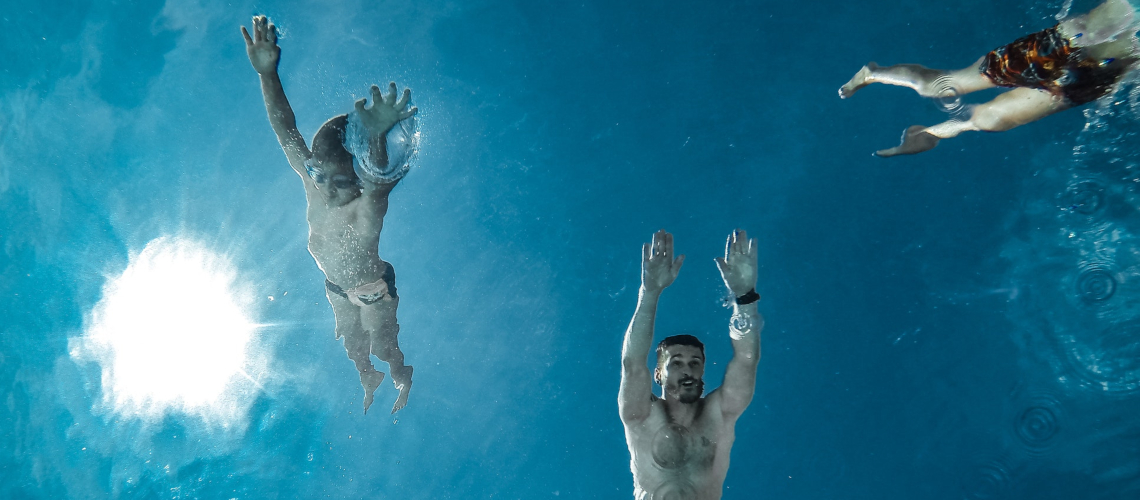 4 – THE MIDDLE EAST
Turkey
The country has beautiful coastlines, especially those of the Turkish Riviera and those of the Aegean Sea. Land of passage and history, the seabed is full of archaeological remains and shipwrecks of all sizes.
Particularity: the water is clearer than in the rest of the Mediterranean, and the currents are quite low, making it a preferred destination for beginners. The ideal time to jump into the water is between April and November, with an average temperature of 24°C.
To add with unforgettable dive moments to your holiday, we advise you to go to the peninsula of Datca, at the crossroads of the Mediterranean and the Aegean Sea. It is in the Marmaris region, between cliffs and the blue sea, that you will find the Aquaholic Dive Centre, a very complete dive centre, which offers courses for all levels and organizes trips in the beautiful bay of Hisarönü.  Itinerary.
Its calm and warm waters, as well as long sunny days, make it an especially distinguished spot for the initiation of snorkelling. You will come across groupers, bream, parrotfish, and even turtles.
The United Arab Emirates
While the Emirates are known worldwide for their impressive economic boom and beautiful shopping centres, there are also many opportunities for diving and sea excursions. The waters of the Persian Gulf are particularly suitable for beginners.
In Abu Dhabi, the Mahara Diving Center, near Al Mina Port, offers a full range of PADI courses and certifications for all levels. The discovery dive program is accessible to children from the age of 10. Itinerary.
It is possible to observe barracudas, spotted eagle rays, stingrays, and many other species that cross along the coast, and especially embarking to contemplate the dozens of shipwrecks that swarm the bottoms of the region like those of the Zaineb and the MV Ludwig. The dive centre also offers day trips to the beautiful Musandam area, where you will encounter a multitude of reef fish swimming amongst yellow and pink corals, manta rays, turtles, and even sharks.
For a luxurious and comfortable stay in the Emirates, we suggest you booking at Saadiyat Rotana Resort And Villas *****, a real paradise for the whole family. The sumptuous rooms, suites and villas by the sea, as well as the services at the forefront, will delight the young and the old. The property has an upscale kids-club, which is really a small hotel within the hotel, and offers a daily activities program, board games, supervised outings in the resort's numerous facilities, or in nearby water parks.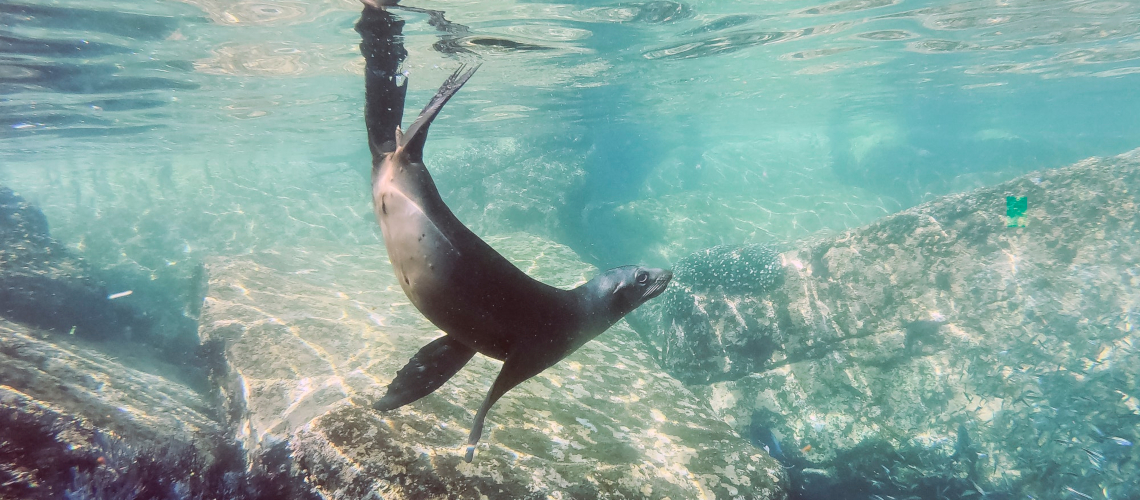 5 – AFRICA
Senegal
Hipe travel destination, Senegal harmoniously combines a wild flourishing nature with dedicated infrastructures all set for you to discover the country. More than 700 kilometers of coastline and about 40 islands make Senegal the perfect spot to discover countless sea depths.
The best moment to practice diving is between April and December, with average temperature reaching 27° C and a peak in May when warm counter-equatorial waters settle down. You can also dive between January and March but bare in mind that both streams and winds are strong, making it more physically challenging.
Senegal is not the first name that comes to mind when mentionning diving, which is actually a good thing since there will be more space for you. Seabeds are laden with ship wrecks, corals and mesmerizing inhabitants. You will encounter dolphins, nurse sharks, huge stingrays, moray eels, parrottfishes or lionfishes. A festival of colors and sensations that will leave amazed.
Diving opportunities are numerous, especially around Dakar and Gorée Island. The Barracuda Club Dakar offers various trips and classes, among which children initiation classes and PADI certifications. With a bit of luck, you might come accross dolphins and whales on your way to diving spots! Itinerary.
If you want to combine the charm of soothing holidays with the discovery of beautiful Senegalese nature, dump your suitcases at Patrick's Lodge *****  at Palmarin Facao. Located only 3h away from Dakar, the hotel allows you to discover the Saloum Delta National Park, classified by UNESCO as a biosphere reserve. Your children will delight at the kids-club and its various activities. Western Africa is within a hand's reach at Patrick's Lodge *****.
Zanzibar
Overlooked by Kilimandjaro, Tanzania is home to a multitude of holiday possibilities. Do you want to hike? Rent a local guide and climb the 5885-meters mountain. More into safari? The Serengeti national park is made for you. In a mood for diving? Explore the 1424 kilometers of Tanzanian coastlines and discover its sea depths. By the way, Zanzibar, its Indian Ocean jewel, is highly praised for scuba diving and snorkeling, boasting thirty or more sites and several schools.
Even though waters are warm enough all year round (27° C average), it is advised to avoid monsoon as heavy rains tend to make it difficult to stay in water. Opt for the period between October and March for a clear and peaceful experience.
Zanzibar is an archipelago made of several islands: the biggest ones Unguja, Pemba, Latham and Mafia, and smaller ones such as Mnemba, Changuu, Bawe or Tumbatu, all of them containing invaluable marine treasures. Its more-than-1-km-large coral reef is absolutely breathtaking. Groupers, Napoleon fishes, reef sharks, black-tip sharks, red tunas or sea turtles abund in the region and offer a blast of colours for beginner and advanced divers.
Unguja boasts several diving schools all over the island. But while most of people rush to the Northern part, choose the peaceful Southern part. With its 5-stars PADI license, the Buccaneer Diving offers diving classes, snorkeling, children initiation and much more. The school has various locations accross the island with diving spots in Michamvi, Dongwe, Bewejuu or Jambiani. Itinerary.
For your adventures on Freddie Mercury's birth island, we selected the White Sand Luxury Villas and Spa ***** facing the turquoise waters of the Indian Ocean. Lovely intimate cocoon with only a handful of villas, the White Sand invites you to an exotic experience thanks to its quality catering and its numerous nautical activities. Various body cares are suggested to fully immerge in your Zanzibar holidays. Icing on the cake, the Buccaneer Diving is located only 2,5 km from the hotel! A good opportunity to march along the beach and its fantastic landscapes before reaching your destination.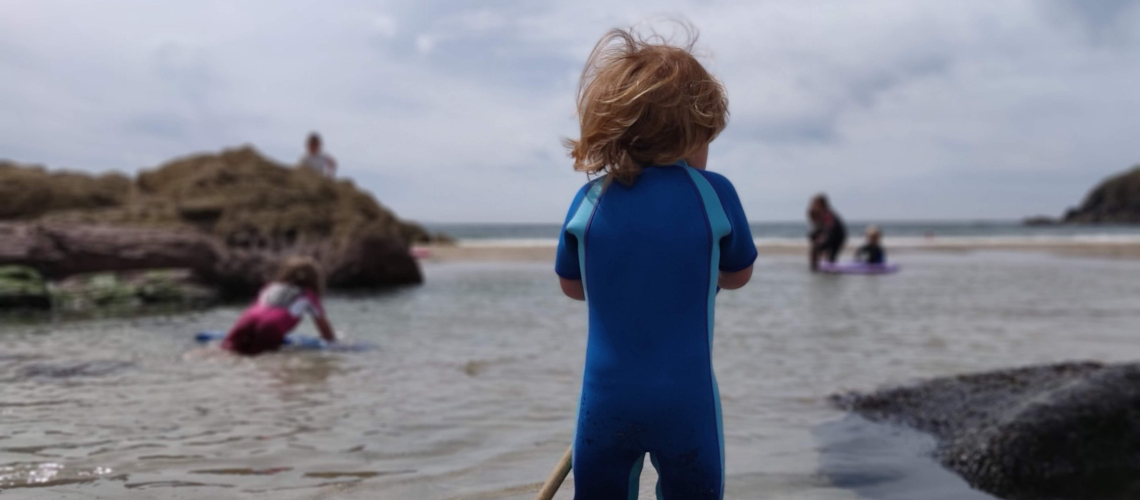 LAST ADVICES
If the exploration of marine spaces is a magnificent way to sublimate your holidays, diving obviously requires a minimum of learning and observing some precautions. Before you storm the world's most beautiful spots with your children, make sure the whole family reaches a satisfactory level, and that the appropriate courses and patents have been or are being followed.
As you have seen in this article, the quality dive centres allow you to fully enjoy your stay, while giving you the tools to practice scuba diving or snorkelling safely, in areas that are adapted to your level.
As you know, getting a good travel insurance is an essential prerequisite to an exotic destination. In case of any incident, this can save you from having to pay a fortune in medical expenses. However, be careful when signing an insurance contract because « extreme » sports such as Bungee jumping, surfing and scuba diving are not always covered.
HAVE A NICE TRIP!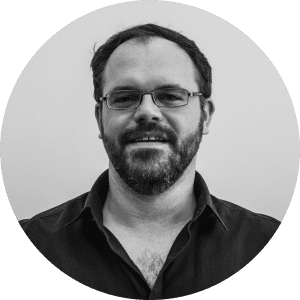 Jean-Philippe, 34 years old, musician and travel lover, from Brussels, Belgium