1. The Maldives in a nutshell
Capital: Malé
Population: 395,000 inhabitants
Area: 298 square kilometre
Currency: the rufiyaa, but everything will be charged in dollars, the common currency used for trade.
Time zone: UTC +5H
Political regime: Presidential Republic
Languages: Divehi, English
Religion: 99% Sunni Muslims (prohibition to wear distinctive signs of other religions)
2. What you need to know
When is the right time to go the Maldives?
If you can, avoid the high season, which is from December to February. There are still too many people in order to really enjoy the places, and also the prices are at their highest. The low season runs from May to November. You will get lower prices, however, the climate is not ideal for a family stay, with many storms and high heat. A good compromise is to choose a stay between March and April.
What budget should be planned?
On an average budget, count on a range between 150 and 400 euros for a night stay in a hotel. A room in a luxury hotel will cost you on average 750 to 800 euros. As for restaurants, count on about $20 per person (approximately 18 euros). If you add local taxes (12%) and other small fees, the daily bill can reach or even exceed $1,000 (approximately 900 euros) per day. You should know that almost everything is imported into the islands. But all in all the dreams and memories created in the Maldives for the children will certainly justify a budget that is worth it. As we say, when you love, you don't count.
How to reach the Maldives?
The most romantic will embark on a white sailboat in a Robinson Crusoe style. The picture is beautiful and tempting, it is true. The others, who are in a hurry to reach their final destination, will probably prefer to travel by plane in order to enjoy precious moments with their family in this idyllic and luxurious environment. From Brussels, several airlines offer flights to the Maldives, including Brussels Airlines, Emirates Airlines and Qatar Airways. The flights include stopovers via Paris, London or Frankfurt. The flight time to Malé International Airport is approximately 15 to 17 hours. On-site, shuttles are either by speedboat, yacht or seaplane and will take you directly to the doors of your palace.
If you are departing from France, Emirates Airlines or XL Airways serve the Maldives from Paris-Charles de Gaulle airport. If you are looking for your holiday destination on the map to show it to your children, you should know that the Maldives is about 373 miles south-west of Sri Lanka. A jewel embedded in the heart of the Indian Ocean that you will discover as if you were the Tex Avery's wolf, his tongue unrolled like the red carpet. More than 1200 islets make up the Maldives, of which barely 200 islands are inhabited.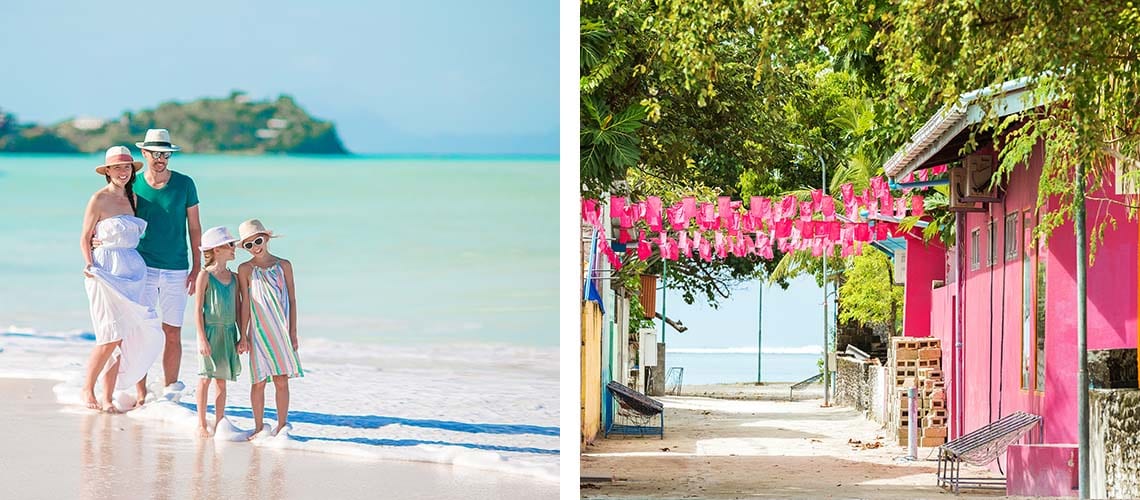 What administrative procedures/ steps do you need to take before the departure?
If you intend to stay less than 30 days, a valid passport for 6 months after the end of your stay will be required. It will entitle you to a 30-day visa. Do not exceed the validity date, otherwise, you will be prosecuted. As proof, you will need to show return tickets for you and your family. And to be able to show a visa for your stay and an address of an accommodation point if you are asked to do so when entering Maldivian territory.
What are the health and safety risks?
While there are no significant health risks in the Maldives, some vaccines are recommended which are those against Hepatitis A and B, Typhoid and Rabies, not to mention universal childhood vaccines. If you are travelling with babies, make sure you have everything you need for them, but most of the time, high-end hotels will have some first aid boxes. Also, you should make sure that you have everything you need for sun protection. Water, sand, the sun is the perfect combination to catch a sunstroke. Think about this kind of things when you are packing such as taking a maximum protection rating cream. If you are going with young children, cover them with a hat and T-shirt. And protect yourself too if you have light skin and get easily sunburned. Don't miss our dedicated guides to the best UV protections, as well as the one dedicated to children's sunglasses!
Concerning security on the island, it is best to leave your valuables in the hotel safe, photocopy your family's passports, scan them and send them to your mailbox. It will be easier if you need them for any reason. In hotels, you will not often need cash, everything will be charged (in dollars) on the room bill. A practical solution that will also save you headaches when converting currencies.
The Maldives, a destination to avoid?
Long decried for its undemocratic domestic policy, the Maldives is now a better place and no longer justifies the call for a boycott that some had been calling for. The Maldives has made a political and religious shift that we explained in an article published in June 2019 and to be re-read here. The Belgian Ministry of Foreign Affairs website does not in any way advise against travelling to the Maldives, it is a destination considered safe, even for families.
The possible risks are those of petty crime, present everywhere, as well as those related to diving accidents. Which you will avoid with the right on-site supervision. The French Foreign Affairs provide excellent security advice, especially with regards to Malé's visit. In the event of problems, Belgian and French tourists can contact their respective Honorary Consulates.
Why going to the Maldives with your family?
Apart from being a destination for unforgettable memories, choosing the Maldives for a family holiday is a wise choice. Why? Because you will be able to show your children the beauty of nature and the need to preserve it. A theme that is particularly important to the younger generations. By discovering the beauty of the lagoons, corals and animal species, your children will inevitably become aware of their fragility. It is up to you to successfully combine the playful and educational aspects during your stay.
Most importantly the Maldives is one of those areas that are at risk -in the long term- of being flooded which is one of a disastrous consequence of global warming. In terms of transportation, travels between atolls are safe by boat or seaplane.
Respect and culture.
As the dictum goes, "When in Rome do as the Romans". Given that the population of the Maldives is predominantly Muslim, alcohol is not available on the islands, except in large hotels or airport bars. And please do not bring your own bottles, they will be confiscated at the airport. Drink water, but not tap water, which is generally not recommended for tourists. Another measure of respect is to dress appropriately when you are outside the hotels.
There is no excuse to stroll around the islands, especially in Malé, in a swimsuit, bikini or light clothing. Except in the case of an excursion to a desert island, where there is a little more tolerance allowed. Even if this applies to any other destination, you should also know that it is forbidden to pick up and leave the country with natural souvenirs, such as shells, sand, coral etc. Don't risk trying. And spread the word to the children, who are often collectors.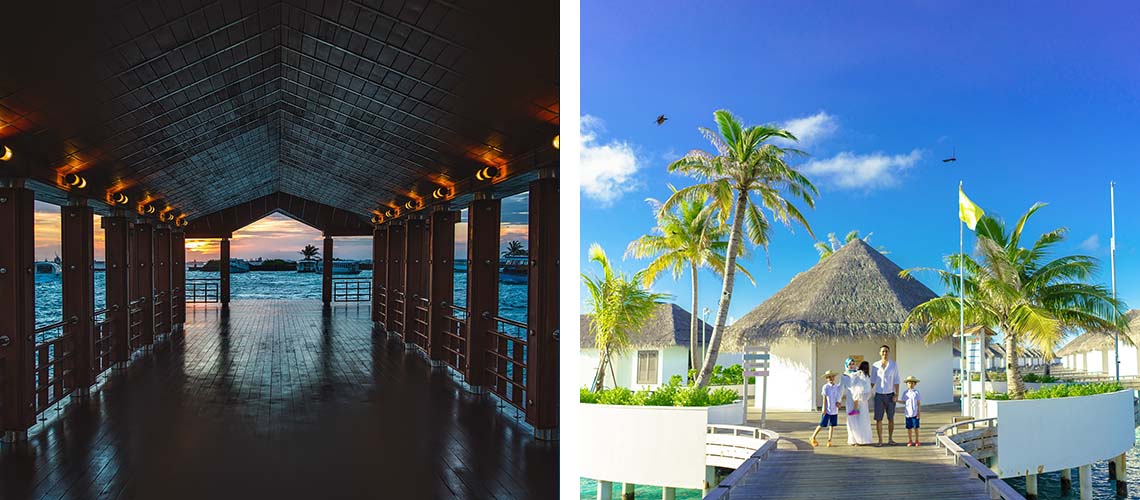 3. A postcard scenery
Blue, green, white and yellow. The colour palette, the crystal water offered by the Maldives contrasts with the grey tones of the European sky. This can only be a dream come true for the family who sets foot for the first time on this island. And the feeling may well be the same on each of your trips to these atolls that everyone dreams of visiting. Don't miss any human interaction with the Maldivians that are known to be very welcoming, low-stress and opened towards the tourists who comes to discover the country. If you appreciate solitude, you should know that of the 1200 islets of the archipelago, only 200 are inhabited. So, if you want some freedom it will be soon fulfilled. And even more so if you want to avoid the overcrowding of the high season. And as images are often better than words, a visit to the Maldivian Tourist Office website is a must.
4. Which hotels to choose for a family stay?