Looking for a sweet escape, rejuvenation and well-being? Treat yourself to a wellness stay in one of our family spa hotels. The Little Guest Spa & Wellness establishments invite you to relax and recharge your batteries. Our selection of hotels meets the highest quality standards to provide you with a unique and memorable experience. Between relaxation and discovery, your spa stay allows you to relax and celebrate your senses with a massage with essential oils, a traditional treatment ritual, a hot tub bath, a sauna or a hammam.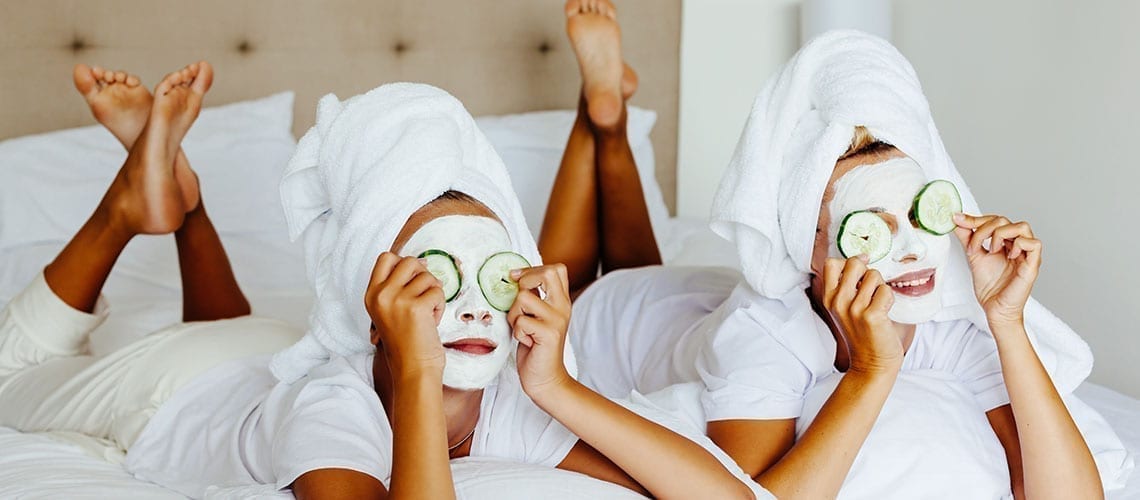 There is nothing better than a wellness stay with the children to separate you from the daily stress. Spa centres offer the opportunity to enjoy magical moments with your family. Taking your children to the spa allows you to create moments of complicity in a warm and relaxing space. Spas are places dedicated to relaxation and well-being and offer multiple treatments for face and body. It is no longer a secret that massages and treatments given to children have many virtues. Touch is a child's most important sense and it is inseparable from his or her development, which is why massages have real beneficial value; they help to relax both body and mind, allowing the child to be calmer and more concentrated, reducing tension or hyperactivity. To gently recharge their batteries and allow each person to regain a balance that is too often upset by daily stress, spa breaks are a solution of choice for families.
First spa break
How to choose the best spa hotel? 
Many luxury hotels now host a spa centre in their star-rated refuge. These wellness resorts not only pamper their guests, but also offer travellers stays based on total well-being and awakening of the senses. The environment also plays a key role in providing a feeling of escape and relaxation. All of our wellness hotels are immersed in a soothing atmosphere with spectacular yet very different landscapes depending on the destination. The choice of the best spa hotel is therefore closely linked to your desire for staging. Turquoise waters, heavenly beaches, snow-capped peaks, opulent forests or historic fortresses, the location helps creating a unique stay in harmony with the natural world. Each complex offers a specific atmosphere with warm hospitality and quality service. To choose the best spa hotel, define the setting best suited to your family stay. The region is also to be taken into account for its climate, which has a considerable effect on body and mind. According to those taking the waters, the climate of Brittany and the Atlantic invigorates, while that of the Mediterranean makes us quieter. Tired people will, therefore, opt for a stay on the North coast, and those willing to relieve stress will go South, and if you are simply looking for a change of scenery, why not take to the open sea to more exotic destinations.
What should we take with us? 
Your wellness stay is fast approaching and with it the question of luggage. You are certainly wondering what to take with you? Here is a checklist of clothes and accessories that are essential for your trip. Towels and bathrobes are provided by the hotels as well as cosmetic products. All Little Guest establishments also have children's facilities and offer services to make your stay easier for families. The small attentions of the various hotel staff contribute to making your stay unforgettable.
A swimsuit: it is more pleasant to bring a second one so that you always have a dry one. Remember to take a swimsuit in which you feel comfortable.
A bathing cap: although it is not mandatory in most spa or thalassotherapy centres, people with long hair are strongly advised to wear one for hygienic reasons.
A pair of plastic flip-flops: very useful for moving around the spa area or from your room to the spa.
A sports outfit: to enjoy the sports activities offered by our Wellness hotels.
A comfortable outfit: to stay in a relaxed atmosphere after a day of treatments.
Sun cream: and a pair of sunglasses depending on the period of your stay.
A moisturizing cream: for the face and body to keep the skin nourished and multiply the benefits of the treatments.
What is a thalassotherapy centre? 
A thalassotherapy centre is a refuge dedicated to well-being and health, an environment of great relaxation to regain radiance and vitality. The philosophy of these restorative retreats is based on rejuvenation and harmony of body and mind. Thalassotherapy is generally located by the sea, as its treatments exploit the benefits of the marine environment: seawater, sea mud, seaweed, sand and other elements extracted from the sea for your well-being. Thalassotherapy also provides a response to targeted problems such as stress, sleep disorders, circulatory problems, hyperactivity, … A wide range of activities is available in our thalassotherapy centres for everyone, young and old alike.
Why should you opt for wellness stays with your family? 
In an ultra-connected daily life amplified by a hectic pace of life, the desire to catch one's breath, listen to one's body and escape from everyday life is often felt. The spa break is a solution to decompress and listen to yourself, but also the opportunity to get together with your family in a soothing setting. In Little Guest wellness hotels, time seems to stand still and hearts beat to the rhythm of the ebb and flow of the waters. The quietness of the place invites you to rediscover the family complicity that stress and fatigue have put to the test. In the protective world of spa centres, children often open up more easily. The opportunity for them to share buried emotions during intimate moments with their families. Spa breaks are beneficial not only for their health but also for their morale.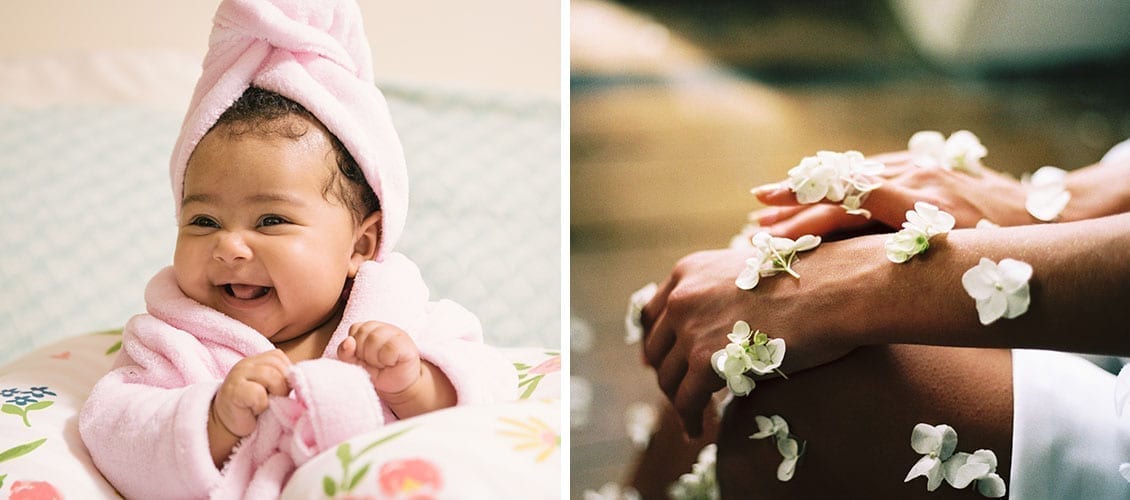 The inescapable quality labels
In France and around the world, several labels guarantee the quality of luxury establishments. Here are a few references that guarantee a high standard:
Relais & Châteaux: an association of exceptional hotels and restaurants run by men and women driven by a passion for their profession. The hotels that are members of Relais & Châteaux aim to preserve local heritage and the environment. Experiences in the Relais & Châteaux estates allow you to discover the richness of a place, its culture and its specificities.
The Little Guest Hotels Collection: a collection of luxury hotels for families. The establishments selected by The Little Guest meet strict standards of welcome, making the stay of families with children easier. To be part of the prestigious Little Guest Collection, each address previously visited is selected on the basis of 27 services, including connecting rooms, loan of strollers, baby cots, supervised swimming, presence of a doctor nearby, children's menus, etc.
Spa-A: association bringing together experts around the spa. The association awards quality labels to wellness centres according to a quality charter established around 5 essential values: the care of families, the provision of treatments, the equipment and premises, the products and the environmental commitment. More than a label, Spa-A is a commitment to excellence.
The most beautiful spa hotels to relax
More than a trend, wellness holidays are now a necessity. Many stared hotels with spas are constantly reinventing themselves to offer holistic and tailor-made packages. In green settings, privileged environments or tropical gems, Little Guest wellness hotels offer wellness cures that are as effective as they are innovative, to reset the meter and restore physical well-being and energy.
In Switzerland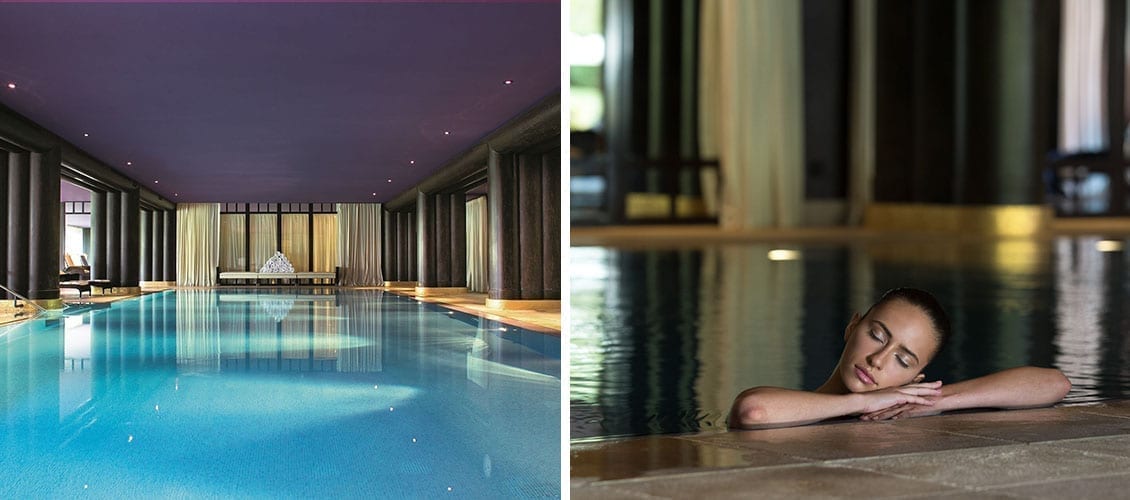 La Réserve Genève Hotel & Spa *****
A quarter of an hour from downtown Geneva, nestled in the centre of a lush 4-hectare park, La Réserve Genève Hotel & Spa contemplates nature peacefully. Its rooms with private terraces face the snow-capped peaks of the majestic Mont-Blanc. Fallen in love with the great African wild plains, the owners wanted to create an exotic atmosphere in the spirit of an African lodge. The establishment presents pure and warm spaces with the sweet scent of Africa. Above the lobby-living room featuring imposing brown leather armchairs, brightly coloured parrots and old leather suitcases, a gigantic elephant sits enthroned.
Relaxation is the watchword of the Réserve Genève Hôtel & Spa. This prestigious establishment welcomes families looking for a well-being break in a relaxing and green environment. The hotel features 102 suites and rooms and a sumptuous villa on the shores of Lake Geneva, decorated by the famous French designer Rémi Tessier. The colonial-style rooms are a true ode to travel. Colourful decoration, room furniture representing wild animals, giraffe cushions, nothing is left to chance to give guests a taste of Africa.
Family first  
In this luxury hotel, a special place is given to families, with an essential service offered to young parents. The hotel designed many areas dedicated to children. The kids-club « La Petite Réserve » welcomes children from 6 months to 13 years old every day with a series of recreational, sporting and fun activities on the programme: crafts, board games, obstacle course, swimming lessons, botanical discovery, horse riding, skiing and sledging. Meanwhile, Mum and Dad can enjoy a well-deserved moment of relaxation at the hotel's Nescens Spa.
More than just a relaxing holiday destination, the spa offers exclusive treatments and tailor-made programmes combining nutritional monitoring, physical activity and therapeutic treatments. The spa's medical team favours a personal experience to ensure visible and long-lasting results while preserving the notions of pleasure and well-being. Children are also invited to enjoy the pleasure of the spa and benefit from a range of treatments adapted to their young bodies.
In France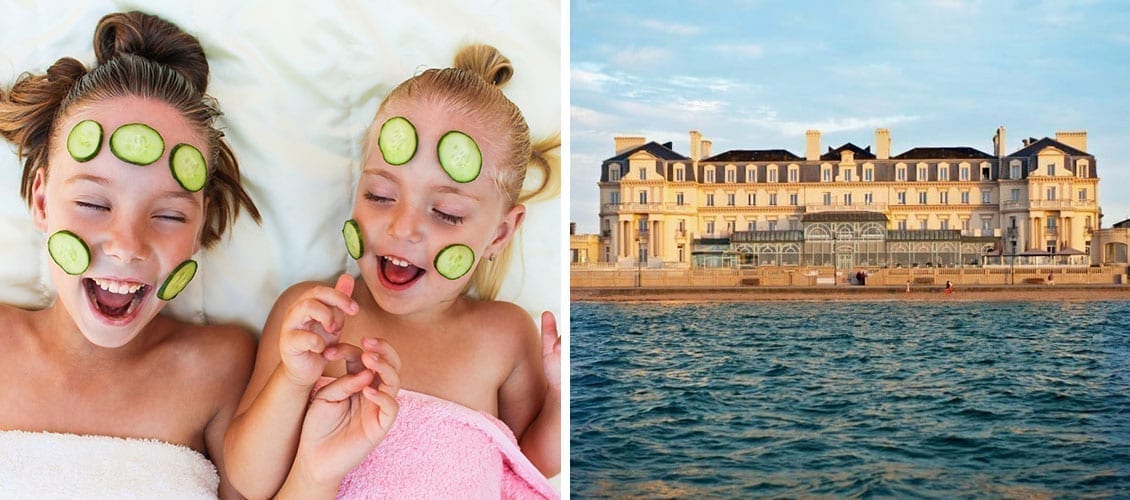 Grand Hôtel des Thermes *****
Head for the Breton coast. Saint-Malo, its fortresses, its privateers, and its Raulic family. Serge the ancestor, 71 years old, is the creator of the Marine Thermal Baths of Saint-Malo. This man, despite his legendary modesty, undoubtedly holds the secret that enabled Saint-Malo to become one of the most popular thalassotherapy destinations in France. Opposite the bay, a historic building of Belle Epoque architecture stands majestically: the Grand Hôtel des Thermes.
The treasure is not only the façade; behind the ancient walls hides a hotel like no other. The long building bought by Serge Raulic in 1981 houses the largest thalassotherapy centre in France. In a majestic setting, families enjoy a unique luxury getaway. The hotel's rooms are fitted out with the greatest care and undoubtedly meet Little Guest's quality criteria. The essence of the place and its art of living are all part of the Wellness philosophy.
By the wind and waves
The privateer city is the perfect place for a breath of fresh air. Saint-Malo waltzes with the seasons, always so beautiful and proud. The fortress, intact despite the passage of time, keeps the memory of the 1944 bombings alive. Its beauty and history have inspired many writers and painters who have come to appreciate the raw charm of walks facing the sea. In the cobbled streets, a delicious sweet smell of kouign-amann, a traditional cake filled with apples, mixes with the bitter taste of the north wind on your lips. After a long stroll along the beaches lined with breakwaters, there's nothing like a seaweed wrap or a modelling under the affusion of fine sea rain in the thalassotherapy centre of the Grand Hôtel Les Thermes.
The Aquatonic course developed by the establishment invites you to discover the senses, to rejuvenate and reinvigorate through 14 thalassotherapy workshops: counter-current walking corridor, dynamic showers, swan neck, sauna, hammam, ice fountain, water courses and many other facilities and activities as surprising as they are relaxing. In the luxurious decor of the spa, sea and warmth take pride of place with whirlpool baths for family gatherings and seaweed wraps for young and old. In 2020, the Spa is innovating again with a « Sea and Meditation » programme that offers visitors an introduction to mindfulness meditation in order to reconnect with oneself and the elements.
In Italy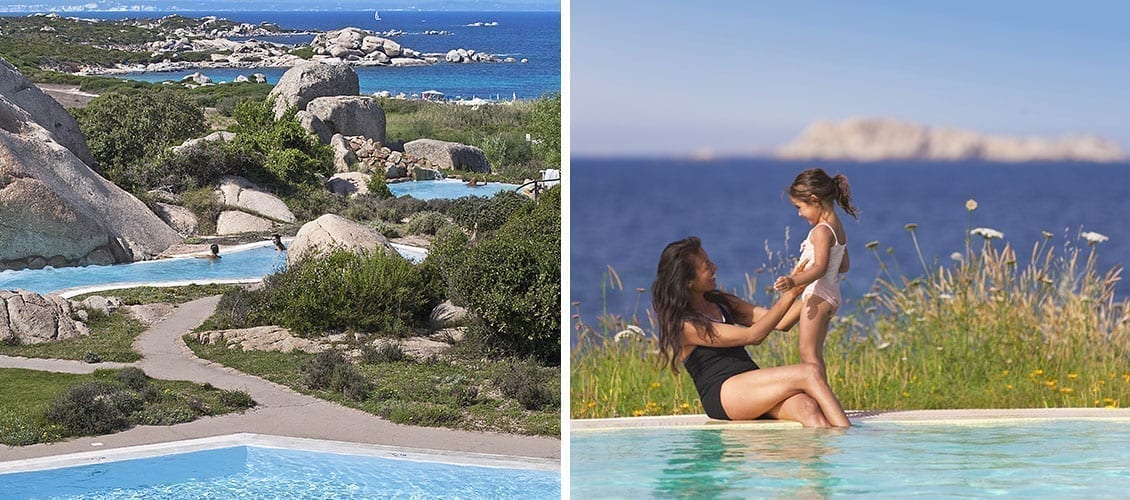 Resort Valle dell'Erica Thalasso & Spa *****
In the north of Sardinia, Resort Valle dell'Erica Thalasso & Spa contemplates the Mediterranean Sea in an exceptional setting, between small romantic coves and long white sandy beaches. In the steep relief, comfortable solariums, covered with wood both inside and outside, are ready to welcome visitors who have come to recharge their batteries for a vitamin-rich stay. The hotel's vocation is to welcome each of its guests in a spirit of relaxation, rest and respect for all.
During the summer months, there are many activities. Between sports, walks and swimming, all ages will find their occupation. In particular, the resort has large, safe green spaces where little ones can have fun in complete freedom and a swimming pool for children. The rest of the year, in addition to the traditional activities, children will enjoy creative ones such as jewellery making and all kinds of crafts.
Bathing between waterfalls and natural rocks 
To spend the night, two choices are available to travellers. On the one hand, La Licciola hotel features spacious rooms specially designed to accommodate large families around two superb swimming pools. On the other hand, the Erica Hotel is set in a private park and decorated with refinement. The rooms scattered inside the park offer a splendid view of a pretty Mediterranean garden with the sea as a backdrop. In Ericaland, children meet to enjoy many activities: playground, sports activities, golf courses, shows and entertainment.
Both hotels have access to a thalassotherapy & spa centre « Le Thermae », a 1600 sqm oasis entirely dedicated to well-being. This luxury centre offers holistic therapies and treatments that focus on deep and general well-being. All the ingredients are brought together to escape and relax. Four seawater pools, one of which is an infinity pool, welcome families for a regenerating bath between waterfalls and natural rocks, overlooking the beautiful Maddalena archipelago.
In Greece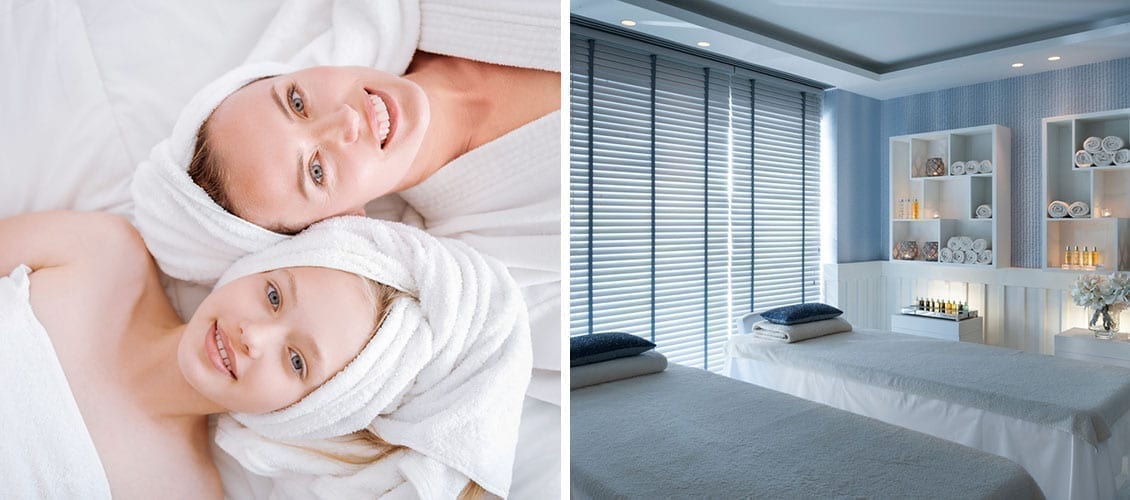 Ikos Olivia *****
A few dozen kilometres from the rich Thessaloniki, on the edge of a wide sandy beach lulled by the crystal-clear waters of the Aegean Sea, lies the Ikos Olivia hotel complex. Born decades ago, from the purchase of land previously owned by the monks of Mount Athos, Ikos is an impressive hotel company whose mission is to bring together an all-inclusive offer and luxury service. Ikos Olivia Hotel has developed a vision, « the infinite Lifestyle », defined as an unlimited luxury experience for a hassle-free holiday. With a refined welcome lounge, an attentive staff and a welcome drink for young and old, the care sets the tone: Ikos Olivia hotel makes it a point of honour to make the stay of families with children as easy as possible.
The architecture brilliantly combines various influences, the interior of this contemporary hotel is characterized by noble materials such as natural stone and wood, all in soft and fresh tones that contribute to the authenticity of this unique place. Different accommodation options are available to accommodate families: rooms, suites or bungalows, all of which enjoy views of the Mediterranean gardens.
Escape, decompress and recharge your batteries
In this corner of paradise between land and sea, where the tranquillity of the azure waters of the Aegean Sea and the smell of olive trees mingle, families reach ultimate happiness. Nature is omnipresent to provide a "back to the roots" feeling and tranquillity. In addition to the many sports activities: windsurfing, beach volleyball, scuba diving, swimming, canoeing, tennis and yoga, the hotel features a spa offering a complete relaxation experience.
This dimension, where body and mind find their complementarity to act as allies, completes the holiday offer for a unique stay. Here, time lives to the rhythm of the ebb and flow of the Aegean Sea. Renamed « the secret paradise of Greece » by its inhabitants, Khalkidhiki is the ideal destination for a stay punctuated by sports activities and moments of relaxation in whirlpool baths and hammams. Immersed in an atmosphere where temperature rises up to 50 degrees, the body relaxes and the mind calms down. The body relaxes and the mind calms down. You mentally de-clutter before the signs of overwork begin to light up.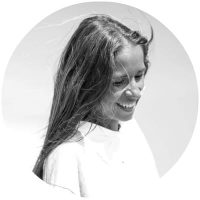 Audrey, 25 years old, journalist and travel lover, from Brussels