Choosing an accommodation for your vacation can be a bit of a headache, right? When you're going away with your family, it's not that easy to find accommodation that offers children's entertainment, a private swimming pool and a kid-friendly atmosphere. However, it is possible to do so, and villa rentals are surely the most convincing example. Whether by the sea or in the mountains, the private villa is a concentrate of the best in luxury and comfort. Between tailor-made services and welcome intimacy, it offers everyone the possibility of putting down their suitcases in their own holiday home for the duration of their stay.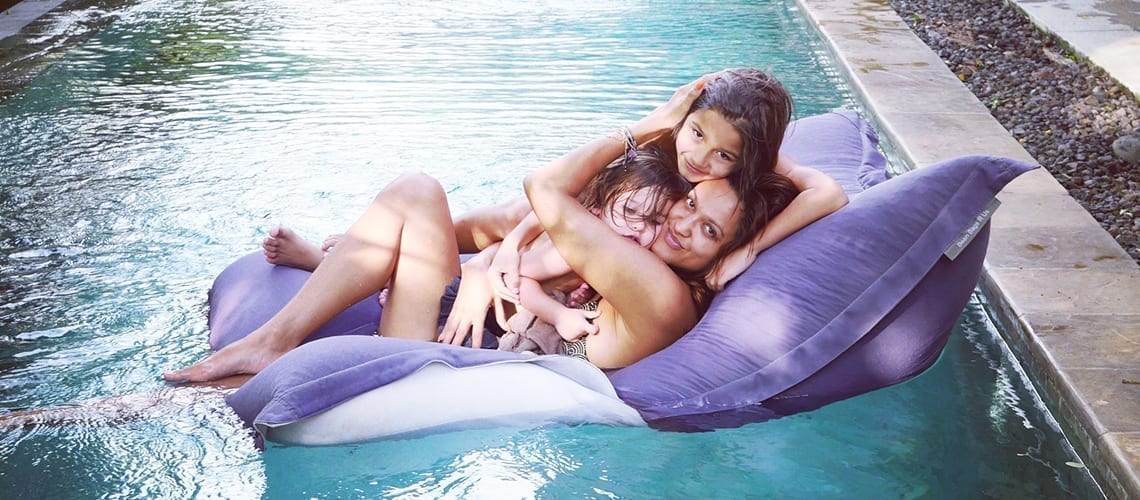 A truly warm and intimate cocoon, the private villa distinguishes itself from other types of accommodation by a clever mix of top-of-the-range hotel services and family independence. Forget about noisy holidaymakers in the next room or crowded hotel restaurants, there is only one watchword in a villa: relaxation. Perfectly suited for families, these beautiful holiday homes have all the facilities you need for the daily life of a happy tribe. Take advantage of the fully equipped kitchen to prepare delicious family meals, soak up the sun on the terrace or dive headfirst into your private pool, all in total privacy. This is surely the main quality of these luxury residences which, in addition to the splendour of their furnishings and decoration, guarantee their inhabitants independence and privacy that is impossible to find in hotels.
THE 3 ESSENTIAL CRITERIA OF THE IDEAL VILLA
Refreshing privacy and independence

: the hectic life of a crowded hotel can sometimes be awkward, even unpleasant, for families looking for a quiet holiday. The villa is the perfect solution to enjoy the comfort of luxury accommodation with unparalleled privacy. Relax by your pool or shake the walls of the house by pushing the sound system to the max; you won't have to worry about prying eyes or neighbourhood conflicts. The intimate character of the villa is complemented by true independence. You are in fact the only masters of the day and it is up to you whether you want to go on an adventure or spend the day basking in the sun, it's up to you. Finally, if you are lacking ideas, the luxury villas in our catalogue often offer kids-friendly animations and activities. Contrary to hotels, where activities may seem « imposed », the villas offer a more than welcome free will.
Luxurious tailor-made services

: if the villas are resolutely intended for families, they are nevertheless as luxurious and comfortable as the most prestigious palaces. In addition to offering a grandiose setting for your holiday, they also guarantee exceptional service. Indeed, as the sole occupants of this luxury residence, you are at the centre of the attention of the entire staff. From a concierge service that helps you discover the treasures of the region to the joys of a swim in your private pool, to the provision of all the equipment necessary for the Little Guests such as a baby bed, a high chair or a stroller, everything is done to make life easier for holiday-makers.
A cosy atmosphere conducive to strengthening family ties

: feeling at home while discovering a new region, that is the promise made by the private villa. And it's no lie to say that the promise is kept. Above all, being the only family occupying the house guarantees maximum security, as you will not come into contact with strangers. And isn't that what everyone is looking for in their own home? This feeling of security, which is especially necessary for young children, is complemented by the pleasure of being able to live as if you were at home in an idyllic setting. No need to worry about whether the hotel's breakfast will please everyone or whether the rooms really are connecting, the advantage of the villa is actually very simple: it offers all the advantages of home, with the added benefit of state-of-the-art hotel services, enough to help create or strengthen family ties.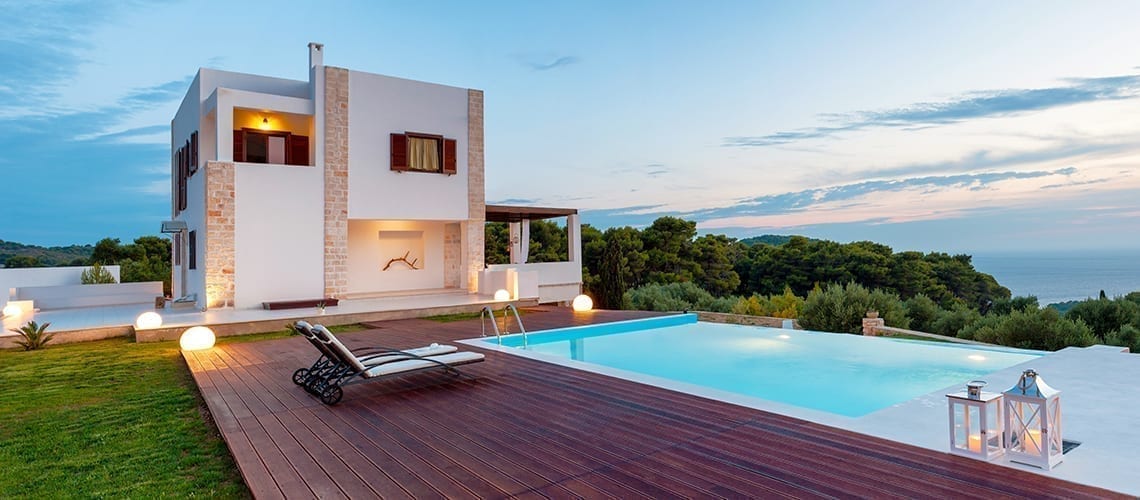 OUR SELECTION OF DREAM VILLAS FOR FAMILIES
At Little Guest, we know that it is sometimes difficult to find the villa of your dreams online due to the number of references available. We, therefore, invite you to follow us on a tour of the most beautiful villas in our collection. Whether you are a local tourist or a traveller to the end of the world, you will surely fall under the charm of our villas.
Le Chalet des Fermes de Marie ***** – France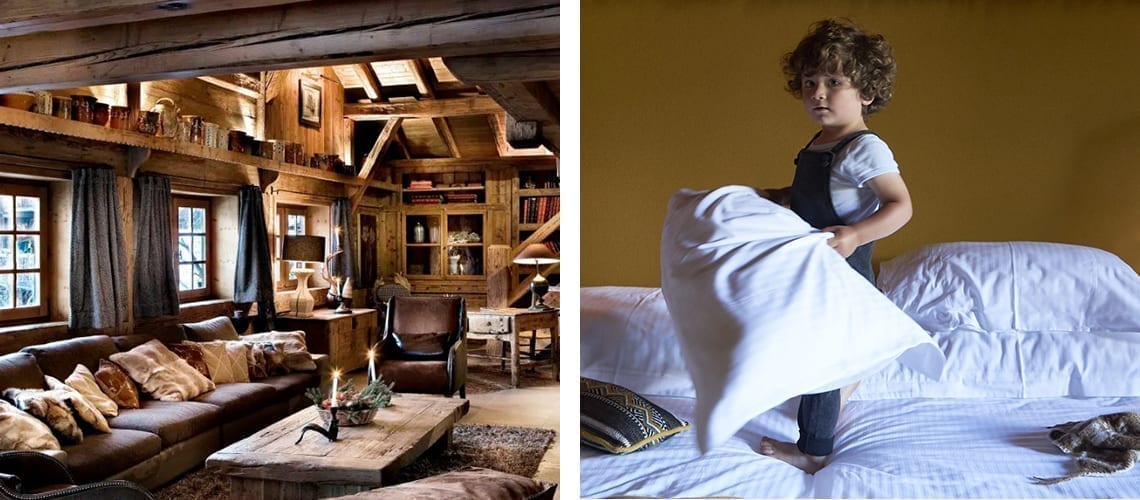 Within this private space of 400 sqm, families enjoy moments of sharing in the various rooms that make up this chalet set in the heart of a magnificent alpine garden.
It is composed of five double bedrooms with adjoining bathrooms, a living room with exposed beams and a fireplace to gather by the fire, as well as a dining room where luxury furniture and noble materials create a chic rustic atmosphere. The fully equipped kitchen, all in aged wood, will delight young and old alike. The most important point remains the private wellness area of your chalet. Here you will spend incredible moments of relaxation and thanks to the whirlpool and sauna. For the sportier, there are rowing, indoor cycling and weight training sessions. Feel like a long massage after so much effort? It's also possible in this chalet where all your dreams come true! As if by magic, an underground passage will allow you to reach the Pure Altitude Spa and the kids-club. On the gastronomy side, you will be able to take advantage of the services of a chef at home or of catering service with a delivery that will allow you to offer a good meal to the whole family, why not accompanied by a good wine advised by the head sommelier. Also, note that breakfast and snacks are offered to you during your stay.
Good news for your toddlers: all of the hotel's restaurants offer children's menus (and allergen-free) and have comfortable high chairs. Les Fermes de Marie also offers a kid-friendly buffet: la Table des Enfants (only available during the French school holidays). This area, supervised by the kid's concierge, offers a buffet of starters and main courses for children.
The Fermes de Marie is therefore intended for families who wish to enjoy tailor-made services and the comfort of a luxury villa.
7Pines Resort Ibiza – Spain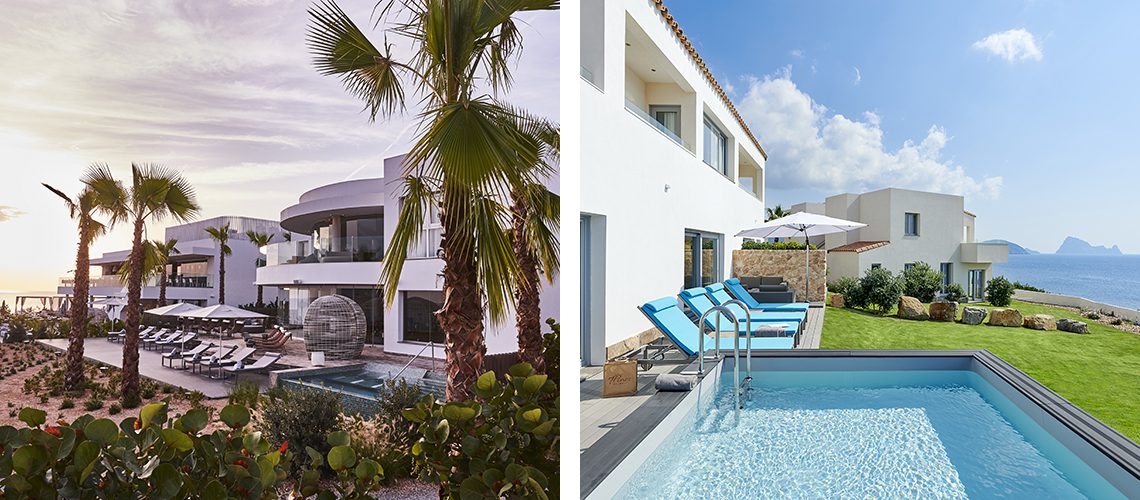 Nested on the Ibiza Island, the 7Pines Resort Ibiza welcomes families under a splendid sun for a wonderful stay in their villa « Villa Es Vedrà« .
This villa offers an absolute comfort with a total surface area of 198 sqm, a panoramic view on the Mediterranean Sea thanks to its position at the top of a cliff. It can accommodate up to 9 persons, which is perfect for a stay in family and with friends. You will also have the opportunity to appreciate an exceptional comfort, without a single worry. A tranquillity and an intimacy that are rarely achieved, besides offering a very contemporary architecture with an Ibizan touch.
Most prestigious place of the 7Pines Resort Ibiza, the guests in this villa can benefit of free transfers from and to the Ibiza Airport, a personalized welcome from a member of the hotel direction, a daily fresh drink refill in the room, but also free classes of meditation in the spa of the hotel or even the help of a personal butler for the whole duration of the stay and many other advantages await: welcome gifts, private cabin for the infinity pool (only accessible to adults). Needless to say, at Ibiza, luxury doesn't wait! Enjoy this exceptional place in family.
Villas of Domaine de Manville – France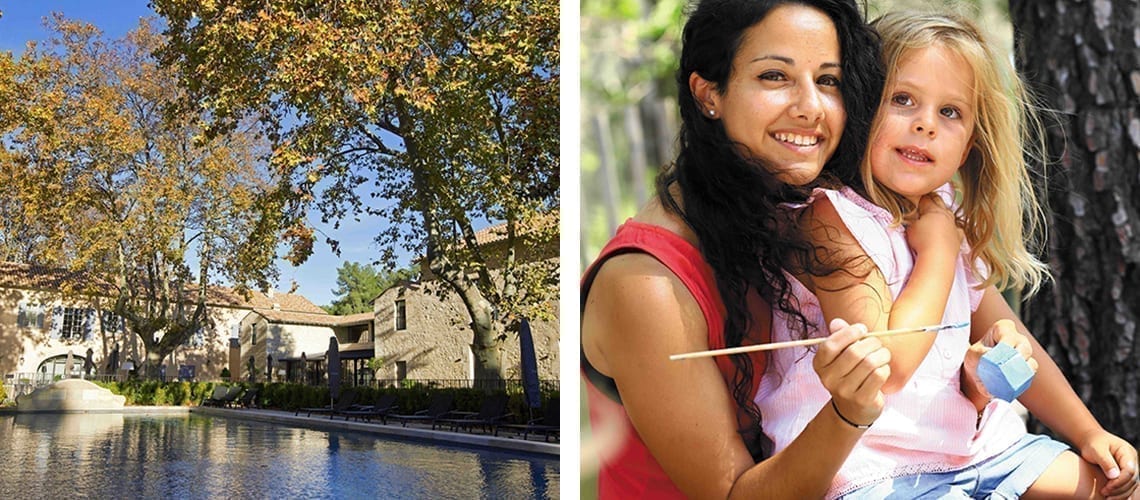 It is in the heart of Les Baux-de-Provence, one of the most beautiful villages in France, with its small squares, cobbled streets and Provencal atmosphere, that the villas of Domaine de Manville are located. Nestled in the heart of the Alpilles nature park, they are surrounded by olive trees, pine trees and vineyards.
The 9 villas have been designed as true havens of peace, refuges where it is good to be isolated with family or friends to enjoy an intimate holiday in complete independence. A cinema, access to the golf course, a spa, 2 outdoor swimming pools, an indoor pool, a seminar room, a library, a gym and two restaurants are available for a relaxing and entertaining holiday. Each offering a generous surface area of 220 sqm, the villas are composed of a ground floor with a large living/dining room, a fully equipped kitchen and a lounge area with fireplace opening onto a magnificent terrace. The 9 villas each offer 3 double bedrooms with individual bathrooms on the first floor – the 4 Bedroom Deluxe Villa has one more, on the ground floor – and are equipped with air conditioning, heating and Wi-Fi network.
In addition to sports sessions organized by professionals, it is possible to schedule cooking classes and have the concierge of the estate book your tickets for countless activities such as bullfighting or plays. Excursions are also organised especially for children in the vicinity of the hotel. The little ones can discover the medieval village and the Château des Baux de Provence, the lake of Saint Remy and the Gallic-Roman city of Glanum. Finally, please note that access to the Kids Club is included in the room rate and reserved for children over 4 years old. For children under this age, the hotel offers a babysitting service at a reasonable price of 15€ per hour and can be booked 48 hours in advance.
The villas of the Domaine de Manville, therefore, offer a wide range of services aimed at families and kid-friendly activities, making these holiday homes real nests of happiness!
Martinhal Quinta – Portugal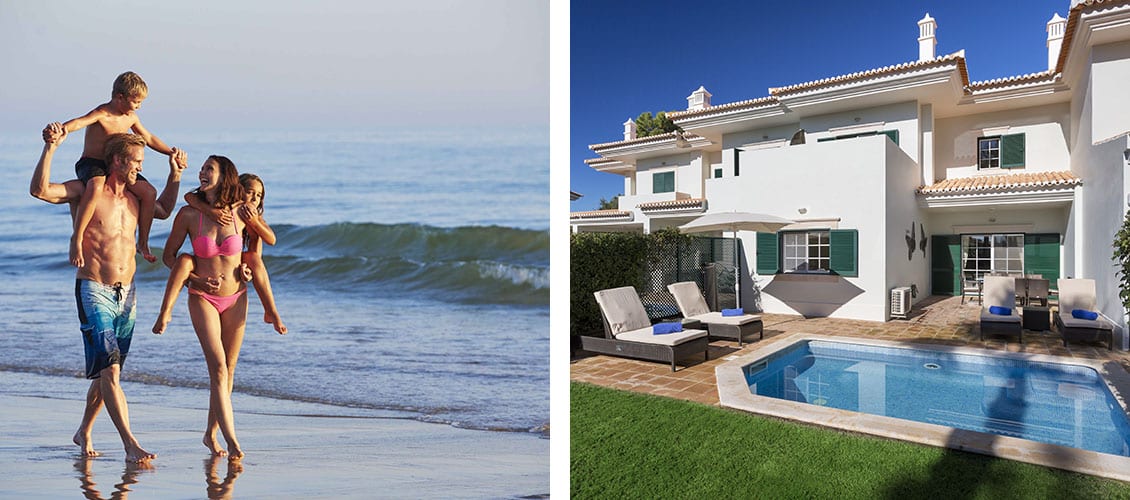 Nestled on the southern part of Portugal, Algarve, this charming address promises you resourcing and well-being, just a few kilometres from stunning natural reserves of the region. Imagined and designed to bring together tribes looking for a safe destination in a dreamlike setting, Martinhal Quinta Family Golf Resort **** offers a hotel service entirely dedicated to your pleasure.
Spread over a small village surrounded by beautiful gardens, the 12 Martinhal Quinta designer villas are carefully decorated with elegance to make you feel at home. The light tones and sands are privileged, which is reminiscent of the coastal villas' style. The floors are made of stone to guarantee maximum freshness in all rooms: en-suite bedrooms, living room and fully equipped kitchen. But the cherry on the cake remains the stunning garden with private pool… to bask in bliss!
And because Little Guest outlines as a major concern the toddlers' happiness, the Martinhal Quinta has been carefully recruited thanks to its incredible babysitting service, its baby club for babies from 6 to 23 months, as well as its kids-club for children from 2 to 9 years old. Beyond this age, the children take part in numerous activities such as water sports and horse riding. But their favourite spot remains the Blue Room where video games and kickers are waiting for them unless it is the magnificent swimming pool with water slides… You'll see!
Martinhal Quinta is the flagship of luxury accommodation and is the perfect place to relax with your family under the Portuguese sun.
But the Little Guest collection also includes other gems in terms of luxury private houses. Here is a short video preview:
BEFORE YOU LEAVE…
To travel without worries with baby and choose the right destination, the advice of an experienced mother is always good to take! Read our very complete article on the subject.
Air travel can be long and boring when you don't know what to do. In order to create the best flying conditions for your child (and for you), Little Guest has put together a list of 10 tips for a safe and easy flight.
To ensure that each of your outings remains a good memory, plan for the most suitable stroller. Find out more about all-terrain strollers by reading our dedicated article.
Staying in a villa is nice, but spending wonderful moments of gentleness and sharing with your family is better! So, if the weather is not nice outside or you lack inspiration to occupy your days, discover the 10 activities listed by Little Guest to have fun at home.
Enjoy your stay!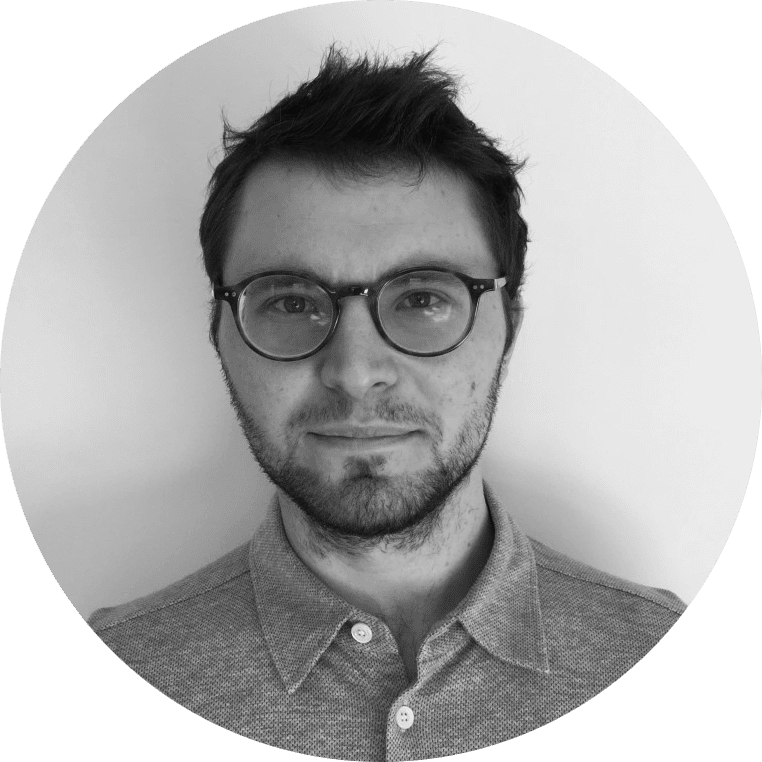 Guillaume, 26 years old, travel lover, from Paris