Note however that if there are few constraints on the minimum age, you must be extremely organized. A trip with your baby is to be prepared well in advance in order to limit and anticipate as much as possible the unexpected and inconveniences.
2 – DESTINATIONS to avoid
From a general point of view, when travelling with young children, it is advised to avoid destinations with a security or sanitation risk. Politically instable countries or ones located in regions where the climate is too harsh are strongly discouraged. A too high altitude is also not ideal for babies, and areas where there is a risk of contracting certain diseases such as malaria are also to be avoided.  It is preferable to opt for regions where the time difference is not too important, so it does not disturb your baby's biologic clock. For exotic travel enthusiasts, think about choosing the right season, meaning the dry season during which the rains are not abundant and during which the humidity is also not too high.
Parents are advised to avoid destinations that are highly exposed to direct sun rays during high season. The skin and eyes of your baby are extremely fragile, but more importantly, they are unable to protect themselves properly from the ugly UV rays without the use of the correct equipment… Then, remember to bring for your little one an anti-UV outfit, a hat, but also baby sunglasses and an adapted organic solar protection.
3 – Recommended countries
During winter
During the winter, the Caribbean is recommended for a trip organised between the months of December and April. The Dominican Republic however remains a delightful family destination. On the agenda: coconut trees and palm trees as far as the eyes can see, turquoise water lagoons, fine white sand beaches, not to mention the easy-going lifestyle of the island and the sense of hospitality of its inhabitants which this country is famous for.
Another Winter destination highly sought out by families is Thailand. South-East Asia is a favourable region of the world for family trips. Considered to be sacred, children receive special attention from the people.
During summer
From the beginning of Spring until the end of Summer, France, Europe usually, offer pleasant weather and a beautiful diversity of landscapes. Greece, Italy or the Beleric islands guarantees a complete change of scenery and luxuriant nature, accessible in only a 4-hour flight from Paris.
Between June and September, Bali remains a very popular destination by families to avoid the monsoon season, which is very trying in this region of the world. The island offers a large panel of nautical and sporting activities in the heart of breath-taking landscapes where white sand beaches mix with paddy fields.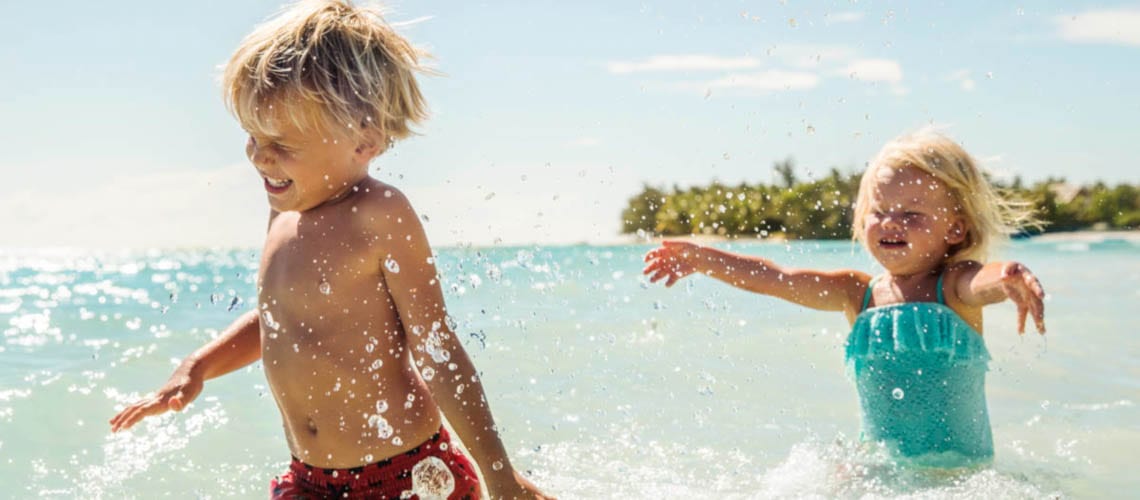 This time, let's take the plunge with baby!
4 – « Baby-friendly » hotels
My most precious piece of advice would be to stay in a family hotel with kids-friendly facilities, just like those offered by The Little Guest Hotels Collection. The quality label put together luxurious and prestigious hotels with essential amenities for your little ones'comfort (car seat, baby bottle warmer, emergency pacifier, sterilizer, etc.), but also baby-clubs. Vacations are even more enjoyable for parents who are able to entrust their baby, without any fear, to care takers specially trained to welcome and entertain them.
Complimentary baby-clubs
The Mazagan Beach & Golf Resort, Morocco
It is on the West coast of Morocco, at the magnificent beach of El Jadida, that children from 3 month to 4 years of age are royalty! At the Mazagan Beach & Golf Resort, a free baby-club offers a large panel of playful and creative activities (drawing, painting, arts and crafts, etc.). The hotel also makes available a great babysitting service for the little ones (14€/h), as well as numerous facilitating equipment needed every day like prams, or kids' menus and high chairs in its restaurants.
The Soneva Kiri, Thailand
Located on the private bay of the island of Koh Kood, the eco-resort Soneva Kiri welcomes thousands of little Robinson Crusoe's every year in its kids-friendly installations. Toddlers from 12 months to 4 years old join the villa of the baby club « Eco Den », where they are welcomed and supervised by experienced care takers. The little ones also enjoy a superb outdoor playground with a swimming pool with its own slide! After 6pm, the nannies of the babysitting service take over (from 16€/h).
Hotels with baby menus
Mirtillo Rosso Family Hotel, Italy
Dedicated to families, the Mirtillo Rosso hotel is a mountain resort with a breathtaking view of the surrounding peaks, as well as all the invigorating benefits of the Alps fresh air. This hotel, a family hotel in every sense of the word, is very attentive to the well-being of the little ones. Its baby-club welcomes little ones from 1 to 3 years old. The establishment has an eye for detail and goes so far as to create moments of mini insertion so the child can familiarize himself with his new environment. Parents are also invited to participate in this essential step for their babies' comfort! There is nothing more reassuring than knowing in which hands the light of our life will be in.
In the same spirit, this establishment prepares custom-made meals for the little ones! The proof is that a menu is especially dedicated to children from 0 to 2 years old: small purees and tasty broths are prepared every day with fresh products as if the Chef were preparing them for his own children!
Shanti Maurice Resort & Spa, Mauritius
Located in a peaceful family spa, Shanti Maurice nestles on the south coast of the island of the same name. It enjoys an idyllic tropical setting and a superb creek inhabited by hundreds of corals.
Shanti Maurice Resort & Spa offers freshly prepared purees and compotes for babies under 6 months of age. To ensure that the small stomach of its « Little Guests » is not disturbed and colic is avoided, the hotel offers not only allergen-free menus but also milk and reheat dishes from the Bledina and Nestlé brands, perfectly adapted to babies.
As a bonus, the hotel offers a baby-club accessible to babies from 4 months old and offers parents a high quality babysitting service!
Villa Sungai, Bali
Do you like custom-made products? Villa Sungai, located on the southwest coast of Bali, folds in four to satisfy everyone's desires. Introduction to local customs, preparation of offerings for the surrounding temples, sharing with the inhabitants of the surrounding communes: a real lesson in life!
While their parents enjoy the restaurant's refined flavors, the little gourmets find their happiness "à la carte". The « Bali Babes » menu offers a wide variety of purees (made from fruit, vegetables, meat, fish) freshly mixed by the Chef for the little ones taste buds. A delight!
Baby-club from 2 months old
Anantara Vilamoura Algarve Resort, Algarve
Looking for a baby club for your little one? After the arrival of a baby, parents often need to recharge their batteries. It's good news Anantara Vilamoura is one of the few establishments in our collection that offers a service for children from 2 months old! Nestled in an enchanting setting not far from the beach and the ocean, this establishment is ideal for exploring the Algarve under the sun.
The nursery's varied program includes many activities: workshops and games to learn colors or letters, to recognize the sound of farm or jungle animals, painting sessions and even baby-gym. To promote and maintain the awakening of babies, Anantara Vilamoura even includes activities inspired by Montessori pedagogy, such as sensory bottles (Our article on Montessori will give you all the keys to learn more about this innovative pedagogy). After all these activities, the « dream time » is the ideal time to gently recharge your batteries.
Le Grand Hôtel des Thermes, Saint Malo
Looking for an iodized break on the Emerald Coast? The Grand Hôtel des Thermes Saint Malo can be recognised by its splendid Belle Epoque facade, behind which hides its famous thalassotherapy centre. Families looking for rest and well-being like to pack their bags in this emblematic hotel.
While their parents relax at the Spa, children from 2 months to 6 years old enjoy an exclusive stimulation space. Open Monday to Saturday, the baby-club is supervised by early childhood professionals. Toddlers who wish to have lunch with their new playmates and their favourite entertainers are welcome at the mini club from 12:30 to 2pm!
Sport Hotel Hermitage & Spa, Andorra
At the bend of the valleys and peaks of the Pyrenees, Andorra is a charming country, perfectly suited for a family break. Renowned for its superb ski slopes, the Principality is a real paradise for skiers and snowboarders! Surrounded by forest, the Sport Hotel Hermitage & Spa offers all the contemporary luxury in a setting that has kept all its authenticity.
At the heart of the establishment, a colourful and playful play area welcomes children from 2 months to 4 years old every day from 10am to 10pm, at a price of 25€/hour. Toddlers play safely under the watchful eye of a professional and experienced team. Lunches can even be taken on site for 10€.
A break of well-being and complicity as well as a dedicated program: mom will learn to massage her baby and communicate with them through exclusive programs, not to mention relaxing and beauty care, while baby will be cared for (from 4 months) by early childhood professionals at Baby Resort. The ideal equation to reconnect with your body!