You are taking care of your grandchildren for the holidays and have decided to take them on a trip, but you don't know where to go, what to pack, which hotel to choose and how to deal with the most difficult moments? To avoid the stress of travel, Little Guest Hotels Collection has designed a complete guide for you to enjoy a successful holiday with your grandchildren.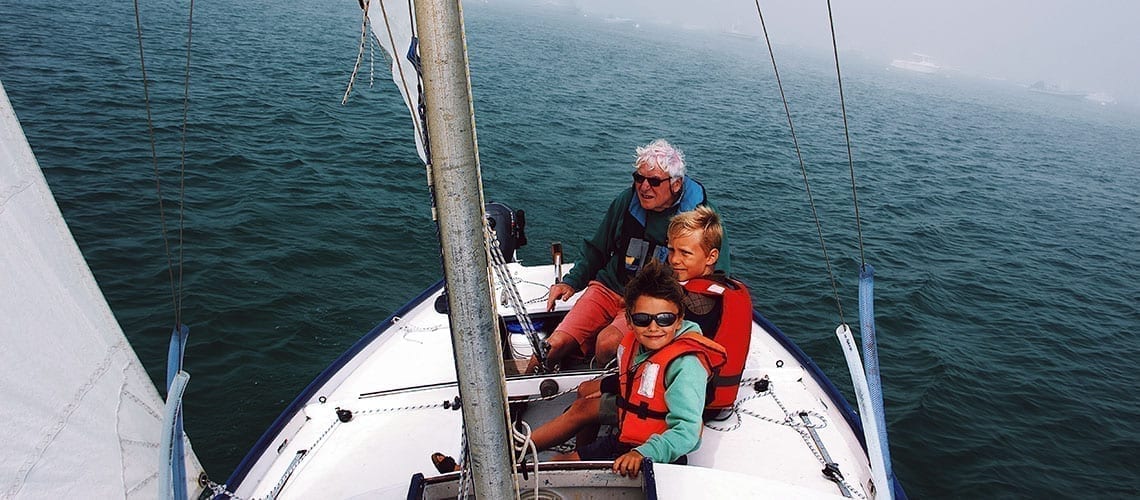 The Love Boat… but be careful not to make Grandpa go crazy!
We call them « Grandpa, Grandma, Granny or Gramps », grandparents play an essential role in their grandchildren's lives. Stressed by daily demands, often with their heads in the game, parents cannot always devote themselves fully to their children and routinely use grandparents to look after their children during school holidays. Toddlers spend most of their holidays with their grandparents. The perfect opportunity for grandparents to pack up with their grandchildren. Follow our 2020 practical guide to prepare this long-awaited stay.
A holiday with a madeleine de Proust flavour
During holidays, many happy children take the road to their grandparents. Parents are not always available to take care of their children during school holidays, so Grandma and Grandpa take over. Spared from the demands of work, retired grandparents can devote all their attention to their grandsons and granddaughters and have the opportunity to take them to new destinations.
For a child, travelling with his grandparents is synonymous with discovery and development. The first trip is like the first flight out of the parental nest. This is an important first step towards autonomy. During the special moments they spend with their grandparents, the latter will transmit to them the family spirit, values of love and advice to help them grow up themselves. The sacred days they spend with their grandparents in this way will certainly be remembered by children all their lives. In the form of sensations, flavours or smells, they will remain forever engraved in their memory.
Questions parents ask themselves
Is our baby ready to go on holiday with his grandparents?
If there is no defined age to leave your child with your parents, it's nevertheless not recommended to send your baby alone to Grandpa and Grandma before the age of 1. During the first few months, a baby may separate from his parents, but only for a few hours. Between about 6 and 9 months, your child may go through a somewhat disturbing period called the « eighth-month anxiety », also called the « 8-month crisis« : for a few weeks, your child has difficulty separating from you. During this transitional period, avoid confronting your baby with a separation that may be poorly experienced. It is from the age of 9 months, when the little one starts to move on all fours and slowly enters the world of bipeds, at this moment your baby can be sent to his grandparents for 1 or 2 days, even a short week. From the age of 12 months, the child, already accustomed to the presence of his grandparents, can go to Grandpa and Grandma's for longer stays. Of course, it will be necessary to wait until your toddler is 3 years old, when they are more comfortable with your absence, to consider letting them go on a trip with their grandparents to places unknown to them.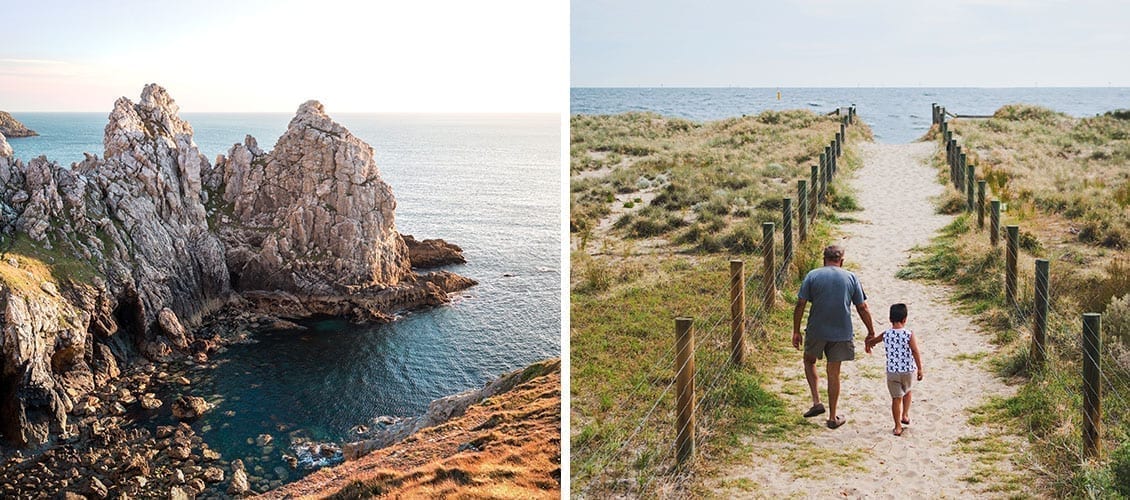 Brittany, one of the favourite destinations of grandparents travelling with their little ones!
How to prepare children to travel without a mom and dad?
To avoid the famous « fear of abandonment » that young children often face, make sure that everything is clear in their minds. Explain to your children in simple words how the separation will work and tell them that you will pick them up at the end of the holiday. Children don't have the same notion of time as you do, so avoid talking to them in terms of number of days. « A few nights » is a better way to approach duration. Preparing your baby to leave with his grandparents also means preparing yourself to let them leave. You need to trust your parents and avoid worries. Inform them of your educational rules and your children's habits, prepare a shortlist with the essential points. For the rest, let go and remember that, there was a time, grandparents were also young parents.
What to do and not to do when you leave your children with their grandparents?
Avoid telephone harassment at all costs. You don't have to call in the morning-mid-day and evening to make sure everything's okay. Let your parents make the decision to call you when your children need it. Parents' vocal outbursts in the holiday world can destabilize children. According to Béatrice Copper-Royer, a French psychologist: « The phone is a false presence that reactivates the feeling of separation. » Calling them too often can do more harm than good. Check with your parents, children don't need to hear your voice every day. Our advice is to use the phone sparingly, send them a postcard instead.
Grandchild care and health benefits
The vast majority of seniors don't hesitate to give their children a helping hand when it comes to caring for grandchildren. About two-thirds of children under 6 years of age are thus cared occasionally (or more ofter) by their grandparents (French study). A childcare mode where everyone benefits. Parents take a break and children are happy to be pampered by Grandpa and Grandma. For grandparents, sharing time with their little « chicks, kittens, chickens… » is worth all the rejuvenation. With the increase in life expectancy, grandparents are taking more and more care of their grandchildren for a long time. Many of them welcome their grandchildren for a weekend or for longer stays.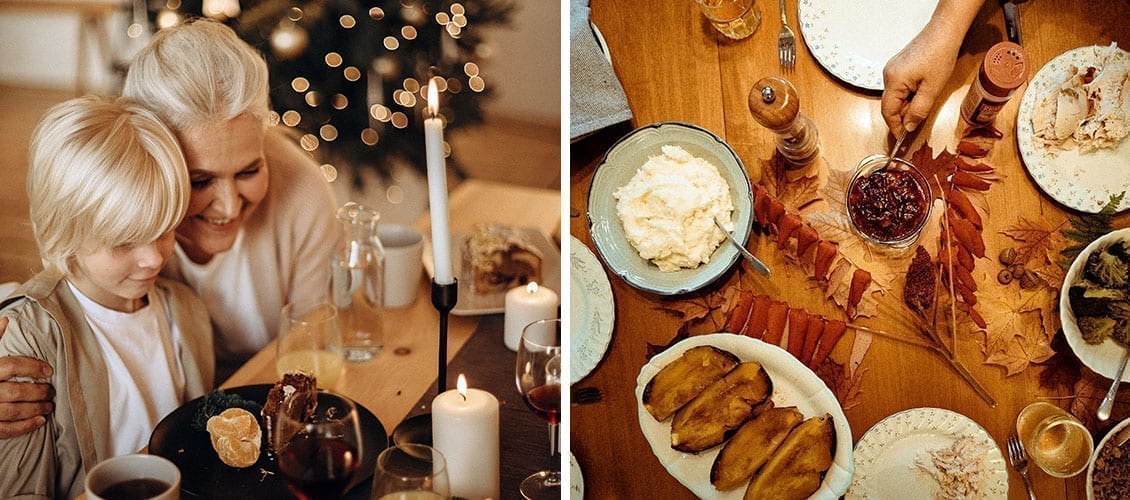 The art of cooking passes from generation to generation… what could be better than Grandma's and Grandpa's meals?
In a study on ageing in Berlin, data from 500 elderly people showed that grandparents who take care of their grandchildren have increased their life expectancy. The grandmothers' hypothesis states that the neural and hormonal system – originally rooted in parenthood and therefore in the role of grandparents – that is activated in child care is an immediate mechanism that promotes prosocial behaviour. The theory suggests that activating the care system would reduce caregiver mortality. Social interaction also helps to keep the brain healthy. Going on a trip with your grandchildren not only builds relationships with your family but also has a positive impact on your health.
Ready to take the plunge
To share moments of leisure and relaxation with your grandchildren and avoid the stress of the unexpected, pay attention to every detail when preparing your trip and luggage. Identity documents, adapted clothing, health insurance, sunglasses and sunscreen… Organising a vacation can sometimes seem like a real obstacle course. In the face of this puzzle, advice sites are like a magic potion. Created by globe-trotting parents or grandparents, these blogs offer good advice to ease the stress of preparation.
Travel checklist
To help you prepare your luggage, Little Guest has written checklists for you so that you don't forget anything when you leave. These exhaustive lists, drawn up according to the children's age, are suitable for short and long trips, in the sun, snow or the tropics. Documents, clothes, games, pharmacy, toiletries, everything is there, it's up to you to find in this listing the important elements for your stay. Consult our checklist for children from 0 to 3 years old, our checklist for children from 3 to 6 years old and our checklist for children from 6 to 12 years old. Define what you need and tick the boxes to make sure you don't forget anything essential in your grandchildren's travel bag. These checklists can be downloaded from our website so that you can print them out to prepare your luggage.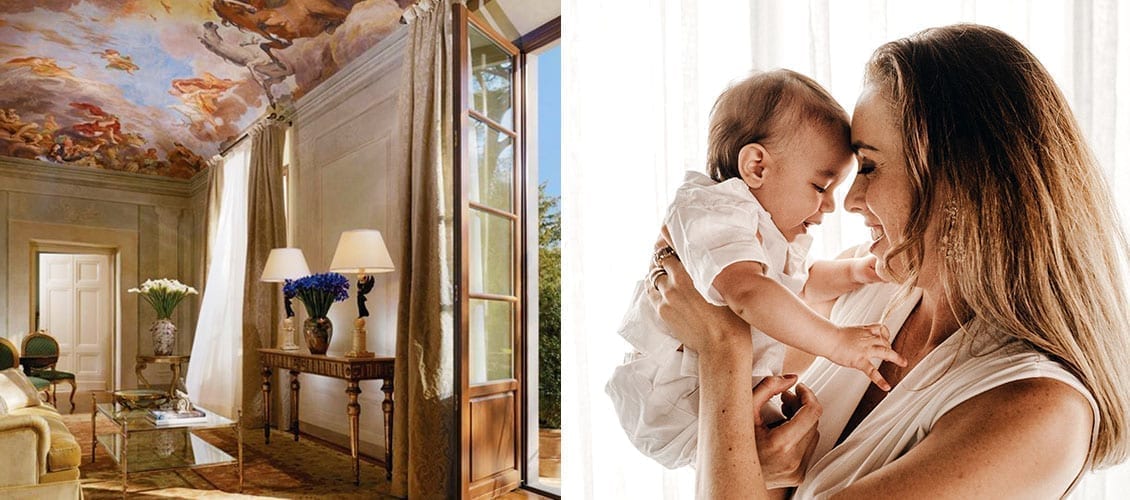 Last hug break before letting your baby fly to Italy with grandma and grandpa where a royal welcome awaits them at the Four Seasons Hotel Firenze *****
Grandchildren… Grand trips
Original travel ideas, a selection of activities to do with your grandchildren, tips to keep them busy at the beach, tips for a successful holiday with the whole family, well-kept secrets to avoid whining during long car journeys, a grandparents' survival kit… subscribe to the newsletter of the Sixty & Me and benefit from many tips to prepare a trip with your grandchildren. You will also find so many good ideas on how to be a dreamy grandparent! Your success is guaranteed!
Getting up to date
Grandparents live in a different time. Freed from the daily stress of working parents, they approach time differently, in a gentle and delicate way. An undeniable virtue. Based on their experiences, they provide real support to their children in learning everyday gestures. With them, children learn to dress themselves, tie their shoes and eat with a fork. Grandmothers are known for their miracle cures and ultra-effective tips. Certainly, in some cases, years do not provide the necessary knowledge and continuous training is essential. Indeed, since they grew up in another era, they are not always informed of new safety recommendations. It's therefore essential that grandparents continually inform themselves in order to provide the best care for their grandchildren.
Grandchildren are wonderful
To take stock of their status as grandparents and understand this new mission, Barbara Troslter and Dr. Myron LaBan helped Elizabeth Laban to launch into the writing of a very practical book entitled « The Grandparents Handbook« , available from the Quirk Books edition. The book combines advice and tips to tell what it's like to be a grandparent. That is a real goldmine for nannies and gramps who are seeking inspiration for fun and creative activities such as indoor camping, museum trips, road trips and apple pies making…
Kids-friendly hotels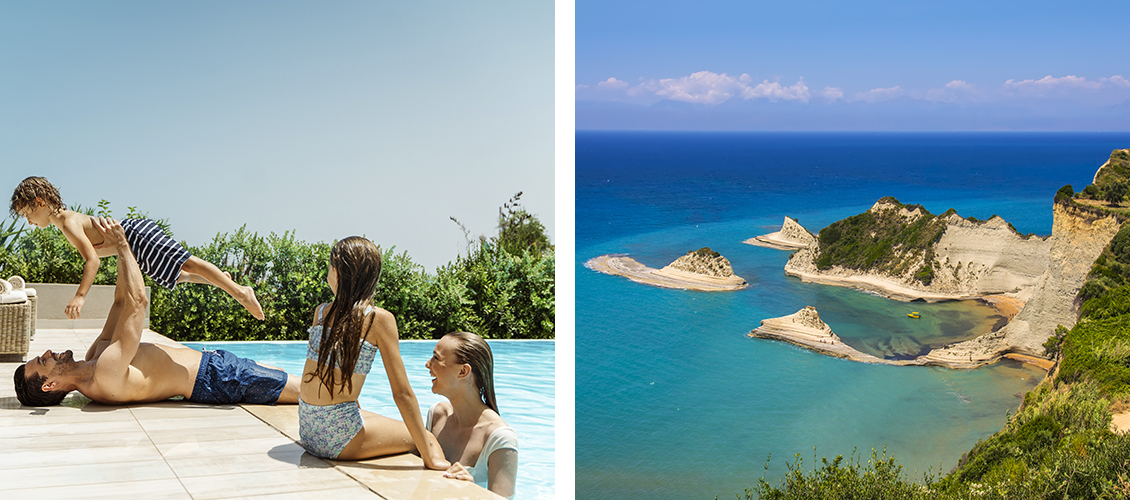 Bathing in family at Ikos Odisia and the beach of the Canal d'Amour
Escape with your grandchildren during the holidays is no longer just about ploughing parks or splashing around in public pools. In recent years, there has been an increasing number of hotels with activities adapted to all ages, allowing grandparents wishing to pack their bags to take their grandchildren with them. To please your little ones, take them to one of the prestigious Little Guest hotels. With kids clubs to welcome your grandchildren, teams of attentive instructors and entertainment designed according to their age, you don't have to worry about the success of the trip. In addition, these hotels offer fitness and wellness packages for adults. An ideal solution to spend time with your grandchildren while taking the time to recharge your batteries.
Ikos Odisia ***** – Greece
Here is a hotel that is perfectly made for families! Located on the Bay of Dassia, in Corfu, this brand new hotel ideally blends with the surrounding nature, at a few steps from the beach. Adapted to all ages, the Ikos Odisia offers a very large choice of activities to do in family, notably in the forests all around, to then relax all together within one of the wonderful rooms or suites that compose this exceptional hotel. Let's not forget the many restaurants of this hotel, ranging from unforgettable Greek specialities to Asian and oriental tasteful dishes, all of such in unique atmospheres, for memorable family meals.
Intelligently conceived to fit in the flora of the Bay of Dassia, you will find many activities to do between children and grandparents, given moreover that the Ikos Odisia ***** brings to you all the necessary amenities such as strollers or a boutique for baby products! Have a walk on the private beaches of Dassia, among which some are adapted to babies and children, or visit the historic centre of the city in family, part of the UNESCO World Heritage, the ancient Palaio Frourio fort, the Achillion Palace, or bathe together in the Canal d'Amour.
Four Seasons Hotel Firenze ***** – Italy
A sumptuous 15th-century palace, Florence's Four Seasons welcomes families in an idyllic setting. Nestled in a magnificent landscaped garden, a few minutes from the centre of Florence and Michelangelo's David, the latest Four Seasons Hotel Firenze wonder is unveiled. In this iconic and historic place, grandparents and grandchildren plunge into the Medici era. Discover the pleasure of staying in an Italian Renaissance palace, a veritable living museum with ancient frescoes, friezes and bas-reliefs, while enjoying contemporary comfort. At the Four Seasons Hotel Firenze, you can have lunch and dinner at Restaurant II Palagio, with a Michelin star, under a magnificent vaulted ceiling or on the outdoor terrace.
Between tradition and modernity, this luxury establishment offers all the necessary equipment for the little travellers. The establishment also has an incredible children's club with activities designed according to their age. From June to September, the Pio Kids-Club welcomes children between the ages of 4 and 12. Instructors organise various creative activities: yoga, cupcake decoration, t-shirt personalisation workshop… The hotel also offers a quality babysitting service, but you can also do outdoor activities with your grandchildren. They will be delighted to play tennis with Grandpa, picnic in the hotel park, explore Florence in Renaioli (a traditional boat), visit Palazzo Vecchio to discover the secrets of the Medici family or have a manicure with Grandma at the hotel's spa.
Our final advice
The key to a successful holiday with your grandchildren is to clear your mind so you don't have to deal with unnecessary stress, keeping in mind the few tips shared above. Read testimonials from globe trotters grandparents, print checklists to make sure you don't forget anything in your grandchildren's bag and choose an age-appropriate destination with activities for children. Give them your attention but don't forget to take the time to recharge your batteries to better enjoy moments together.
Have a good family trip!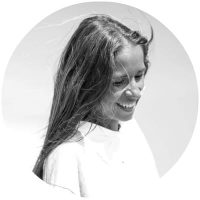 Audrey, 25 years old, journalist and travel lover, from Brussels