Carrying a baby is an ancestral technique that has endured in Africa, South America, Asia, and Oceania for thousands of years. For some anthropologists, the baby carrier may even be the first object to have been created by man. Once abandoned, this technique is now enjoying renewed success in the West, especially since the 1970s. So why adopt it? Today and to help you in your choice, Little Guest offers you to discover the best reasons to choose baby-carrying.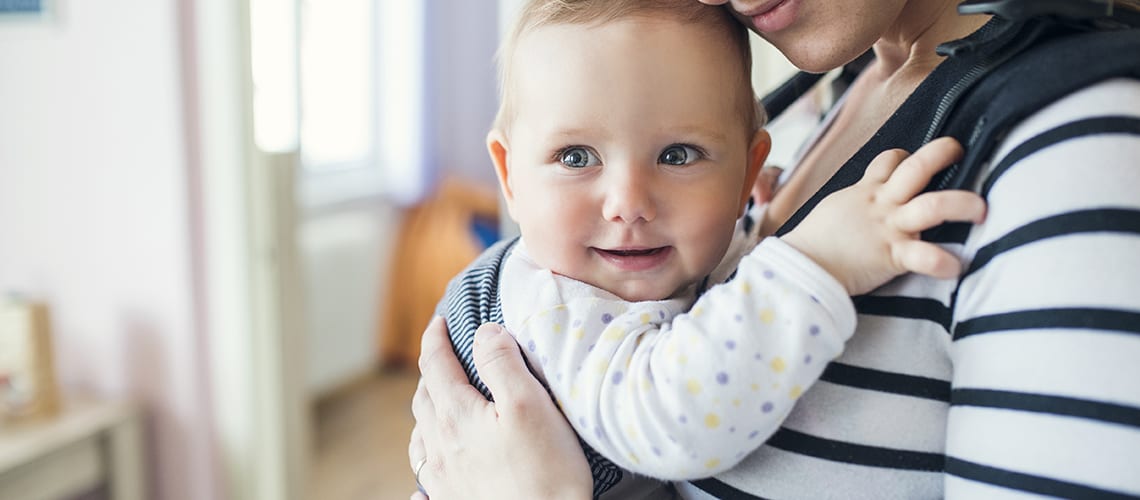 Increased mobility, good for the back and lumbar region, proximity between mother and child, the benefits of babywearing are countless. For some parents, it even completely replaces the use of a traditional stroller. However, different types of baby carriers exist, and they all have different uses, with their own advantages and disadvantages. Little Guest now helps you to clarify all this, on the one hand by quickly introducing you to the different types of baby carriers and their use, and on the other hand by giving you the best reasons for choosing babywearing for your baby, in order to convince even the most reluctant. Happy reading!
WHICH TYPE OF BABY CARRIER SHOULD YOU CHOOSE?
Babywearing consists of carrying your baby against you using a cloth or a sling, rather than carrying him in a stroller. Baby-carrying is practiced in different ways and with different objects, the four main ones being the structured baby carrier, the mei-tei, the shoulder-strap baby-carrier and the sling.
The structured baby carrier is the most popular with parents in general. Equipped with straps and fastening straps, however, not all of them are suitable for the most comfortable positions for baby. There are also different models depending on the age of your child; a baby-carrier for newborns will not be the same as a baby-carrier for 18-month-olds, for example.
The mei-tei is halfway between the shoulder-strap and the structured baby carrier and is made of fabric held by straps. Again, be sure to choose a model according to your baby's age.
The shoulder-strap type baby carrier is worn on one shoulder only. It is ideal for quick installation and is popular for short carrying times. However, the weight will be spread over one shoulder only, which can be uncomfortable.
Our favourite piece of Little Guest's collection is the sling type baby carrier, which consists of a large piece of fabric to be tied up to carry baby on your stomach or back. Once well adjusted, the weight is distributed between the back and the shoulders, so it is the most comfortable alternative. It can also be used without problems over a long period of time. Note that there are two types of slings on the market: a stretchy one ideal for new-borns, and a woven sling, which is suitable for carrying babies from birth to the age of three or four years.
Do you want to take the plunge but are afraid of not knowing how to tie it properly? Don't panic! Little Guest has prepared a small selection of video tutos to help you:
LOVE RADIUS, FRENCH BRAND SPECIALIZED IN BABYWEARING SINCE 2007
Specialising in the world of babywearing, the brand offers simple yet elegant baby carriers and slingsspecially designed for mothers. The models are designed in France, made in Europe and sold worldwide. The brand also offers various workshops on the theme of babywearing. The brand's products are also recognized as healthy by the International Hip Dysplasia Institute. Do not hesitate to visit their website!
SOME SAFETY TIPS TO GET STARTED
Check the quality of the fabric and the strength of the seams of your baby sling. For this, we advise you to buy quality slings.
Make sure that your baby's head is on the outside of the sling and constantly visible.
Make sure that baby's nose and mouth are always clear to avoid the risk of suffocation.
Make sure that the leg openings are not too tight, so that your baby's blood circulation is not impaired.
Protect your baby's skin from the sun with a good sunscreen. To do this, please refer to our comparison of the best sunscreen for babies.
Keep an eye on objects within your baby's reach so that he or she doesn't pick up dangerous objects.
Avoid going into tight corners, or against furniture or surfaces where your baby could accidentally bump into them.
Try to change your baby's position every hour and check that his or her extremities (hands, feet…) are at the right body temperature, which is a sign of good blood circulation.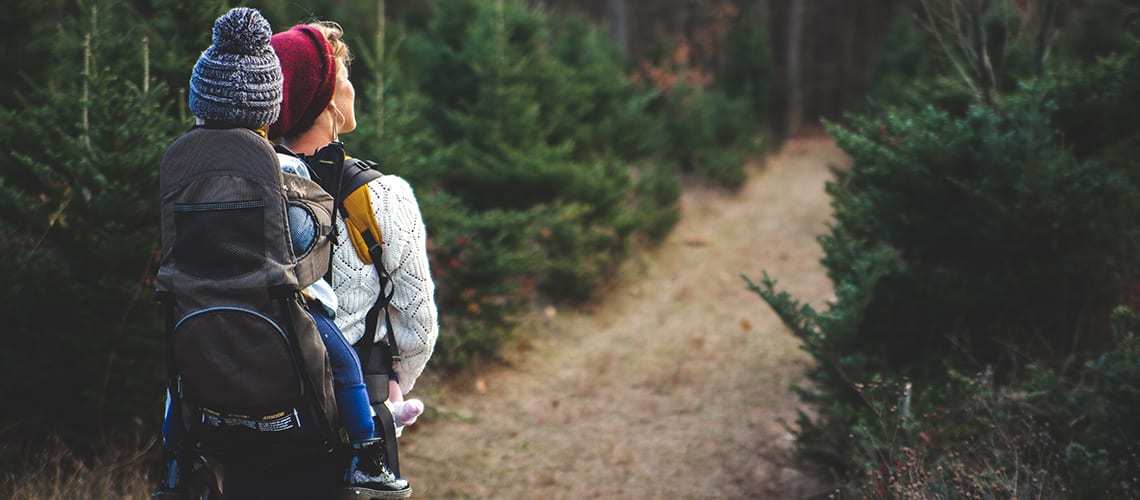 WHY SHOULD YOU ADOPT BABYWEARING?
Why should you adopt babywearing? First of all, this practice is not a fad. Indeed, it goes back to the dawn of time! In a context of a return to the essential and to the natural, physiological babywearing is now regaining its letters of nobility with mums and dads alike, because in addition to being comfortable, it has only advantages.
Safety for baby and parent
Babywearing gives an extraordinary closeness between the mother (or father!) and her/his baby, which is not negligible since the parent's body is the place where the baby feels best. The parent will then be more sensitive to the baby's needs and the baby will feel safe and pampered. A much stronger attachment bond can then develop. This secure attachment will then promote the baby's need for autonomy and will be necessary for his development as a future child. It also calms anxiety for both parent and child, provides a safe environment for breastfeeding, and soothes possible crying.
A sleep-friendly means of transport
Parents who use babywearing testify themselves that it makes it easier for their baby to fall asleep. As the mother's body and her closeness to the baby are also her natural environment, it is a privileged place for baby to stay in a peaceful sleep. Carrying therefore makes falling asleep easier, and allows baby to enjoy a good sleep for a long time.
Pragmatism
As we all know, being a parent is not an easy job, and sometimes you wish you had a thousand hands on top of your own to do all the tasks of the day. With babywearing, it's a done deal! On your back or on your stomach, an ergonomic position will allow you to go about your daily activities without the need for an extra arm or eyes behind your head. For many mothers and fathers, babywearing is a significant time saver.
It is also a significant advantage when using public transport. With a baby carrier in the city, you can go anywhere! No more strollers and prams in the metro or on the pavement! You also get around more quickly, and as a result, you save time!
An ecological solution
For parents who live in big cities like Paris or Brussels, the stroller will expose your toddler to CO2 and exhaust fumes, since unfortunately, in this mode of transport, baby is at the same level as cars. In a baby sling, baby is at your height, and therefore enjoys a much less stale air!
The price
For budget-conscious parents, babywearing is a great way to save money. For a top-of-the-range stroller, it is necessary to count approximately 500 €. For a quality carrying sling, prices are more flexible and range from around 30 € to 80 €.
And most importantly for us: great activities on holiday!
For the more adventurous parents who would be frustrated if they couldn't do as much hiking in the mountains or in the countryside as they used to do, the baby carrier is a blessing. Walk in nature while awakening baby's senses to his natural environment without the burden of a stroller or pram on difficult trails. Enjoy the sea, the mountains and many other idyllic landscapes. If you're not sure what to choose, don't forget to read our article on the best European destinations to do with your baby!
THE BENEFITS OF BABYWEARING
Respect for the baby's physiological position
The natural position of baby and infant is the so-called 'C position', which is favoured by sling carrying. The baby's position will later evolve into the so-called 'S position', but this position will only be acquired after the baby's first steps!
Less pain
The first few months of your baby's life are marked by pains that are difficult for him and his parents. Babywearing is a blessing for your baby, since in addition to accumulating less anxiety than in a crib or stroller, babywearing is an excellent prevention against burping, colic and gastric reflux. Similarly, when teething, the C position is better suited against these itchy pains than the lying position.
Easier motor development
According to anthropological studies and experiments, babywearing leads to rocking movements that are favourable to the development of the babies' kinaesthetic sensations. Thus, the baby's vestibular system is stimulated and the balance of the inner ear is improved, which will subsequently greatly enhance the baby's sense of balance. According to these same studies, in cultures that favour babywearing, babies show exceptional motor precocity.
Preventing hip dysplasia
Babywearing promotes a healthy hip spacing that would prevent or even cure hip dysplasia. Similarly, studies have shown in the past that in traditional societies where babywearing is practiced, problems of dysplasia are virtually absent in both women and men.
Preventing plagiocephaly, also known as 'flat head'
This problem is mainly due to the prone position, a position which is recommended to parents for the prevention of cot death, in particular. Babywearing therefore limits the time your baby spends in this position, and naps in the wrap rather than in a bed contribute to the development of a well-formed skull for your baby!
Last but not least: a pleasure shared by children and parents alike!
Both baby and parents share the same pleasure in this practice, which helps to reduce anxiety for both parties. The baby will feel loved, protected and safe, while the parents will feel reassured to have their baby against them. Oxytocin, the hormone of love, trust and bonding is then released in the wearer, just like the baby being carried!
We wish you excellent moments of sharing!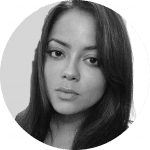 Rachel, 24 years old, passionate about history and travel, Occitan expatriate in Flanders