Sunny days are here and they bring with them the desire to escape to other horizons. The gentle warm summer wind blows the scent of the holidays on you… and a new member has joined the family! There are so many good reasons to plan your holiday with baby. Whether you come from France, Belgium or Switzerland, discover with us the most beautiful destinations in Italy, Greece or Spain, where you can stay with your newborn.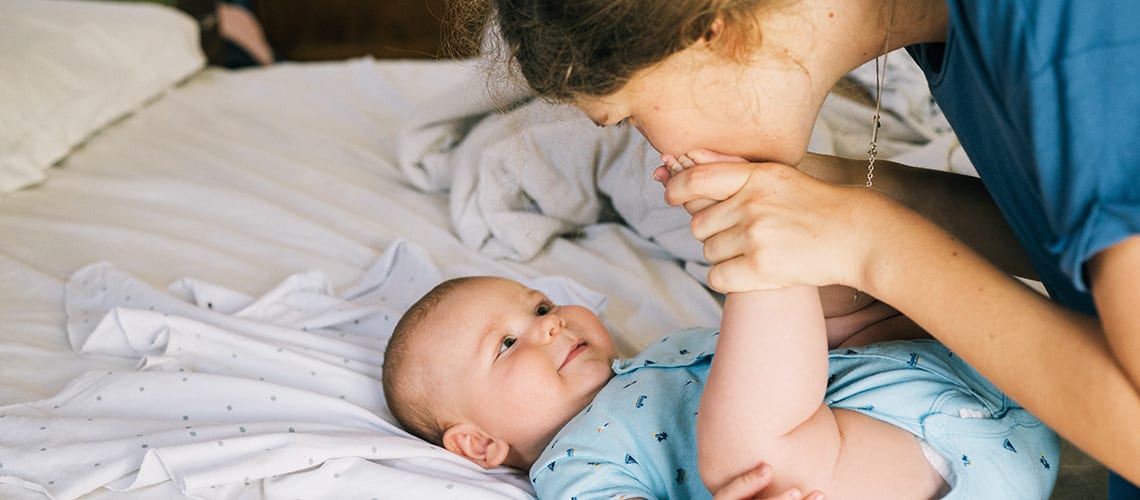 Why Europe? Quite simply because we recommend that you give preference to the sea or the countryside with your baby, and opt for destinations located a few hours away from your home. We've set our sights on the Old Continent, a vast region with rich and varied landscapes, where you can discover top-of-the-range baby-friendly hotels.
1. Frequently asked questions
How to prepare a trip with baby?
The first smile, the first words, the first steps… all these little moments will remain forever engraved in your memory, just like his or her first holidays! To ensure that they are nothing but happiness and fulfilment, we advise you to prepare your baby's trip well. To make sure you don't forget anything in your suitcase, you can always consult this checklist we've put together, which includes all the essentials you'll need throughout your stay for toddlers from 0 to 3 years old. Don't forget, of course, to go to the paediatrician or doctor for a small health check-up before heading off on holiday.
Where and how to go on holiday with a baby?
Because every parent has asked themselves this question at least once in their life, we have tried to answer it in this ultra-exhaustive article, lovingly written by an experienced travelling mother. At what age can a baby travel? Which destinations should be preferred and which ones should be avoided? What papers do I need to travel with my new-born child? You will find all the necessary information you are looking for! Of course, the choice of the drop-off point remains the most decisive element, hence the importance of choosing a hotel with all the services that can make the stay easier for families travelling with a baby. And that's what The Little Guest Hotels Collection is all about. We promise to find you the best possible establishment so that your baby can grow as much as you do on holiday.
What is the promise of The Little Guest Hotels Collection?
Every hotel in the prestigious Little Guest catalogue meets high standards of hospitality, making it easy for children aged 0-12 to stay. Toddlers have a place in these luxury establishments, which offer, among other things, safe baby clubs, baby equipment, early learning and development activities led by early childhood professionals and/or a babysitting service to enable you to make the most of your stay by striking the right balance between family and duo moments.
2. The most beautiful hotels in Europe for baby friendly holidays
For babies up to 10 months old
Hôtel Ermitage **** – Évian-les-Bains, France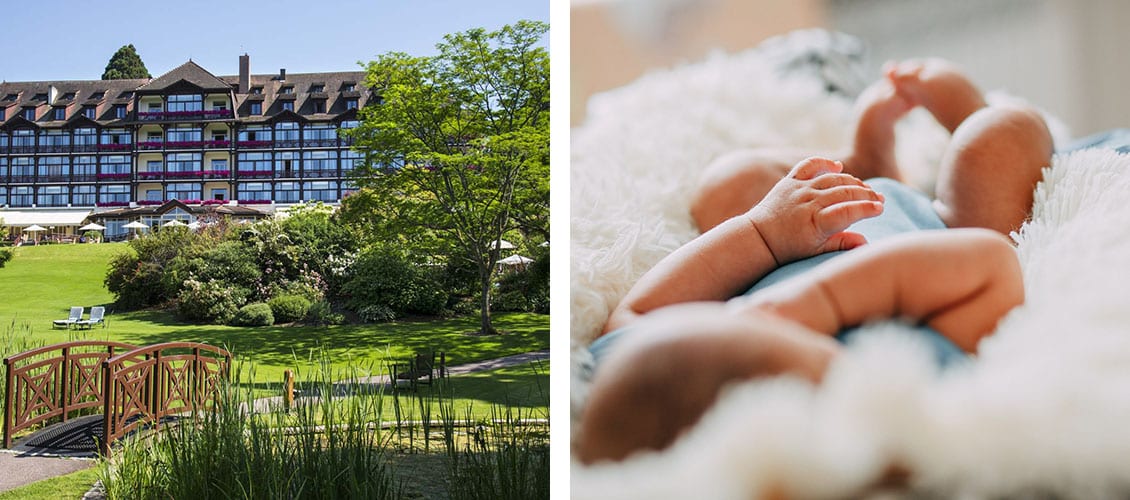 A few steps from the shores of Lake Geneva, the sumptuous Hôtel Ermitage **** is nestled in Evian-les-Bains. This ultra-family-friendly establishment is set in a huge 19-hectare park and offers stunning views of the French and Swiss Alps. This is where young parents love to recharge their batteries and soak up the warm and friendly atmosphere! Thanks to their generous size and practical interior design, the hotel's suites and rooms have been designed to accommodate happy families.
What's there for your baby:
A baby resort which offers not only an early learning programme and various fun activities (painting, reading of stories and nursery rhymes, water games, musical awakening…), but also a baby nursery, a changing room and a siesta room;
A « Bébé Maman » (Baby Mum) programme, designed for young mothers and their infants from 4 to 10 months, which promises gentle moments of mother-child exchange in the morning and intense relaxation in the afternoon;
A special offer: the stay is free for babies (and for children up to 13 years old staying in the same room as their parents);
All the equipment necessary to welcome and comfort babies is provided (adapted menus, bottle warmers, baby monitors, organic cosmetics, bathtubs, beds, strollers, high chairs and pots).
What parents love:
The long walks on the shores of Lake Geneva, which can be easily reached from the Hôtel Ermitage;
The Quatre Terres Spa where you'll find 9 treatment cabins, one of which is for two people, a rest area and its herbal tea room, a fitness room, a sauna, a hammam and two heated swimming pools, one of which is indoor;
The golf lessons and courses offered by the Evian Golf Academy of this « Best Luxury Golf Resort in Europe » (World Luxury Hotel Awards, 2015).

Verdura Golf & Spa Resort ***** – Sicily, Italy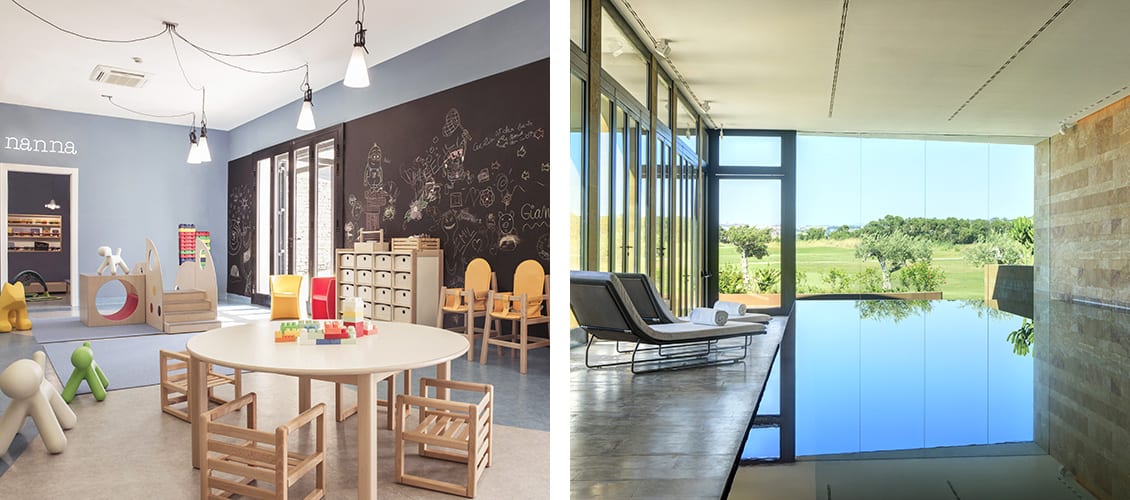 Welcome to the Verdura Golf & Spa Resort *****, a top-of-the-range establishment where you can breathe the fresh air of the Sicilian countryside and the Mediterranean sea! You will find it among fields of olive and lemon trees, a dream setting that inspires families looking for sweetness and relaxation. The resort's rooms, suites and villas, designed by the British hotel owner and interior designer Olga Polizzi in collaboration with Italian designer Flavio Albanese, are perfect for couples travelling with a baby.
What's there for your baby:
A superb baby-club, the RBabies de Verduland, which welcomes every day (from mid-April to October) toddlers from 1 day to 3 years old and which consists of three areas supervised by experienced nannies: an entertainment room, an outdoor playground with a paddling pool and a room entirely dedicated to napping;
A baby-sitting service of very high quality to let Mum and Dad enjoy moments of their own;
A range of equipment essential to the smooth running of their stay (adapted menus, bottle warmer, baby phone, organic cosmetics, bath, bed, stroller, high chair and potty).
What parents love:
The incredible spa spread over an area of 4.000 sqm and its 3 infinity pools that open onto the valley;
The organized water activities and sports classes (yoga, Pilates, Zumba, aquagym, trekking, stretching, cardio pop dance, aquatic Zumba and many others);
The regional wines and Sicilian specialities tastings;
The two golf courses 9 and 18 holes, designed by the famous golf company Kyle Philips.

For babies from 11 to 18 months old
The Westin Resort, Costa Navarino ***** – Peloponnese, Greece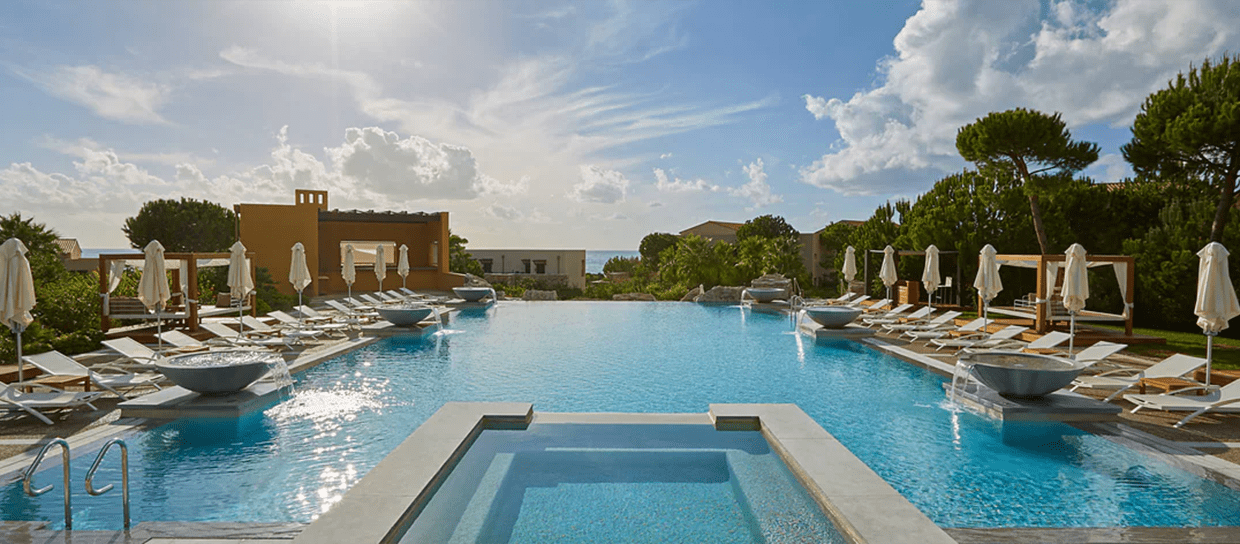 Heading southern Europe, alongside the Mediterranean Sea to discover Greece, at Costa Navarino, and stay at The Westin! This exceptional hotel puts at the disposal of their hosts all the amenities needed for a flawless stay with baby and makes children and parents happy. Don't lumber with a stroller, as the warm personnel of the Westin will lend you one upon request. You forgot the baby bottles? No worries! They will also help you with this.
What's there for your baby:
A creche available for children from 4 months and up, with psychomotricity and stimulating games
Shuttles with a baby seat, to travel safely
A range of baby equipment for a comfortable stay (stroller, baby cot, baby bottles, …)
A babysitting service for your dinners just the two of you
What parents love:
The 4000 sqm spa and its large care programme
The olive oil and wine tasting sessions
The 2 golf courts
Taking part to the grape harvests and wine making process

Martinhal Sagres Beach Family Resort ***** – Sagres, Portugal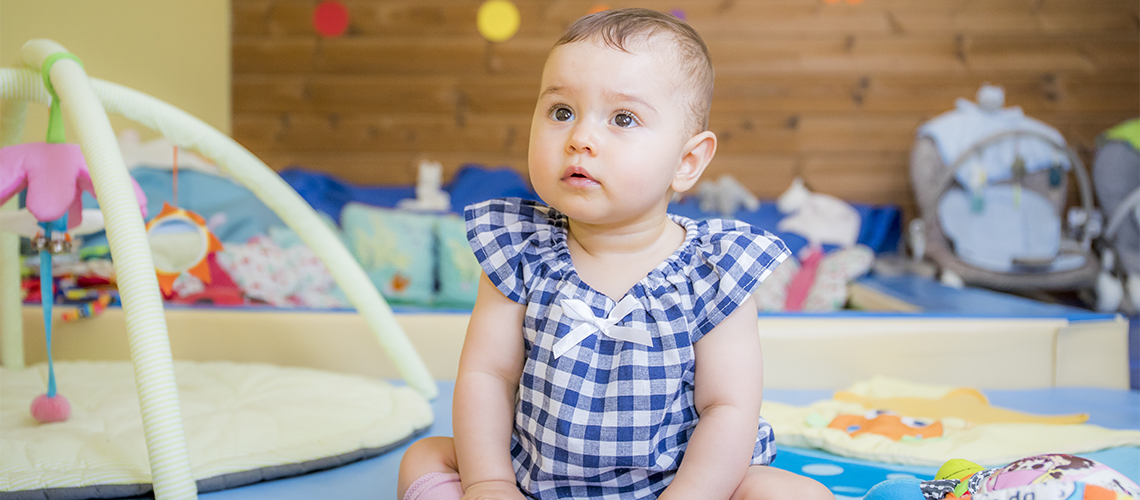 Its name says it all: the Martinhal Sagres Beach Family Resort ***** has been especially designed for families, and especially for children of all ages! Nestled in a splendid green estate on the edge of the Atlantic Ocean, this establishment has everything you need for an unforgettable stay. Sheltered from the hustle and bustle, the private houses and villas will make you happy for a holiday in complete privacy.
What's there for your baby:
A complete baby kit which includes, among other things, gates for beds and stairs, beds and toilet seats adapted to their small size, bottle warmers and sterilizers;
An in-room babysitting service;
A baby-club for toddlers from 6 to 23 months
What parents love:
The Finisterra Spa where all types of massages are given (reflexology, relaxing hot stone or energizing);
Golf with over 30 courses: the Algarve is THE region of golf  par excellence

For babies from 19 to 24 months old
Domes of Elounda ***** – Crete, Greece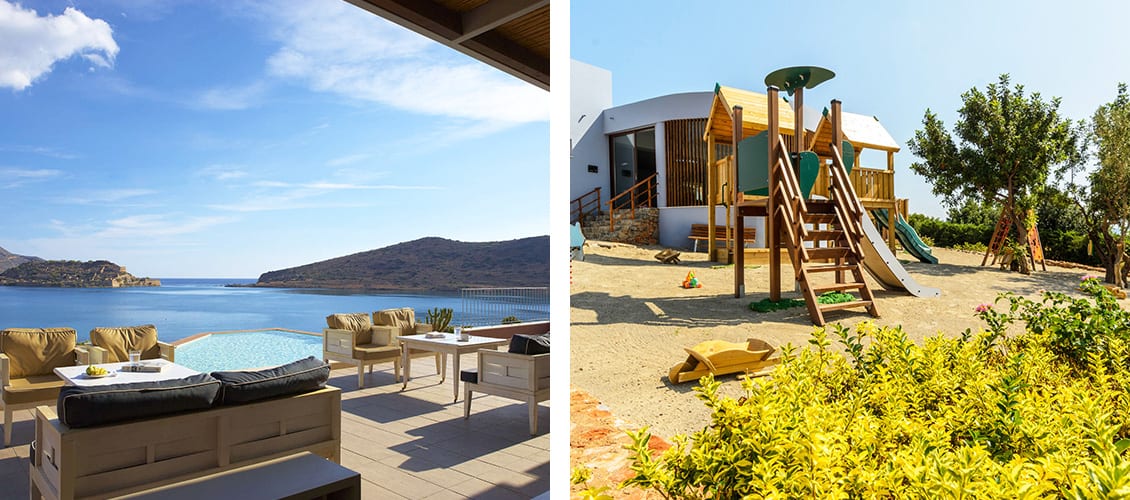 Live a waking dream on one of the most beautiful Greek islands: Crete. Perfect service, elegant design and harmony with nature make the Domes of Elounda ***** a prestigious address that families will be glad to discover. Being the perfect pied-à-terre for those who love to relax, this is where the magic happens to make your holiday a surreal escape. Idyllic setting, inimitable gastronomy, visits to historical sites, sports or discovery activities, modern rooms, everything is there, and more…
What's there for your baby:
A range of childcare equipment with games, emergency bottles, bottle warmer, baby phone, cosmetics, bathtub, beds, stroller, high chair, pacifier, potty, and even car seats adapted to the age of your children during your transfers to and from the airport;
A special offer: the stay is free for toddlers up to 12 years old;
Gifts throughout the stay;
An upscale babysitting service;
A fully equipped and supervised crèche for maximum fun and safety;
The Bakaliko Mini Market where it is possible to buy absolutely everything necessary for baby's well-being (wipes, small pots…);
Special baby menus, specially concocted by the Chefs of the different restaurants of the hotel.
What parents love:
The countless sailing excursions in the Gulf of Elounda, the culinary festivals, film screenings or barbecue evenings;
The opportunity to take part in a digital detoxification program that has many surprises in store for you;
The spa for deserved moments of relaxation;
Duo cooking classes;
The exploration of paradisiacal coves aboard a romantic cruise;
Fitness, diving or aquatic yoga lessons.

Have a nice first trip with your baby!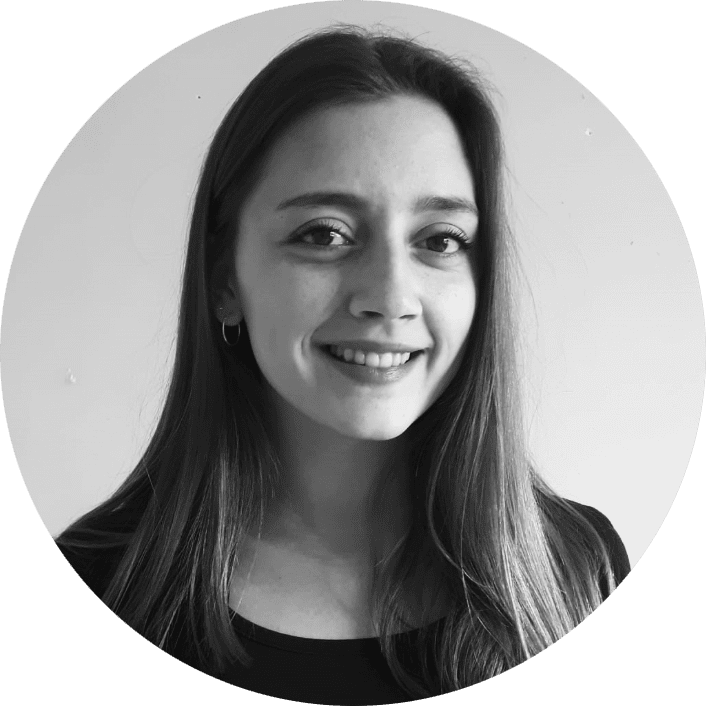 Pernell, 24 years old, travel lover, from Angers, France