Is travelling with children any useful? Is it reasonable enough? The answer is: yes, of course! And if someone tries to dissuade you, do not listen to such a person! Here are a few arguments that will help you discover the benefits of family travel for your children. Globalization has showcased the benefits for families to travel more and more under optimal conditions. If moving with your family requires a certain organization and preparation, this is far from insurmountable. As Montaigne wisely said, today more than ever, « Travel shapes youth », so, long live travelling families!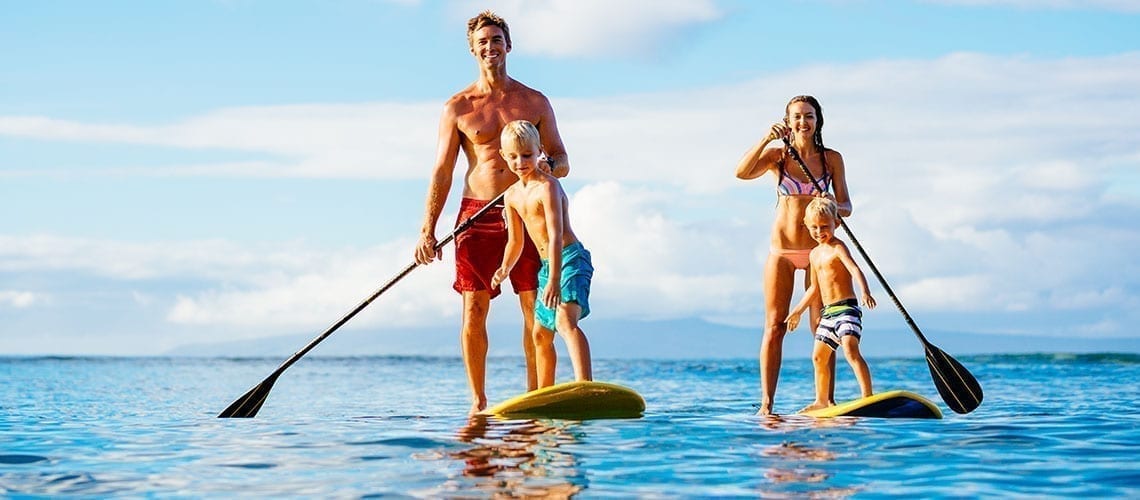 8 good reasons for going on a family trip
The benefits of family travel are already well established. A recent opinion poll showed that 50% of those surveyed chose family holidays as their happiest memory. Travelling is thus, more than ever before, a family affair. Here are eight powerful reasons that will convince you to leaving more often with your family.
1. Forging strong bonds with your children
You live throughout the year with your children and yet, you feel like you are not enjoying moments with them to the fullest. At a period when time has become a real treasure, spending time with family, outside the constraints of everyday life, is very essential. If creating lasting memories is, on its own, not an objective whenever we decide to travel with the family, the moments of relaxation remain invaluable as the child will return home with the feeling of having spent precious moments of intimacy with his/her parents. And one day, some beautiful memories will inevitably resurface, kind of those which we call Proust's madeleines. Fleeting sensations that will bring back happy memories like the delicious flavour of pancakes for snacks in the mountains, the bright colour of a tropical flower, the fresh smell of the mountain pastures' early morning grass or the sound of the wind through the palm trees.
And why not entrust your sweet little ones to their grandparents for the duration of your trip? Strong ties between grandparents and grandchildren can also be forged from travels.
If you are tempted by the adventure, I advise you to have a look at this article.
2. Increasing their self-confidence
Children are used to their daily routine; travelling thus reassures them and gives them references from their early childhood. It is, however, good to help them take-off and know how to deviate from this their daily routine at times, in order to gain more self-confidence. Daring to live differently, adapting to local customs or meeting unknown people can be crucial for a child's development. If he/she is used to travelling from an early age, he will develop a much better ability to adapt.
It is often the fear of the unknown that leads to prejudice. Dealing with an unknown experience allows you to gain self-confidence and, therefore, better integrate into society.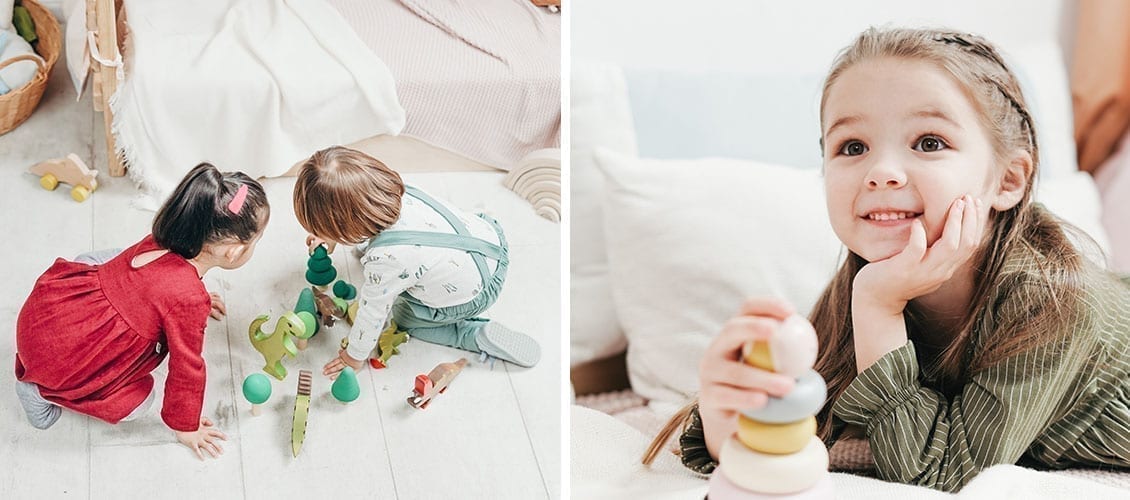 The world is just a vast playground for our little ones! 
3.  Promoting their mental development and their personality
Doctors and experts have been very clear about this, travelling undoubtedly contributes to mental development and affirmation of the child's personality. It has thus been shown that the richness of a travel experience develops emotions. A study by Professor Thomas Gilovich from Cornell University, US, links memory with pleasure. The memory of a happy trip thus conveys to the child a much more lasting happiness than receiving a toy, because the mere fact of revisiting this memory, in their thoughts, a few years later, will generally cause him/her to smile. Thought and imagination have a force that is far superior to that of an object, no matter how beautiful it may be; cherishing his/her memories is therefore very important.
4. Broadening their general culture
While many children and young people spend a quarter of their day staring at their phones, tablets or game consoles, discovering the history, geography or culture of our world in situ has become essential. Having good general culture often makes the difference.
Young children are very sensitive to the environment, to smells, to the colours of landscapes, and to new music. An experience lived in the country stimulates curiosity and will be remembered more easily. All these feelings contribute to helping them build their own culture.
5. Teaching them tolerance and respect
Travelling allows children to open to others and to their differences, but also to understand that their own lifestyles is not unique. Discovering new religions, unexplored ways of life, hearing new ways of expressing oneself develops tolerance and respect for others, two overriding educational values which will help them to become the best adults. Learning to communicate by leaving your comfort zone is often of infinite richness. And finally, being open to differences can also enable one to put things back in their place and to realize the luck there is of living in  a country such as France of Belgium! Throughout travels, we realize that beyond memory, it is the learning that the child will remember that is the most important thing.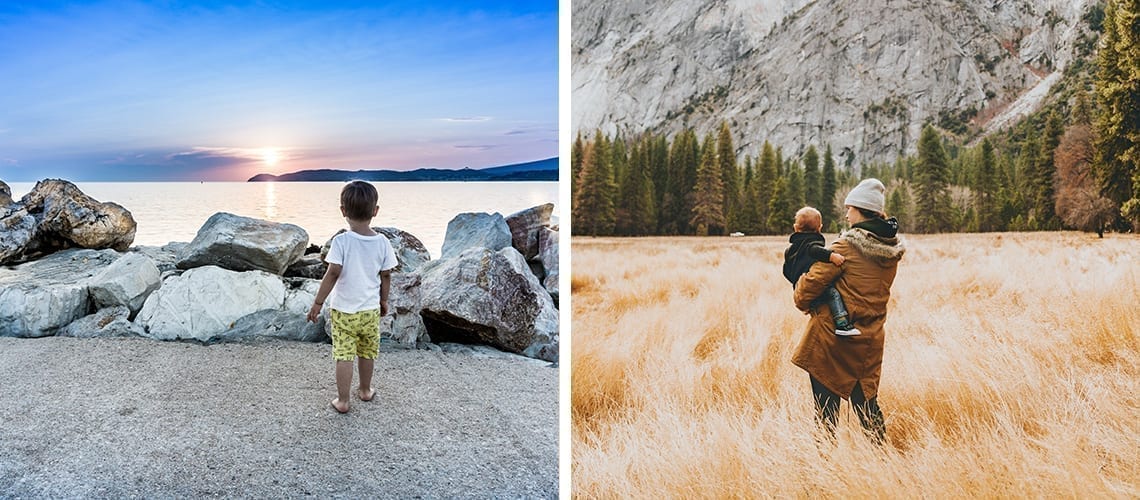 Toddlers are easily impressed by nature, so let the magic begin…
6. Refining their adaptability
Young children's adaptability is always very surprising. Their more natural side, their naivety and their resourcefulness generally make them appreciate every moment they experience during a trip. The more they renew their travel experiences, the more this adaptability will be developed.
In addition, when travelling with the family, children can often attend the Kids Club, which allows them to meet other children in spaces which have been specially designed for them. Today, these Kids Club are often inspired by the famous Montessori method which is based on the personal development of the child and offer environments that are both reassuring and leading to discovery and exploration. Therein, the children will be able to develop autonomy, while also developing their five senses in different ways. If you want to know more about this method, I advise you to read this article.
Discovering the local gastronomy can also prove to be one of the best ways to learn to adapt to new things and perhaps, serve as a way to stop grumbling in the canteen when they return!
7. Cultivating patience
As we may all already know, travelling sometimes requires that we showcase a great deal of patience (and this is also true for Mom and Dad!). Long waits at the airport, never-ending flights, boring restaurant dinners, long cultural tours, the little ones' nervousness are sometimes put to the test. While some airports offer spaces specially designed for smaller children as they travel, they will learn to make the most of these waiting times and benefit from the prospect of great discoveries. However, try to balance your schedules well to avoid excesses!
8. Teaching them happiness
Each stage of a trip can become a moment of happiness, even during the preparations, where we start imagining the new and beautiful landscapes we will be seeing upon arrival at our destination. Besides, didn't the writer Joseph Kessel say that « great trips are so fantastic in that their enchantment commences even before departure, from the moment one opens the atlases and starts conjuring imaginations from the maps »?
During family trips, we might have all seen our little ones marvelling at the discovery of animals previously unknown to them or while enjoying an ice cream on the beach. It's all these little moments of happiness that make travelling joyful, and isn't that the most important thing?
A study by psychologist and Nobel Prize winner, Daniel Kahneman, shows that our memories certainly make us much happier than nostalgic. It is therefore important to learn how to cultivate them.
Here you are, convinced, I hope, of the benefits that travelling represents to your children; let me now give you some tips on how to make the best of your family trips.
A few ideas for a family escapade
Exotic destinations, a stay in the mountains or the discovery of a city of art, whatever its purpose may be, the trip will benefit the entire family. I have selected a small sample of beautiful addresses that are 100% Kids Friendly, which you can commingle with your family without having to go too far.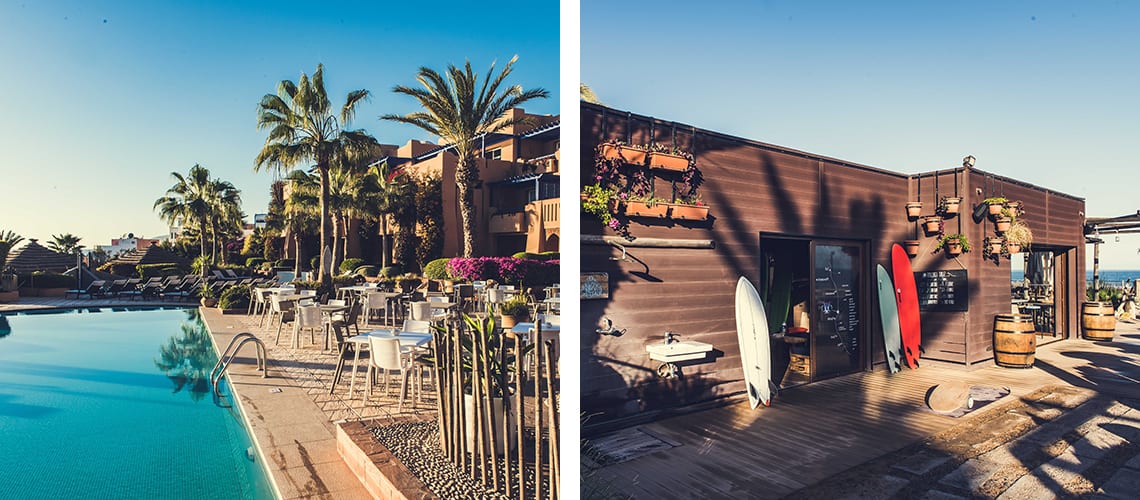 Pine Cliffs Resort *****, in Portugal, amazes children as much as parents!
Paradis Plage, Surf, Yoga & Spa Resort ***** – near Agadir, Morocco
Just a few hours of flight and you will be transported on the shore of the Atlantic Ocean near the foot of the Atlas Mountains. A change of scenery is guaranteed at Paradis Plage, an exceptional place just 30 minutes from Agadir and 12 minutes from Taghazout, two amazing surfing spots. In this house of One Thousand and One Nights, the staff takes very good care of the children who love the kids club (which is free and open every day), the surf school, the chocolate massage, as well as the sports activities such as beach volley. In the meantime, the parents take some self-care time thanks to the yoga lessons and the spa that offers unforgettable moments of relaxation. A dream programme for everyone.
Les Fermes de Marie **** – Megève, France.
To climb the most beautiful peaks in Europe, there is no better than a little escapade in the heart of Les Fermes de Marie in the Alps. Being both intimist and bucolic, this adorable hamlet made up of chic and cosy chalets is a real little paradise nestled in a magnificent natural setting. On the program, the exploration of the mountain pastures, skiing, horse riding, riding with sleigh dogs or gourmet tastings. As a cherry on the top, « Le Hameau des Enfants » which welcomes children from 5 to 10 years old under the supervision of a family concierge. An address to keep carefully.
Pine Cliffs Resort ***** – Albufeira, Portugal
If you're looking for the best waterfront in Europe, the Pine Cliffs Resort is definitely the place to be. Overlooking Falésia Beach – one of the 3 most beautiful beaches in the Iberian Peninsula, according to the prestigious Condé Nast Traveler – this magical place offers its lucky guests 8 swimming pools, an incredible 9-hole golf course and tennis and paddle tennis courts. To top it all off, in addition to its world-class babysitting service and its countless sports activities for teenagers, the Pine Cliffs offers children up to the age of 8 over 7,000m² of stunning recreational space, including full-size pirate boats.
Tips and tricks for family travels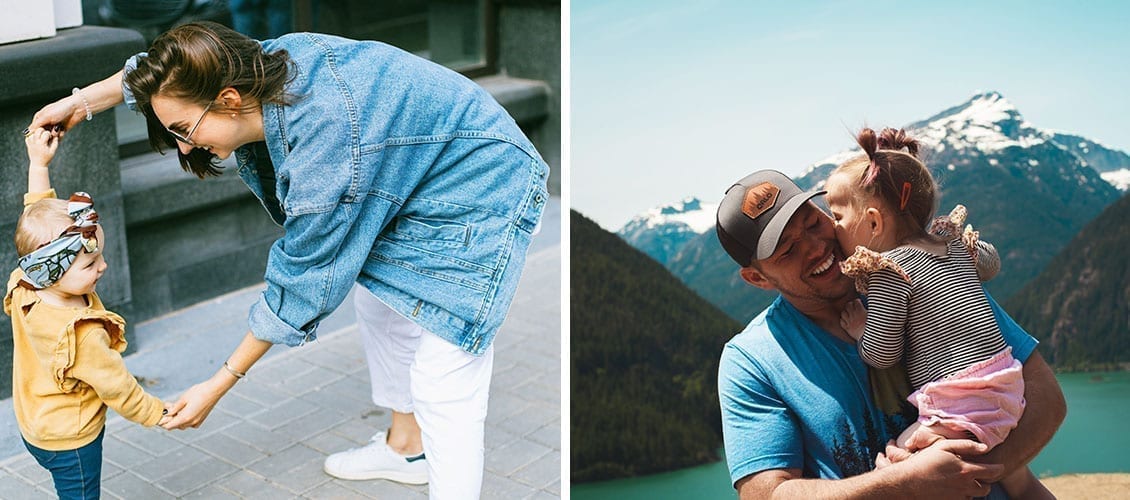 Rather city trip or nature trip?
Plan without planning too much! Let me explain… Going on holidays with children, of course, requires putting together a few material details beforehand. Are the vaccines required for the destination up to date? Aren't passports and identity cards expired? Have you taken out the right insurance? For everyone's convenience, these questions should be asked a few weeks before departure to avoid disappointment and last-minute stress. When it comes to the accommodation, if you are travelling with little children, it is of course strongly recommended to book it in advance and not to change too much during the stay so that the little ones can have enough time to acclimatise themselves, in order to fully enjoy their holidays.
However, beyond these common-sense tips, don't forget to leave a little room for the unexpected. Let yourself be surprised!
Don't compel children into doing activities they really do not like. Of course, this advice seems like truism because we all know that the little one do not always share our taste for visiting museums or churches. However, it is sometimes good to have this at the back of our mind. When we are caught up in the euphoria of discovering new territories, we tend to wish to see as many such territories as possible and we sometimes forget to adapt the day to suit the little ones. And besides, your proven taste for art can be entirely compatible with the little one's desire to tinker. Find him, for example, a museum that organizes workshops for children.
Select visits that will remind them of the topics they studied at school, for example, or that will bring back memories of talks or other family visits. This advice comes from personal experiences. I quickly noticed that my children love taking part in tours of the same topics as those they had tackled at school, especially in history. They will indeed be very proud to be able to share their knowledge with us and, above all, to share these discoveries back in class.
Start travelling with your children as early as possible. The sooner they get used to following you on your travels, the sooner they will learn to behave themselves both in the restaurant and in the hotel. This will also allow them to be reassured at each departure and they will be able to adapt to all situations. Although children can travel from the age of two weeks, I advise you to wait until your baby has reached 3 or 4 months before considering taking a long trip with them. This is more reasonable so as not to disrupt his/her biological clock too much, but also to allow Mom and Dad to travel more serenely.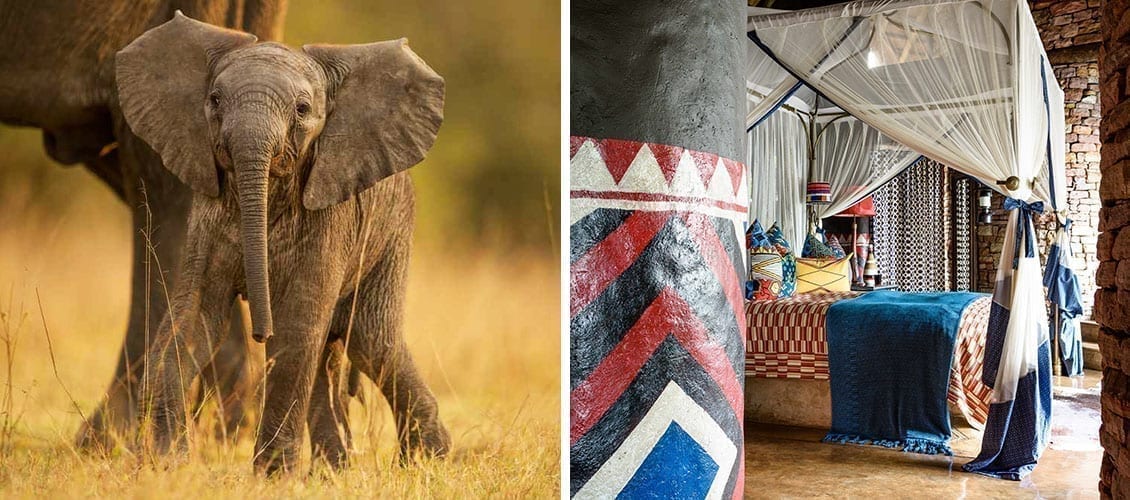 Africa will leave an indelible memory for the whole family
Give meaning to each trip. Children need reference points (markers), having them fully associated with the trip will reassure them. So, start by planning this trip together if the children are old enough to understand. It's all about giving them the clues so they can get an idea of what they're going to experience and see. For this, all means are good! Exhibitions, books, films will allow them to picture certain images on the destination. And speaking of meaning, why not include a dose of ecology in your journey? This is indeed a subject that fascinates teenagers and significantly motivates them. Speaking of teenagers, you should know that we have written an article on the best destinations for holidays with teenagers. Don't hesitate any longer, make your choice and let's go!
Here are two or three examples of activities that I thought out for my children before going abroad:
If you are travelling to Austria, the story of Sissi will certainly fascinate little girls.
For the little ones, a cardboard album such as Sissi by Arsène Lutin published by Auzou, and for the older ones, « Sissi impératrice rebelle » (Sissi the rebellious empress) by Sophie de Mullenheim, which is published by Fleurus. On the film side, there are of course the very romantic works of the Austrian director Ernst Marischka.
If Africa is your choice destination, why not watch the Lion King as a family before boarding the plane for Zanzibar or Zimbabwe to discover these fabulous Resort: the Mélia Zanzibar *****.
NB: Even if you are travelling with a baby, you can still talk to him/her to explain that you will all be leaving together. You can for example evoke the landscapes which you will meet and why not show him a book on the planes or on the animals of the savannah to illustrate what you are talking about.
Encourage the children to take a small camera with them, so that they can make report about their trip. The memories will be even more beautiful if they are the ones who made them… They will take great pride in this responsibility and will certainly take their role very seriously.
Bring one or two household items to reassure the little ones who are finding it hard to accept that they are leaving their familiar surroundings for the unknown. The cuddly toy is obviously non-negotiable, however, his/her favourite book, a few small educational toys or mini-board games that you can put in your pocket and taken along everywhere are also much appreciated. The FNAC DARTY site, for example, offers lots of travel games.
Prioritise safety. Travel shapes youth, there is no doubt about this, but not at just any price. Don't compel your children into embarking on trips that could be dangerous and where stress could ruin everything. No destinations close to conflict zones, no country with significant health risk, no harsh climate. In short, you can go on an adventure, but under certain conditions!
Choose the right Kids Friendly hotels. Perhaps you should start from there! The choice of yout hotel is essential when travelling with the family. It must indeed offer all the comfort and safety necessary for the little ones. Also check to ensure that the baby equipment is provided. If you wish to have some free time, a Baby Club, a Kids Club or a dedicated Baby-Sitting service is very necessary. The location must also match your desires. Finally, the catering service is an element that should not be overlooked because after a long day of strolling, dining at the hotel should be convenient enough. The Little Guest Hotels Collection website offers a veritable mine of beautiful addresses for the entire family.
Finally, stop being afraid! Quite simply … Going out with your family is not insurmountable and forges wonderful memories for the whole family, it should even be almost inseparable from education! If you are looking for more great tips before going on a trip with baby, this article might interest you.
And if you do not want to stress yourself with the headaches of airplane luggage, here is a link that will provide you with a wealth of information on the issue.
I wish you an enjoyable family trip!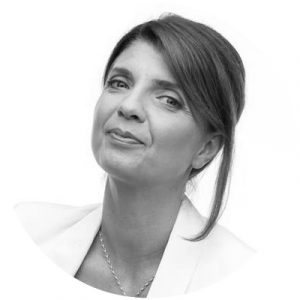 Catherine, Mother of Justine, from Paris