Going on vacation with a big tribe can seem like a real obstacle course. To travel in the best conditions, however, it is helpful to manage the preparation of your trip, to choose the right means of transport and to define the most suitable destination for your family. Little Guest Hotels Collection (a collection of luxury hotels dedicated to families) has looked into the subject. Here is our complete file for travelling with a large family.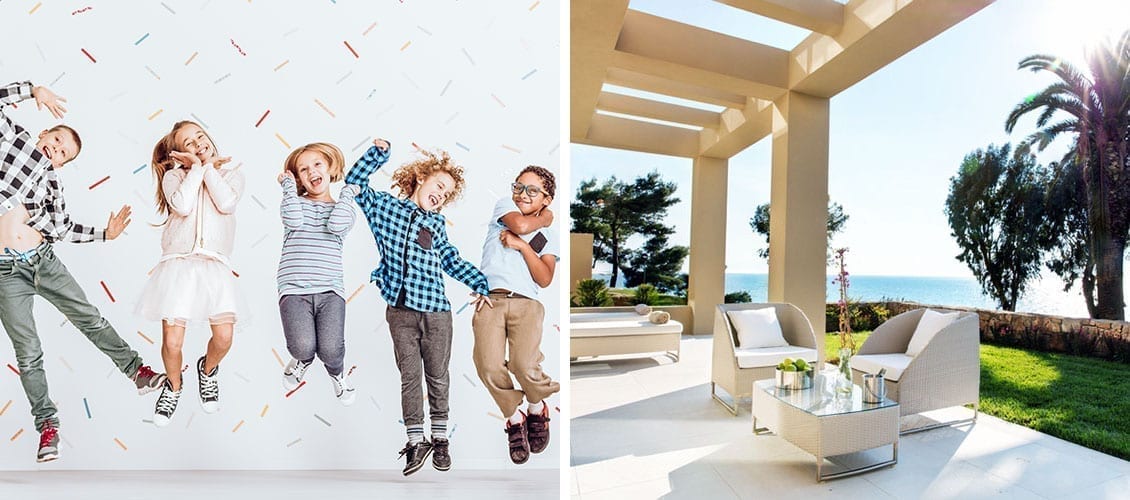 Sun, beach and family: pure happiness
Holidays are the perfect time to get your family together and spend time with your kids. It is also an opportunity to discover the world and open up your horizons: there will never be too many of you to travel! The secret for a successful holiday is to plan everything in advance. Luggage, transport and accommodation, we share some Little Guest tips for the family.
Travel light
First, suitcase preparation is essential. After defining the destination as well as the timing, you have to evaluate what you need. Like an « I go on a trip (destination) and I put in my suitcase …« . For a beach vacation, it's simple: I take a swimsuit, light clothes, a sun hat, sunscreen, a pair of flip flops, not to mention a toothbrush and, the case is in the bag. Of course, multiply that by 5 and your bag – if not that of Mary Poppins – may well be a touch crammed. So plan on enough suitcases and evaluate the space and weight you have in the car, plane or train. Choose clothes that are not bulky and do not crease. Prefer taupe colours and motley patterns that will require a detective's magnifying glass to locate spots. If you are flying, consider mixing everyone's clothes in different suitcases. Thus, the whole family will have at least one outfit to wear in case of loss of luggage. Also, be sure to keep specific medications with you in the cabin. You can never be too careful.
 « Which suitcase to choose for a large family's holiday? »
Choose one or two large bags of 60 or 80 litres in size. The roulette suitcase Ozone 80 Black Osprey brand is ideal for larger families. Light and strong, it is well compartmentalized which makes it easy to organize everyone's business. If you love adventure and travel the world, go for the indestructible North Face Rolling Thunder 80L. Made of ultra-strong base camp material, it will relentlessly resist wear and tear and will accompany you throughout your travels with your children.
 « Should children be allowed to participate in baggage preparation? »
Let your children participate in baggage preparation to teach them the art of folding clothes. If you are not yet an expert in the field, follow the tutorial « How to pack your suitcase » video by Marc Beaugé, the style guy of The Daily Show: it's practical and fun. Plan a small backpack per traveller for the road and arrange its contents together so that each child learns to prepare his or her bag. The little ones will appreciate this attention and will be all the happier to carry their bag as soon as it contains their own business as well as games for the journey. Avoid, however, them taking away their entire toy box.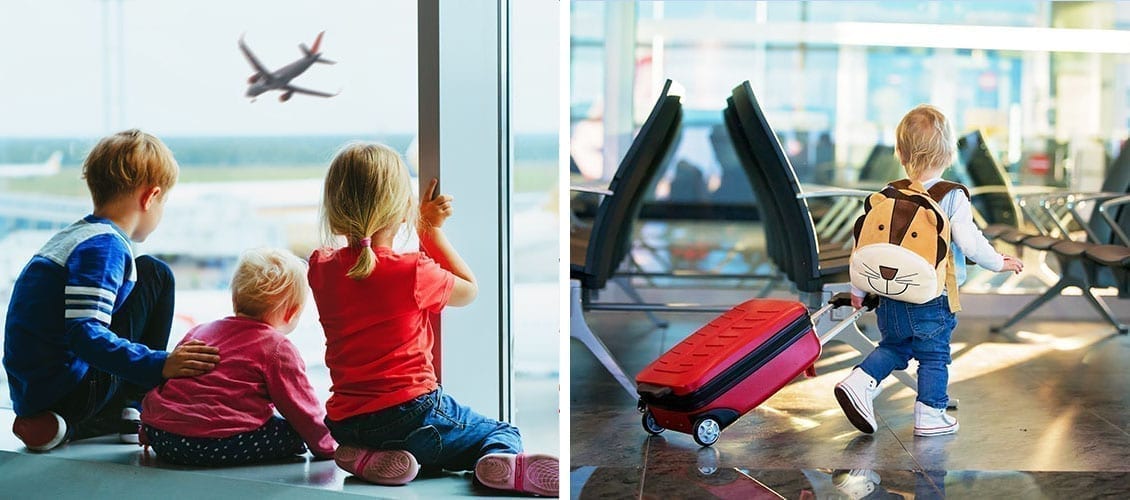 Ready for takeoff…
« How to take care of the little ones during the trip? »
Bring mini board games such as « Who is it? », available at Fnac in travel edition or « Battleship » available at JouéClub. There are also many games that do not require any hardware. Think of the classics « no yes, no, » « Yellow car » and « Jacques said ». For car journeys, the timeless option of observation games for which you set the rules will bring happy moments. Put a flashlight in the backpack of the younger ones. Always useful on vacation, it will give them a feeling of security in unknown places. The objective when preparing baggage is to manage to take the essentials without forgetting anything. Please note that many children's items are available to Little Guest guests. Look at the list of facilities that are available in the hotel of your choice before packing, you will see that there is no reason to be bored!
On the road to the holidays
By car, train or plane, departures on trips are often stressful, so be careful. Here are some practical tips. Pack your bags several days before D-Day in order to establish what you miss and forget nothing. Establishing a checklist is the best way to guarantee that everything is in the bag. There are list generators for very efficient family trips where you indicate the number of adults and children, the length of stay and the type of holiday to get a list that meets your needs. You can also check the Little Guest lists to help you prepare the children's business: the checklist for babies from 0-3, the checklist for toddlers aged 3-6 and the checklist for children aged 6-12. Avoid leaving in a rush. « Mom I missed the plane » is very funny on the telly, less in reality. If you have to get up in the wee hours, one trick is to put your kids to bed dressed to be ready sooner. Also, remember to finish the luggage the day before departure and to prepare the breakfast table. You will leave more serene with a full stomach. And most importantly, go to sleep early, a restful night's sleep is essential.
Let's go for a ride!
In terms of transportation, the car remains the most popular way for holiday makers. It must be admitted that it offers the incontestable advantage of freedom. You leave at the time you want, stop whenever you want and organize the trip at your convenience. On the practical side, you do not have to worry too much about the weight and the volume of the luggage, as long as everything comes back. Be smart about your choice of model, not all cars lend themselves to family travel.
« What is the ideal car for large families? »
Keeping with the equation of family transportation, comfort and driving pleasure often seems difficult. There are however many models that reconcile the interior of 5 toddlers and racy vehicles. Discover Little Guest's selection of cars for travelling with your family. The Renault Espace, the iconic model among minivans, has made its way and is now giving way to crossovers. The Volvo XC90, entirely designed under the aegis of the Chinese manufacturer Geely, now takes the lead in the race thanks to its high-end 7-seater model. The BMW X5, which no 4×4 in search of legitimacy has been able to dethrone so traditionalists carry it in their heart, is perfect for long journeys thanks to its adjustable 5 or 7 places, its elevated position which gives it safety on the road and its ultra-comfortable interior. In these spacious cars, you can pack your stuff in every nook and cranny and if there is really no room under the legs of your children, there is still the solution of the roof rack. The essential tool for the holidays, it offers extra space for luggage. Large families love the roof rack Thule Motion XT optimized design, with its capacity of 75kg.
« Do children have to travel in a car seat? »
If you have young children, a car seat is essential. In the majority of countries, it is mandatory to install care seats for children up to 1.35 metres. We recommend its use until the age of 12. When choosing the seat, take into account your child's morphology (height and weight) to define the accessory that suits best. We recommend the car seat Young Sport Hero for its quality, safety and design. In addition to its many advantages and its affordable price of €200, the ergonomic foam seat supports air ventilation that ensures the freshness of your child throughout the trip.
Children deserve special attention when it comes to road safety.
Avoid the seats for several sizes and weights because the little ones will not be well adjusted and the largest will be badly seated. It is also strongly discouraged to buy a used car seat, as the restraint system may have lost its effectiveness over time. Infants under 13 kg must be seated with their back to the road for safety reasons. If you prefer to place your baby in front to keep an eye on him or her during the trip, the seat should not under any circumstances include a passenger airbag because your baby would be in mortal danger in the event of an accident. Did your little ones feel cramped in their baby seat? Opt for enhancement with a backrest that will guarantee safety and comfort.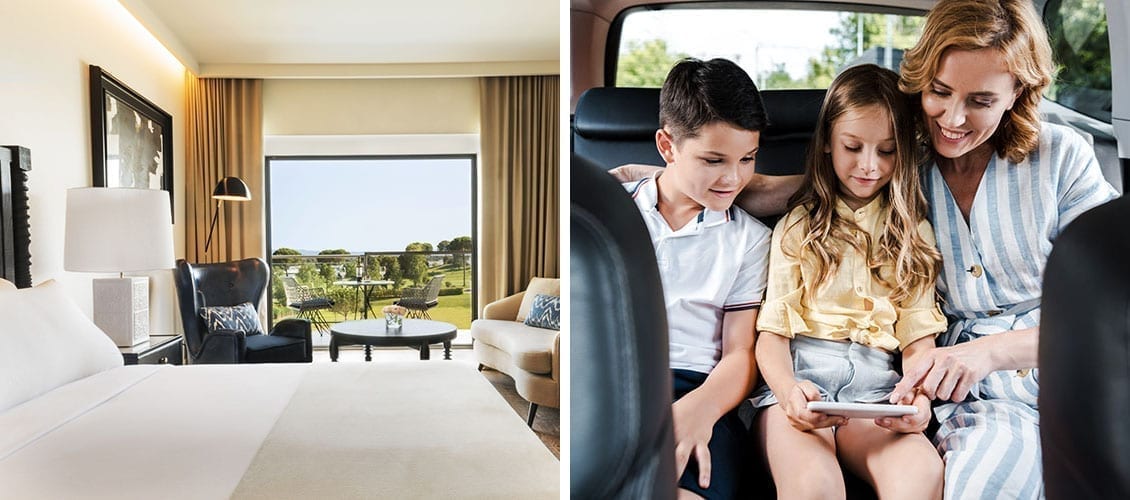 Don't forget to count your children before the big start… and to choose a suitable car to safely reach your destination
« What about new inflatable booster seats? »
We would ask you to avoid this solution. If they are sold in commerce, their security is not guaranteed. The baby booster EasyCarSeat picks up 0% with ADAC crash (German automobile organization). A revealing score of the risk that you do not want to incur for your child. You may also have heard about ultra-compact and foldable harnesses from Asia. Note that most have not passed the European homologation tests (E on the label means compliant) and can be dangerous or fatal in the event of an accident, as shown by this video. If we can give our opinion, we advise at all costs the use of this type of gear. The car seats are bulkier certainly, but much safer! In any case, make sure your accessory meets safety standards. The Belgian Institute for Road Safety has created a guide for parents, with a supplement of pages specially written for younger readers, which is very useful.
We fly, we fly, we fly
If for faraway destinations the plane is generally required, it can also be a good choice for local trips. Pleasant and significantly faster than the car, the plane takes you to the sun in just a few hours. This way you avoid the hassle of long car journeys. It's all about being forward-looking. At the airport, allocating children to adults makes it easier to look after each child. Anticipate the needs of jet setters during the flight (intrinsically related to the duration of the trip): boredom, cold, fatigue and hunger. Put in their little travel bag a sweater, a blanket, toys and a snack. As a snack, we avoid anything that stains, flows, melts or crumbles. Basically, we opt for dried fruits.
« Should I take a car seat on the plane? »
Up to the age of two, children can travel for free on parents' knees. You can however also reserve a baby seat and install it in its car seat for more comfort. Be aware that in areas of turbulence, the safest place for your infant is not on your lap but in the baby seat that is securely attached to the seat on the plane. The terms for the approved car seat or booster seat vary by company (Brussels Airlines, British Airways, Ryanair, etc.). Specific rows are sometimes intended for this purpose. Many companies make cribs available to babies, such as Air France (for infants under 10kg and under 70cm). In order to check the availability of a cradle or to know the models of authorized car seats, it is imperative to call your airline before your trip. Maxi-Cosi is the privileged companion of parents who fly to their vacation. Indispensable by car and practical when travelling, the car seats Pebble, Pebble Plus and Citi are officially approved for use in the aircraft. To answer the question of suitcases, changing bags and strollers that you can carry in the baby plane, Little Guest has listed all baggage franchises for babies (from 0 to 2 years old) from the main airlines: Air France, British Airways, Brussels Airlines, EasyJet, Emirates, Ryanair, Thomas Cook, Transavia, Virgin and Vueling.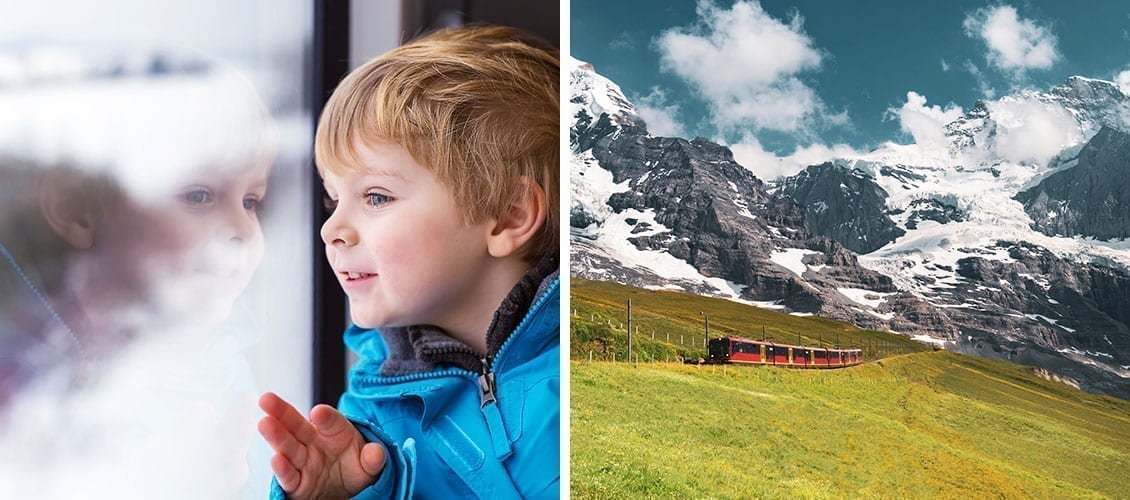 What could be more satisfying than seeing our children amazed by nature?
The vacationers' train
For departures to nearby destinations, the train can be an interesting choice that's also environmentally friendly. This means of transport offers considerable advantages. Economical and comfortable, it takes you to your resort by avoiding tolls and traffic jams. The train promises a safe and enjoyable trip for the whole family. Unlike car trips, you do not have to be careful about the road and can relax until you arrive. Your little travellers are often sick in the car? This is rarely the case on the train.
« Are there discounted rates for families? »
A good plan comes with many family rates. You save up to 50% on your trip. In Belgium, all members of a large family (3 or more children) can benefit from a reduction by submitting a request at any station of the SNCB network. This card costs 6 € and allows a reduced rate up to 100% for children under 12 years and 50% for teenagers and adults. For France, inquire on SNCF to know the rates. In Switzerland, children under 6 travel free of charge provided they are accompanied by an adult with a valid ticket. Children from 6 to 16 years old get a half-price ticket. You can find more information on the website of the Swiss Federal Railways: sbb.ch. For other trips abroad, be aware that the majority of train companies do not offer discounted rates for large families. Children under 12 years pay half of the price of an adult, while children under 4 travel for free in the majority of cases as with Eurostar. To travel at the best price, however, there is no secret – book your tickets as soon as possible.
Destination elsewhere
Finding a home suitable for the whole family is often a real headache. If you choose the hotel, the challenge is to find one that combines the quality of service with luxury and family offers. It's a bit like choosing a car but with a bigger cockpit. Communicating rooms or private villas are a real asset for large tribes. It is also a question of defining a destination that's able to satisfy the needs and desires of everyone. For example, if your baby is on board, we choose a hotel with a crèche by referring to this incredible selection of the most beautiful luxury hotels with baby club. Taking into account these requirements, we have selected two key destinations to go on a trip with a large family.
Little Guest has grouped for you all discounts and rates for families per company.
FOR CULTURe and DISCOVERIES: we CHOOSE SPAIN
Spain has everything to please. Between the cultural and dynamic cities of Madrid or Barcelona, Andalusia and its breathtaking landscapes or the authentic villages of the Spanish coast, hard to make a choice. In each region, you will find many kids-friendly lodgings perfectly created for families. One of these accommodations particularly attracted our interest: the Hotel Camiral. Located in the Catalan countryside, between the natural parks of the Pyrenees and the beautiful beaches of the Costa Brava, 15 minutes from Girona and less than an hour from the emblematic city of Barcelona, this cult address for golf lovers offers quality service for families. Surrounded by a sumptuous decor, the hotel has made serenity a watchword. The atmosphere is nice and relaxed. Parents and children enjoy activities in complete serenity and relax during a dazzling stay.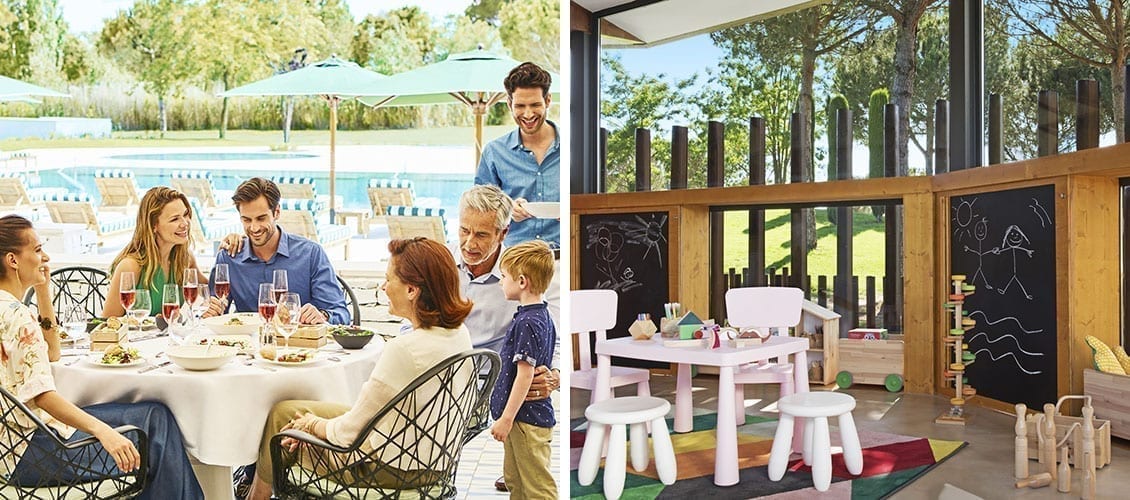 A moment of complicity and family sharing at Hotel Camiral, Spain    
The Camiral Hotel features a spa, 2 18-hole golf courses, a large outdoor pool, an indoor pool for children and a gym. The kids-club and teens-club welcome young and old for fun activities of all kinds. All rooms designed by the renowned Catalan designer Lazaro Rosa-Violan are characterized by a generous area and promise a surprising view of the Pyrenees. To the delight of large families, Deluxe rooms with panoramic windows to let in the light and freshness of gardens communicate with each other through an interior door. The hotel also has private apartments where a feeling of freedom reigns with undisputed comfort. The prestigious suites (Junior Suite Romani, Olivella, Mimosa or Ginesta) have large individual terraces overlooking the pool and the golf course.
For a stay in paradise: Mauritius dreams big and small
To the question of finding an exotic destination that is stable and suitable for the whole family, Mauritius is a logical answer. This sunny destination does not present any particular health danger that could discourage families with young children. The trip is long (about 11h) so choose a night flight, much more pleasant for the little ones. Wildland, heavenly beaches and giant turtles: the change of scenery is guaranteed and without problems of communication-related to the language since Mauritians speak English and French! The climate is pleasant: the weather is nice and the temperatures are bearable, turning around 25 ° c. Local markets plunge you into traditional culture and promise a trip to the 1,001 flavours of vegetables, fruit and colourful spices. Enough to arouse the curiosity of all your smala and please the taste buds. Taste tropical fruits such as pomegranate, papaya or pineapple.
Our practical guide about Mauritius could be helpful if your plans are to visit this destination.
Where to stay with little adventurers?
A cradle of innovative and varied activities, the island holds all the attractions to entrance everyone. The kids-friendly areas offer recreation specially designed for children. After a busy day, between swimming in warm, crystal-clear water, sandcastles competitions on the beach, scuba diving, long walks in a magical natural settings and adventure trails, exceptional hotels such as the Shanti Maurice Resort & Spa or the LUX' Le Morne, Belle Mare and Grand Gaube await holiday makers for a relaxing stay under the coconut trees.
A real haven of peace set between two long sandy beaches and surrounded by lagoons with turquoise waters, the LUX Hotel opens its doors to holidaymakers who want to share moments together while taking time for themselves. Featuring three swimming pools, a spa, a fitness centre, four tennis courts and an open-air cinema, this accommodation offers a wide range of offers. The staff is friendly and qualified to meet the varied expectations of guests, including activities for all tastes and ages. Children will love the cabanon « Ici » where they can enjoy ice creams or homemade sorbets with amazing scents. While the younger ones will fall for a bubble gum ice cream, Mom and Dad will opt for the delicious Sicilian pistachio or the traditional Mauritian strawberry.
Nestled on a peninsula in the north of the island, the five-star hotel adapts to the rhythm of large families and offers private villas surrounded by beautiful gardens, ideal for enjoying exceptional service in complete independence. Both Ocean Villas have two spacious bedrooms with King Size beds, a bright living room, an outdoor dining area and even a private pool. Butler service is available to the occupants. Across the resort, the style is sophisticated. Here and there, ethnic touches blend with natural wood furniture and light-toned materials. This is an opportunity to give your children a wonderful trip in a magical setting.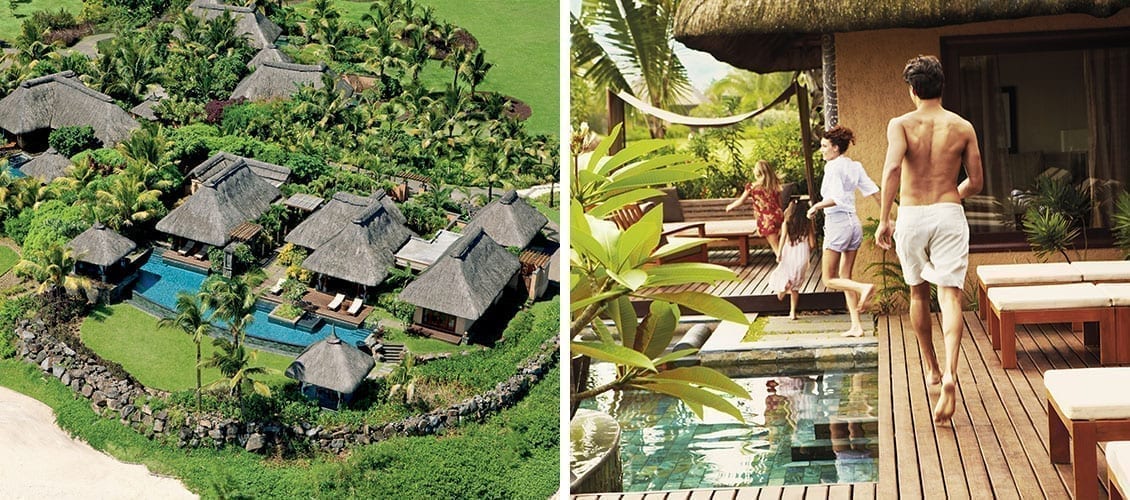 Holidays are an opportunity to get away from the daily routine and spend time with your family   
Excursions not to be missed on Maurice
Leisure
The ideal is to opt for activities where young and old will enjoy themselves. Do not set too ambitious planning so you do not have to run everywhere, which would eventually tire everyone anyway. The best thing is to define together one activity per day and to make the most of it. The main thing is to satisfy everyone's desires while enjoying a rest and escape from the stress of everyday life.
Everything is about ORGANIZING yourselves to enjoy the holidays without cluttering yourself up. Be careful not to forget anything, to predict the essentials and avoid inconveniences while preparing. Remember that you have to take the time to pack your bags (checklists), to choose the right means of transport (car, train or plane), to equip yourself cleverly for the journey (car seat, games, snacks,) Little Guest tricks (children already dressed, counting your tribe at the airport, distributing the clothes in several cases, choosing snacks that are not messy), choosing a destination that will suit young and old (Spain, Mauritius, etc.) and opting for activities that will appeal to the whole family.
Sources : Voyage et enfants, RTBF, Momondo, Voyage family, Dreambaby, Bouger en famille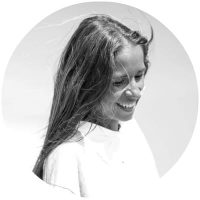 Audrey, aged 24, journalist, from Brussels