Babymoon… What could be behind this little name that reminds us of the best moments of our tender honeymoon? A new trend in travelling straight from the United States, a babymoon is none other than this break, placed under the sign of tenderness and relaxation, that future parents grant each other before the arrival of a baby. Little Guest has thought of 5 custom-made destinations for a stay that combines simplicity, security and complicity!
Babymoon, A honeymoon for future parents?
Here it is, Mom's belly has rounded up, the nursery is ready and you've even managed to agree on the first name! Bravo. Well done. What if it's time for the two of us to get together before the three of us do? To relieve the pressure, cooing as a couple but also to take the time to settle down and realize that… you're going to be parents! The Babymoon is everything but a journey like any other and is therefore prepared: the destination (a dream!), the means of transport (comfortable) and the contents of the suitcase (checklist), require very special attention. If this slowly growing baby is not your first, why not combine this babymoon with the honeymoon you've been delaying? To help you make a choice, see our article on the best destinations for a honeymoon with your children!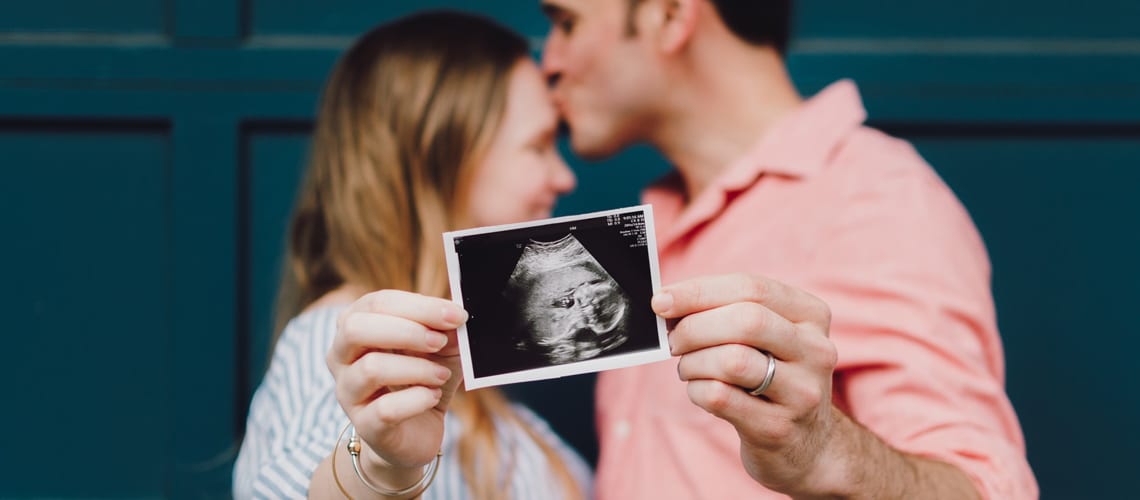 A child's arrival is a wonderful moment that you can celebrate with a trip.
« Where to go? »
We dream of a change of scenery to let go in peace, a simple place with no worries… like a deserted island in the middle of the Pacific Ocean? Perhaps not: long flights are not recommended, not to mention jet lag (which may exhaust Mom, already tried) or additional vaccinations required for exotic destinations. Note that the World Health Organization (WHO) advises against air travel for pregnant women after the 36th week of pregnancy or four weeks before the expected delivery date. Many companies have aligned themselves with these requirements and don't accept pregnant women over 36 weeks on board. Our article « Getting on a Plane while being Pregnant «  will give you all the keys to fly away in complete serenity during your pregnancy!
Similarly, places that are too remote, with no medical service or poorly served should be avoided. We must think of everything: a complication, unexplained contractions, premature birth are never to be ruled out. If the lost cabin at the bottom of the woods was part of your to-do list, reserve this option for later. In the meantime, Europe is full of beautiful destinations that combine comfort and escape!
In short: a rather short travel time, a « secure » destination, not too isolated but protected from the whirlwind of mass tourism… here is the ideal destination for relaxed parents!
« When to leave? »
The second trimester seems to be the most appropriate for a romantic getaway. Gone are nausea and intense fatigue of the first few months while Mom's belly still allows her to move easily! Not to mention that it's generally from the 4th to 6th month that expectant mothers feel most fulfilled and physically fit. It would be a shame not to take advantage of it.
From the 27th week of pregnancy (7th month), doctors recommend not to move too far from the maternity ward… you never know, events could be rushed!
« How to leave? »
Plane: We love it because it allows us to fly to the other side of the world in the blink of an eye (or almost). Long haul flights are still to be avoided for «  mothers to be « : prefer short trips (3-4 hours maximum) which will save you long hours by car. Note: Vibrations during landing and takeoff can cause small contractions, even if they are rather rare. Don't forget to wear compression stockings and walk between the aisles, your veins will thank you.
Car: It is the means of transport that causes the most vibrations and the mother-to-be's pelvis is severely tested. If you choose this mode of transportation, take breaks of at least 20 minutes every two hours to move your legs, stretch and hydrate. Wearing compression stockings remains e-ssen-tial!
Train: For holidays that run like on rails, the train is the most suitable means of transport for pregnant mothers. Fast and air-conditioned, the vibrations are also less strong than in cars or planes. Bonus: it's easy to walk from one car to another and back again. Trains in Europe will no longer have any secrets for you thanks to our dedicated article!
5 luxury destinations for budding parents!
Romantic Provençal getaway
Dry stones, loggias, cypresses and oleanders… Terre Blanche Hôtel Spa Golf Resort ***** welcomes you in a resolutely Mediterranean atmosphere. Only 45 minutes from Nice International Airport and 35 minutes from Cannes, this luxurious resort is a haven of peace in the heart of wild nature. Far from the hustle and bustle of the cities, its suites and comfortable villas guarantee you a cosy babymoon.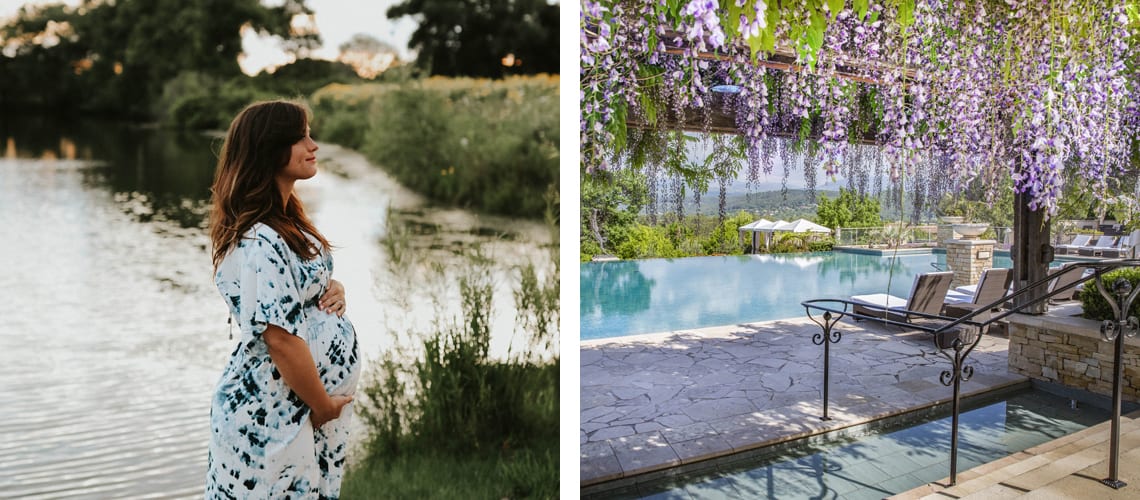 The Bastides drowned in the greenery are a real invitation to reconnect with nature. Especially since Terre Blanche Hôtel Spa Golf Resort is committed to an eco-friendly approach: its park and golf course are real nature reserves where you can meet turtles or wild orchids. So rural! The most adventurous will visit the adorable villages of Pays de Fayence and the city of Grasse, famous for its perfumes.
The south of France is undeniably a land of flavours. Inside the hotel, the restaurant Gaudina will allow you to enjoy a pleasant dinner with your partner to the sound of the grand piano. This chic bar-restaurant offers a light and refined Provençal cuisine. Mediterranean tapas highlight tapenades, hummus, sun-drenched fruits and vegetables.
Between two discoveries, special mention for the « Mother-to-be Massage », made up of gentle and enveloping movements that promote relaxation.  A special cushion for pregnant women will provide you with all the necessary comfort to leave you in the hands of the masseuses.
Nearest hospital: Grasse Hospital Center, 35 minutes.
Easy living in Chalkidiki
If you can't go to the summits and explore the various hiking routes, why not enjoy the pure Aegean Sea air from a quiet terrace with your feet in the water? The Ikos Oceania ***** hotel is probably one of the most beautiful hotels in the region. A real invitation to travel!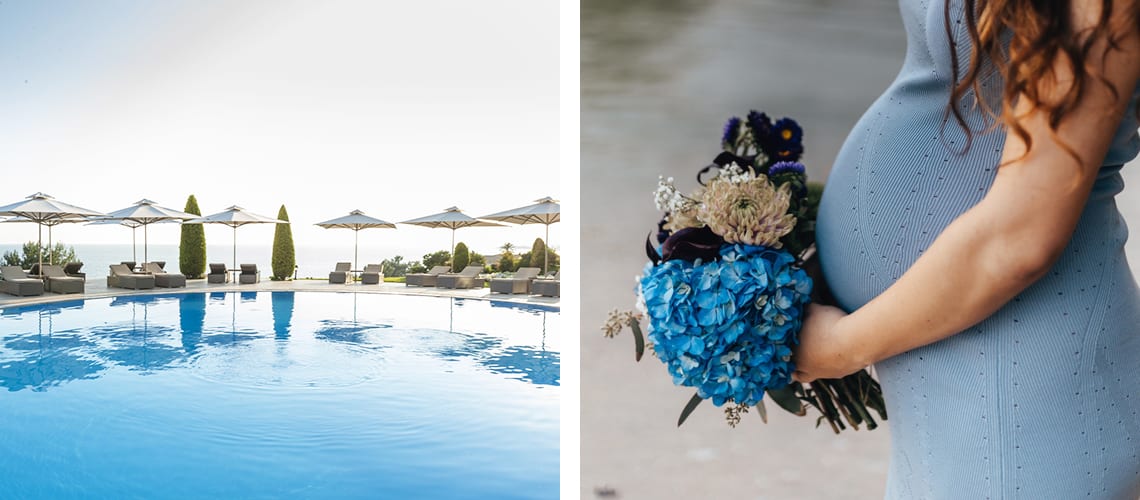 Celebrating the Greek art of living, the hotel offers top-of-the-range services and contemporary architecture. The geographic buildings are reflected in the infinity pools overlooking the Aegean Sea and offer an exquisite panorama of Mount Olympus. To relax, young mothers will find refuge on a shaded deckchair on the private beach that stretches over 350 meters.
Aboard their MINI Cooper, which is available for a full day's rental, the future parents will wind their way through the roads of Chalkidiki in search of little-known coves. In fact, a few secrets are revealed in this article: « Practical Guide: Halkidiki, Sunny Peninsula« .
During her pregnancy, Mom constantly needs to reconnect with her changing body. Treatments, massages and beauty rituals help her to be in harmony with herself and her new forms. The Ikos Spa by Anne Semonin offers an exceptional range of treatments. The Pregnancy Massage will relax muscles and rest the body while relieving the body and mind of the mother-to-be. The Glowing Mother-To-Be will focus on a relaxing therapy, facial treatment and a foot and leg massage. Looking for a duo massage? The Just The 2 of Us will rejuvenate the body and mind.
Nearest hospital: General Hospital of Halkidiki, 29 min.
A piece of Asia in Europe
Who said a trip to Asia was impossible for your babymoon? For parents who are thirsty for exoticism but don't want to inflict a long flight and its fatigue, the Asia Gardens Hotel & Thai Spa *****  is an Asian paradise in southeast Spain.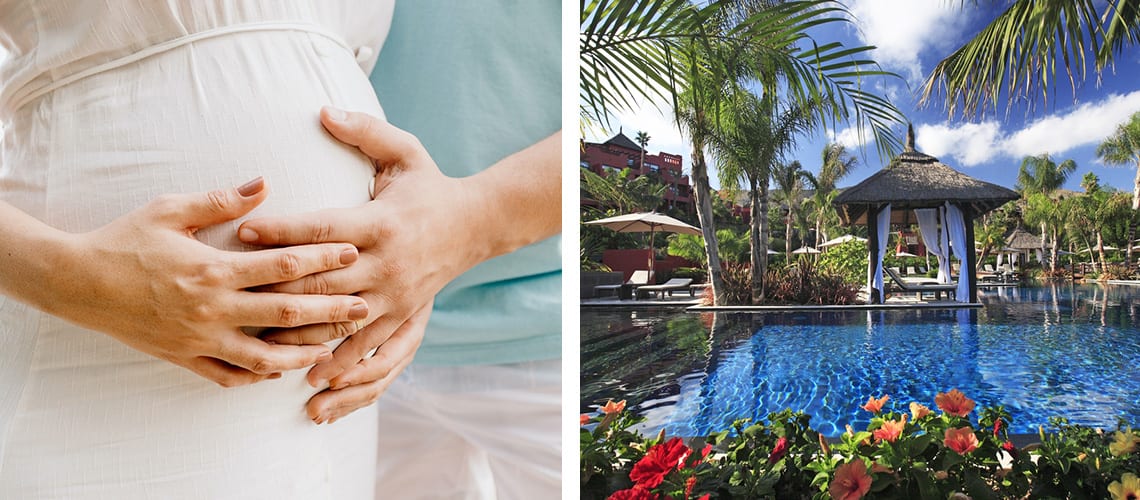 This exclusive hotel is cradled by the serenity, peace and tranquillity characteristic of Southeast Asia. Surrounded by lush tropical gardens where many varieties of flowers and palm trees grow, it's the ideal place to disconnect. Asia Gardens is also an ode to the Balinese spirit with contemporary touches, where cream tones enhanced with wood touches call for soothing.
At nightfall, couples looking for massages like to meet at the spa. The expert masseurs trained in the prestigious Thai school of Wat Pho, master the ancestral techniques of China, Balinese and India. A delight.
To relieve all the anxieties related to your future life as a parent and its new responsibilities, the wellness program combining yoga, Tai Chi and meditation will lead you on the paths of mindfulness. There is nothing like learning to work on your inner strengths to better let go and tame your fears. Moreover, it has been proven that meditation is a real preparation for childbirth!
Nearest hospital: Alicante General Hospital, 32 minutes away.
A seafront city trip 
What about a movie-tainted getaway? One word: Dubrovnik. The Southern Croatia city, with its stunning walls, was used a settings for notorious Game of Thrones serie and Star Wars movie. Get lost in its narrow alleys and imagine the conspiration that took place in its shady parts… Combining its wild Adriatic charm with its history-laden old town and a surprising gastronomy, Dubrovnik is a must-go for sunny city-trips lovers. So what's best than staying at Sun Garden Dubrovnik ***** to enjoy the « Pearl of Adriatic »?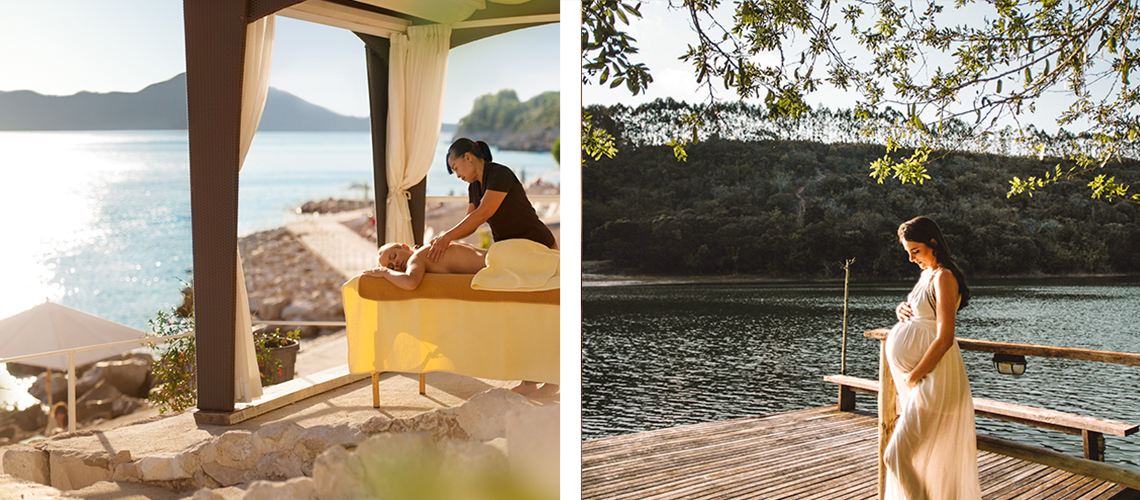 Located a mere ten kilometers from the city, the hotel is designed to provide innovating and relaxing experiences to its guests. Its rustic design and eco-responsible agenda have what it takes to charm the most demanding, and its amazing beaches are conceived for total resting. And if you have children, a charming kids-club loaded with fun activities awaits them at the resort.
Of courses, various tours are organized to discover the city's numerous treasures. Named Ragusa until the end of World War One, Dubrovnik combines Byzantine, Venitian, Gothic and Renaissance architectural styles. Among the unskippable, the famous walls, the Lovrijenac fortress, the Rector's palace, the Cathedral of Assumption, the Franciscan Monastery and many more. The Ephalites, Korcula and Lokrum Islands are easily reachable from the city's harbor, while Montenegro is within a reach with car drive.
The hotel provides all the necessary if you feel that pregnancy forces you to rest. The resort offers a soothing spa, as well as top-notch sport infrastructures to stay in shape. Yoga sessions will supply the relaxtion that you need while the tasty restaurants offer culinary journeys that will mesmerize you.
Let be surprised by Dubrovnik and its dolce vita, with a fascinating sea background, to get filled with good vibes for your coming little one.
Nearest hospital: Bolnica Dubrovnik,  22 minutes away.
Thalasso getaway in Tuscany
When Tuscany comes to mind, needless to say that you will instantly picture its Renaissance cities, gorgeous orchards and its gastronomy stands at the pinnacle of refinment. Its history-laden places that span over the region have developped a culture that shines through centuries and memories. It's hard not to picture yourself at the times of Machiavel, strolling in the streets of Florence, attending the Palio on Sienna's Piazza del Campo or gazing at the Pisa tower?
Going to Tuscany means soaking in a convinced epicurism where fine delicacies and local production walk along. The range of famous Tuscan recipes is as wide as Livorno's canals and, even if you are near term, there will always be plenty of pregnancy-friendly food treats for you. Add to that an abundance of museums, churches and verdant gardens to visit and you will get properly unforgettable holidays.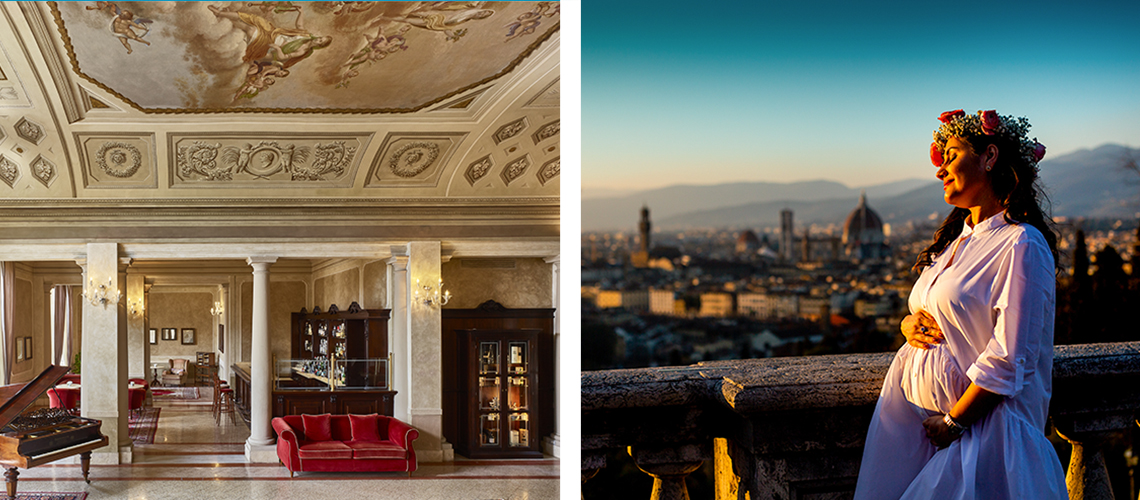 It is in this blessed-by-the-gods environment that the Bagni Di Pisa Palace & Thermal Spa – Tuscany ***** opens its doors for an elegance-stamped journey, where laid-back mood and art of living combine graciously.
Located in San Giuliano Terme, a few kilometers away from Pisa, the hotel draws its name from its thermal station originally conceived in 1743 as a summer residence for the Duke of Tuscany. Since then, thousands of visitors have discovered this marvel, attracted by its thermal cares and luxurious setting. A genuine ode to well-being and relaxation in this dolce vita sophisticated hotel.
The wide range of cares featured at the hotel is meant to please everyone: 5 indoor and outdoor thermal pools, a spa boasting with hottubs, sauna, hammam, natural thermal cave or a large collection of treatments. Don't miss the unique « Cioccolamici » a massage based on… chocolate! The Equilibrium formula consisting of a series of personalised medical-scientific programmes based on four pillars (nutrition, thermal treatments, anti-stress techniques and physical exercises) is recommanded for pregnant women willing to re-harmonize before the term.
As you can see, luxury and efficiency work hand in a glove to provide an invaluable stay for your babymoon!
Nearest hospital: Hospital Cisanello, Pisa
Advice from a mother: before you leave…
To avoid unnecessary anxiety, find out about nearby hospitals: you never know. Please be aware that for Little Guest, the safety of your family comes first. Choosing the nearest hotel from a hospital or a doctor is one of our criteria. Find all these details in the « In short » section with hotels in our collection.
First of all, ask your midwife or obstetrician for advice. They can provide you with a medical certificate proving that your pregnancy is not contraindicated. For the plane, it's even essential. Bring your ultrasounds, medical records and prescriptions in progress and NEVER forget your pregnancy medical record! The European Health Insurance Card is also essential if you are going abroad.
For any journey of more than two hours (especially in the air) compression stockings are essential to avoid any risk of thromboembolism. On the clothing side, prefer loose-fitting cuts and comfortable shoes, especially for traveling. A large hat, good sunglasses and sunscreen will also be your allies (during pregnancy, your skin is more sensitive).
Luxuriate in warm water and let your body relax… yes but only if it does not exceed 39°C. Indeed, the internal body temperature (at the level of the vital organs) is said to be teratogenic, i.e. harmful to the foetus, when it exceeds 39°C. On the other hand, saunas and steam baths are not recommended. The risk of discomfort or thromboembolic problems is increased. Prefer the appropriate massages and the gentle jets of the pool!
Because food plays an essential role in baby's growth, expectant mothers often wonder what they should and should not eat when they are pregnant. To help you see this more clearly, Little Guest has concocted an article on nutrition during pregnancy, don't hesitate to read it!
And when the baby is here? Once baby has pointed the tip of his nose, it's time to choose an appropriate destination. Adapted equipment, babysitting, baby crib… but above all a crèche and fun activities! To guide you in your choice, Little Guest has selected the most beautiful luxury hotels with baby club for you.
Bon voyage!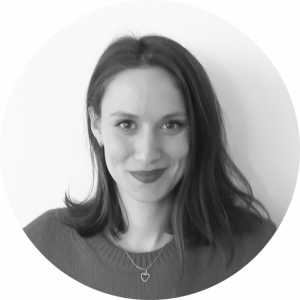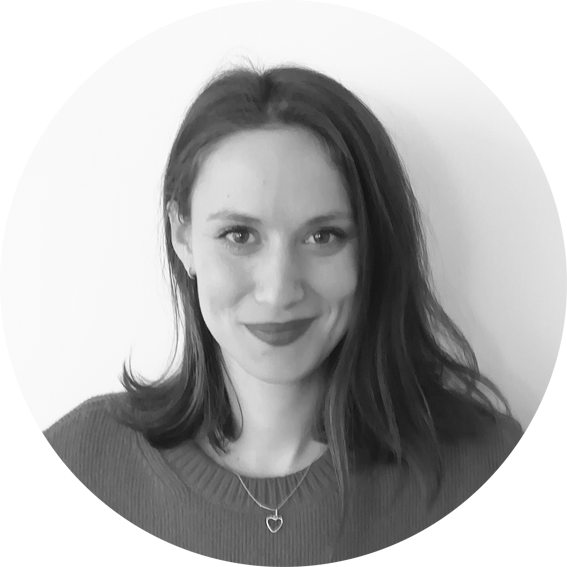 Mylène, 28 years old, art and travel lover, from Strasbourg, France