We meet, we get together, we fall in love, we decide to move in together, we bring one or two children into the world, and one day, we decide to get married, surrounded by close family and friends. And a wedding means a honeymoon! Why not share this unforgettable moment with your children, who are, now and forever, a concrete symbol of your love?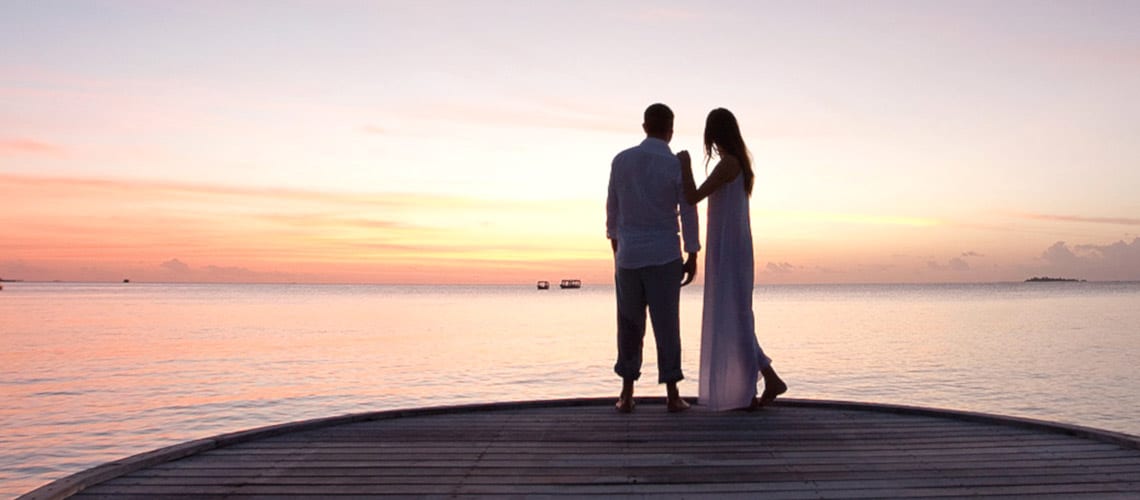 Summary
Yes! These desires are indeed compatible and feasible! You can get a change of scenery, luxury and romance all in one ideal accommodation that your kids will also love, you must simply choose a high-end hotel, in Europe or anywhere else, that welcomes both large and small guests. But finding a luxury hotel that accommodates to the needs of children is not always easy. That's why we've decided to make the job easier.
Over the months, we have selected a handful of amazing destinations that will fulfill all your desires, as well as those of your children. You can have all the intimacy and comfort that a couple would expect, while also knowing that they can ensure your children's safety and provide them will plenty of activities and entertainment.
You will soon become a mom ? Little Guest gathered for you dream destinations for an incredible babymoon !
JANUARY HONEYMOON
Recommended destination: Mauritius
Welcome to Mauritius! Crystalline waters, temperature around 30°C, idyllic landscapes, this is in a few words the definition of this truly paradisiacal place. To say that this dream island is an ideal playground where you can build sand castles, jump over the waves or explore the island as if you were Robinson Crusoe is an understatement. You can swim with Manta rays and myriads of colourful fish and it is not uncommon to come across wild dolphins. Numerous excursions are organised to discover the land and water treasures of the island, which is undeniably perfect for families.
If your baby accompanies you on your adventures, check the practicability of the routes to be taken to the sites of interest and remember to check the conditions of his luggage: stroller, pram, etc.
Our favourite hotel: LUX* Le Morne
The LUX* Le Morne is an elegant 5-star hotel, located on the south-western tip of Mauritius, on the Indian Ocean. This popular part of the island is protected from the trade winds by the Morne Brabant, a beautiful gingerbread-shaped mountain, which rises to 555 metres and is classified as a UNESCO World Heritage Site.
At the LUX* Le Morne, children are treated like kings. With or without Mum and Dad, they take part in the water activities reserved for them at the hotel reception. Among them; a swimming session with dolphins, a cinema session on the beach under the starry sky, but also treasure hunts, tennis lessons and a whole host of sporting and creative activities. To top it all off, the staff regularly hides a bottle in the hotel's gardens or on the beach. If you are lucky enough to find it, read the message inside: it contains a gift!
The Lux* Le Morne also has children's menus and high chairs in its restaurants, a babysitting service, all the childcare equipment essential for a baby's stay (bottle warmer, adapted bathtub, cot, etc.), as well as two incredible kids-club.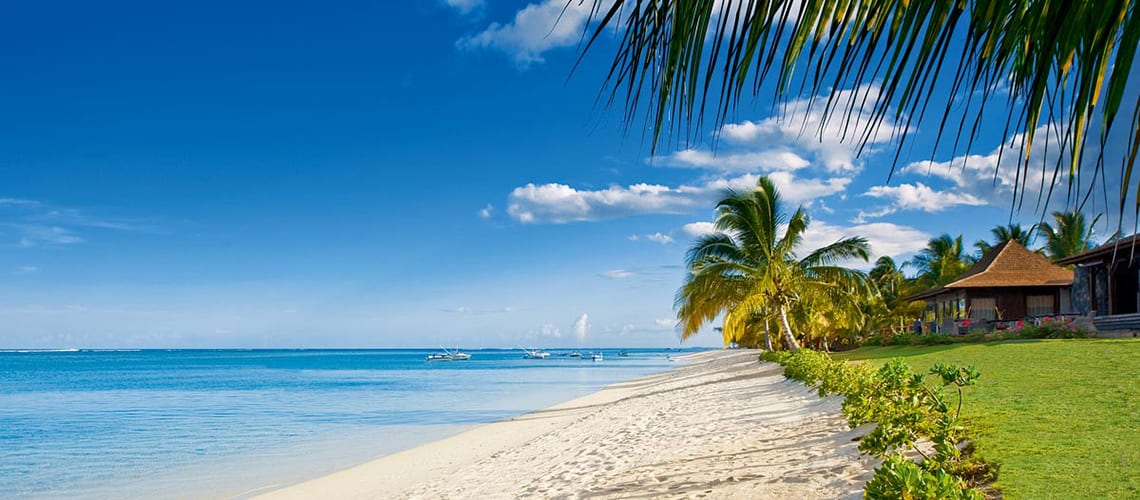 FEBRUARY HONEYMOON
Recommended destination: Dubai
What can be better for a honeymoon than a backdrop suitable for One Thousand and One Nights on the banks of the Persian Gulf? That's exactly what Dubai has to offer, tying together traditional charm and modernism. Dizzying skyscrapers, green oasis, dreamy beaches, technical feats, and these are just a few of the characteristics of this amazing city. In February, just like the rest of the year, the sun shines bright in Dubai. Therefore, it is important to think about protecting children's sensitive skin.
Our hotel choice: One & Only Royal Mirage
You will spend your trip with your children at the prestigious hotel One & Only Royal Mirage. Intimate yet luxurious, this hotel offers a breathtaking view of the tallest sky scrapper in the world and of the magnificent Palm Island bay. Children and adults alike, those looking for discovery or a change of scenery, will find everything you desire in the heart of this futuristic and exotic city.
The hotel offers activities designed for children ages 4 to 11, but not just them. The activities include camel rides, oriental dance classes, Arabic language lessons henna painting, sand sculpting, golf, tennis, volleyball, etc.
The One & Only Royal Mirage has two large playgrounds, and offers free access to the Aquaventure amusement park, as well as transportation to the park. For the little ones, there is also a baby-sitting service and equipment rentals are offered (baby monitor, baby chairs, baby bathtubs, etc.).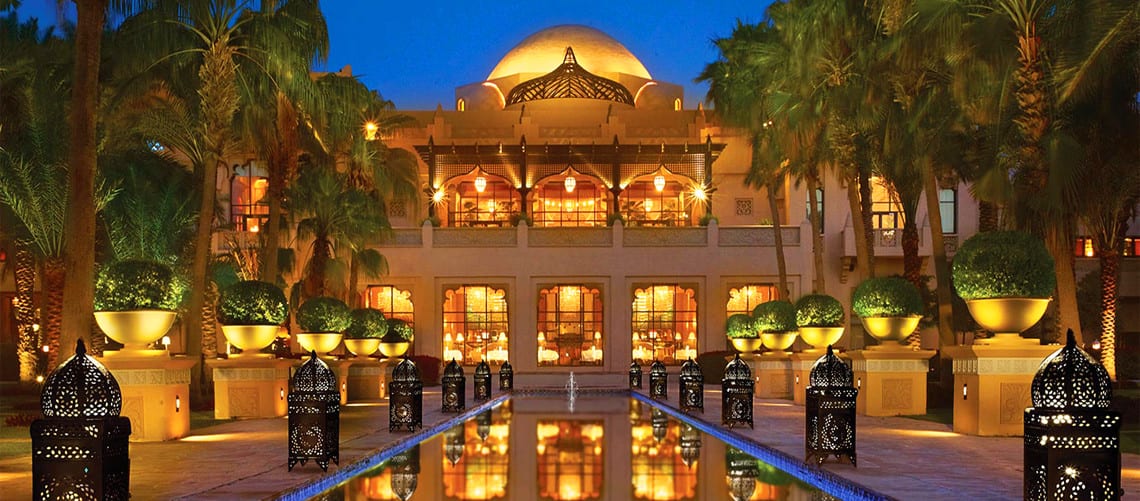 MARCH HONEYMOON
Recommended destination: The Maldives
In the middle of the Indian Ocean, 26 ring shaped atolls with more than 1,000 coral islands make up the Maldives. The Dhaalu Atoll consists of 56 islands, and is renowned for its infinite beaches, its blue lagoons and its reefs. Located only 45 minutes by seaplane from Malé, the country's capital, the Dhaalu atoll is the perfect place for families looking for a change of scenery. Children will love the ever-present warm, blue sea with its waves in which they can dive and dive again. If you're expecting, it is in the future mother's best interest to do some research before flying!
Our hotel choice: Niyama Private Island
In the Dhaalu atoll, there is the Niyama island and its extraordinary 5-star hotel: Niyama Private Island. This hotel is the perfect place for an unforgettable honeymoon. Children (and their parents) will experience new things that they will always remember in this n this paradisiacal environment, such as diving, snorkeling, cruises to the neighboring islands, dolphin watching, etc. The hotel also offers a large variety of sports, including surfing (classes for those older than 8 years old), badminton, tennis, etc.
The NIYAMA is further set apart with the only kids-club in the Maldives, which welcomes kids ages 12 months to 12 years. For the little ones, the hotel has a baby-sitting service and equipment rentals to make travelling as a family easier (extra pacifiers, games and books for babies, potty chairs, etc.).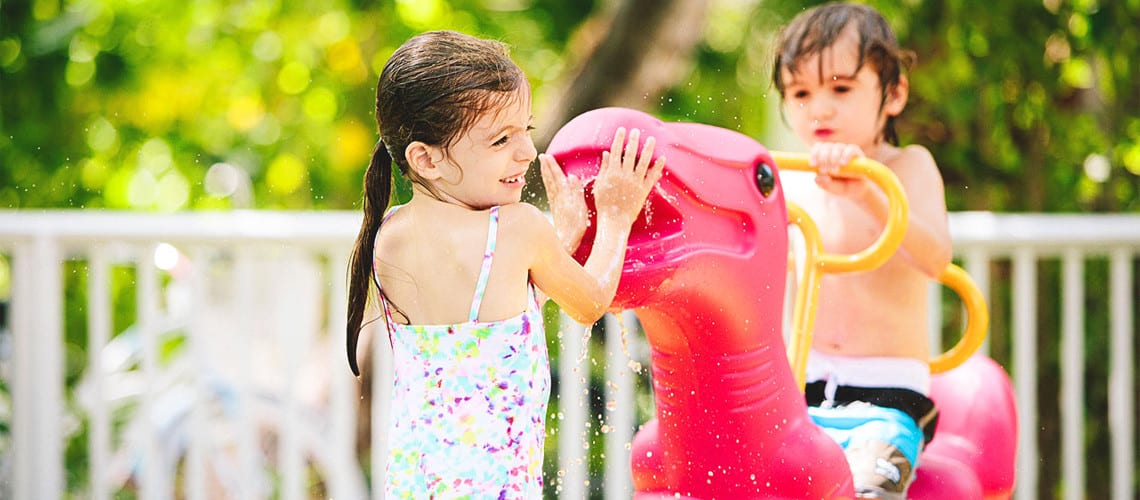 APRIL HONEYMOON
Recommended destination: South Africa
Did you know? In South Africa, about 50 km from cape town, there's a town called Franschhoek, which can be translated as « the French quarter ». Parents and children will go on unforgettable hikes on which they'll discover incredible panoramas of the stretching ocean or of Table Mountain. They may even encounter some wild animals. Guaranteed change of scenery! The region gives you the choice of going on excursions on foot, by bike, or even on horseback, and you can even go trout fishing. For parents, this wine region is considered to be the capital of gastronomy and wine in South Africa. The whole family will love this trip… but to make sure the African sun doesn't damage your children's eyes, don't forget to bring along sunglasses designed for your children!
Our travel choice: an incredible safari
What could be better than a safari for a special honeymoon? If it's already a dream trip for couples, this type of trip will also appeal to children, who will be delighted to play the little explorers! A safari cannot be improvised, especially with children. This is why Little Guest has established a partnership with the best travel agency in Cape Town. This agency, which has designed a tour especially for families with children, will assist you before and during your safari in South Africa.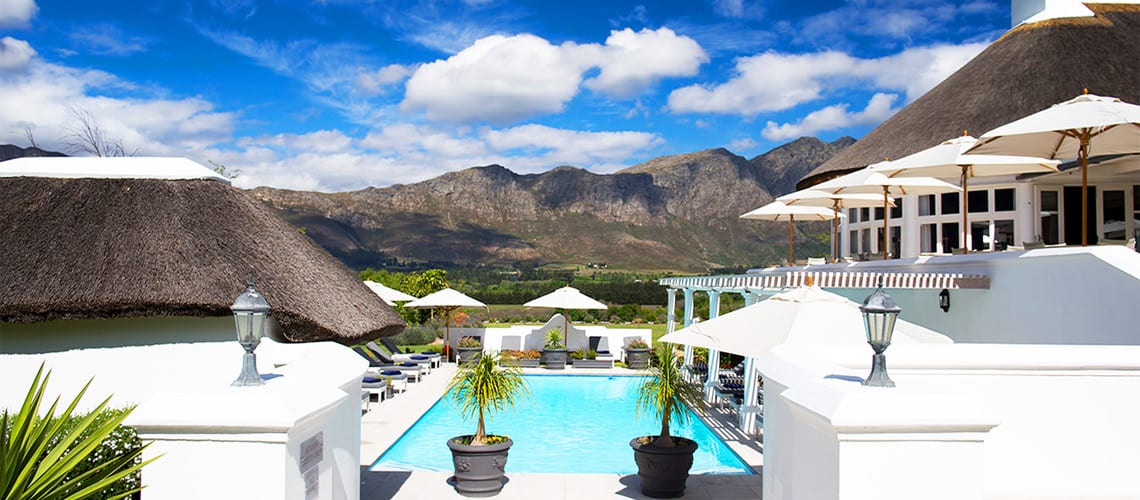 MAY HONEYMOON
Recommended destination: Turkey
We all know the proverb: « in May, do what makes you happy ». What if Turkey was what made you happy this time? Head to Bodrum with its golden sand beaches, its palm trees and it's romantic sunsets. This renown seaside resort with a rich and lengthy history, is a fantastic holiday destination for relaxation and pleasure. The region of Bodrum offers many activities that are sure to interest children and teens. Make a stop at lake Tuzla, which children (and parents) will love to discover, known for its large colonies of pink flamingos and migratory birds who vacation there. The historic vestiges are just as numerous as museums, but also as numerous as places for entertainments, such as Funtown Yahsi Park. Here, you can play sports, go on boating or biking excursions, go hiking, discover national parks, etc. The city also has a superb medieval castle and a charming marina.
Our hotel choice: Le Méridien Bodrum Beach Resort
At Le Méridien Bodrum Beach Resort, everything here is good living and good love. The luxury of this establishment and its incredible backdrop make this the ideal destinations for romantic trips… as well as family trips.
And children are truly pampered. The kids-club welcomes kids from 3 to 8 years old and even younger guests as longs as they are clean. There's no time to be bored, between sports, making cupcakes, painting, making masks, building sand castles and movie screenings, etc. The hotel also offers a baby-sitting service and many amenities for the little ones (shuttle with a baby seat, baby cot, baby tub, etc.).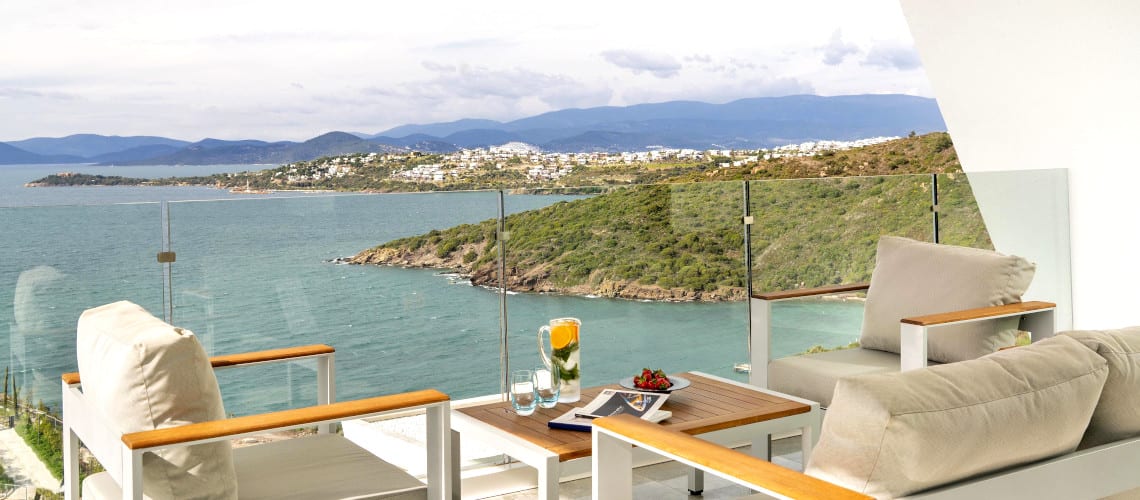 JUNE HONEYMOON
Recommended destination: Tenerife
What better way to celebrate your love than with a trip to the « island of eternal spring"? Tenerife, one of the Canary Islands, is known for the beauty of its countryside and its constant and ideal climate: the temperature oscillates between 20 and 30 degrees. The island of Tenerife is teeming with appeal, for children and their elders. For example, there's the famous Siam Park, with Thai inspirations, which is considered to be the best water park in the world. Children will never want to leave! In another vein, the impressive volcano El Teide will plunge you into a quasi-lunar universe; discover it through hikes and 4-wheeler excursions. You can also roam around the Masca Valley, the local markets, and the typical small towns. Young and old alike will enjoy going for cruises to see turtles, dolphins and whales in their natural habitat.
If your children are traveling with you, take a look at the checklist of everything you'll need for baby to 3 years old, for children from 3 to 6 years old and for children from 6 to 12 years old!
Our hotel choice: Ritz-Carlton Abama
On the west side of the island, the 5 star hotel Ritz-Carlton Abama is waiting for you, with its view of the bay , its golf course, its fine sand beaches, its pools and many other marvels… All of this is just barely 10 minutes by car from the famous seaside resort: Costa Adeje.
The Ritz Kids welcomes children from 4 to 12 years old to explore the nature and the cultural tradition of the island through games and entertainment (drawing, crafting, games, football, theater, dancing…). The little ones are also welcome, as long as they're accompanied by an adult. There's an outdoor playground that's designed to be safe for children of their age. The hotel also offers a baby-sitting service (starting at 15€/h), as well as amenities for the youngest guests (bottle warmer, strollers with umbrellas, baby chairs, etc.).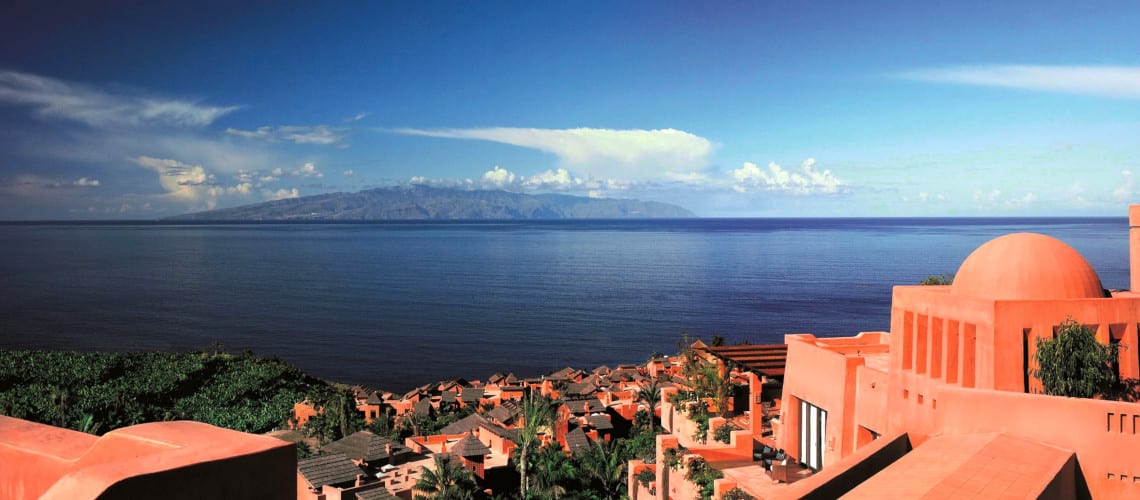 JULY HONEYMOON
Recommended destination: Provence
You don't always have to go far to find happiness… Daudet's and Pagnol's Provence is waiting for you, with its seagull's songs and the smell of lavender. Provence is the ideal destination for romantic and family trips.  You can discover Camargue and the Alpilles on horseback, alone, with professional supervision, or even by flying over them in an airplane. Take a walk where Vincent Van-Gough once walked, visit the Palace of Popes or the bridge of Avignon, admire the extraordinary Carrieres de Lumiere and the château des Baux. Take advantage of the multitude of aquatic activities organized at the Saint Cassien lake or explore the Lerins Islands that will surely charm you. Kid-friendly horseback excursions will leave you with plenty of great memories.
Our hotel choice: Domaine Terre Blanche
The prestigious Domaine Terre Blanche Hotel Spa Golf Resort, located in Tourrettes, welcomes loving couples, with or without children. Between the aromatic gardens and the golf course, this hotel will surely please you with its authentic provincial charm.
In the summer months, Children between 4 and 12 years old are freely accepted in the club "The Children's Kingdom « , where they can participate in many different sports, cultural, and artistic activities, as well as much, much more. In the summer, they also offer a junior club (7-9 years old) and a teen club (9-15 years old) that organize outdoor excursions such as treetop adventure courses, water slides at the water park and at Saint Cassine lake, climbing and zip lining, laser tag, etc. The hotel also offers a high-quality baby-sitting service for families (30€/h) and amenities to make traveling with a baby easier (games and books for babies, baby cot, baby chair, etc.).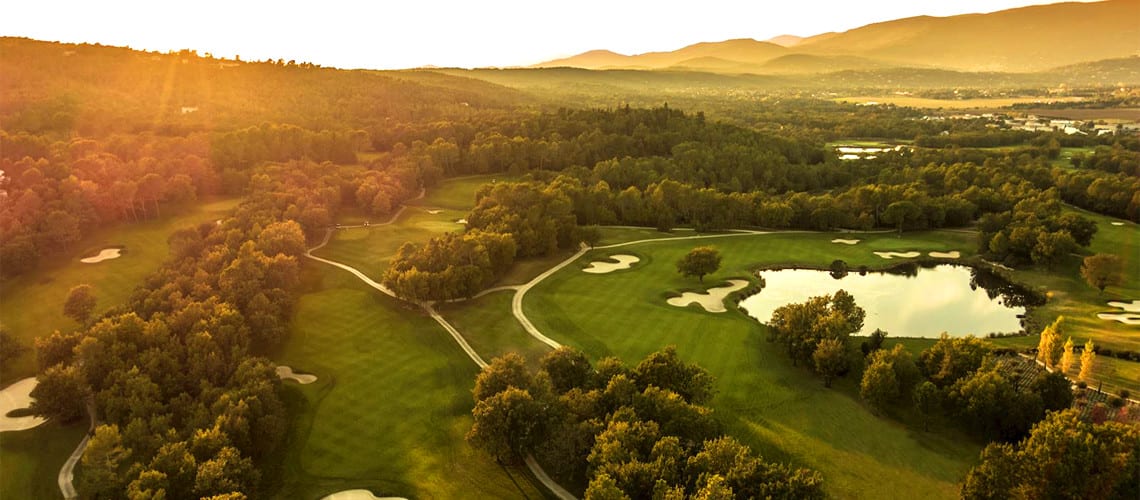 AUGUST HONEYMOON
Recommended destination: Greece
A honeymoon in the land of the gods, what could be more romantic? The land of history and legends, Crete offers one thousand and one things to do that will stay in your children's memory forever. The most extraordinary is, without a doubt, the palace of Cnossos, which was built 3 thousand years before Jesus Christ. You can still see traces of the mythical labyrinth where the Minotaur was living and from which Icarus escaped on wings of wax and feathers with the help of Ariadne… Besides these ancient ruins, the museums, the beautiful countryside, the island also offers multiple water parks and theme parks that will entertain the children such as The Dinosauria Park and the Labyrinth Theme Park. Discover our complete guide for traveling to Crete!
Our hotel choice: Daios Cove
Not far from the city of Agios Nikolaos, the Daios Cove is waiting for you on Crete, the largest of the Greek islands, where Zeus himself grew up! Situated on an overhang with a white sand beach, running along a creek of crystal clear water, The Daios Cove is specially designed for families thanks to their accommodation infrastructure such as the villas with private pool, the family-size rooms, etc. The Daios Cove offers a variety of aquatic activities such as pedal boat, canoe, water skiing, and all of this doesn't even include group yoga and Pilates classes, or the tennis courts.
Good news: children between 0- and 2-years old stay and eat for free. Upon arrival, children receive a welcome gift, and their parents have access to everything they may need when traveling with children (extra pacifiers, strollers, safety barriers for the pool, etc.). From babies to adolescents, children will surely find happiness at Daios Cove. The nursery at Daios can take care of babies from 4 months to three years old. It's also good to know that the Kids-club at Daios Cove welcomes children between 4 and 11 years old for free. The child care nurses and the organizers of the kids-clubs offer athletic and hands on activities designed specifically for your children's age ranges. a baby-sitting service is also available (starting at 12€/h).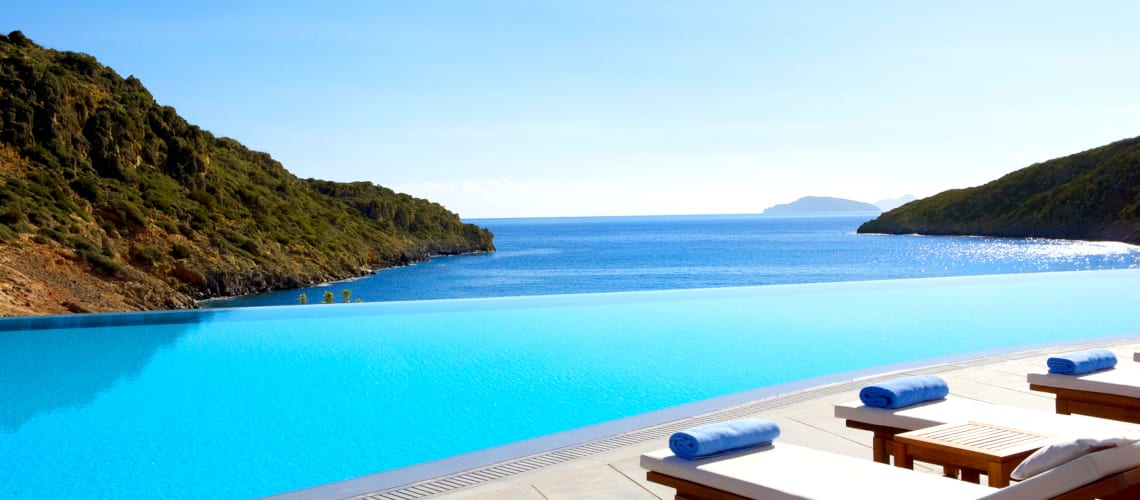 SEPTEMBER HONEYMOON
Recommended destination: Bali
Why not travel to Indonesia, and more specifically the island of Bali, with its volcanic mountains covered in vegetation, tropical forests, cliffs and outlooks, rice fields, golden beaches, coral reefs, and temples? Bali and the Tabanan region offer and array of unique experiences that children will love. The island is well known for its great snorkeling spots. The Bubble Maker program is designed for the smallest divers over the age of 8. In Indonesia, besides your children, other little guests might invite themselves along with you. In order to have a great vacation and to take advantage of all that Bali has to offer while still staying safe, be sure to protect your children from mosquitos!
Our hotel choice: La Villa Sungai
On the south-west coast of the island, spend your vacation at the Villa Sungai located in a traditional village lost in the middle of rice fields. The hotel consists of 2 distinct villas located on the edge of a river. Intimacy is guaranteed along with a discreet, refined luxury.
Children are especially pampered at the Villa Sungai. When they arrive, children receive a sarong, which is a traditional Balinese outfit. They can also participate in Tea Parties organized by the hotel with the staff's children. Many activities at the villa and in the surrounding area are suitable for children. Mom and dad can either participate with their children or take a moment to spend some time alone… For the little ones, many products and amenities are available to parents (baby and child cots, night light, baby bottles, etc.).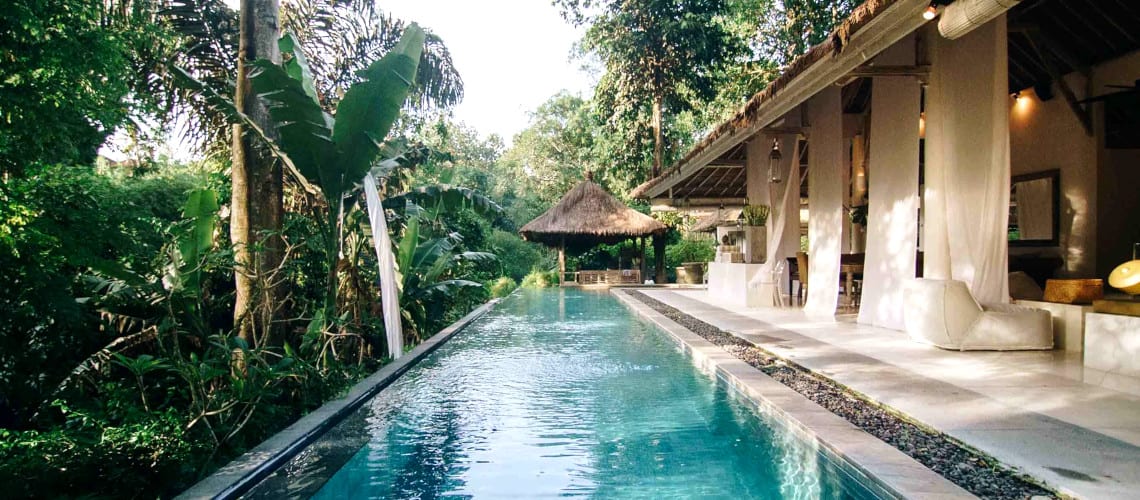 OCTOBER HONEYMOON
Recommended destination: Marrakesh
In the middle of Morocco at the foot of the Atlas Mountains you will find Marrakesh, the Red City, previously the imperial city. The city of Marrakesh and its surroundings offer so many moments of discovery and wonder on land as well as on the seaside. Young and old will enjoy the authentic Berber villages as well as camel rides through the region's palm groves. Children will surely love to see the incredible water falls at Ouzoud and the beach at Essaouira. For the more adventurous souls, they can also explore the natural reserve Terres d'Amanar where they can participate in activities such as treetop adventures and ziplining.
Our hotel choice: Selman Marrakech
Set against a sumptuous backdrop, the luxurious palace Selman Marrakech seems to be pulled straight out of One Thousand and One Nights and will bring you dreams, a change of scenery, opulence, and exoticism. Around the pool, which is surrounded by a dreamy palm grove, the building itself is worthy of being one of the most beautiful oriental palaces. Young and old alike will marvel at the stud farms and stables full of pure blood Arabian horses.
When they arrive at the hotel, children receive a welcome gift: the hotel's mascot, a Selman Kid's passport, a box of crayons for coloring, and a selection of specialized cosmetics. The hotel's kids-club welcomes children between 4 and 12 years old in a splendid play area, inside and outside, that offers slides and swings, reading and baking workshops, crafts, theme nights, etc. Children under 4 years old are also welcome in the kids-club, on the condition that they are accompanied by an adult (baby-sitter or parent). Children between 1 and 3 years old can be taken care of by the hotel's baby-sitting service (starting at 15€/h). If you are traveling with children between 3 and 6 years old, make sure you didn't forget anything even if Selman Marrakech offers a large number of amenities for parents (baby cot, bottle warmer, baby tub, etc.).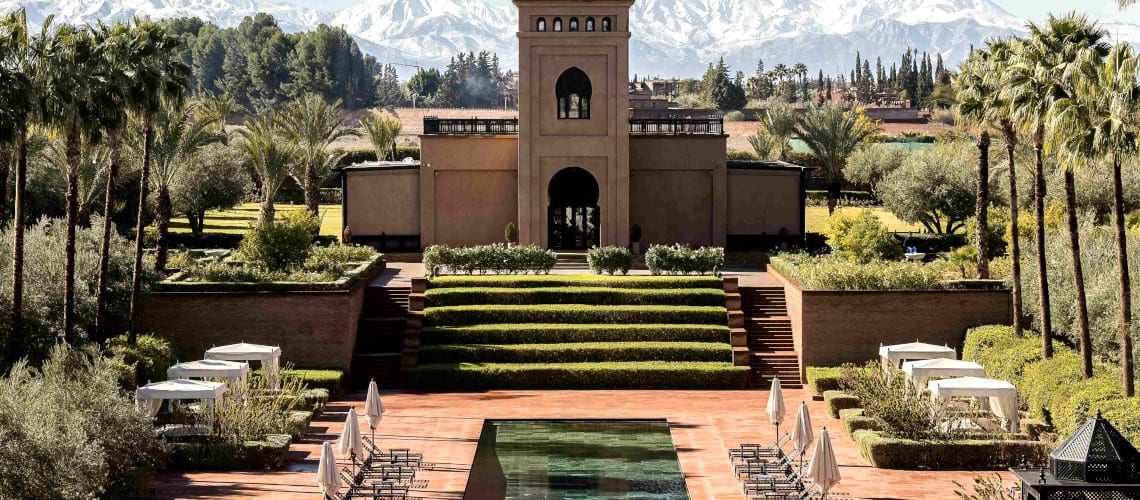 NOVEMBER HONEYMOON
Recommended Destination: Mauritius
A romantic or family getaway on one of the most beautiful islands in the world, in the west of the Indian Ocean… Everyone has dreamed about it. Once called the Isle de France, Mauritius is full of sites and activities that are sure to enchant children… and their parents. They will explore the animal parks with wonder, such as the Crocodile and Giant Tortoises Park, the Safari Park, and even the île aux Aigrettes, as well as the Casela zoo. The nearby coral reefs protect the exceptional aquatic life, which will please those who love aquatic activities and discoveries such as a submarine trip, dolphin excursions, diving, snorkeling, etc. The Chamarel waterfall and it's seven colored earths are a magnificent sight. To the South of the island, the Rochester waterfall is Worth a visit.
Our favourite hotel: Shanti Maurice Resort & Spa
Mauritius is home to the prestigious Shanti Maurice Resort & Spa. Nestled in a lush environment, it is a true invitation to relax and let go.
The hotel's kids-club covers nearly 2,000 sqm where the little ones can enjoy various recreational and sporting activities such as yoga, face painting competitions, musical games, drawing, etc. The kids-club has its own paddling pool, a tennis court and a large games room equipped with billiards, table football, a cinema corner and an area dedicated to console games.
Teenagers, too, are entitled to a programme of sports and water sports activities adapted to their age group and preferences.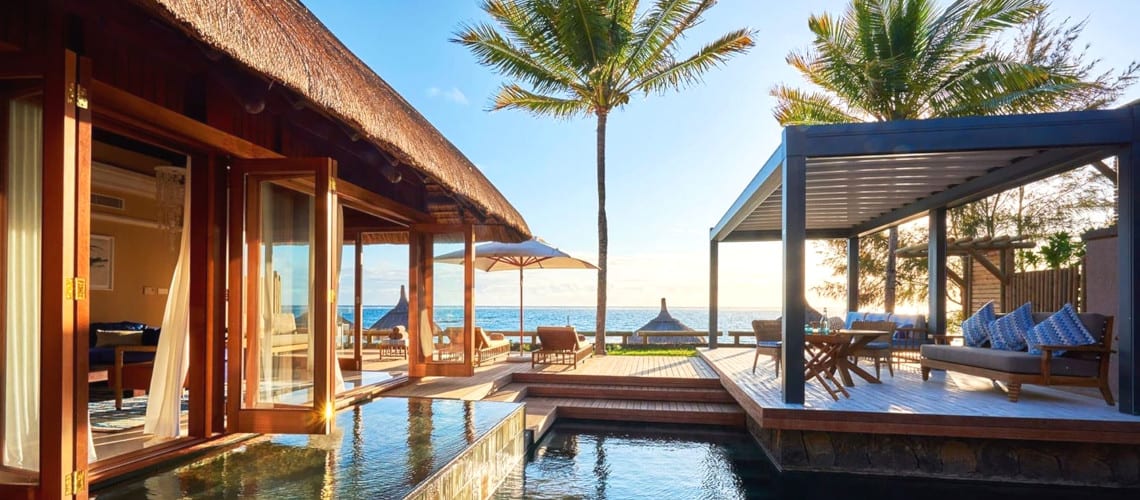 DECEMBER HONEYMOON
Recommended Destination: Thailand
Koh Kood (Ko Kut) island is a peaceful tropical paradise located in the Gulf of Thailand, to the South of Koh Koh Chang island. This amazing island, still protected from tourism, offers beautiful and wild scenery with a tropical and luxurious jungle, white sand beaches and crystal-clear waters. Children and adults alike will be amazed to discover the mangrove forest, to go on boating excursions, to participate in aquatic sports such as diving and snorkeling as well as fishing. They can also visit typical villages and admire the Makka tree, a 500-year-old tree, or even head out on an adventure to Khao Rearub.
Our hotel choice: Soneva Kiri
Nestled in the crux of a private bay, between the jungle and the infinite beaches, the marvelous hotel Soneva Kiri is the ideal destination for couples looking for intimacy and nature. The Soneva Kiri offers a luxurious and refined stay at its comprehensive site including restaurants and sports, as well as a baby-club and a kids-club. Before heading out, check our baby checklist (0-3 years old) to make sure you don't forget anything. For larger equipment, the hotel offers many amenities to families to make their stay easier (strollers, potty chair, games and books for babies, etc.) as well as a baby-sitting service (15,50€/h).
The hotel's baby-club, called the « Eco Den », welcomes children between 1 and 4 years old. They can participate in educational activities. Outside the villa, they can entertain themselves on the playground or in the pool with a slide. the kids-club « The Den », welcomes children between 5 and 12 years old in a large creative and recreational space where they can draw and paint, learn to play traditional Thai instruments, etc. They can also visit local schools or explore the tropical forest.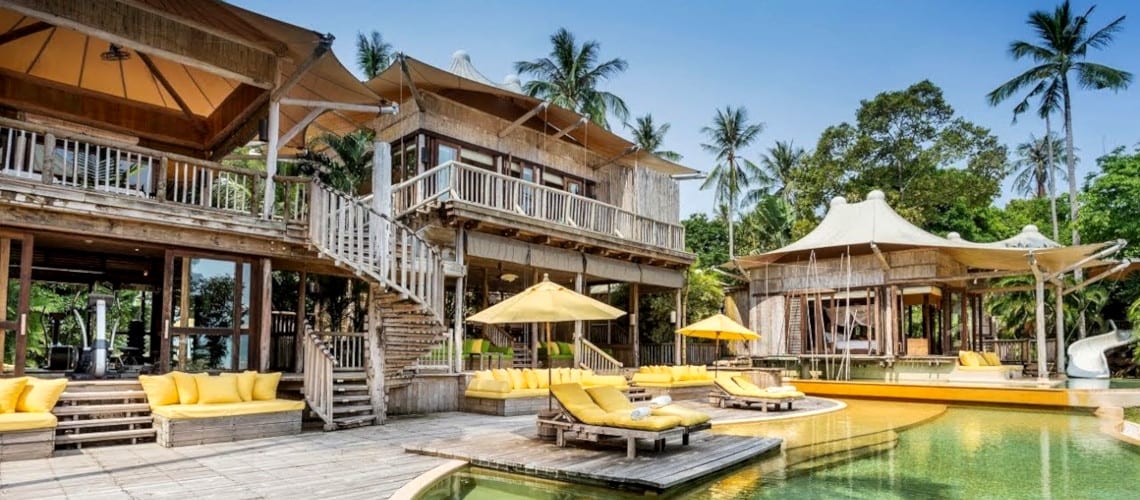 If your honeymoon is already a distant memory or if you like to plan ahead, Little Guest has written an article about the best hotels to renew your wedding vows with your family! So, are you ready to say « yes » again?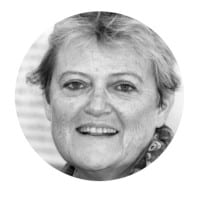 Liliane, aged 73, author and travel addict, from Brussels