1. The United Arab Emirates in a nutshell
Federal capital: Abu Dhabi
Currency: United Arab Emirates Dirham (DH 1 = €0.24)
Time zone: UTC+4
Political system: Constitutional monarchy
Languages: Arabe (official) and English
2. How to prepare your trip to the United Arab Emirates
Before leaving with your entire family for a distant land, it is best to ask yourself the right questions. At Little Guest, we have carried out the survey in order to assist you in the preparation for your family trip, and hence, to save you from worrying about the little hassle that pops up when it comes to travelling with children!
When is the best time to visit the United Arab Emirates? The best time to visit the United Arab Emirates is during mid-season. At this period, the temperatures are mild, warm and pleasant, ideal for the little ones. You must avoid visiting during the summer because the heat during this period will be unbearable for the entire family.
How to get to the United Arab Emirates? To visit the United Arab Emirates, 2 options are available to you: the UAE as transit or as an ultimate destination. Indeed, some flights (especially to Reunion or Mauritius) offer two-stop flights with a long stopover in Dubai. Although this gigantic city cannot be entirely visited in a few hours, it is possible to explore the most beautiful treasures it has to offer. Will a baby be (almost) gamed for it all? Check out the editorial staff's tips for taking a flight during pregnancy.
What are the necessary requirements for a visit to Dubai (visa, passport…)? It is very easy to visit the United Arab Emirates for a stay of fewer than 30 days. For this, you will be needing a valid passport, which has an expiration date of more than 6 months from your date of arrival in Dubai. For a stay longer than 30 days, we recommend that you visit the UAE embassy in your country/state (in London, New York, Ottawa). Also, ensure to protect your
little ones as well as yourself from exotic diseases by using appropriate vaccines.
Why you should choose this as your travel destination? Dubai is a safe and exotic destination with ideal comfort for young children. Although it is known as the city of excess, Dubai (like Abu Dhabi) has a wide range of activities and sites to be visited in all discretion with your family. At your own pace, check out the best addresses in Dubai that have been beforehand selected by the editor of Little Guest Hotels Collection!
3. Postcard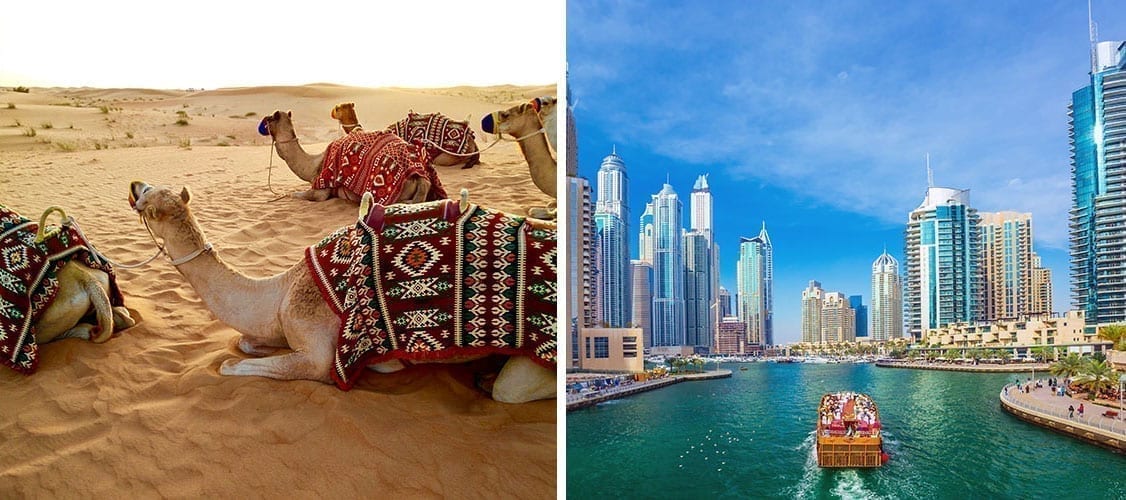 The United Arab Emirates, a land of contrasts
Almost entirely desert, the United Arab Emirates is made up of 7 emirates with very different geographies. In addition to Abu Dhabi, which covers almost the entirety of the territory, Dubai, Sharjah, Arjman, Umm Al-Qaïwaïn, Ras Al-Khaïmah and Fujaïrah cover the remaining area. Beyond the delusions of grandeur which the famous metropolises are known for, the rest of the country is divided between oases, palm groves and sebkhas.
To the East and North: the mountains
Since it is not recommended to venture off the built track alone, some guided tours are organized from Dubai to explore the regions of Ras al-Khaimah and Fujairah, both of which are surrounded by majestic rocks. News flash: did you know that the UAE government had planned on building an artificial mountain in order to cause some rain to fall in the area? Although the idea has since been abandoned, it goes a long way to showcase this country's ambition.
To the south: the Rub al-Khali desert
Considered as one of the largest deserts in the world, Rub al-Khali extends mainly over the territory of Saudi Arabia and equally encroaches on the territories of the United Arab Emirates, but also on those of Yemen and Oman. Being hostile and inhospitable, this reddish-orange ocean of sand harbours numerous dangers. Fortunately, some parts of the desert are animated by locals, dromedaries and gazelles in freedom … One of the spots recommended by the editor: the Liwa oasis.
Dubai and Abu Dhabi: cities of excesses
A frantic race to the biggest shopping malls, record-breaking numbers, crazy projects and designs, incredible sports facilities, the flagship city of the land of black gold will never cease to amaze you. To amaze your little ones and ensure you have a memorable stay, we have prepared the best of the best: a 100% kids-friendly travel guide for your visit to Dubai.
In order to guide you through the preparations for this promising trip, we have highlighted luxurious family hotels wherein you can lodge for maximum comfort and have equally handpicked the must-do activities and identified gourmet restaurants. Take out your best pen and take down the notes!
4. Discovering Dubai: which hotel to stay in with the family?
The Westin Dubai Mina Seyahi Beach Resort & Marina *****
A perfect combination of tradition and modernity, The Westin Dubai Mina Seyahi Beach Resort & Marina ***** stands proudly facing the Arabian Gulf and showcases the most sumptuous neoclassical facade. Its interior decor, completely imbued with Anglo-American influences, attests to its incomparable charm and splendour. Always seeking for perfection, this address will meet each of your requirements and stand out thanks to its grandiose service, its suites with refined comfort, its culinary offer and its kids-friendly equipment.
In the early morning, toddlers and their parents can lounge around the lagoon pools under the shade of the palm trees before going about their own business for the rest of the day. With the kids-club for children 4 years old and older, large play area, educational programs, creative workshops, heated aquatic areas, babysitting service, children are not left behind! As for the parents, they can indulge themselves in a fitness session at the studio equipped with state-of-the-art facilities, enjoy a moment of respite at the Heavenly Spa (its name speaks for itself), or even work on their swing at the nearby greens (golf courses).
Check out our ultimate selection of the most beautiful family-friendly hotels in Dubai!
5. What to do in Dubai with your family?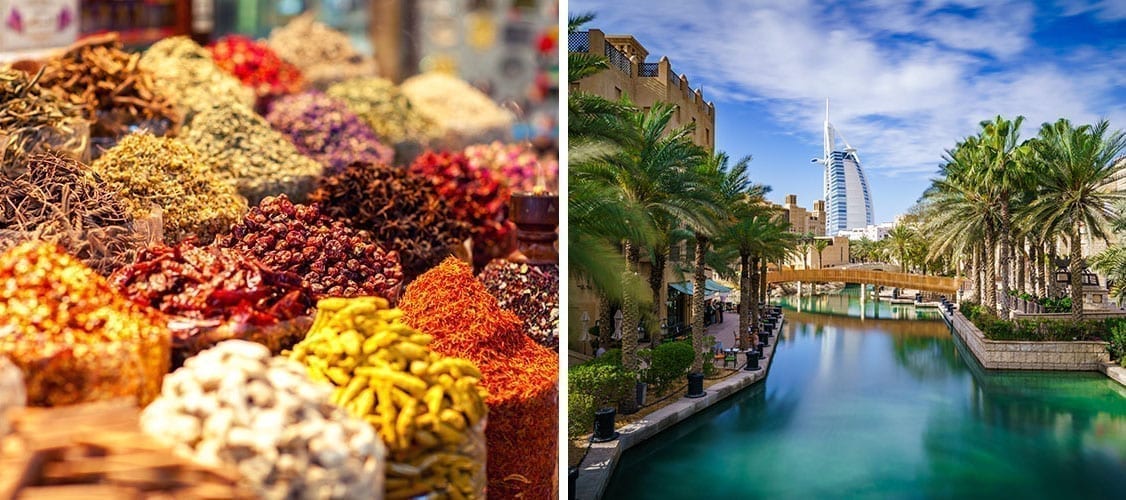 Madinat Jumeirah and its famous souk will transport you to another world
Coming straight out of the desert, the dynamic and surprising city of Dubai knows no exhaustion. Excessive consumption, aberrant modernity, colossal constructions, futuristic installations… the city of superlatives has always lived up to its name. Besides the extravagant herein, Dubai is a destination that is highly appreciated by families, thanks to its abundance of activities and sites to be explored, alongside your mini-tourists family!
To entertain the children
The Dubai Sea, an atypical district with an innovative concept. A seaside atmosphere is guaranteed in the heart of this seaside district nestled in Jumeirah. Being designed in October 2017 for the utmost pleasure of families, this space allows you to combine a beach day, shopping session, entertainment and taste pleasures. To take it easy after savouring an excellent red bream with mustard and saffron at HQ's 459 (fortunately, the restaurant also offers children's menus, long live the mac & cheese!), you can rent deckchairs and parasols and snooze to the rhythm of the waves. After this well-deserved nap, various activities will be available to you, from juice bars and ice cream parlours, playgrounds, water sports, and many more, you will practically have it all. Practical information: open every day from 8 a.m. to sunset. Itinerary
The Dubai Mall, a city within the city. The world's largest shopping mall defies the laws of gravity. Situated at the foot of the famous Burj Khalifa, the Dubai Mall covers a total area of 1.1 million sqm including 800,000 sqm of commercial space, an aquarium wherein sharks and nearly 300 other marine species swim, an Olympic ice rink, theme parks including Kidzania, a miniature city that allows children to play more than 40 trades and professions, a cinema complex, 122 restaurants, but also and above all the largest candy store on the planet! Practical information: open from 10 a.m. to midnight from Sunday to Wednesday and from 10 a.m. to 1 a.m. from Thursday to Saturday. Itinerary. If this vastness scares you, a superb alternative is equally open to you: the Mercato Mall. Designed like a Mediterranean village of the Italian Renaissance, this shopping temple combines relaxation and an enchanting setting. It is made up of about 130 stores, a VOX Cinema complex, as well as a Fun City for the little ones.
The Deira district and its popular souks. As a historic centre of Dubai, this popular Dubai district can be reached after a stroll along the Dubai ledge, with feet in the sand, or along the banks of Dubai Creek aboard a dhow or Abra, traditional wooden boats. You will be able to find the gold souk, perfume souk and spice souk here, something which will awaken the children's senses and make their bright little eyes sparkle! The perfect place to do your shopping, just like the locals. The sites also have very kids-friendly, affordable and delicious restaurants. Itinerary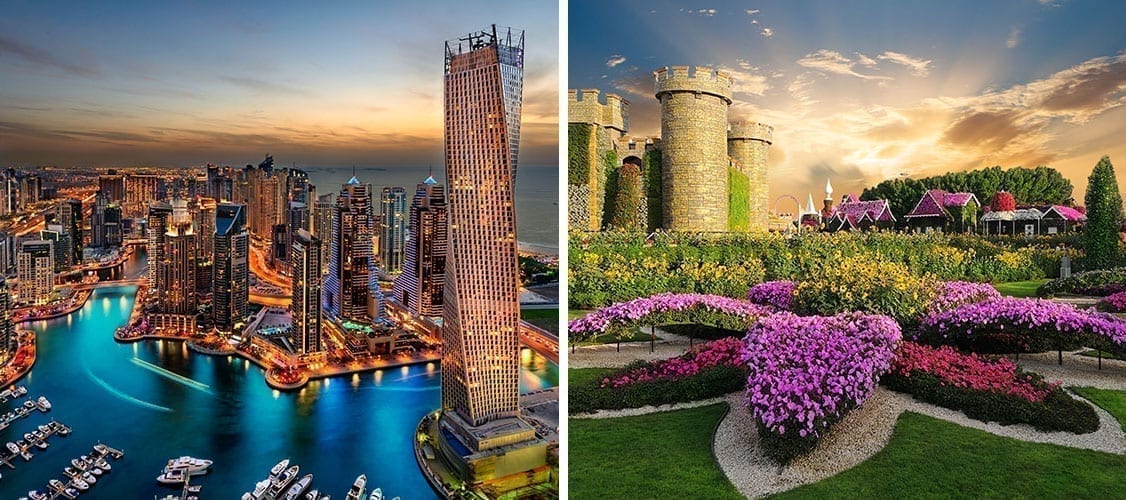 The Dubai Marina by night and the Dubai Miracle Garden shall remain engraved in your memory for very long
To amaze your eyes with breathtaking scenes
The Dubai Marina by night. A super upscale residential district by the sea, the Dubai Marina is a lively area where the atmosphere is at its peak. Between outdoor restaurants, sandy beaches, chic cafes, luxury boutiques, it will be impossible for you to get bored. After an incredible day spent strolling through the streets of this neighbourhood, stride through the Marina by night and be amazed by the skyline that lights up to offer you a flamboyant spectacle. Itinerary
Burj Khalifa. This colossal skyscraper is to Dubai what the Eiffel Tower is to Paris: an emblem. Being 828 meters high, the Burj Khalifa is the tallest human tower ever built. Always remember to book in advance, because this monument is a popular attraction: make haste and buy your ticket for a trip to seventh heaven. From up there, you will be able to admire an incredible view of Dubai. On the tip of their toes, the children would have the feeling of touching the clouds with their fingertips… Practical information: Open every day from 8:30 am to 11:00 pm. Itinéerary
Dubai Miracle Garden. An intense sensory experience awaits you in this 72,000 sqm floral park. An indisputable work of art, the Dubai Miracle Garden is made up of more than 109 million flowers arranged here and there to create fun and surprising images that change every year. The garden is also home to the Dubai Butterfly Garden, where thousands of butterflies flutter about to the delight of our eyes. Practical information: open on Sundays to Thursdays from 9 am to 9 pm, until 11 pm on Fridays, and until 10 pm on Saturdays. Seasonal opening.  Itinerary
For a beach session
Jumeirah Beach Park. Just like an oasis of freshness in the heart of the city, Jumeirah Beach Park has been designed to offer an escape for families who seek after relaxation and comfort. Bars for parents, play areas for children, barbecue areas for the entire family… the park provides an ideal environment for enjoyment, wherein you can be lulled by the murmur of the waves. Practical information: Note, the park is currently closed, as work is being done in it, but keep your eyes open! Itinerary
Al-Mamzar Beach Park. Located in the North of Dubai, Al-Mamzar Beach is the most ideal place for families with young children, thanks to its calm waters and shady areas. With swimming pools, showers, lifeguard stations, green picnic spaces, play areas and free parking at just a stone's throw from the beach, all the ingredients for a perfect day at sea are gathered in this peaceful, family-friendly park. Practical information: open on Sundays to Wednesdays from 8 am to 10 pm and on Thursdays to Saturdays from 8 am to 11 pm. Mondays and Wednesdays are reserved for women and children. Entry fee 5 AED. Itinerary
Kite Beach. Its name speaks for itself. This listed and popular beach is highly appreciated by lovers of water sports and water activities. Here, numerous kitesurfing activities are on offer, as well as banana boat, doughnuts, or kayak tours. Coupled with a gourmet break in one of the beach restaurants, these activities will guarantee you unforgettable memories. Practical information: open on Sundays to Wednesdays from 10 am to 10 pm and on Thursdays to Saturdays from 10 am to midnight. Itinerary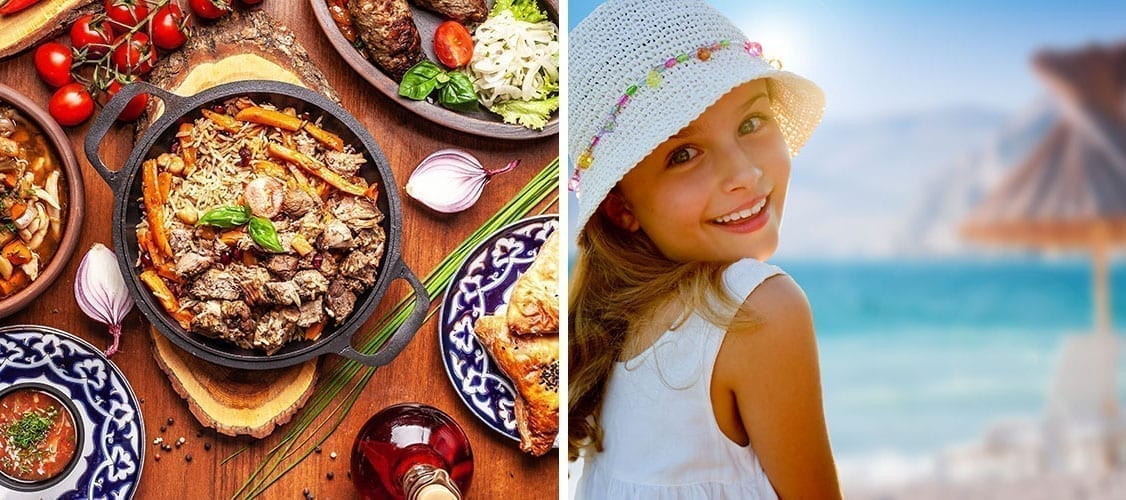 Are you game for sharing a delicious and typical meal before enjoying yourself at the beach?
For a cultural outing with the children
OliOli ® – Children's Museum. Entering this interactive museum is like stepping into a childhood dream where creativity and fun are the watchwords. As from 1 year old, your little ones will be able to entreat themselves with a lot of fun in this realm of games with eight unique rooms. DIY, dancing, letting go, lighting games, giant play area… toddlers will no longer know where to look among all its shapes and colours. Practical information: open on Saturdays to Wednesdays from 9 am to 7 pm and on Thursdays to Fridays from 9 am to 9 pm. 126 AED/2h and 30 AED/additional hour for children 23 months and older; 63 AED/2h and 15 AED/additional hour for children 12 to 23 months; free for children below 11 months; 42 AED/adult. Itinerary
KidZania Dubai. Located in the famous Dubai Mall which we have mentioned above, the KidZania offers an innovative concept. For the day, the children will be able to see themselves as doctors, firefighters, journalists, bartenders or even directors and animate this play space, which has been designed like a city. Over 70 professions are represented there so that the little ones can see themselves as the bosses. Practical information: open every day from 10 am to 11 pm (these times may vary depending on public holidays). From 195 AED for a child from 4 to 16 years old; 110 AED for a child from 2 to 3 years old; 80 AED for an adult from 17 years old; free for babies 1 year and under. Itinerary
Museums of illusions. Uncontrollable laughter and astonishment are guaranteed in this museum that is made up of more than 80 optical illusions and light displays. The multiple installations will play tricks on your brain! As such, don't forget to bring your camera to capture these unusual scenes. Practical information: open on Sundays to Wednesdays from 10 am to 10 pm and on Thursdays to Saturdays from 10 am to midnight. 80 AED / adult over 15 years old; 60 AED / child from 5 to 15 years old; free for children under 5; family offer of 225 AED / family of 4. Itinerary
Dubai Museum. Set up in a fort that was restored at the end of the 20th century, the unmissable Dubai Museum retraces the history of the city, from its peaceful life before the arrival of oil to its complete transformation. We recommend that you first carry out this visit in order to better understand the evolution of Dubai. Practical information: open on Saturdays to Thursdays from 8:30 am to 8:30 pm and on Fridays from 2:30 pm to 8:30 pm. 3 AED / person; 1 AED / child under 6 years old. Itinerary
For eating with your family
City Walk. A perfect shopping-restauration combo, this urban promenade is very family-friendly and frequented mainly by the locals. You will joyfully take your seats at the outdoor restaurants, where you will be able to benefit from the mild climate and flavours from around the world. After your shopping trip or a movie show, you will easily find the food after your heart in one of the 22 restaurants and cafes. Practical information: the shopping area opens every day from 10 am to midnight, while the restaurant area opens every day from 10 am to 1 am. Itinerary
Madinat Jumeirah. Similar to an Arabian mini-city in the heart of Dubai, Madinat Jumeirah boasts of more than 50 restaurants, a private beach and a great setting, on the edge of the Persian Gulf. After a good, convivial meal, families will love the idea of sailing on the waves of the river aboard an Abra in order to tour this oasis of lust and abundance. Practical information: the shopping area opens every day from 10 am to 11 pm, and the restaurant area opens every day from 8 am to 2 am. Itinerary
Arabian Tea House Restaurant & Cafe. To immerse yourself in the local Arab culture, you should consider stopping by the Arabian Tea House Restaurant & Cafe, awarded the Attestation of Excellence Laureate by TripAdvisor for 4 consecutive years since 2016. The location guarantees you authentic and tasty cuisine for an explosion of flavours on the palate. Practical information: open every day from 7.30 am to 10 pm. Itinerary
See you again shortly in a second part, wherein you will get to know more about the sumptuous city of Abu Dhabi!
Have a great trip!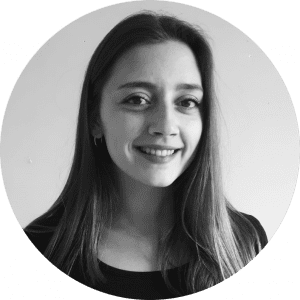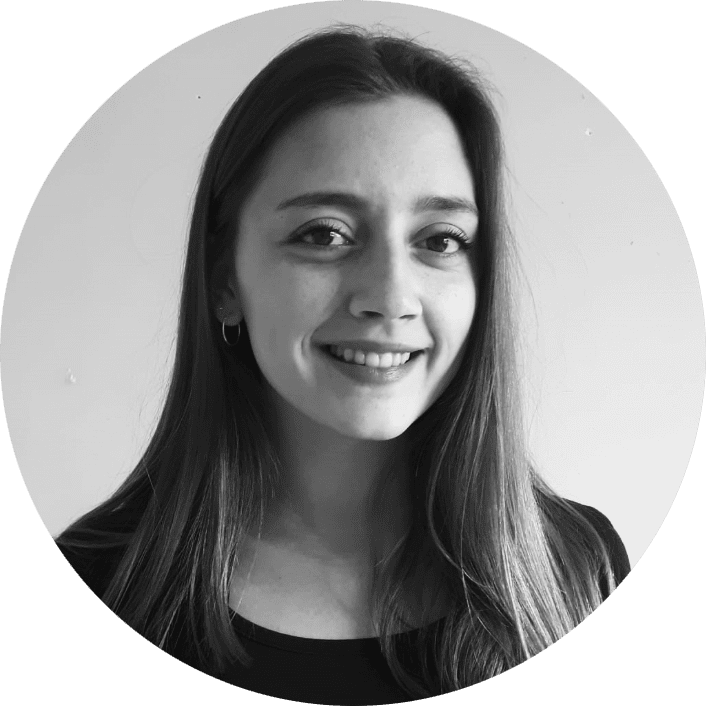 Pernell, 23 years old, travel lover, from Angers, France