Battered by the winds and designed by the Atlantic Ocean, the Armorican peninsula spreads its serrated coastline, coves, cliffs and beaches over 2,700 km. You dream of an iodine getaway with your family, through its ports, its small stone villages lined with hydrangeas and its wild moors… Bingo: in Brittany, the sea is never more than 100 km away! Little Guest entrusts you with its favorites and its best destinations.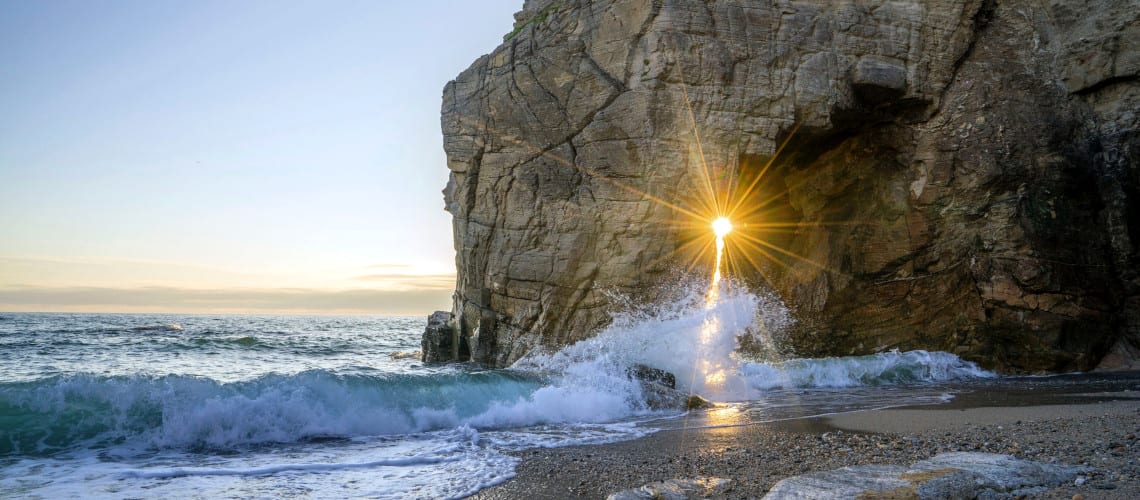 Incredible sunset along the wild coast…
Post card
From north to south, Brittany has a contrasting coastline and its landscapes are punctuated by the ocean while the interior is rural and wooded. The perfect spot to take the most beautiful pictures.
On the border with Normandy and the famous Mont Saint-Michel, the Ille-et-Vilaine stretch out around Saint-Malo, and further at west the Côtes d'Armor around Saint-Brieuc.
Finistère, literally « where the land ends », spreads its wild coast marked by cliffside customs trails. Brest and its famous port stand proudly facing the sea.
Morbihan, with its gulf and wide fine sandy beaches, has a milder climate and some dynamic cities such as Vannes, Saint Nazaire and Nantes, a little more inland. The northeast of the department has large forest lands such as the mythical Brocéliande forest.
The essentials
Northern Brittany
Think of yourself as a corsair on the ramparts of Saint-Malo and complete the discovery of the city with an escapade on the famous ship of the king of pirates, Robert Surcouf.
Take an « oyster » break on the port of Cancale. Its market, a unique place in France, is entirely dedicated to these delicacies of the sea and offers lovers filled stalls and tastings.
To be cultivated along the authentic alleys of Dinan and its wooden houses. A city of art and history, invites you to step back in time during the festival of the ramparts: armours and neon lights populate the streets while medieval music is in full swing…
Immerse yourself in the world of the seabed at Océanopolis in Brest. This museum is much more than just an aquarium! It reveals a very complete panorama of the seabed's fauna and flora: in the tropical exhibition, you have a good chance of coming face to face with a Mandarin fish or its cousin the clownfish. A little further on, don't be surprised by coming across the Medusa Aurelia and its companion the European Lobster in the tanks dedicated to Brittany…
Go back in time in Mont Saint-Michel, a medieval abbey and a treasure trove of architecture that stands majestically in the heart of its Bay. At low tide, crossing the bay on foot is a must experience. Accompanied by a guide, the whole family discovers new panoramas as well as fascinating quicksand (in complete safety).
Fill up with nature in Cap Fréhel, walk along its moors and observe the many species of birds that live there. From these wild landscapes, the Emerald Coast will look even more beautiful. The Fort de la Latte, a medieval fortress attached to its rocky cape, pleasantly completes the route. Young and old are proud to take on this monument, which is renowned for its impregnability!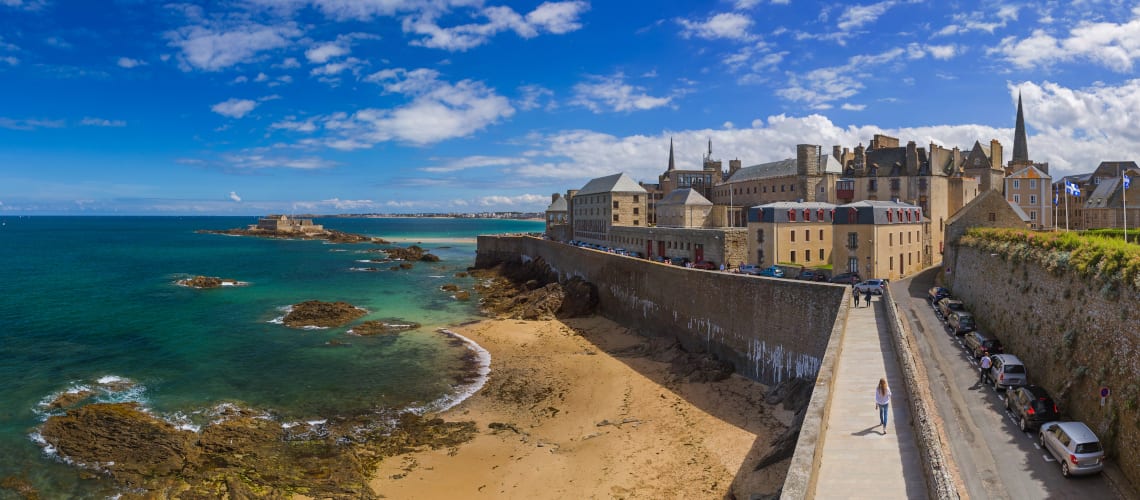 Head to Saint-Malo to start your Breton trip
Finistère
Imagine a cruise that you sail off the Bahamas when in fact you are in Brittany!  The Glénan Archipelago, bordered by a turquoise sea, is an enchanting place. It's possible to rent a boat from Bénodet, to sail all day between the islands and count all the variations of blue that the Ocean can take.
Walk in the footsteps of Gauguin and the painters of the Pont Aven school in the city of the same name before visiting the museum dedicated to them. Take the opportunity to walk along its estuary, a real « fjord » that winds its way through the trees before flowing into the sea. A very peaceful walk between fresh water and sea!
Let yourself be captured by Concarneau, the « Blue City » and its rich heritage. This fortified city is an exceptional site, both a fishing port and a marina. The little ones will be impressed by all the boats anchored in its harbour, including racing yachts. Have fun counting their masts!
South Brittany
Take a detour to Belle-Île-en-Mer, the pearl of Morbihan. This small piece of land off the Quiberon peninsula bears its name well. Since time immemorial, the greats of this world have loved to find their way around: Sarah Bernhardt even built a second home to better welcome her friends…including Victor Hugo! The impressionist painters, for their part, stayed there to capture its landscapes. Beautiful island: an inspiring destination!
Lose yourself between the hundred-year-old oaks of the Brocéliande Forest, the cradle of Celtic culture. Follow in the footsteps of the Knights of the Round Table and hope to see the fairy Morgana. Many storytellings walks bring the Arthurian legend to life under the amazed eyes of your children. An emotional excursion!
Go in search of the megaliths that hide everywhere in the landscape: tumulus, dolmens, menhirs… there is something for everyone! Caesar's Hill, an 18-metre high tumulus, is worth a visit. Many megalithic objects and tools have been found there, including a splendid jasper necklace now preserved at the Musée de la Préhistoire in Vannes.
Bubble at the Le Hézo Cider Museum and rediscover all the secrets of this traditional drink, from the orchard to the bottle. A discovery trail is dedicated to the youngest while adults will have the chance to taste 4 different ciders locally produced.
Stroll through the historic centre of Vannes, before embarking on a cruise in the Gulf of Morbihan. The more sporty ones stop over at Île aux Moines, which they discover by bike.
Kid-friendly hotels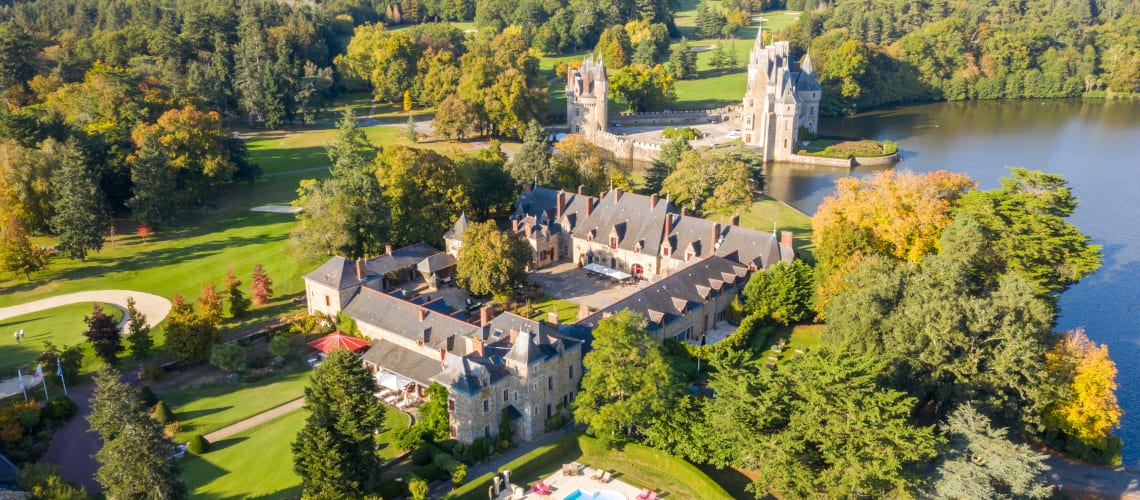 The Domaine de la Bretesche and its amazing surroundings
Is the Emerald Coast flirting with you? In Saint-Malo, the Bay of Mont Saint-Michel, with its high tides and sea spray, welcomes you! The Grand Hôtel des Thermes and its Belle époque facade, open to the sea, welcomes families for an iodine break. Parents love the thalasso centre and its 14 workshops developed by wellness professionals. The highly regenerating Sea & Fitness program will help Mom and Dad to recover. Meanwhile, the budding pirates meet at the establishment's baby-club and kids-club, which welcome children from 2 months to 6 years old and from 6 to 12 years old respectively. A beach club (from 3 years old) allows small swimmers to fully enjoy the pleasures of the sea.

Looking for a holiday along the Loire? From the thousands of lakes framed by forests in Parc de la Brière, to the Atlantic Ocean and the salt marshes of Guérande, the Loire Atlantique offers a series of varied landscapes.

In a setting worthy of the most beautiful fairy tales, at the foot of a medieval castle and its many towers, the accommodation of

Domaine de la Bretesche takes up residence in the outbuildings of the vast property. A place out of time where old stones marry with slate roofs. Families can choose between large rooms and suites or independent villas, drowned in the park's vegetation. Children love to have fun in the sumptuous nature of the estate or to play with the consoles and board games at their disposal!
Kid-friendly restaurants
Comics Crêpes reviews THE Breton speciality by excellent in a very Kids friendly perspective. Small and big children alike can enjoy cakes with original flavours and inspiring names made with fresh, local ingredients. The Hulk wafer and its green trim is ideal for boosting your strength, while the Wonder will undoubtedly appeal to fans of the superhero of the same name. To make sure nothing is wasted, a space is dedicated to entertaining children: games, drawing books and… a large blackboard to give free rein to one's creativity. 9 Rue de la Porte, 29200 Brest, France. Itinerary
The Crêperie du château is located in the heart of the Château de Rimaison park, not far from the village of Pluvigner. In an authentic and green setting, this destination makes it a point of honour to welcome families. While waiting for their order, children can play at the table or exercise in the park: drawings, colouring, skill games, scooters and small bicycles are available. For dessert, don't miss the homemade lemon cream crepe…a treat! 7 rue de Landaul, 56330 Pluvigner France. Itinerary
Want to celebrate your holidays and treat your taste buds in a Michelin-starred restaurant? Saint-Placide, in Saint Malo, shouldn't leave you indifferent. This refined, modern and creative place enhances seafood products. The accords are made with lobster, vanilla and ginger, accompanied by its Combawa cappuccino, the Chef's speciality. To enjoy this pleasure alone, consider using a babysitter! The Little Guest collection hotels all benefit from a babysitting service… 6 Place du Poncel, 35400 Saint-Malo, France. Itinerary
If eating a copious plate of mussels and chips with your feet in the sand sheltered from a pirate spot is part of your dreams, L'île aux Pirates is a place for you! On the menu, many garnishes highlight these seafood products: fresh cream and bacon, mustard, Roquefort… Children have a custom made menu called the « pirate's menu » in which they can pick up small custom-made dishes. Bonus, your little ones can play freely on the beach while staying in your field of vision. Avenue de la Plage du Moulin, 22680 Étables-sur-Mer, France. Itinerary
Seafood products directly from the fish market? In the heart of Quimper, Le Bar iodé is a seafood restaurant that offers a wide range of fresh and generous dishes. Gravelly salmon, cooked lobsters, tasty fish soups or gratins of langoustines… The restaurant, very lively, welcomes you in a cosy setting. Baby menus and chairs are available. 16, quai du Steir, 29000 Quimper. Itinerary
Looking for a generous snack with Armorican flavours? The Kouign-Amann is made for you! This bakery pastry made with butter and sugar will satisfy you after an afternoon at the sea or a day of hiking on the coastal paths. For Lucile, our favourite Breton and Account Manager at Little Guest, it's an absolutely essential sweetness (after crepes of course)!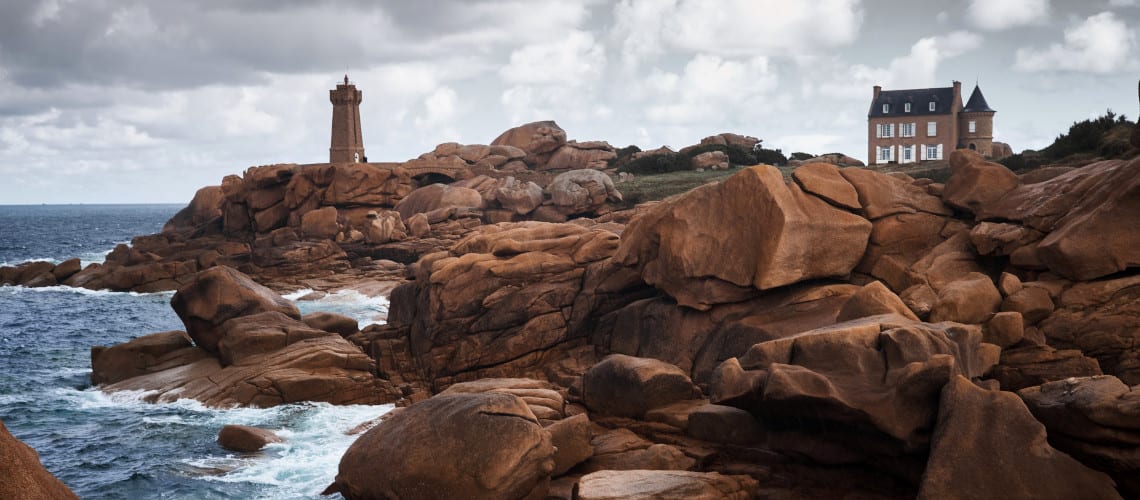 Ploumanac'h and its famous stones carved by the sea and the wind
The most beautiful beaches
Côtes d'Armor
Moving from the Emerald Coast to the Pink Granite Coast? In Brittany, nature unfolds its most beautiful colours. Not far from Perros-Guirec, Ploumanac'h is famous for its landscape of stones carved by the sea and winds, and its pink sand beaches. Saint Guirec beach, which is supervised in season, has a large number of facilities for families, such as showers, restaurants and free parking. It's also accessible to people in wheelchairs.
Looking for extra-fine sand and a supervised beach to start a sandcastle competition? The beach of La Salinette in Saint Briac sur Mer, lined with white bathing cabins, is the most authentic. Overhung by the Nessay castle and its red brick turrets, it's perfect for a small swim between two visits. In addition to its picturesque setting, La Salinette offers showers and toilets and is accessible to people with reduced mobility.
Morbihan
Not far from the Quiberon peninsula, on the Goh Velin (or Govelins) Beach, children have found their paradise. On a sandy stretch of more than 1 km and dotted with small dunes, families can find a picnic area, a restaurant, a playground for toddlers, a beach volleyball court and a water sports centre. No risk of being bored! Bonus, this pearl is supervised in July and August!
In the region of Carnac and La Trinité sur Mer, the Men Du Beach is gently sloping. If your children are discovering the delights of the Ocean for the first time, Men Du is for them. Swimming is easier at high tide, but at low tide it's similar to a real paddling pool: convenient to play! This beach is not supervised, however during the whole summer a Mickey club takes up residence on the beach. Another good point!
Finistère
The beaches of Finistère are known to be wild and preserved, it's also in this area that the coast is the most rugged. La Palud is recommended for sporty and wave loving families. At low tide, children love to play in the foreshore (puddles and ponds left by the sea) and discover the small fish and other crustaceans that have developed there. Boots, dip nets and buckets and let's explore this little world!
A huge tongue of white sand, La Torche is the surf spot par excellence! This is where the windsurfing world cup took place. Be careful, some currents make swimming difficult, even inadvisable for families… but what a pleasure to watch the silhouette of surfers dancing on the waves. Lucile loves to walk on this beautiful beach when she returns to her native region. She warmly recommends that we take a walk along the strike, to discover the bunkers of the Second World War and their tags.
It's on the Crozon peninsula that is located the Crique de l'île Vierge, not far from Pointe de Morgat. It's probably one of the most beautiful beaches in the area and is well known to the locals. As is often the case, a wild and preserved beach means a little more complicated access. To get there, forget the strollers and put on good shoes, the path is a little steep (accessible at low tide only). Otherwise, it's also possible to access this little gem in a sea kayak: it's worth it!
A word of advice: when you are used to the oily seas of the southern hemispheres, you sometimes forget that the Ocean is subject to tides, and that it is sometimes essential to consult a calendar before going swimming or sailing on the beach ( and yes, at high tide the beach can be completely won by the sea!). Lucile recommends that you consult the tide calendars Shom and windguru for information on winds and wave height. Have a nice swim!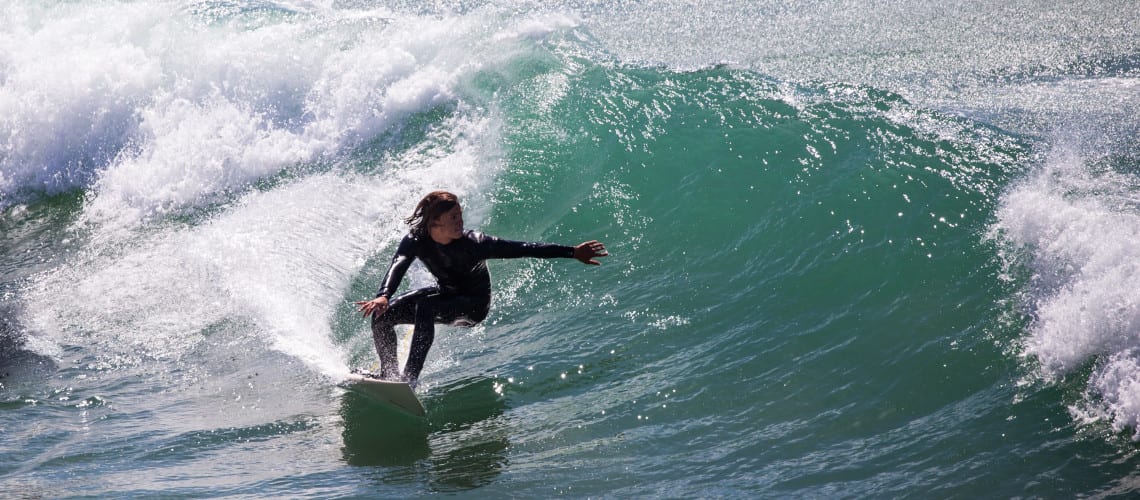 The Quiberon peninsula is the perfect spot for surfing
Family activities
Océanopolis, an ocean discovery park, takes its role of scientific mediation seriously.  Unique in Europe, this space features numerous animation programs as well as temporary exhibitions. Embark on a journey into the still mysterious universe of the abyss or discover the coastal biodiversity of the Breton coasts with the immersive laboratory Minilab. Organized around four poles (Brittany Exhibition, Tropical Exhibition, Polar Exhibition and the Otters' Trail), Océanopolis will fascinate lovers of aquatic life and curious people of all kinds. Itinerary
Brittany is undoubtedly a land of legends and the little ones love to be told stories. Two good reasons to participate in the storytelling walks in the Brocéliande forest. With a local storyteller, the whole family relives the adventures of the Knights of the Round Table, Merlin and the fairies Viviane and Morgane! Among the many outings, Little Guest fell in love with Les matins des Lutins dedicated to children from 3 to 9 years old, a walk in the footsteps of the korrigan Gallitrappe along the banks of the pond of Paimpont. Itinerary
For an urban getaway with your children, Rennes is a very kids friendly city. After a trip through its pretty alleys and a small snack at the Game Library L'heure du jeu (more than 900 board games available for families!) to spend the afternoon in the Thabor's park is a must. This large green space labelled « the most beautiful parks in France », includes an animal house and an aviary, a playground and many flower beds. Itinerary
Brittany is a land of sailors, but before taking to the sea, the little sea foams go to the Cité de la voile Éric Tabarly. In addition to paying tribute to one of the greatest Armorican sailors, the Cité de la voile is also a fun and dynamic museum space, whose visit is punctuated by experiments, manipulations, 4D videos and an impressive navigation simulator… Plan three good hours of visit even if it is highly likely that you will not see them pass! Itinerary
Not far from Lorient, the Zoo de Pont Scorff is a vast park where families can meet and observe 120 amazing animal species.   Feline enclosure, reptilarium, seals and seabirds… the zoo will take you to all continents. Passionate people can participate in feeding giraffes after observing Asian elephants. Tours that go off the beaten track are also organized, such as the one entitled « Caretaker for a Day« : children accompany an animal caretaker to discover all the facets of his profession. At the end of the day, the zoo will have no more secrets for them!  (On reservation) Itinerary
Useful information
Weather and climate
Brittany undoubtedly enjoys an oceanic climate. Summers and winters are mild but humid. The off-seasons are often pleasant. Logically, on the south coast, the climate is generally sunnier, warmer, drier than on the north coast. In any case, never forget that in Brittany the sky is changing rapidly!
Moving around
Rennes and Brest are the main airports for those wishing to reach the Armorican peninsula. But to attack the region and its many destinations, to walk along beaches and beaches or discover the hinterland, a car remains a must!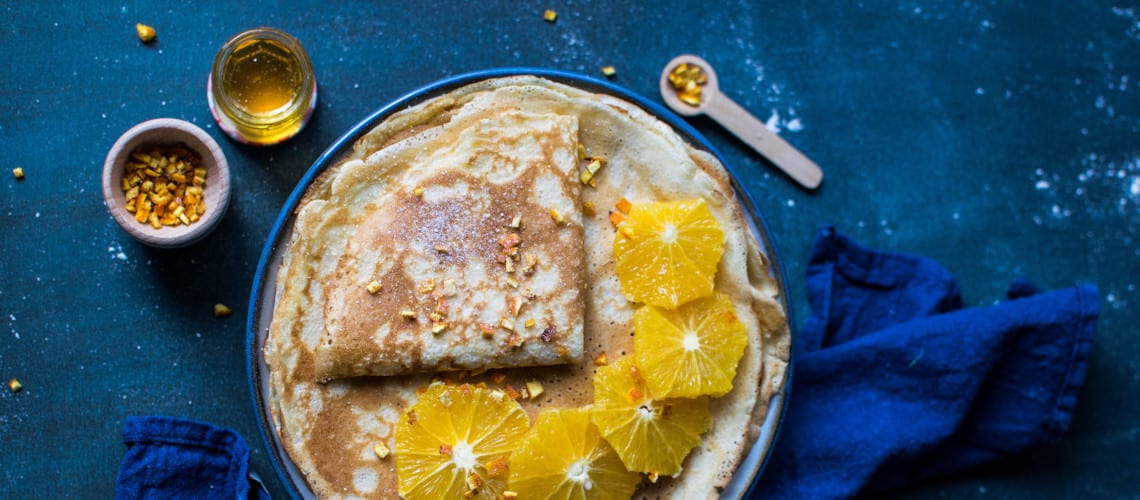 La crêpe se réinvente sous toutes ses saveurs et les enfants en raffolent !
Favourites of a Breton woman
At Little Guest, our Account Manager is a real Breton! Lucile, originally from Quimper, knows Brittany like the back of her hand. She gives us three of her favourites: a place, a flavour, an experience… here we go!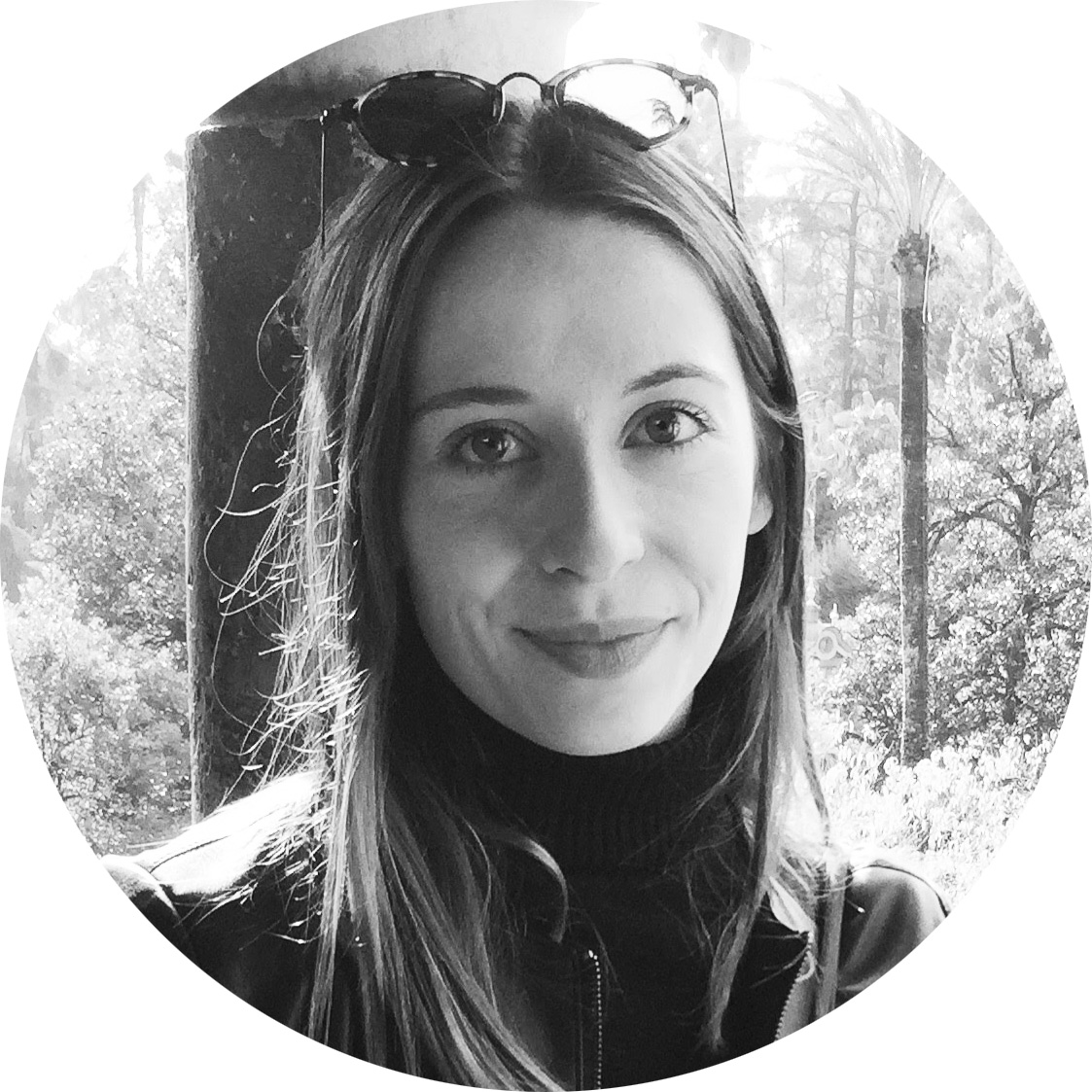 « Without hesitation, the Virgin Island of Crozon. When I come back to my native Brittany, it's one of the places I want, even need to see again. I like this place for its landscapes and atmosphere. »
«  To me, Quimper is THE best place to eat a crepe!  In the heart of the city, around the Place au Beurre, there are many quality creperies. My favourite? Ham, butter, onion, tomato, a classic that I never get tired of, accompanied by a good glass of cider. »
« There's nothing like the feeling of running in the wind on your sand yacht. During my studies, I was a teacher of this discipline and I loved teaching it to adults and children! »
Don't forget in your suitcase
Don't leave without your marinière (a typical Breton shirt of the French navy), Lucile will confirm it's an essential part of the Breton wardrobe. And then, this timeless looks so good on our toddlers!
It's always useful to have a warm sweater, a k-way or a windproof jacket at hand: you won't cut it. It's often cool at night (even if the summers are often beautiful and hot) and it's not uncommon for small rains to occur during the day!
In Brittany, beaches are mostly covered with sand, but baby's feet will be even better, well protected in their beach sandals! Especially since they will be able to explore the surroundings in complete safety. Don't forget to pack them in your luggage.
Have a good trip!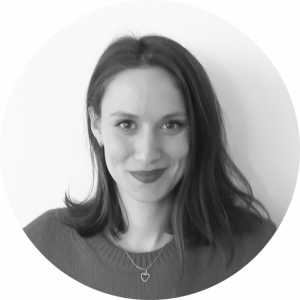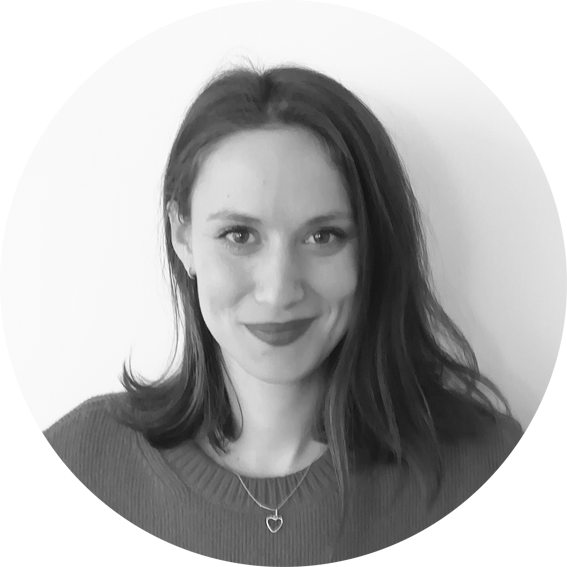 Mylène, 28 years old, art lover and travel addict, from Strasbourg, France