Absolutely! More and more of us are travelling and we are doing it more and more often. When we know that the main adepts of slow tourism are young couples with a baby, dynamic retirees and large families, it becomes clear that this way of approaching travel is not reserved for just one part of the travelling population but for everyone.
The principle is actually very simple and, above all, very adaptable. It all depends on you and that's where the interest of the concept lies. Nothing is imposed, each small gesture is one more step towards a healthier and more rewarding way of travelling. However, Little Guest has some ideas to help you get started:
If this mode of travel has a definite advantage, it is that it guarantees everyone a well-deserved rest. Indeed, less transport and visits spaced out over a longer period of time inevitably means more rest time, and this is still the primary purpose of holidays. By taking your time, you will also discover the region from another angle, you will live your stay more intensely because you will discover the local culture, people and customs.
It will also be a way to make new encounters, which, in addition to creating real relationships, will also allow you to introduce your children to these new cultures and awaken their curiosity and desire to open up to others. Finally, and this is surely the greatest advantage, slow tourism will allow you to spend time with your family, and especially, with your children.
Far from your hectic daily life, you will learn to appreciate these long days made, certainly, of visits and other activities, but also of relaxation or family games. It is therefore an excellent way to strengthen family ties, reinforce your complicity and share beautiful stories.
3 – BOTH A NATURE AND URBAN CONCEPT!
As you will have understood, slow tourism, and sustainable tourism in general, are part of a process of reinventing the way we travel. This concept aims to travel in a more responsible way but also to enjoy our moments of freedom more.
When looking at the families' requests concerning their holidays, Little Guest found that their main criterion was a change of scenery. Indeed, who doesn't dream of getting out of their daily routine to change air and discover new things? Slow tourism offers a total change of scenery while combining escape and eco-responsibility. Rather than multiplying trips to the ends of the earth, why not take advantage of the wonderful countryside just a few kilometres from home? France, Belgium, or Switzerland are full of idyllic places where nature reigns supreme and where you can spend wonderful family holidays.
The concept of slow tourism applies particularly well to our countryside, which abounds in luxury hotels and villas perfectly adapted to the needs of families. So, choose these establishments for your next holiday. This way, you will reduce your carbon footprint while discovering the wonders that surround you and which, unfortunately, are too often ignored. Hiking, horseback riding, cycling or boat trips in the heart of unspoiled nature, this is what slow tourism allows you to do.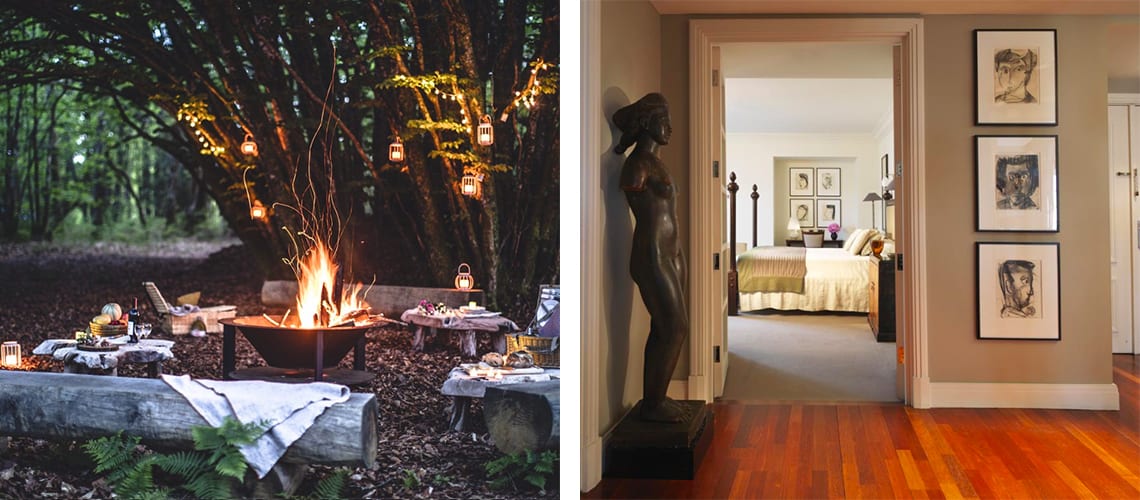 Slow tourism is suitable for both the city and the countryside.
However, this way of travelling is not only reserved for the countryside; it is possible for you to experience it even if you are passionate about urban visits or if you don't have the opportunity to go too far from home. The phenomenon of staycation (the concept of « holidays close to home ») is becoming more and more widespread and is becoming an environmentally friendly way to enjoy a fantastic holiday. The desire to reduce one's carbon footprint by favouring more environmentally friendly means of transport such as bicycles, horses, trains or boats, has been linked to the desire to learn more about our surroundings.
Contrary to what one might think, it is therefore possible, for example, to stay in Paris by adopting a slow life lifestyle that is perfectly in line with one's ecological convictions. Little Guest has even prepared a family weekend in the French capital that respects the values of this way of thinking about travel. For example, you can take the Batobus to discover the City of Light from the Seine, walk along the Coulée Verte or the Parc Montsouris, discover the architectural masterpiece that is the Louis Vuitton Foundation in the heart of the Bois de Boulogne, or enjoy delicious local and seasonal dishes at the restaurant Le Relais.
Another example of a city where slow tourism has found its place, Brussels! The capital of Belgium has nothing to envy the countryside in terms of relaxation and comfort. You can discover the sublime Grand Place, stroll through the lively streets of the Sainte-Catherine district, stroll among the stalls of the Marolles flea market or have a drink on one of the terraces of the Halles Saint-Géry. For a cultural visit, go to the Maison Horta, a true Art Nouveau masterpiece which, with its curved lines and ornamentation inspired by nature, undeniably refers to the concept of slow tourism. For a healthy and gourmet break, pass through the door of Chyl Store & Restaurant, which will delight you with its fresh and organic products, or the wonderful restaurant Les Filles, which advocates a local, seasonal, artisanal and, of course, 100% gourmet way of eating. You will find here all our ideas to spend a wonderful slow life weekend with your family in Brussels.
4 – OUR SLOW TOURISM HOTELS
Le Domaine des Étangs ***** in France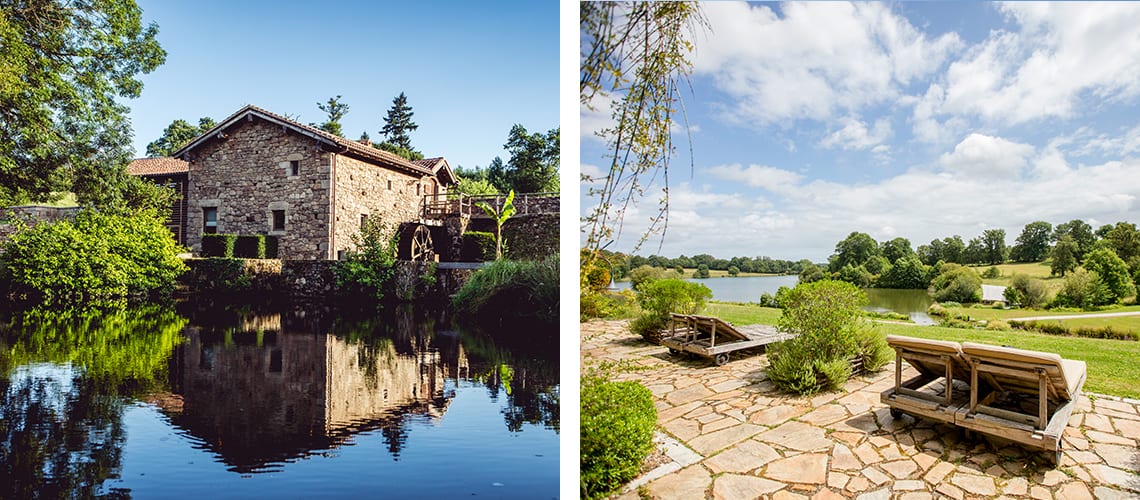 The Domaine des Étangs, an example in the world of slow tourism
If there is one establishment that has understood how to combine luxury services and a lifestyle based on sustainable tourism, it is the Domaine des Étangs. Just a few kilometres from Angoulême, the rooms and independent cottages of the estate are set in the heart of lush nature, creating a peaceful atmosphere, conducive to comfort, relaxation and slow tourism.
Make your choice between the 6 cottages of the Domaine. All different, they are suitable for all types of families, from single couples to large families, but have one thing in common: a bucolic-chic and serene atmosphere. Between old stones, exposed beams, top-of-the-range interior decoration and a splendid view of the ponds and the omnipresent nature, the estate is a model in the world of ecotourism.
From the gastronomic restaurant with its menu based on local products, the possibility of walking, cycling or boating through the 1,000 hectares of the park, the huge children's play area, the wellness centre open to young and old alike and the endless possibilities for country walks, the Domaine des Étangs is ideal for experiencing this way of life.
Villas at Areias Do Seixo in Portugal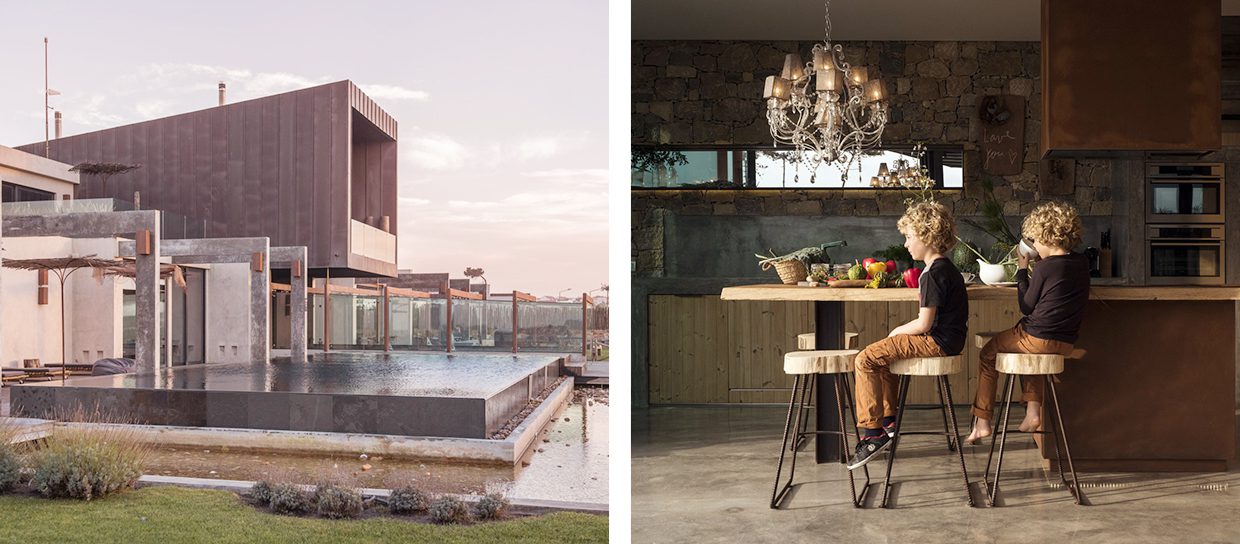 Enjoy the peace and nature at Villas at Areias Do Seixo
Slow tourism does not necessarily mean immediate proximity, especially as reaching Portugal by car or train rather than by plane is very easily feasible. You can therefore get there without fear and stay, why not, in one of the sublime villas of the Villas at Areias Do Seixo, located in the heart of the Torre Vedras region.
Here too, luxury rhymes with nature, authenticity and history. Between local craftsmanship and the countryside, the villas offer a breathtaking view of the Atlantic Ocean. With their modern holiday home feel, the villas guarantee families with children maximum comfort and refined and restful decoration, but also a lifestyle based on well-being and relaxation.
Enjoy delicious seasonal meals prepared with vegetables from the estate's own garden, local organic meats and locally caught fish; sit down for an unforgettable family picnic in the gardens or on the beautiful beach of Santa Cruz; relax with on-site yoga classes, or take your children to the wonderful creative workshops imagined around nature and local culture; there are plenty of opportunities to recharge your batteries and reconnect with the land, take advantage of them!
5 – TO GO FURTHER…
What is eco-responsible housing? The responsibility and sustainability of a building can be measured by its design and energy consumption. Indoor and outdoor furniture, materials used, recycling and green energy, use of cosmetics and cleaning products… we tell you everything in this article!
How to consume organic and local, even on holiday? Product quality and the know-how of the cooks are the secrets of a successful gastronomy. Little Guest has prepared for you a selection of the best hotel establishments in which real starred chefs are at the stove to prepare you succulent dishes based on fresh and local food.
Because slow tourism is synonymous with relaxation, Little Guest has designed 7 itineraries perfect for families and limited to a small geographical area to take your time. Whether you prefer to stay in France or discover Switzerland or Portugal, your next holiday could be here!
In the last few years, tourism has changed a lot and a new way of travelling has emerged, experiential tourism! Taking many codes from slow travel, adding the 5 senses and an ever more assertive ecological dimension, this form of tourism might surprise you; don't hesitate, have a look at our article on this subject!
On your mark! Ready? Slow down!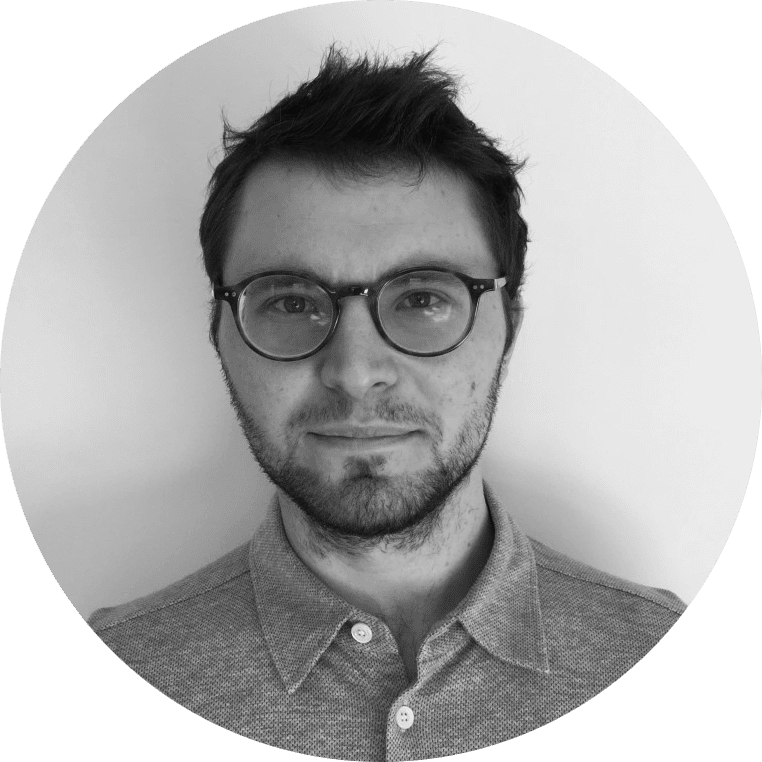 Guillaume, 26 years old, passionate about travelling, from Paris.