The Little Guest Hotels Collection (a collection of luxury hotels for families) has found out the most sought after family destinations and the ones that are in highest demand. A weekend in Spain, a vacation in Greece, an escape in Switzerland… Children and parents just love to spend their holidays in the heart of Europe. Look at our little guests' favourite countries.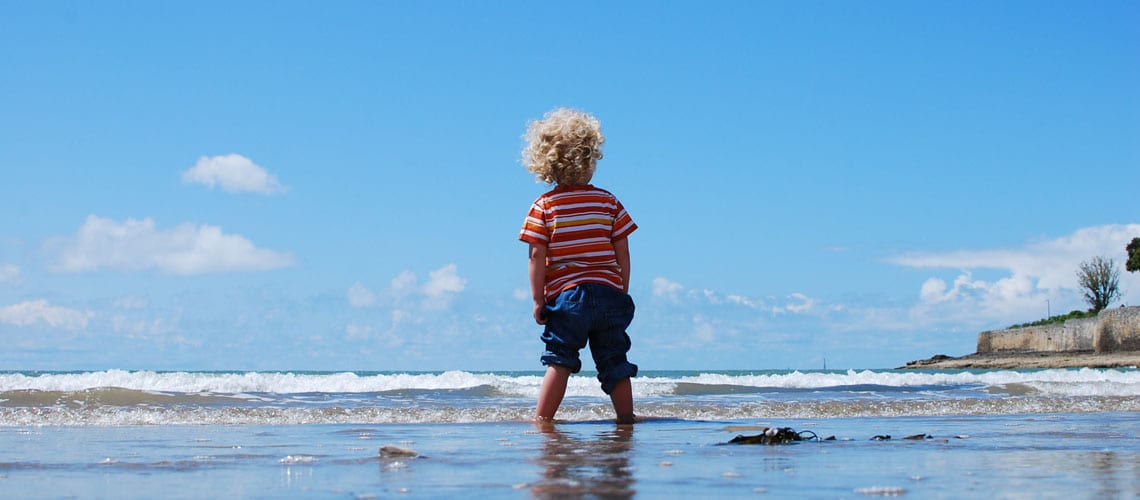 It isn't too surprising that Little Guest's most sought after family destinations are all European cities. According to the European Travel Commission, our beautiful continent welcomed nearly 671 million tourists in 2017. That's no surprise considering the impressive diversity of Europe's cultures, traditions, and, above all, its countrysides. Between sea and mountains, city and countryside, Europe never stops to win the hearts of travelers.
1 – France
Every day, France seduces more and more visitors from around the world who come to admire its exquisite scenery. From the North to the South, its coastline reveals majestic scenes. Between the untamed sea along the Brittany coast and the sublime inlets in Marseilles, travellers looking for nature will have everything they could have ever wanted. Meanwhile, families that prefer the city will surely fall under the charm of the vibrant atmosphere in France's larger cities, Paris and its chic shopping streets, Bordeaux and its architecture, or Strasbourg and its rich historical heritage.
Provence
To enjoy your holiday in the South of France, head towards Montagnac, close to the beautiful beaches of Sète and Marseillan. Nestled in the middle of 20 hectares of greenery, Le Mas de Thau and its warm rural gites welcome families looking for comfort, simplicity and conviviality. Families are pampered throughout their stay, thanks to a crèche and a kids-club for toddlers and children from 3 months to 12 years old.
On the programme: cooking or art workshops, football, mountain biking, free sailing or windsurfing courses at the Mèze Yachting Club, cruising boat trips, descents of the Hérault Gorges,… the friendly owners are always on hand to advise and delight families visiting this magnificent region!
Did you know?
Between fortified castles, palaces, and manors, there are more than 40,000 castles in France, making it the perfect place for children to imagine themselves as knights and princesses.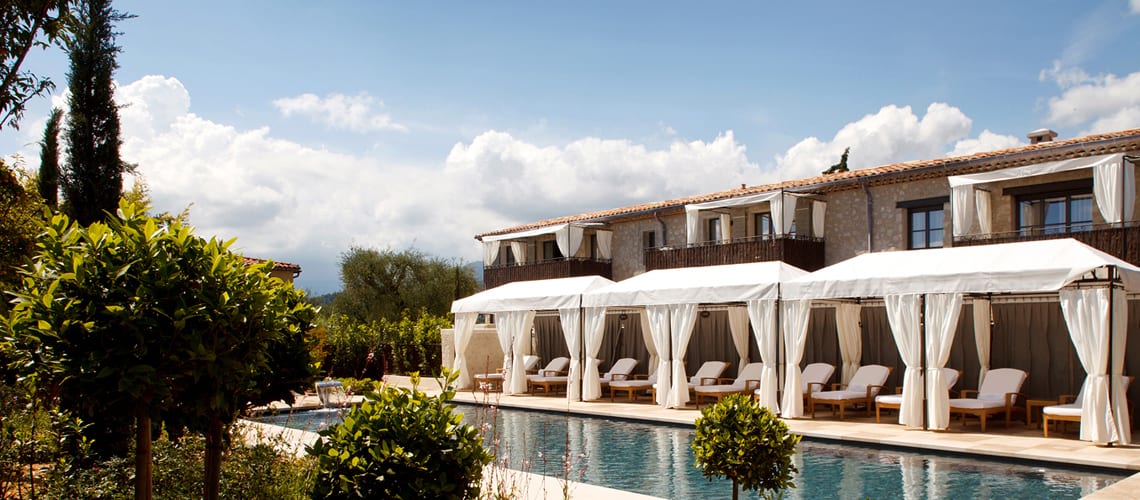 2 – Italy
Oh, Italy! Its beaches, heritage, cuisine, lifestyle, authentic villages… walking through the Italian streets is like walking in a postcard. The country's inhabitants have mastered the art of languor and welcome you warmly into this unique location that is perfect for relaxing as a family. (Re)discover the « vera cucina italiana » and taste the country's classic dishes, always prepared with passion and tradition. At Little Guest, we investigated to discover the best family restaurants on the Peninsula.
Sicily
After having eaten your fill of delicious pasta alla bolognese and wandering the history-filled streets of Rome, head to the south of the country for some well-deserved relaxation. In the area near Sciacca, in Sicily, you will find the prestigious Verdura Golf & Spa Resort. Nestled in the heart of 230 hectares of olive and lemon tree fields, this haven for families displays itself as an invitation to discover the gentle Italian lifestyle. Children will love the complimentary kids-club, while parents can relax on the edge of the sublime panoramic infinity pool, lulled by the gentle murmur of the Mediterranean.
Tuscany
For a romantic trip along with your little ones, head off towards Tuscany. Its name evokes authentic Italian countryside and its endless luxurious scenery. Sit as a family in the shade of a hundred-year-old oak tree for an open-air picnic with the cicadas singing in the background. The capital, Florence, the cradle of the Renaissance, offers an unmatched artistic richness. One of its works of art: the Four Seasons Hotel Firenze. This luxurious establishment, with its « rustic chic » decoration, is perfectly located in the centre of a calm, serene park, just 10 minutes from the centre of the city of the red lilies. This establishment never fails to win over children with its playground, pizza workshop, and the numerous education and entertaining activities offered by the complimentary kids club.
To get off the beaten track a little, why not set off to discover one of Italy's least known regions? Follow the guide, Little Guest takes you to the Dolomites!
Did you know?
On average, an Italian consumes around 25 kilograms of pasta per year… Up for the challenge?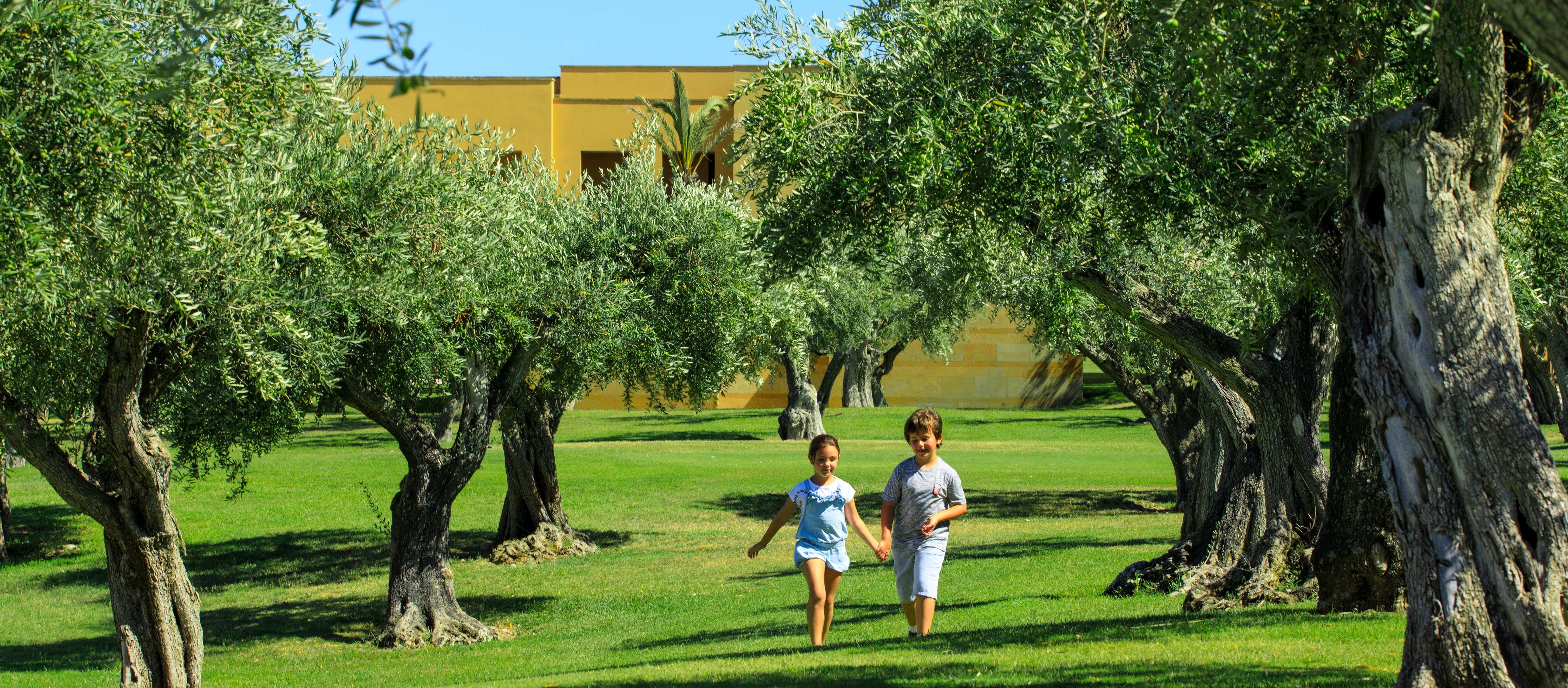 Children love to gambol in the Italian countryside
3 – Portugal
Basically an open-air museum, Portugal has everything that families need for an idyllic vacation. A perfect mix between modernity and tradition, this sought after destination is not lacking in must-see sights and well-kept secrets. Before its sumptuous beaches and luxurious valleys, its charming villages and cosmopolitan cities, the country of Fado is known for its unique and welcoming hospitality. The only risk you run in travelling to Portugal is that you won't want to ever leave again. We warned you…
Lisbon
Multicultural and animated, the Portuguese capital is a stop that you should not miss under any circumstance. To discover Lisbon as a family, choose luxury and comfort and stay at the prestigious Martinhal Lisbonne Chiado Family Suites hotel, located in the heart of the historic city centre. Often called "The World's First City-Centre Elegant Family Hotel", this magnificent apartment-hotel complex brings together refinement and modernity. Games, books, colouring books… the Pyjama Club will quickly become your children's favourite place, while parents can discover the numerous bars in the city of a thousand colours.
Algarve
Families have chosen their next vacation destination. Between the pleasant climate and the gentle lapping of the waves, Algarve is at the top of the list. Extremely sought after by travellers, this southern region offers numerous tourist sites and seaside resorts, as well as wild treasures that have remained secret in order to preserve the beauty of the countryside. After a day discovering and exploring the secret creeks, the whole family can relax on the edge of the luxurious heated pool at the Cascade Wellness & Lifestyle Resort. Gourmet restaurants with a view of the sea, luxurious rooms and villas, complimentary kids-club and football club, spa and hot tub, and plenty of other activities that will make your entire family happy.
Did you know?
The sun shines nearly 300 days out of the year in Portugal. A great reason to pack your bags and get your fill of vitamin D!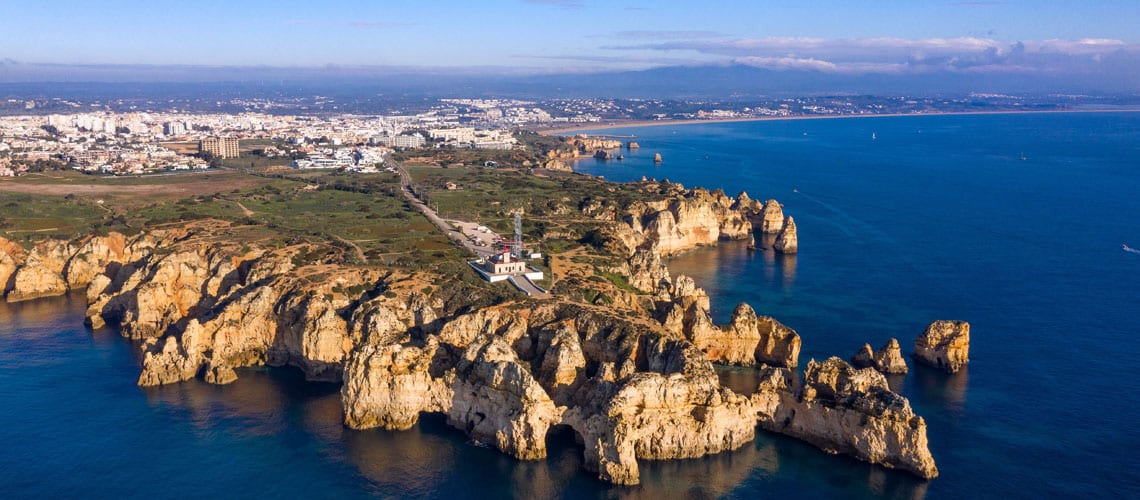 The famous Ponta da Piedade in the Algarve region
4 – Greece
The name evokes Greek antiquity, Greek mythology, and Santorini… but this multifaceted country is home to numerous well-kept secrets. Its lands, decorated with traditional villages, both ancient and traditional, are home to plenty of secrets. Greece is simply a paradise for families looking for opulence and serenity. Its sublime islands and peninsulas invite you to relax and think.  From the Aegean Sea to the Ionian Sea, The Little Guest Hotels Collection takes you to a vital destination.
Chalkidiki
A seductive jumping off point in the north of Greece, cradled in the Aegean Sea, Chalkidiki offers idyllic countrysides. They can be seen perfectly from the Kassandra Peninsula, where you can also find the Porto Sani hotel. Thanks to its dreamlike panoramic view of Mount Olympus and its two private beaches, this jewel nestled along the shore was voted among the « Top 10 luxury hotels in the world » in the TripAdvisor Travelers' Choice Awards 2019. This 5-star establishment offers a kids-club open to all ages (starting at 3 years old) and incredible baby-sitting service for the younger guests. Meanwhile, parents will feel like children again as they experience the joy and excitement of scuba diving at the IDC Gold Palm Resort centre.
Corfu Island
This history of this paradisiac island comes from an ancient legend that dates back to the Gods of Greek mythology. Poseidon, deeply in love with the nymph Korkyra, decided to kidnap his love onto an island which he named after his sweetheart. After some time, the name Korkyra became Corfu and the island became an exceptional destination. The MarBella Corfu, one of the most beautiful luxury hotels in Greece, offers travellers 388 rooms and suites, 6 restaurants, 5 bars and entertainment rooms, 1 spa, 1 fitness room, 2 outdoor pools (where you will come face to face with a siren…), 1 exceptional babysitting service, as well as clubs for babies, children, and teens (from 4 months to 17 years old).
Did you know?
According to the legend, the name of our content comes from the Phoenician princess Europa who Zeus was in love with. To approach her without scaring her, he transformed himself into a white bull and carried her across the continent of Europe that we now know today.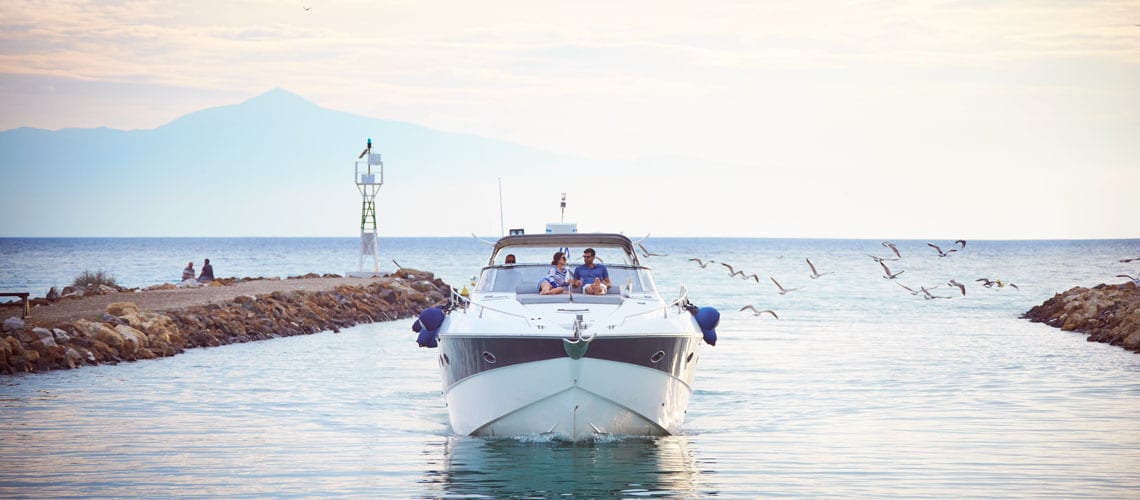 5 – Switzerland
To quote the words of Cathrine when she shared her experience in Switzerland as a globe-trotting mom: « With its endless scenery and its breathtaking panoramas, Switzerland offers the perfect backdrop for a family vacation that is both calming and energizing. » And we wouldn't say anything on the contrary! The country we call « the land of cheese » is the perfect place for a trip with a large group of family or friends. From Jura to the Alps, without forgetting the Swiss plateau, the Swiss countryside has inspired painter and photographers the world over.
Geneva
Nature lovers, this city is for you! Its panoramic views on the illustrious Lake Geneva will surely please everyone and amaze children, as will the Parc de la Grange, sometimes lush and green, sometimes snow-covered. It's near these two marvels, with a rustic-chic design on the edge of the lake, that you will find La Réserve Genève Hôtel & Spa. The decoration of this 5-star establishment subtly ties together African inspiration with Swiss elegance to offer you a unique experience. Children will love the colourful furniture in their new cocoon, as well as the marvellous kids-club and its numerous fun activities.
Did you know?
Every summer, they host CinéTransat on the shores of Lake Geneva. What is it? Free movie projections open to everyone, as well as giant karaoke parties!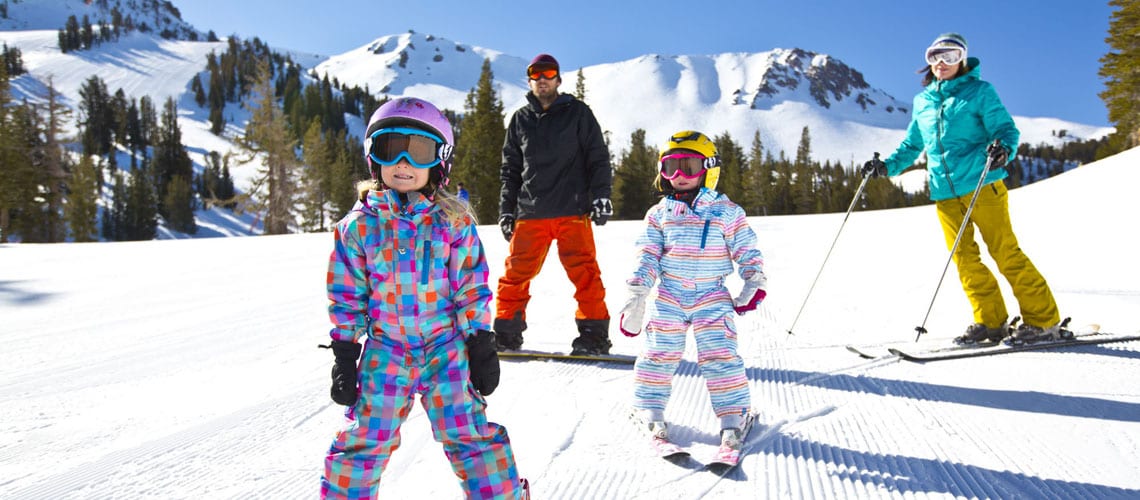 Is Dad truly the best at skiing? Not so sure!
6 – Spain
The Iberian Peninsula is, without a doubt, THE favourite destination for roaming travellers. Easy to reach from both Belgium and France, it's the perfect occasion to practice your Spanish while tasting traditional tapas. Beyond its culinary heritage, which rivals that of Italy and France, Spain offers vast diversity in its scenery and cultures, which is sure to impress visitors. Famous for its large cities like Madrid and Barcelona, its internationally known painters such as Picasso and Gaudi, and its majestic monuments like the Sagrada Familia and the Alcázar of Seville, Don Quixote's country stands as a journey into their culture and through time.
Mallorca
Between its white-sand beaches, turquoise waters, its inlets, and its mountain chain (the impressive serra de Tramuntana), the island of Mallorca is perfect for a family escape. Head to the capital, Palma, where you will find a paradise for golfers: the Sheraton Mallorca Arabella. Located equidistant between the center of the capital and the beach (10'), this 5-star hotel does everything it can to satisfy the little guests and welcome them with legendary Mediterranean hospitality. The establishment has 3 restaurants, 4 pools, including one pool for children, 1 wellness centre (fitness and spa pavilion), 2 tennis courts, 4 golf courses, as well as a high-quality babysitting service and a complimentary kids club for children between 4 and 12 years old!
Andalusia
Andalusia is one of the most beautiful autonomous Spanish communities. All it takes is listing the names of its emblematic cities and regions to understand why: Seville, Grenada, Almeria, and the amazing Costa del Sol. Nestled in Malaga, the magnificent all-inclusive resort Ikos Andalusia transports the entire family to a bubble of happiness and wellbeing with its private beach and luxurious 17-hectare garden. Children between 4 months and 17 years old will more fun than they could ever imagine with the nurses and qualified hosts, while mom and dad can relax as a couple in the hot tub at the Ikos Spa.
Did you know?
In total, the Spanish coast stretches over more than 3085 miles (4965 kilometres), that's more than 5 round trips between Paris and London!
For even more ideas for luxury and family-friendly destinations and hotels, please have a look at our article compiling the best destinations for a luxury family holiday!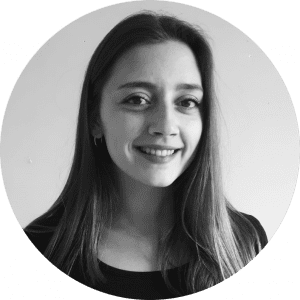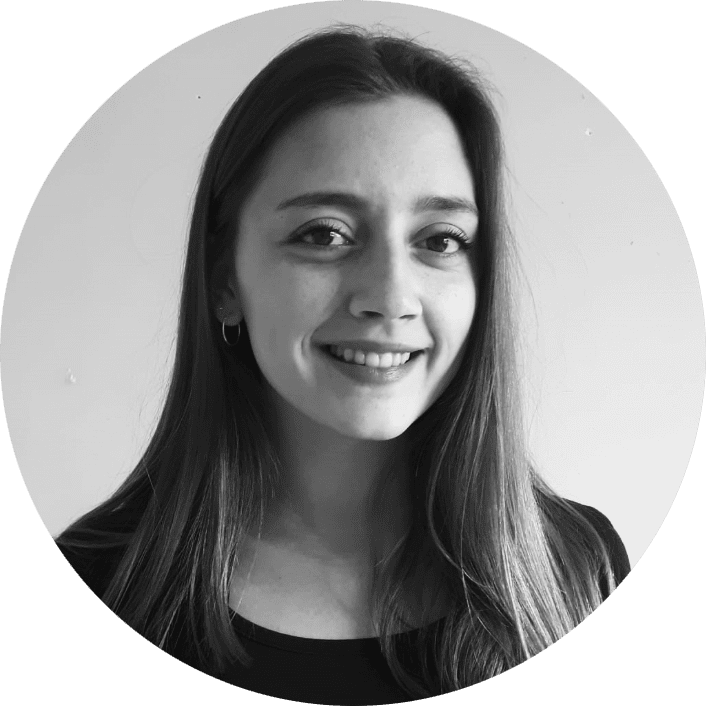 Pernell, 23 years old, lover of wine and travel, from Angers, France