A symbol of freedom par excellence, surfing has become, over time, one of the most popular board sports in the world. A simple leisure activity for some, a real career for others, this discipline is synonymous with heavenly beaches, holidays in the sun and thrills. As you can imagine, these concepts resonate strongly at Little Guest. We also know that children learn much faster than adults, so why not take advantage of these great learning abilities to give them their first surfing lessons? So, get out the wax, grab your board and jump in the water with us!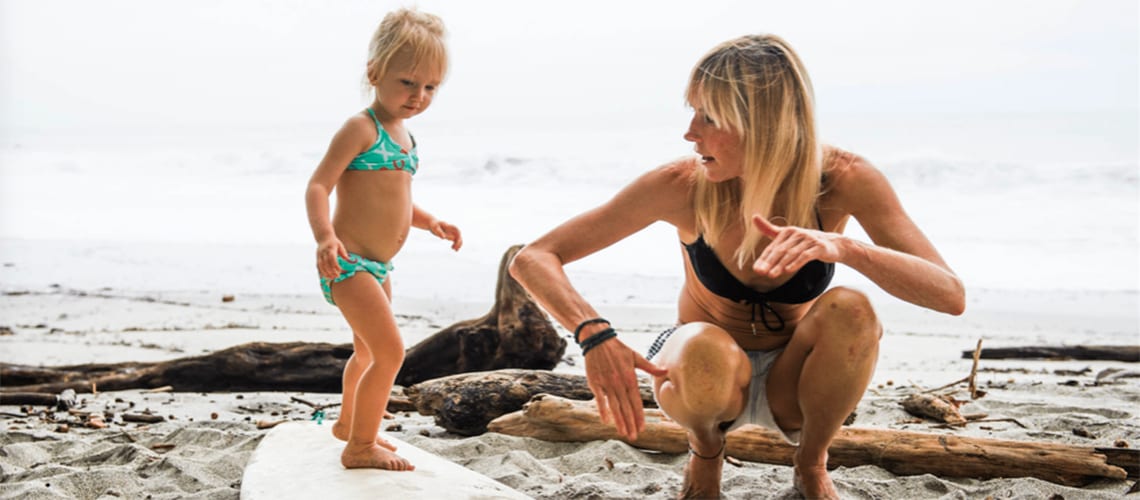 Answers to the most frequently asked questions
Is it relevant to start surfing as a child?
Everyone agrees to say it: yes, surfing as a child is beneficial in many ways. UCPA and ESCF welcome children in group lessons from the age of 6 years old by adapting their training to the young age of the participants. Some schools even offer formulas adapted to 4-5-year-old kids. At Little Guest, we place a lot of importance on the opinion of parents and, according to them, surfing allows their children to:
Better know and control their bodies. Indeed, this discipline requires balance and excellent coordination as well as a good physical condition.
Discover the notions of effort, investment and resilience. Indeed, it is only through training that they will be able to master the art of surfing in all conditions.
Become familiar with the environment. In a natural environment, children will learn to react to potential dangers but will also be open to questions of pollution and its impact on marine fauna and flora.
Socialize while having fun. The learning of this sport is often done through group lessons which will allow children to create a group of friends where they will learn the notions of mutual help, sharing, solidarity and respect.
What are the best conditions for my child to start surfing?
Accessible to all, surfing is a perfect sport for children under two conditions: that they know how to swim and that they are comfortable in an aquatic environment. For learning to begin in the best conditions, it is essential that your child learns to tame the aquatic environment, initially without a board. His first sensations and his feeling in front of the waves will give him (and you) a clear indication: if he takes pleasure, it's won! If you are going to surf, you might as well do it safely; don't hesitate to explain the different sea currents to your child as well as the force of the waves he might encounter. Finally, remind your child that this discipline should be practiced in safe areas (look for the buoys) and that it is not useless to be near a first aid post on the beach in case of a problem. Finally, it is important to remember that nothing beats the expertise of experienced surfers, so don't hesitate to enroll your children in lessons supervised by professionals!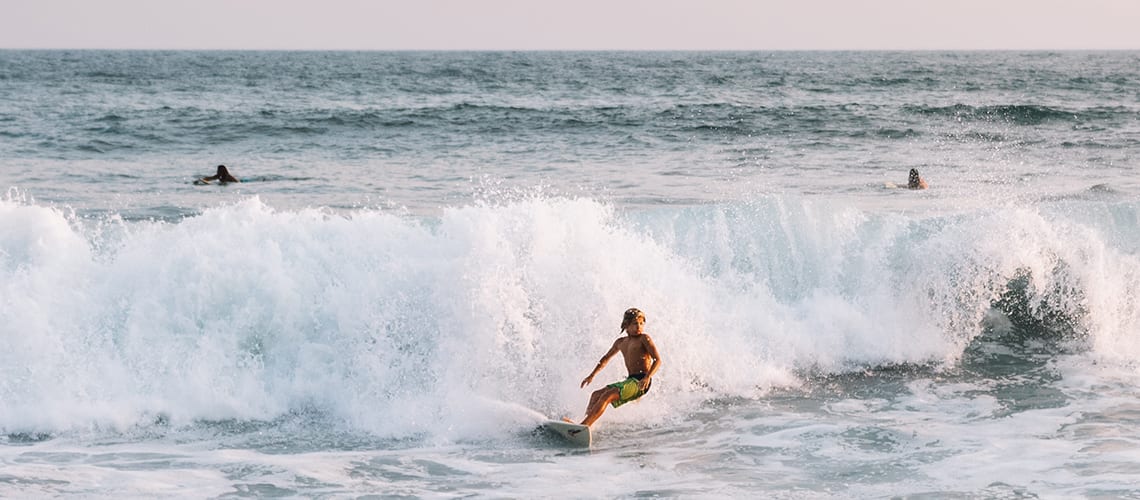 What surfing equipment does my child need?
Surfing is no different from other sports: when you start, there is a risk of injury. To avoid this, equip your child with a good wetsuit and a life jacket (even if he can swim very well) but also a protective helmet. Once harnessed in this way, he can start the practical exercises using a foam surfboard. For example, Alder, the leader in surfboards, offers boards that are perfectly adapted to children: adapted to their small size, wide, light and equipped with soft fins. Once your child feels more comfortable on his board, he can switch to a rigid surfboard. Once your child is comfortable surfing small waves, they can switch to a narrower surfboard to increase speed and accuracy.
HOW TO CHOOSE YOUR FIRST SURFBOARD: EXPLANATIONS AND SELECTION
It is essential to choose your first surfboard for beginners in order to have fun from the very first sessions. Overall, there are 3 main criteria to take into account when choosing your child's first surfboard:
Height, weight and general physical condition. For example: if your child weighs less than 55 kg, choose a 180 to 200 cm board, if he weighs between 55 and 65 kg, choose a 205 to 225 cm board, and if he weighs between 65 and 75 kg, a 240 cm board is ideal.
The number of sea trips he plans to make during the year. Indeed, the wear and tear will not be the same depending on whether your child uses his board for a fortnight during the summer or several times a week throughout the year.
Your budget (because at Little Guest, we like to make children happy but we also like to please parents). Surfing is far from being the most expensive boarding sport but a board is still a certain investment, especially as children grow up quickly at this age. To avoid unnecessary expense, choose the board with your child and a specialist dealer.
If you are not very familiar with the surfing vernacular, trust us, opt for a foam longboard. With its large volume and great buoyancy, it is the perfect compromise for your child to quickly learn to surf safely. Indeed, foam surfboards are much more flexible than traditional boards. Thus, when your child falls on his board, thepolystyrene will absorb most of the shock and prevent him from getting injured.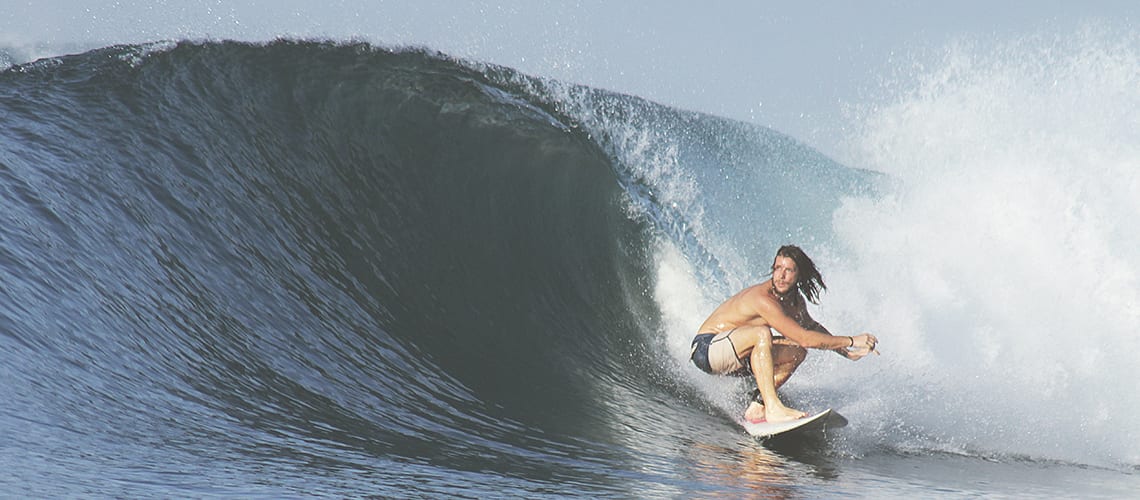 To help you choose from the dizzying range of children's surfboards on offer, we have prepared our top 3 best surfboards for beginners:
The Olaian 100 7'5 by Décathlon
Designed by a team of passionate surfers, the Olaian 100 7'5 has been specially thought for children and beginners under 65 kg. Solid and light, it allows your children to gain confidence on small waves but also to venture a little further thanks to its stability and its great rowing comfort.
Strengths: excellent value for money, stability and comfort
Price: €175
The Rocket Attack by Softech
The top of the line for beginners: a fairly short foam board with plenty of volume at the front for optimum handling and an ingenious arrangement of the side fins for a smooth and pleasant ride. Ideal for children and light beginners, the Rocket Attack promises hours of fun in the water thanks to its speed and good cornering response.
Strengths: maneuverability, flexibility and lightness
Price: €190
The Slasher Fish 5'8 by California Board Company
Recommended for children and beginners, the Slasher Fish 5'8 has been designed so that your toddlers can practice without hurting themselves and have fun in the water for hours. Constructed with a 100% waterproof high-density laminated EPS core with 3 multi-layer wooden reinforcements (moulded) to maintain optimal rigidity, this board has a smooth high-density polyethylene bottom for optimal gliding quality.
Strengths: resistance, speed and adaptability to the surfer
Price: €182
OUR FAVOURITE HOTELS FOR SURFING
Noah Surf House ***** in Portugal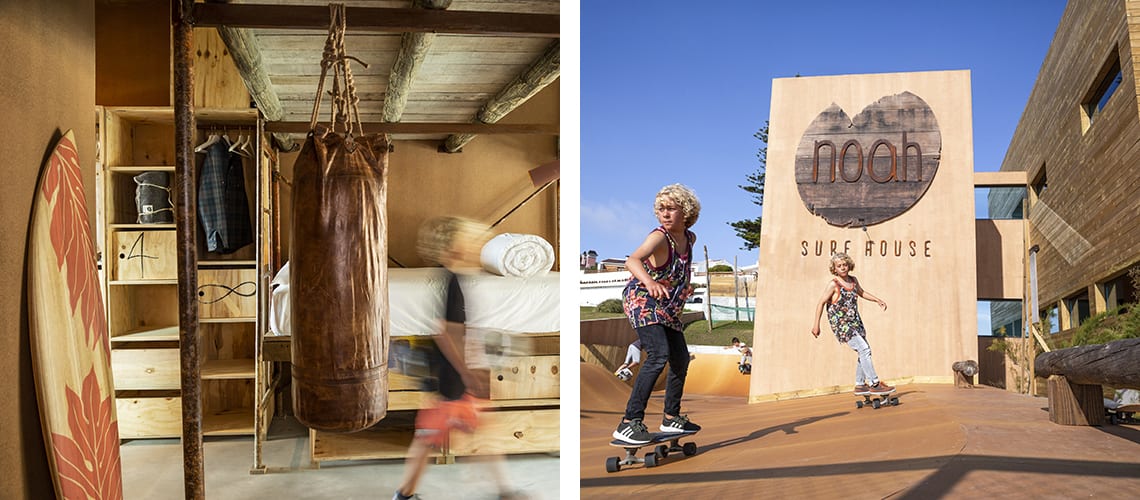 Little Guest is proud to present the Noah Surf House, an outstanding hotel both in its architecture and in the spirit that animates it. Located in Santa Cruz, 50 minutes from Lisbon, this hotel, made entirely of natural materials, is absolutely incredible. Designed to celebrate the ecological diversity of Portugal's coastline and nature, it is ideal for a stay combining rest, surfing and family activities. To say that this hotel is made for surfing is an understatement.
Originally composed of a surf school and a restaurant, this upscale establishment, which now houses 8 rooms and 13 family bungalows, offers direct access to 20 kilometers of coastline. These beaches, famous all over the world and much appreciated by surfers, have already hosted World Surf League competitions. From there to say that it is a paradise for surfing apprentices, it is only a step away.
Radisson Blu Resort, Taghazout Bay Surf Village **** in Morocco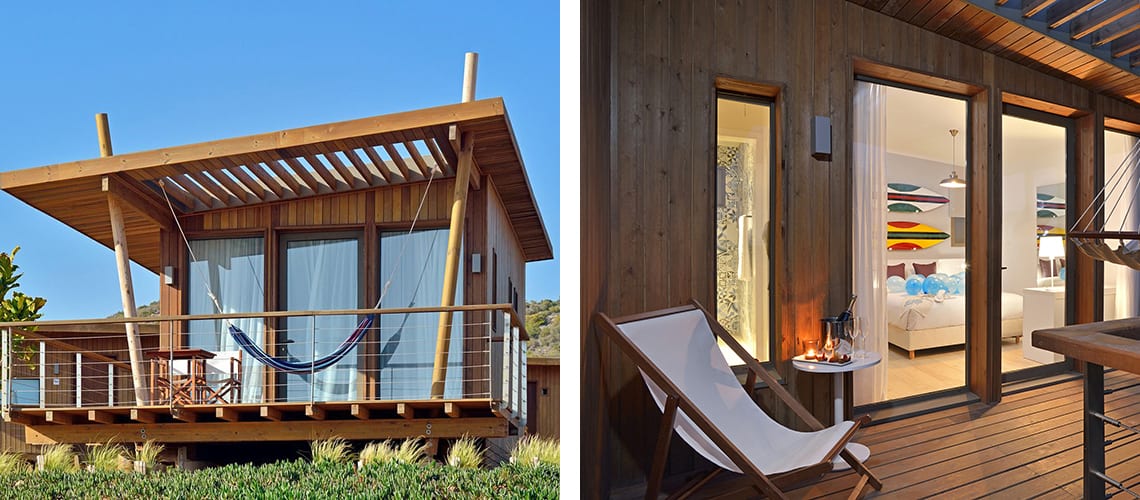 If you prefer to leave Europe, head to the Radisson Blu Resort, Taghazout Bay Surf Village ****, a 4-star hotel located an hour's drive from Agadir, Morocco. A true family paradise, this hotel blends in with nature to offer you quality accommodation that is only equalled by the wealth of water activities on offer. Taghazout Bay is home to some of the best surfing spots in the world! Just leave the comfort of the hammock on your terrace and take a few steps down to reach the beach and the much sought-after waves. Its big plus point? A surf schooljust a few steps away, managed by a team of professional and passionate surfers.
Paradis Plage Surf, Yoga & Spa Resort ***** in Morocco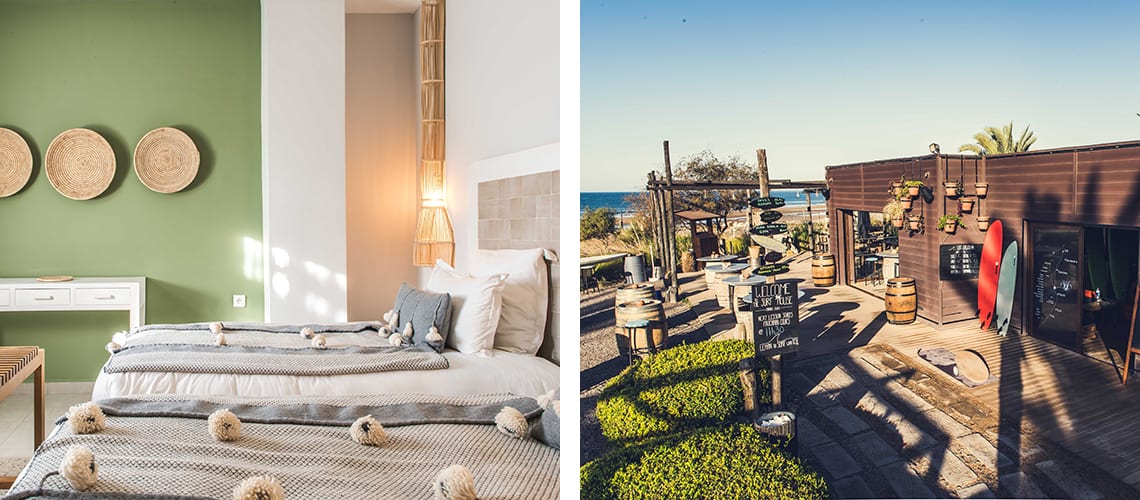 Let's stay in Morocco for the last hotel of this selection! The first Surf Yoga & Spa Eco-Resort in Morocco, Paradis Plage offers a unique concept combining relaxation, meditation and physical exercise. Also located in the Taghazout region, this exceptional hotel features a surf school offering surfing lessons for children from the age of 8. From learning how to surf to finding the perfect spot, the team is at your disposal to accompany you and help you progress in the best possible conditions. Surfing, paddle and bodyboardingare king here. You will therefore understand why the famous surf accessory brand Rip Curl has chosen Paradis Plage as its privileged partner. Moroccan gastronomy, yoga, spa and surfing… what more could you ask for?
Hotel Don César ***** in France (Corsica)
If the Hotel Don César does not propose a « surf-hotel » concept as such as the three previous addresses, it is nevertheless a perfect drop-off point for families in search of the most beautiful waves of the hexagon, in the extreme south of Corsica. It is indeed near Porto-Vecchio that is located the establishment surrounded by divine beaches. To surf, the tribes head for the region of Sainte Lucie. Little frequented, this area is a small quiet corner, perfect for learning with the family under the benevolent eye of the instructors of the Lolly Loops school (located 3.5 km from the hotel), which offers windsurfing sessions, but also kayaking, stand up paddle or catamaran rental.
A FEW MORE TIPS
Don't forget that the sun can be dangerous, and even more so when you spend several hours in the water. Don't hesitate to read our article on sun protection for children.
These three hotels have been designed with respect for nature and the environment in general. Why not take advantage of your stay in one of them to try your hand at slow tourism, which is particularly focused on ecology?
Finally, if you like sliding but prefer the cold in the sun, have a look at our articles on snowboarding or skiing with kids!
So, ready to become the next Kelly Slater? That's all that Little Guest wishes you!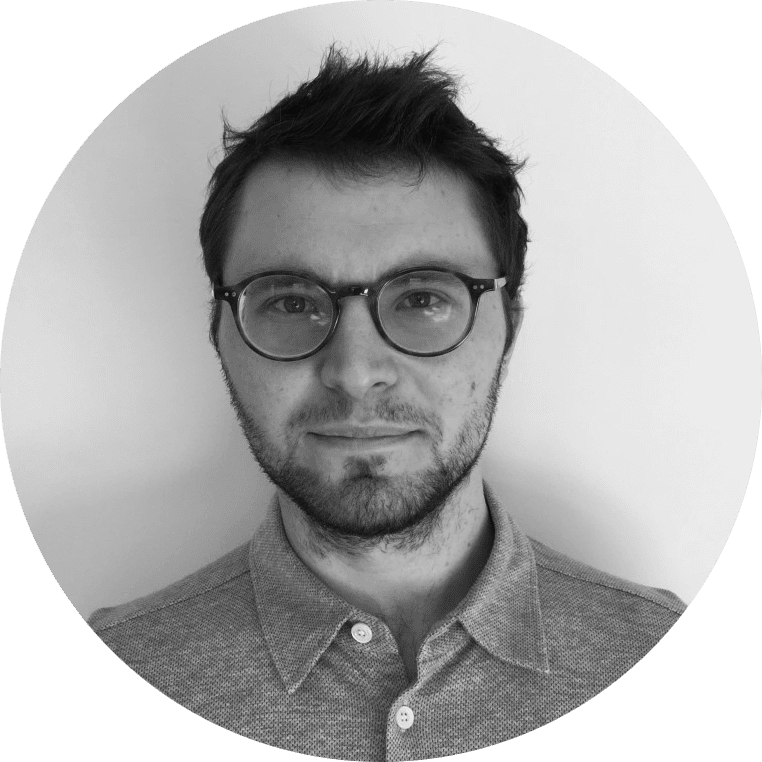 Guillaume, 26 years old, passionate about travelling, from Paris