For many families, winter holidays are a time of joy often eagerly awaited. Snow sports, snowman building, raclette by the fire are all opportunities to strengthen family ties! To share an exceptional moment with your children, the practice of a common sport is ideal. Snowboarding, which in just a few years has become a popular winter sport for children, is the perfect activity for this. To prepare them as well as possible to take to the slopes, board on their feet, Little Guest has prepared an article compiling all our tips.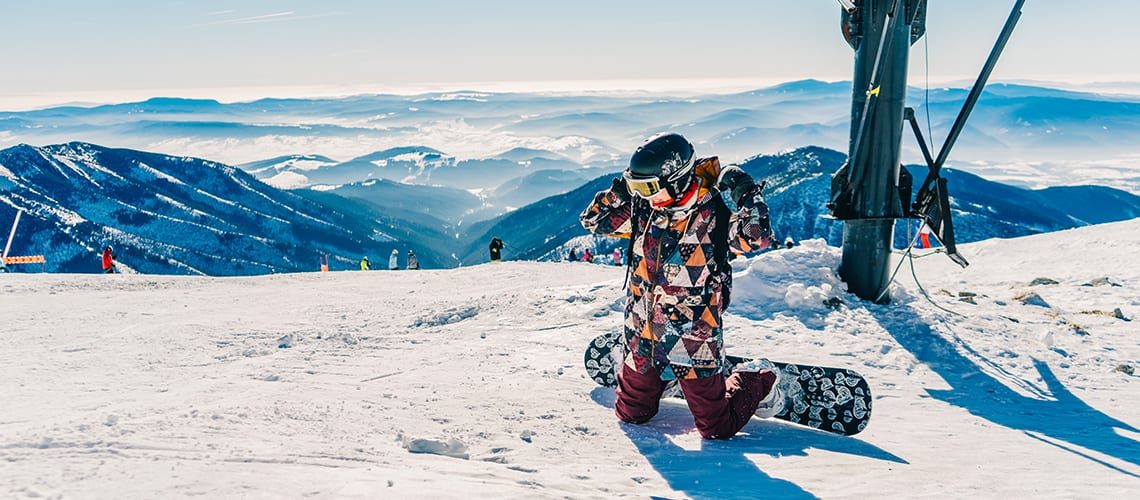 Do your children want to learn how to snowboard? Are you wondering whether this is reasonable and suitable for their young age? It's normal. In this article, we will give you all our tips for choosing adapted equipment and try to answer the questions that parents ask themselves most often about this sport.
ANSWERS TO THE MOST FREQUENTLY ASKED QUESTIONS
At what age can my child start snowboard?
There is really no minimum age to start snowboarding. For many years, the sport suffered from a negative image, in particular because the professionals would stop at nothing to perform impressive tricks. The result has been a mistrust of this sliding sport, which is just as safe as skiing if practised according to the usual safety measures. In reality, because of his small size, your child will control his centre of gravity and balance more easily than an adult. You can therefore put him on a board as soon as he is old enough to stand and walk. His first experiences will probably not be spectacular but they will allow him to become familiar with the board and will play a definite role in his evolution on the board. Indeed, by learning very early to appreciate the sensations and serenely apprehend the risks, he will progress much faster as he grows up.
Should my child know how to ski before starting snowboarding?
We might as well say it right away; no, your child doesn't need to master skiing to learn snowboarding. Although this is the most classic course because it allows you to acquire a solid technical base, it is not the only option; starting with snowboarding even has certain advantages. Accompanied by an instructor, he will learn to master his balance more quickly as he will have both feet attached to the same board. Snowboarding offers fewer possibilities for restoring balance than skis and will allow him to progress more easily and to switch easily to skiing. Skiing requires greater technical mastery, so it will be easier for your child to have fun quickly on one board than on two.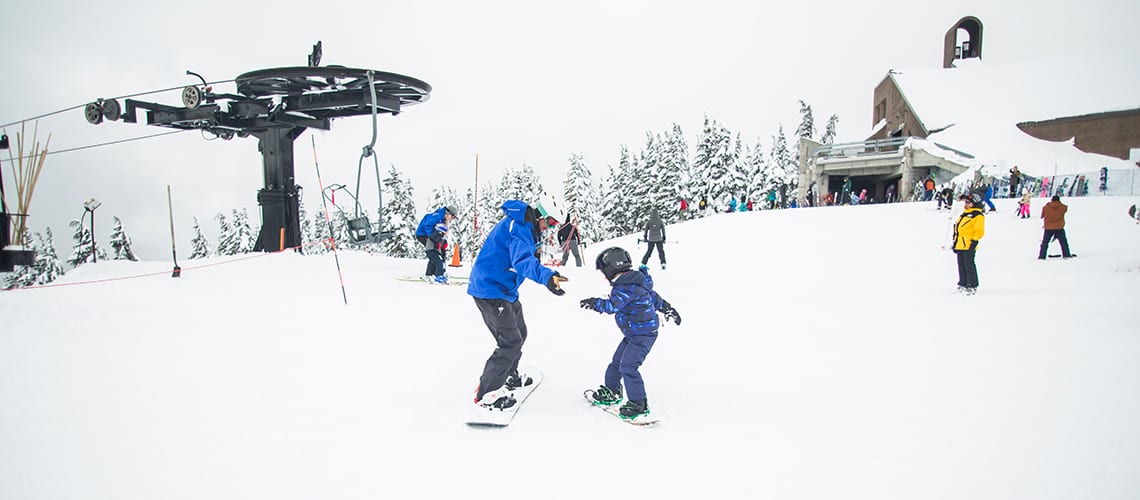 How can I prepare my child for snowboarding?
Like all sports, snowboarding requires good physical condition. Walking, swimming or cycling will allow your child to prepare his muscles and acquire the stamina necessary for this activity. To make it easier, your child can also start to find his or her balance by cycling or, better still, skateboarding and surfing. Warming up is essential, so start with some stretching to warm up your muscles and reduce the risk of muscle injuries. The equipment is also very important for safe and secure practice; we will explain in a few lines how to choose the right equipment. Finally, if your child has every right to start on their own, it is recommended to attend courses given by professional instructors who will coach him and teach him good practice.
WHAT EQUIPMENT IS NEEDED AND HOW TO CHOOSE IT PROPERLY?
Snowboard
To get off to a good start when starting a new activity, it is better to have the right equipment. Snowboarding is no exception to the rule and the board is obviously the most important accessory. To choose the right snowboard for your toddler, there are 2 main criteria to take into account:
The child's age (and therefore his or her size): obviously, the child's age will have a major impact on the choice of board, particularly with regard to his or her size. Children under the age of 5 will turn to baby boards of 80 cm and under. Kids aged 5 and 6-year-old will opt for a board of around 110 cm and those between 7 and 11-year-old will prefer a board between 110 and 130 cm long. Finally, from the age of 11 onwards, the size of the board will vary between 130 and 145 cm. In general, therefore, a board 10 to 20 cm smaller than the child's height should be chosen (it should be between the top of his neck and his nose).
The child's supporting foot: To choose a snowboard properly, it is important to know the user's supporting foot, i.e. the one that will be placed at the front of the board. To determine this, simply ask your child to stand upright with their feet parallel to each other and to unbalance them by pushing them slightly on their back. If he catches up with his right foot, he is a « goofy« , and it is the right foot that should be placed in front. On the other hand, if he regains his balance with the left foot, he is a « regular« , and the left foot should be placed at the front of the board.
Tip: Your children grow up fast, so it may be better to rent a different board each winter rather than buying one that will only be used for a week's holiday.
Snow suit
Although it is possible to snowboard with a ski suit, it is still more appropriate to invest in an outfit specially dedicated to this practice. Longer snowboard jackets are designed to protect your trousers in the event of repeated falls, which is likely to be the case at first. Trousers are looser than those used for skiing to ensure total freedom of movement. The whole suit is often reinforced at strategic points (elbows, lower back, wrists) to offer optimal resistance and protection.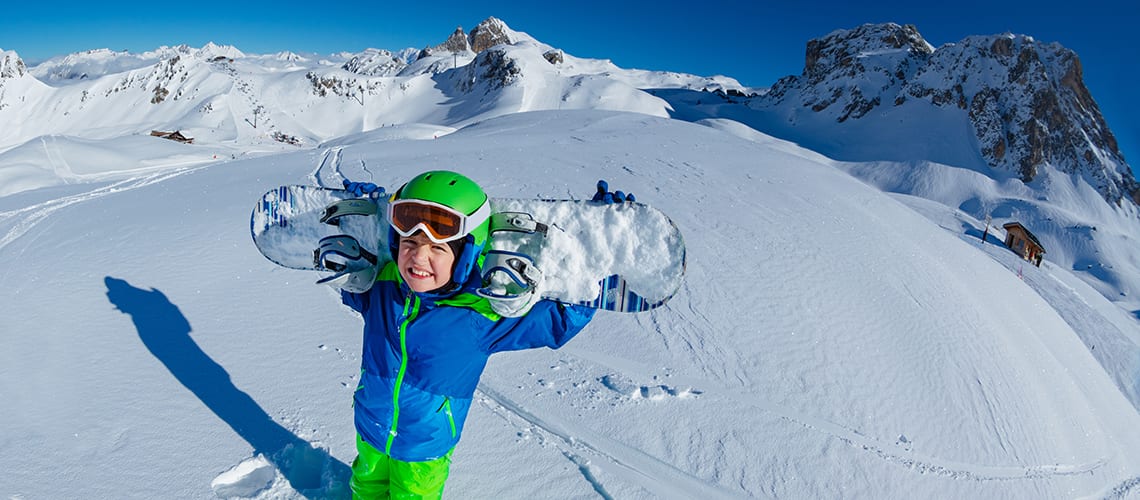 Boots
Boots also need more attention. Choose boots adapted to your child's size (it's better to take a little bigger, don't forget that they will be worn with thick socks) but also flexible models so as not to hinder his movements. Finally, prefer models with boa lacing systems, which require nothing more than turning a small knob to tighten the laces; traditional lacing systems, well mastered by adults, could indeed cause difficulties for your children.
Helmet
The helmet is extremely important for all snow sports enthusiasts, but even more so for children! While it obviously protects the head and neck, it is also used to protect against the cold. The most important thing is the child's comfort and safety, so choose a helmet that is solid and covering, but also the right size. Make sure you also choose a helmet that meets the NF EN 1077 standard. This guarantees that the helmet respects the specific characteristics of alpine sports. Finally, make sure you choose a helmet with an easy closure system that will allow your little blond heads to simply take it off and put it back on again.
Gloves
Like clothing, gloves should be chosen according to three criteria: their ability to protect against shocks, their waterproofness and their heating function. If these three prerequisites are met, you can indulge in colour and design. On the other hand, opt for models with a wrist tightening system (but be careful not to overtighten it), reinforcements on the palm and fingertips, wrist protection (in fact, in snowboarding, the majority of injuries are due to poor reception on the hands following a fall) and a wrist strap that allows you to attach your glove to your wrist. This way, you can remove and replace your glove without fear of losing it.
Protections
Snow sports, especially those practised on snow, can be dangerous. Loss of balance, falls and uncontrolled sliding can quickly lead to injuries. So, safety first! If your child does not risk going straight onto a black slope, he will still be more reassured (and so will you) if he feels protected. If wearing a helmet is strongly recommended, some parents do not hesitate to go further and equip their children with targeted protection(knee pads, wrist guards, etc.), or even complete outfits reinforced at the coccyx and joints.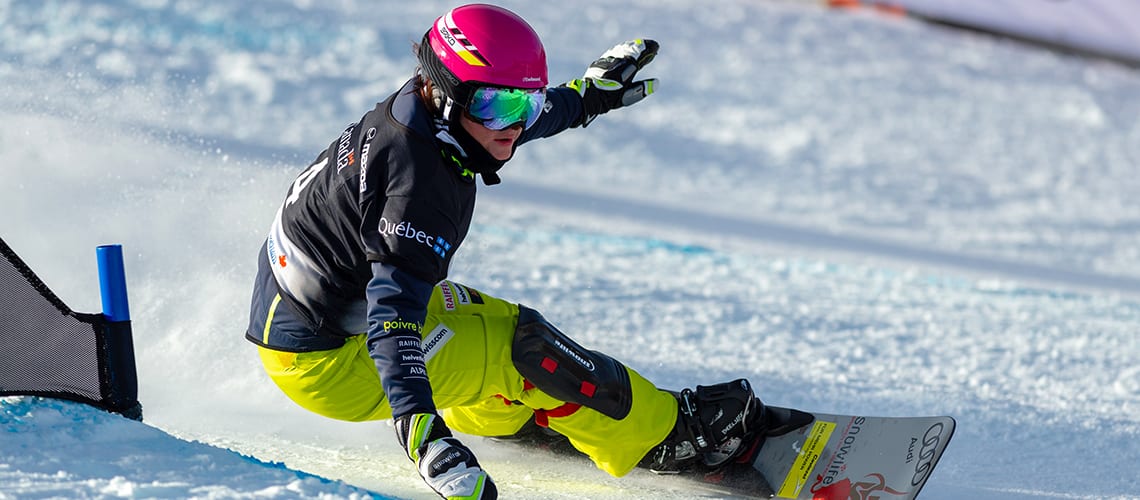 OUR FAVOURITE HOTELS FOR SNOWBOARDING
Le Diamond Rock *****
Located in Tignes, prestigious winter sport resort partnering the Val d'Isère, the Diamond Rock ***** sticks to its fame to offer to its guest an unforgettable journey on Savoie's snowy slopes. More than 300 km of ski trails await your slalom, skis and snowboards engaged in a mesmerizing dance. The hotel subtly combines high-end commodities with a soothing cocoon-feeling that will amaze your family.
The resort's kids-club pampers your little ones on the best way. Beside cinema and bowling after a fun outdoor day, they will have the opportunity to learn ski and snowboard thanks to Montessori teachers at the Mountain Ski Academy. Other classes also take place at ESF Tignes le Lac and ESF Val Claret.
And while children are having fun, immerge yourself into the warmth of the superb Pure Altitude spa to relax day-long torn-by-the-effort muscles. To put a perfect end to an awesome day, head to Bornâ and les Cimes restaurants, where the chef Max Eon creates tasty culinary inventions.
Peisey-Vallandry Club Med Resort ****
Peisey-Vallandry Club Med Resort ****, ideally located in the heart of the second largest ski area in the world, flirts with the snow-covered peaks at an altitude of 1600 metres. Simply take the Vanoise Express, a cable car ideally located at the hotel's exit, to reach more than 400 km of slopes suitable for all levels.
With its All-Inclusive formula, this hotel offers you: ski passes and lessons, Kids-Club from 4 to 17 years old, all meals in the restaurant, drinks at the bar, countless animations and various activities.
Dogsled rides, ice climbing and torchlight descents are on the programme at the Paradiski domain, located just a few minutes from the hotel! Skiers and snowboarders of all levels will find what they are looking for on the many green, blue, red and black slopes of the area; the more daredevils can even try their hand at jumps and slides on ramps in the snow park!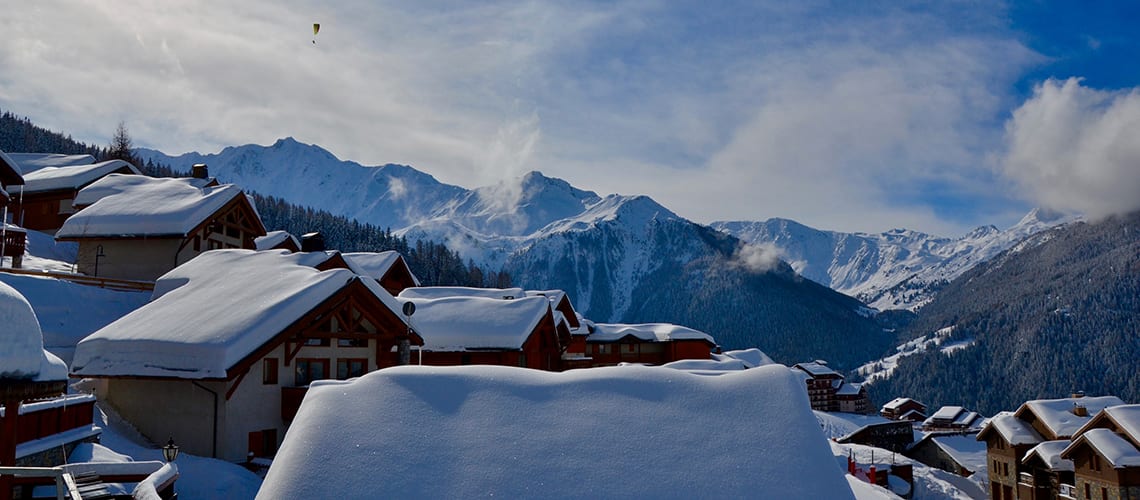 Armancette, Hotel, Chalets & Spa Mont Blanc *****
An intimate address and peaceful refuge, the Armancette Hotel, Chalets & Spa Mont Blanc ***** can be discovered in the heart of a preserved setting, on the heights of Saint-Gervais-les-Bains. This exceptional hotel, which offers a breathtaking view on the Dômes de Miage, is perfect for families in search of relaxation and relaxation.
During the winter season, however, there is plenty of room for sport! Take to the slopes with your family in the 3rd largest ski resort in France: Evasion Mont-Blanc, which groups together 5 ski areas in Savoie and Haute-Savoie: Saint-Gervais-les-Bains, Megève, Saint-Nicolas de Véroce, Les Contamines-Montjoie and Combloux). Downhill skiing, snowshoeing or sledging, dog-sleigh rides and, of course, snowboarding for the whole family, the choice is yours!
A FEW MORE TIPS
We can never repeat it enough, in the mountains the sun can also be dangerous! So, don't forget to protect your children's eyes. To help you make the right choice, Little Guest has written an article on the best sunglasses for children, so go and have a look!
You are now ready to hit the slopes with your family! Have a great holiday!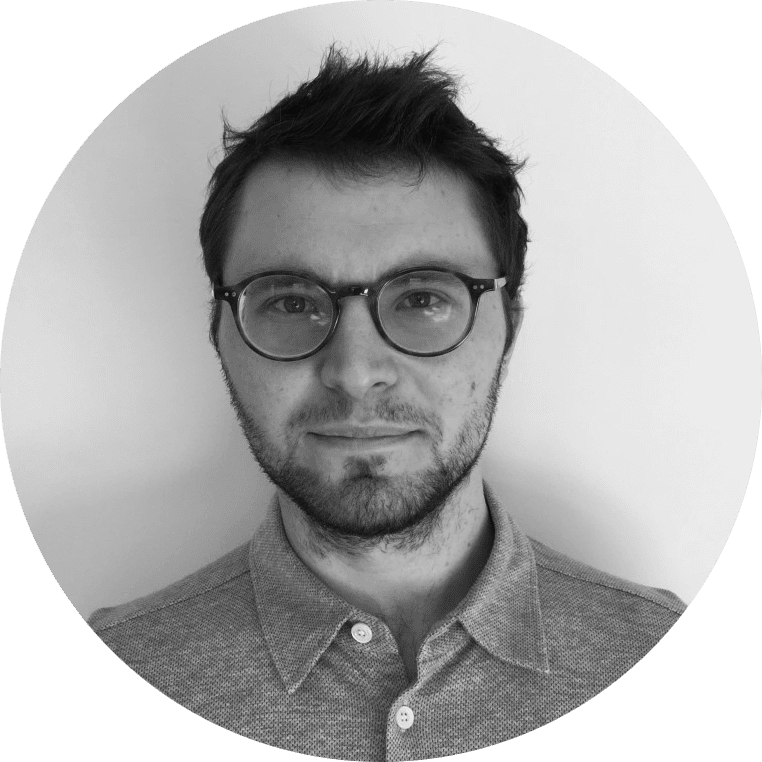 Guillaume, 27 years old, travel enthusiast from Paris