The simple reference to Lapland awakens the child that lies dormant in each one of us, for it is there that Father Christmas and his elves would live, hidden in a small fairy-tale village at the far end of the North Pole. But believe us, the Lappish region has many other surprises in store for you! From observing the Northern Lights to dog sledding and snow battles, your family trip to Lapland will be simply unforgettable!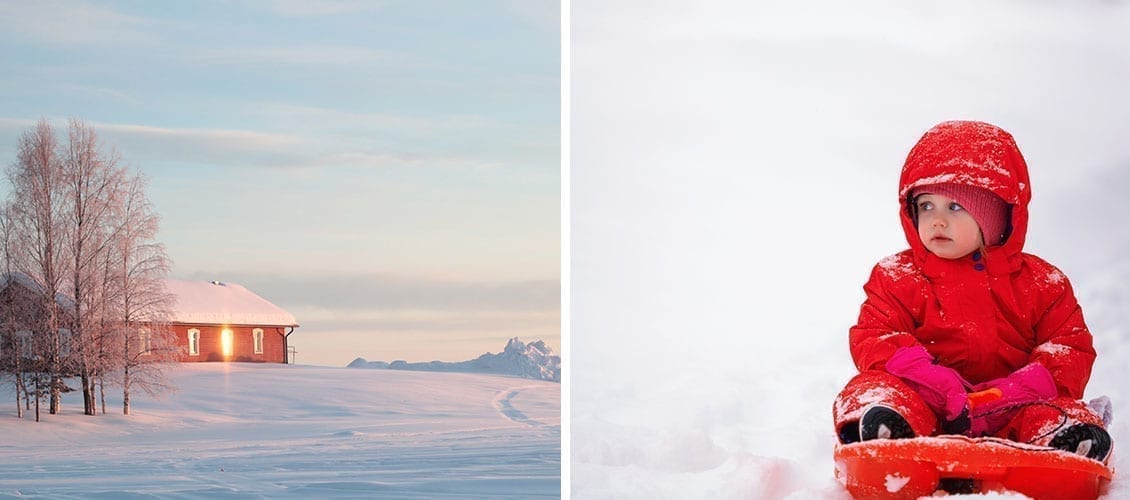 Lapland is a region in the far north, extending over 4 Scandinavian countries (Norway, Russia, Finland and Sweden). This region, know for its great cold, the snow-covered fir trees, and, of course, Santa Claus, is steeped in myths that we owe to its once nomadic people: the Sami, who came to the sandstone of the seasons and the transhumance of reindeer flocks. In order to get away from the classic tourist pattern, let's leave the postcard image behind (of course we think of Finnish Lapland and Rovaniemi, the stronghold of the big bearded man in the red clothes) and let's go to the less touristic side of Sweden, where the connection with nature and the Sami people will delight you.
« I almost now wish for the return of the polar night with its fairytale world of stars, its fantastic northern lights and its luminous moon continuing its course in the great silence of the sleeping night. It is like a dream, like an escape into the world of fantasy and imagination. There is no more form, no reality, only a vision of a stream of silver and violet floating over the earth. »
Fridtjof Nansen, Towards the pole, 1897
WHAT TO DO IN SWEDISH LAPLAND?
Lapland in winter
Whether you are in Lulea or Abisko, you can experience the joys of dog sledding. You will have the option of being a simple passenger or, after a quick training session, you will be able to lead your dogs anywhere you like. It is even possible for children from 12 years old to take on the role of leader!
You will also have the opportunity of experiencing the joys of snowmobiles. Thrills are guaranteed as you cross through the fir trees.
One of the great Lappish customs is fishing « in the hole » or « on a frozen lake ». There is nothing more fun than making your own hole in the ice with a hand drill and waiting patiently for the fish to bite (90% of the time you will leave with nothing, but the experience is a nice introspective return to nature). You will be issued with a cold suit, gloves and shoes to save you from the freezing temperatures.
Some hotels also propose a wide range of activities and courses for children, such as an introduction to skiing or sledging, but also, for the bravest ones, Fatbike (bikes with large wheels). I also found out that it was possible to play golf on ice, and more surprisingly, yoga on ice. A pleasant way to feel at one with nature.
If you would like to learn more about the Lappish history and culture, you will surely be attracted by a visit to the last real native people in Europe: the Sami people. It is up to you to choose an immersion in this culture for a (half) day. You will be able to discover the life of these people, their customs, traditions, the making of their dresses, reindeer husbandry and, above all, their gastronomic culture. An intimate experience full of history that will not leave you unscathed: you will be both grateful to nature for what it gives us, and you will feel grown up by these stories and this simple lifestyle that has lasted over the centuries.
Lapland in summer
Long walks in the forests expect you! Do not forget to cover yourself to protect yourself from mosquitoes, heat and sunlight, because although the temperature can drop to -40°C in winter, it can reach 20°C in summer.
Enjoy the pleasures of nature even more by kayaking, climbing or picking. Picking is authorized, as is « wilderness » camping, as long as you leave the area as clean and untouched as you found it.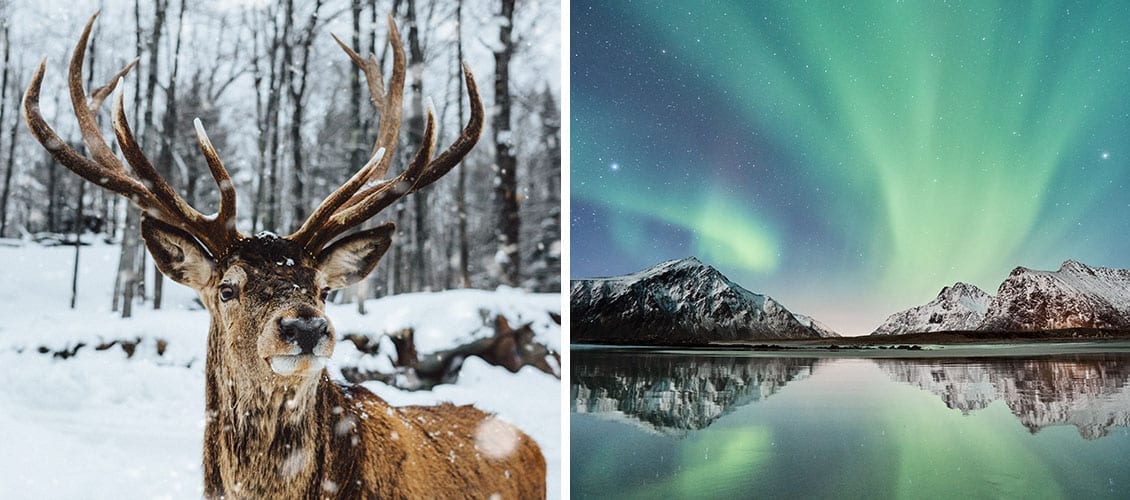 THE HUNT FOR THE NORTHERN LIGHTS
It is not possible to come to Lapland without considering the meteorological phenomenon known as the Northern Lights.
According to the period you choose to leave you will have more or less chances to see it. I strongly advise you to leave between the end of September and the end of March. You will see them dancing in the sky between 9pm and 3am.
You will have the possibility of taking part in several aurora borealis « hunts », either by taking part in a safari (you will be taken care of by a guide who will supply you with all the necessary material and snowmobiles to take you away from civilization), or during a night in a glass igloo, an incredible experience to live, happily and warmly installed in a bed.
HAVE THE RIGHT MATERIAL READY FOR THE ENTIRE FAMILY
If you plan on going to Lapland with your family, you must be prepared and acquire adapted equipment. Whether in summer or in winter, you need to protect yourself from the cold or the sun.
In winter, when the temperature can reach -40°C, the four-layer technique applies: a t-shirt, an undershirt, a sweater and, of course, your coat. Do not put on cotton clothes that quickly absorb sweat and give an annoying feeling of cold. Merino wool and thermal clothing are highly advised. Above all, remember to take enough to cover your extremities (head, feet, hands). For small feet, we prefer a double layer, thin socks then a thicker pair. As for the neck, prefer snoods to scarves which tend to be bulky, quickly take up humidity and accentuate the sensation of intense cold.
In summer you may experience temperatures around 20°C, so think about sunglasses, sunscreen and long-sleeved t-shirts to protect you from mosquitoes. Little Guest also recommends you the best pairs of sunglasses and sun protection for your baby.
BRINGING BACK SOME SOUVENIRS
You can't return from Lapland without a souvenir! I'm particularly fond of the wooden cups (mainly birch) called Kuska. You will also find knives with reindeer wood handles, often engraved with this emblematic animal.
You can also buy your loved ones (or yourself) clothes inspired by those of the Sami people. Sweaters, waistcoats, socks and chapkas are a must! In the same vein, you can also find the traditional witch's drum that was used to communicate with the spirits: it is made of reindeer skin and bone… very typical !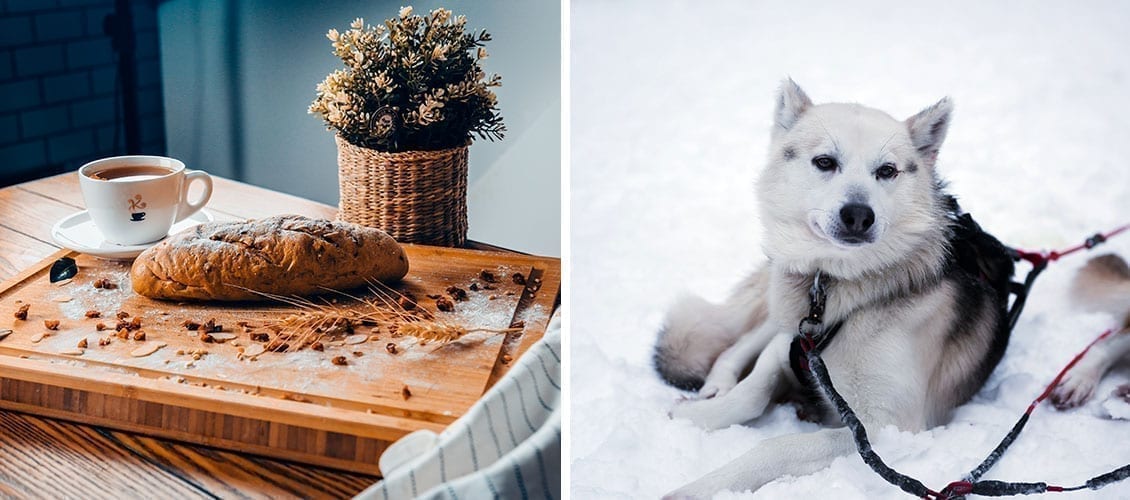 A QUICK TOUR OF LAPPISH CUISINE
If you like Nordic gastronomy, you can't miss these typical Lappish dishes and drinks:
Poronkäristys : Slowly cooked reindeer stew which is often served with mashed potatoes
Makkara : sausages roasted over a wood fire, often eaten after fishing in the hole
Lohikeitto : Creamy salmon soup that warms you up after an enjoyable day outside
Leipäjuusto : a cheese that squeaks in your mouth, which may sound a little bit like halloumi. Pan-fried and eaten with arctic berry jam… a delicacy!
Glögi : a mulled wine with spices revisited in the Finnish style
Ruisleipä : the typical rye bread found in Lapland, also known as « black bread »
Korvapuusti : a cinnamon bun, a classic not to be missed! To eat when you sit down for FIKA, the moment of the day when you sit down to have a coffee or hot chocolate with a pastry, my favourite !
Ready for the Far North?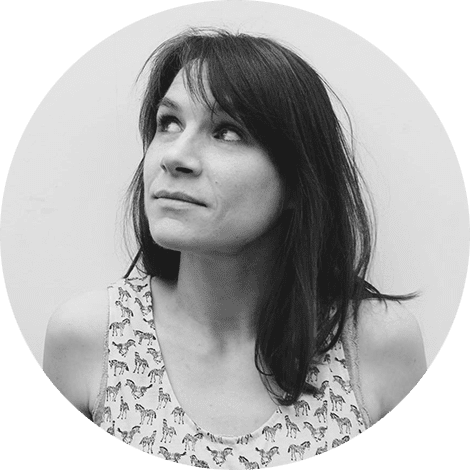 Caroline, travel & DIY lover, mother of Mathilde and Gauthier, from Bruxelles