Have you ever heard of swimming babies? This funny expression actually refers to new-borns who are able to hold their breath underwater to evolve in an aquatic environment. Fascinating, isn't it? So, we've looked into the subject and gathered all the questions parents have! At what age should we take our baby to the pool? What precautions should be taken? Is chlorine harmful? Here are the results of our investigation!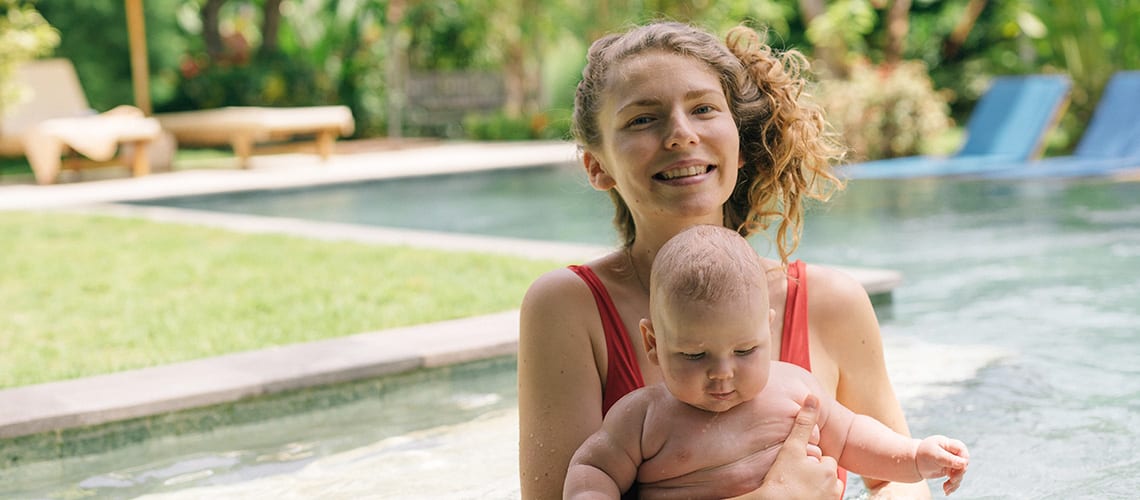 When Can a Baby Go in a Pool?
Health and early childhood professionals recommend giving the baby his first swim from the age of 4 months, when he has received the second injection of the DTP (diphtheria, tetanus and poliomyelitis) vaccine, or even from 6 months if it is a public (municipal/communal) pool, which is often colder and more frequented than a private pool (at home, in a villa or holiday home) or semi-private (in a hotel).
In any case, never force your baby to bathe, go at his own pace or you risk causing him trauma or even an irreversible fear of water. To help him acclimatise, provide him with a small watering can with water, so that he can gradually get wet by himself, as well as his bath games so that he associates these familiar objects with a reassuring moment.
For baby's wellbeing, make sure to favour swimming pools with areas designed for young children (water games, mini slides, paddling pools, etc.). The water is warmer there and the pool is shallow! You can also help by buying a baby pool to install in your garden!
When to teach your baby to swim?
Baby is a born swimmer! From 4 to 6 months, your new-born baby knows how to move in the water and hold its breath underwater for a few seconds. These reflexes, which will remain until he is about 1 year old, do not make him a fish! Always keep one eye open and keep physical contact at all times.
To boost this ability to move around in an aquatic space, you can sign up your little one for baby swim classes. The principle is very simple! Cuddled in the arms of Mum or Dad, the baby gradually becomes aware of the new environment around him and then goes so far as to gain confidence by throwing himself for a few seconds. The advantages of this activity are numerous! Not only does it promote psychomotor development and social awakening, but it also allows the young child to evolve in a reassuring environment (yes, the little one has spent 9 months taking it easy in his amniotic fluid) and to stimulate his senses.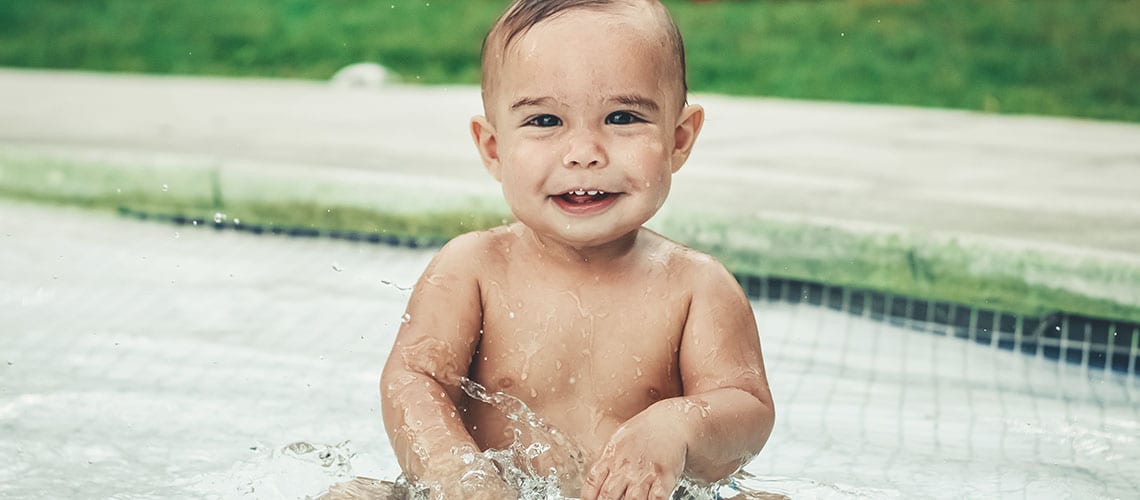 Is chlorine safe for babies?
The chlorine present in the pool is not harmful to the baby. In fact, it is important to know that treated water is healthier than water at risk from microbes (lake or seawater, for example)! However, you should always rinse baby well when taking him out of the water, dry him and moisturize his skin with a cream designed for this purpose. For optimum protection, you can also opt for a bathing cap to protect baby's fragile hair.
However, be careful not to overexpose young children to the harmful effects of chlorine. We stick to about 20 hours of swimming per year (avoiding winter to spare your baby from the epidemic of bronchiolitis) and we prefer private pools, more often treated with bromine (much softer for the skin), salt electrolysis (no allergic reactions) or PHMB (non-irritating) coupled with an anti-alga.
How can I keep my baby safe in the pool?
Bathing with baby is an operation that needs to be prepared: certain rules need to be followed!
Always remain vigilant. One second of inattention is enough for a disaster to occur. More than ever, you must absolutely keep an eye on baby at all times, for his safety, but also for his comfort: knowing that you are present and attentive will give him confidence.
Find out about the water temperature. Babies love hot water. This is a little surprising when you know that he has been bathed for almost 9 months in a liquid at 37°C, hence the importance of giving him baths at this same temperature! For the swimming pool, the minimum temperature is set at 32°C. You can also prepare the baby by gradually reducing the temperature of his bath to 34-37°C.
Avoid baby getting cold. To avoid any risk of hypothermia (goose bumps, trembling, bluish lips, etc.), it is important to keep baby warm all the way through, from the moment he enters the bath to the moment he leaves. Therefore, as mentioned above, make sure to soak the baby in water heated to 32°C minimum, limit the bathing time to 10 minutes and always take a bath cape or hooded bathrobe with you to coil baby up as soon as he gets out of the bath!
Bring suitable sun protection. Both in and out of the water, children must be protected from the sun and UV rays! Therefore, bring sunglasses, sunscreen and a cap or hat.
Feed baby a little before and after the bath. We finally know: eating before bathing does not promote discomfort, on the contrary! There is nothing worse than bathing without having eaten anything beforehand. And then, the swimming pool digs! So, we prepare a snack for baby to reward his progress in splashing around.
Take care of the baby's health. Never bathe your baby if he or she has had a cold, flu or stomach symptoms in the 48 hours before swimming.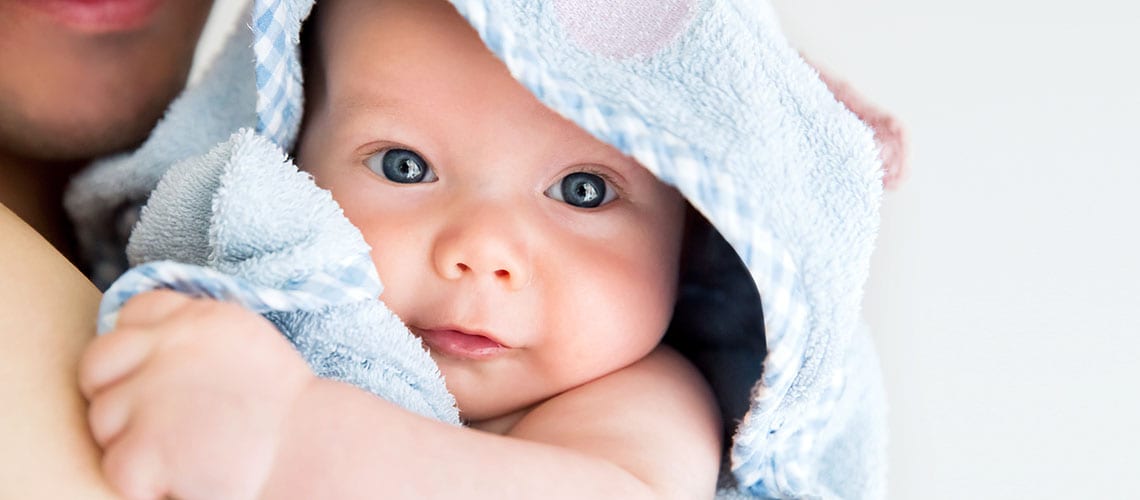 Things you should take to the pool for your baby
An outing with a baby can sometimes be a real headache from an organisational point of view. But fortunately, Little Guest is always there to prepare one of its famous checklists for you, just like the checklist for holidays with a baby or the new baby checklist! Bathing suit, shower gel, waterproof bag, everything is there!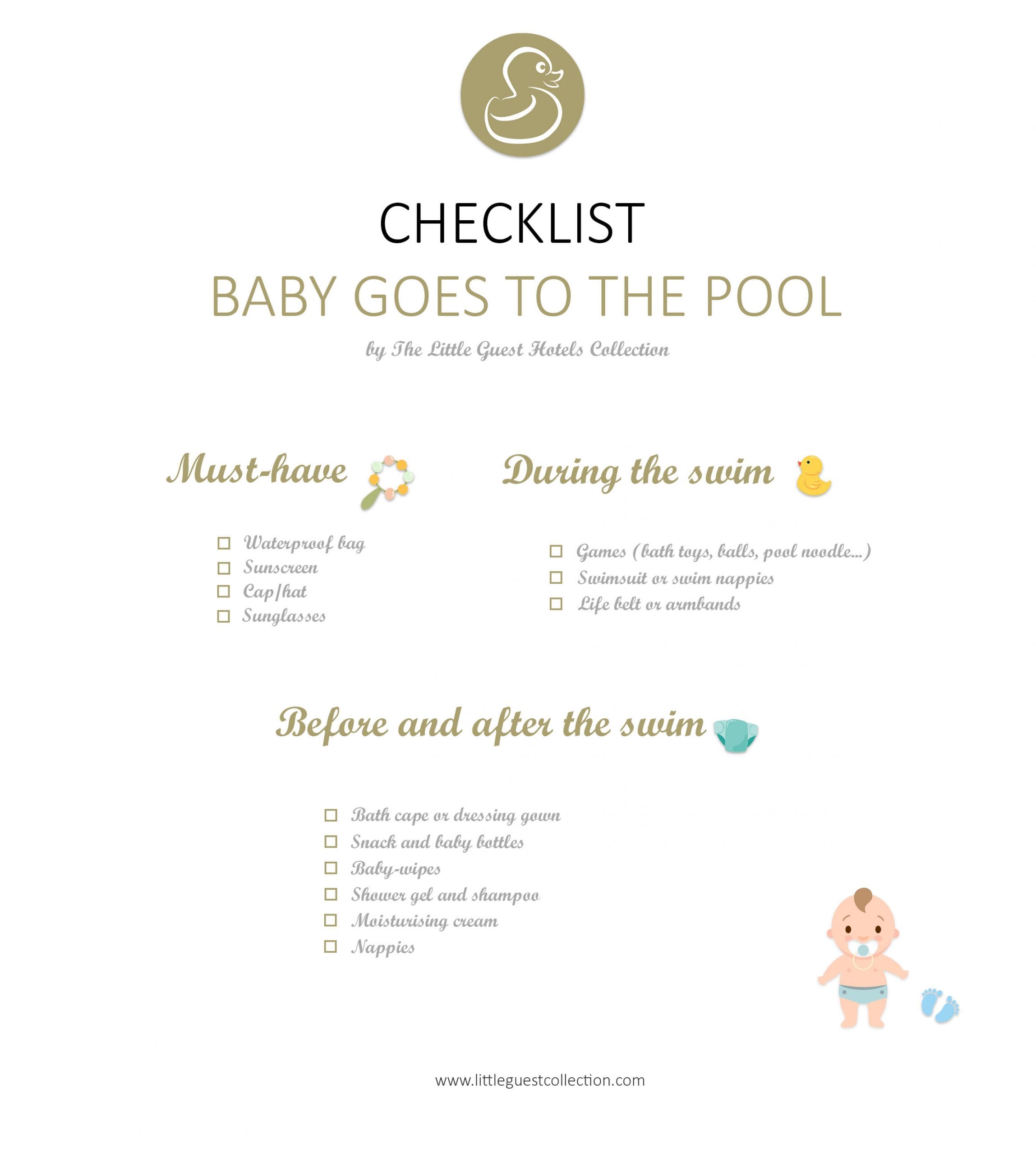 What swimwear do babies need?
The choice of swimsuit is important: it must be practical and comfortable. At Little Guest, we strongly recommend washable diapers. Environmentally friendly and economical, these innovative little panties are both aesthetically pleasing and comfortable. Chlorine- and salt-resistant, anti-UV, interchangeable lining… it's up to you to choose all the options you feel are essential! A big favourite is the microfibre Hamac nappy, as well as the Bambino Mio collection which also offers bathing caps, anti-UV T-shirts, transportable changing mats and many other ultra-useful items for young parents!
To help you choose what's best for your baby, we've written a complete article on baby swimwear! You'll find a presentation of the types of swimwear, tips on how to choose one and a selection of brands offering a wide range of swimwear for toddlers!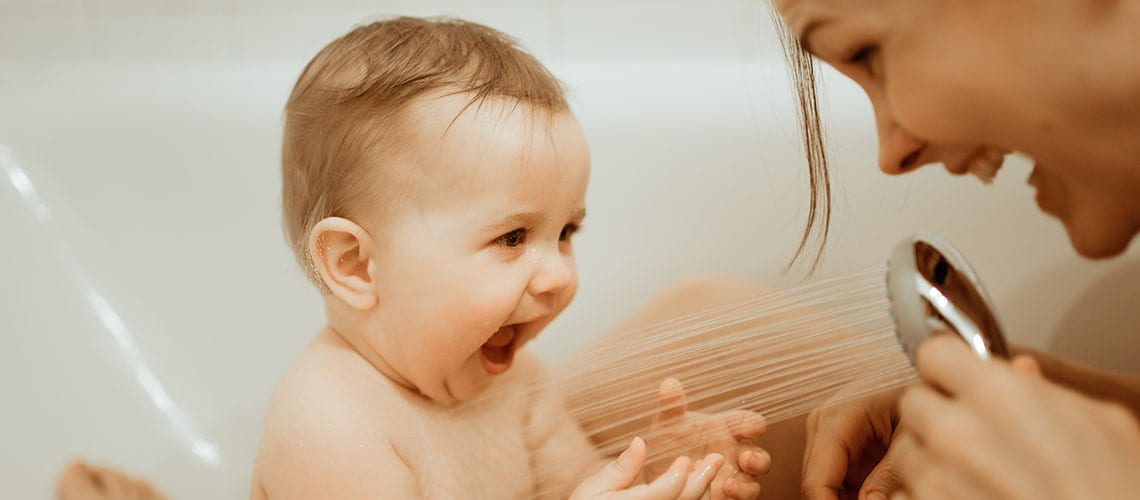 What hotel for swimming with my baby?
Some of the establishments in the Little Guest Hotels Collection offer activities for your new-born baby to take the plunge.
Head for the Kassandra peninsula, in Chalcidice (Greece), to discover the Porto Sani *****. This ultra-kids-friendly address offers a superb range of services and children's activities labelled Worldwide Kids and OFSTED, including baby swimming sessions from June to September. Lasting 30 minutes, these classes welcome children from 6 months to 4 years old and are given by certified instructors. No wonder Porto Sani is one of the most beautiful luxury hotels with baby-club!
Thought out and designed with love for young mothers and their treasure from 4 to 10 months, the "baby & mummy programme" at the Hôtel Royal Evian ***** promises an interlude of well-being. Among the planned activities is Aqua Baby, a moment of complicity and aquatic softness. The address is hidden in Evian-les-Bains and overlooks the impressive Lake Geneva, creating a setting conducive to relaxation with baby.
You are now ready for baby's first swimming lessons! To help you choose a dream destination where your baby will be able to exercise in the pool, Little Guest has prepared an article on the best family destinations in June!
Have a nice swim!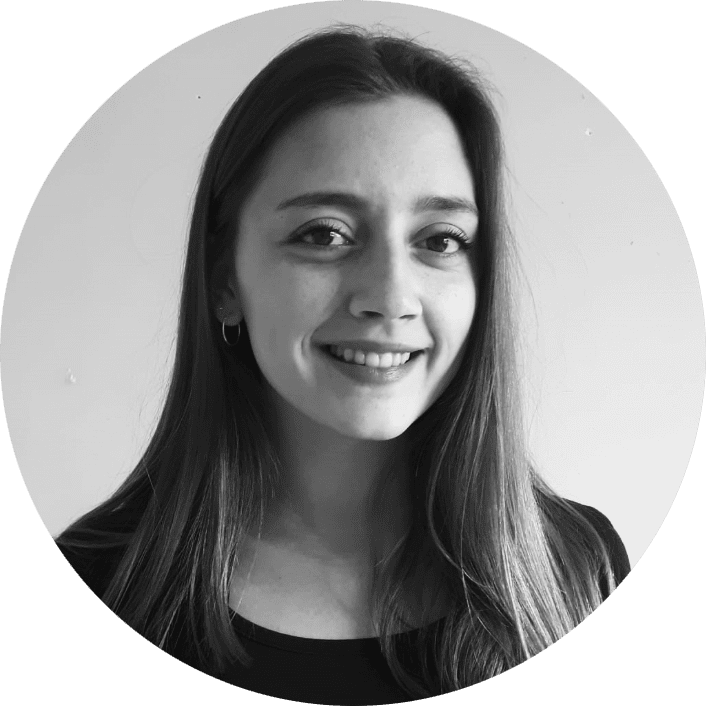 Pernell, 24 years old, travel lover, from Angers, France